Dave's Wacky Cars
I've owned over 50 cars, mostly beaters. This page is a tribute to some of them.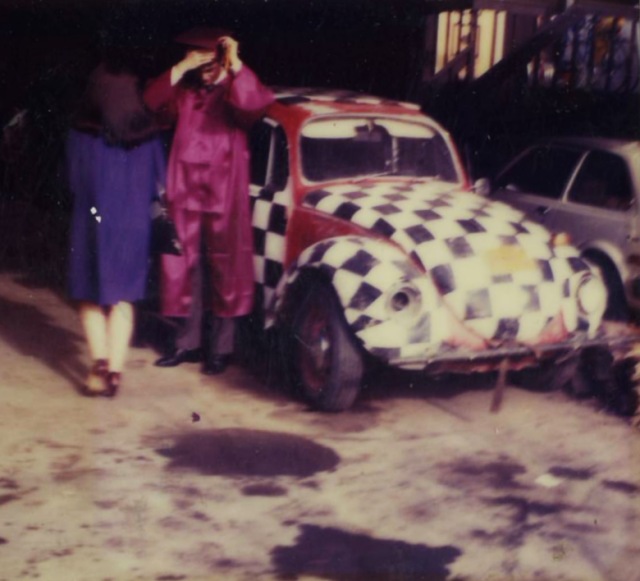 My checkered 1970 Bug in 1984.
I drove this $600 VW Beatle into the ground all through my senior year of high school. I jumped it regularly; once I even broke the transmission in half on a rough landing. I also replaced the engine that year. This car saw more harsh off road action in one year than most Jeeps see in a lifetime. Snowbanks were magnetic to this car; I slammed into them almost daily throughout the winter months. I got it stuck in mud and snow and sand more times than I could count. Once I even got it stuck in a stand of thick alders that it managed to get into via inertia. That pipe front bumper clobbered a great many trees. I'm sure I walked home or to a friend's house at least a dozen times; not that the car let me down, I just pushed it too hard. After I ruined and replaced my fourth rim I swapped all four rimmed tires with the complete set of damaged rims only and took it for a spin. It drove surprisingly well, the rear wheel could spin with ease and made fantastic sparks on the pavement. I think my passengers and I ended up walking home from that episode for some reason... This car once drove from Woronzof Point to Kincaid Park before there was a road or The Coastal Trail. It died in a beautiful blaze of glory, literally.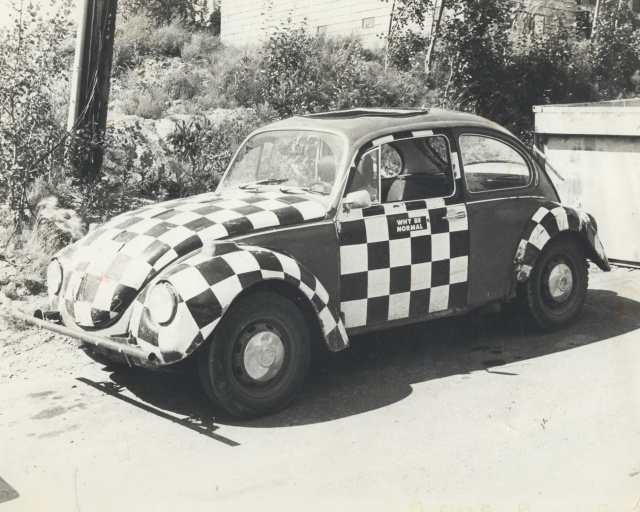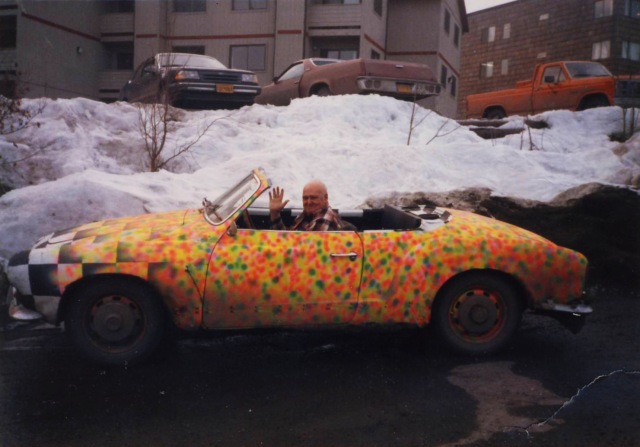 My grandfather in my 1967 Karman Ghia - circa 1986.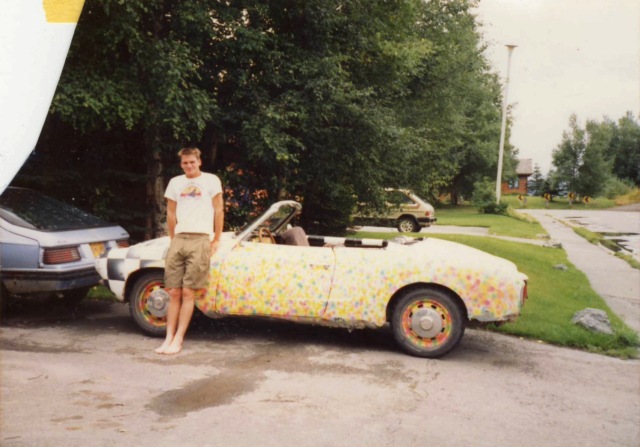 The 67 Karman Ghia with faded neon paint - circa 1987.
This was taken on John's Road in Oceanview when Steve, Sheryl and I were roommates in the first "Bat Cave".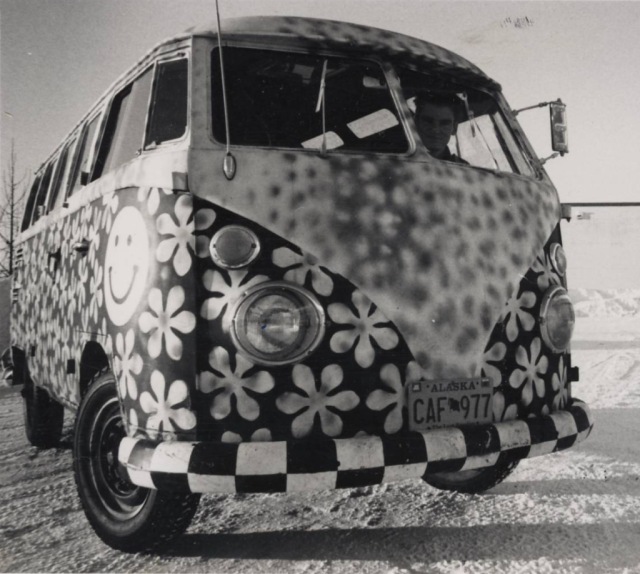 My Love Bus.
I've slept over 500 nights in this thing; it was equipped with a Westfalia camper bed.
It had windows in the roof and a six foot sunroof.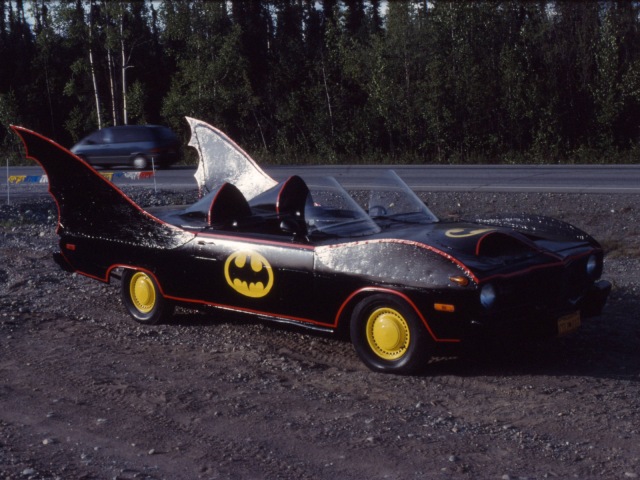 The Batmobile, when it was new, in front of Gorilla Fireworks.
Me in the Batmobile.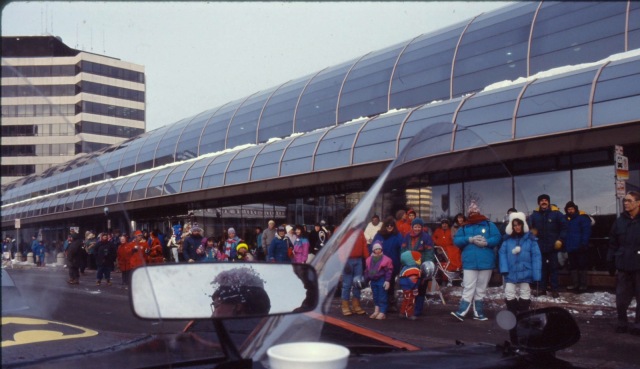 Inside the Batmobile during the Fur Rendezvous Parade (circa 1989). That's Alice Welling in the rear view mirror.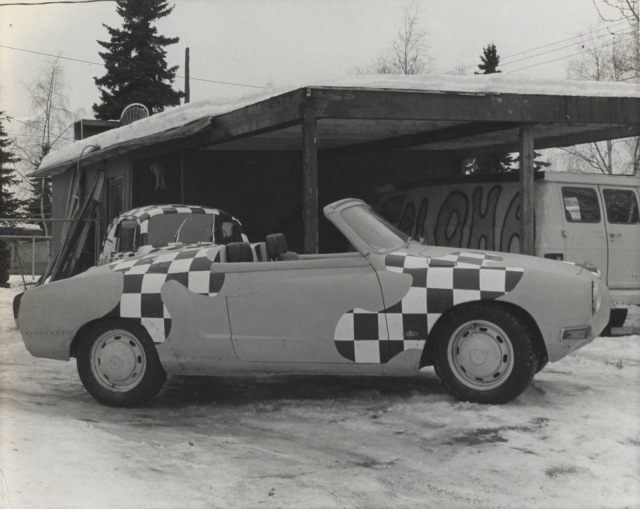 One of the paint jobs of the 1970 Karman Ghia.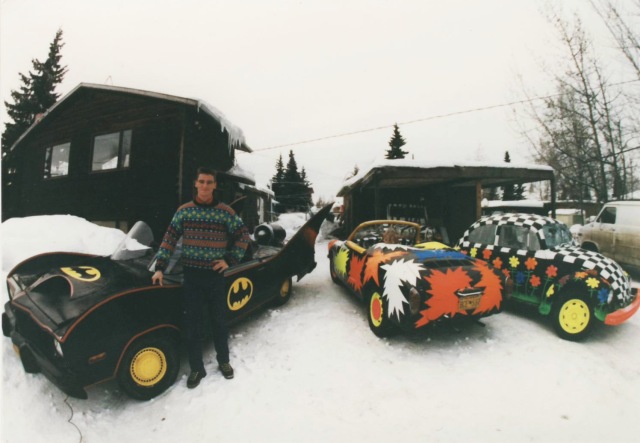 Batmobile, Ghia and Bug. The Batmobile had a fake jet engine for a year or two; I took it off after being harassed by the police. It made a pretty bright fake flame. This Ghia, (one of seven I've owned) had three different paint jobs I believe. This Bug, (one of 14 I've owned) was formerly painted like the Cheshire Cat.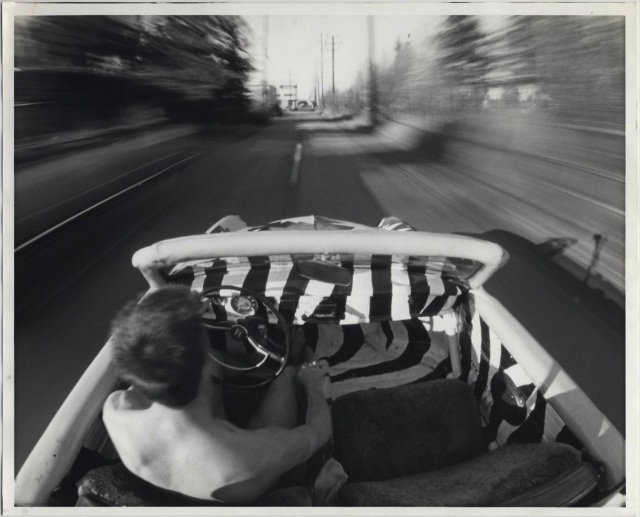 Inside the 1970 Ghia before I chopped the window down.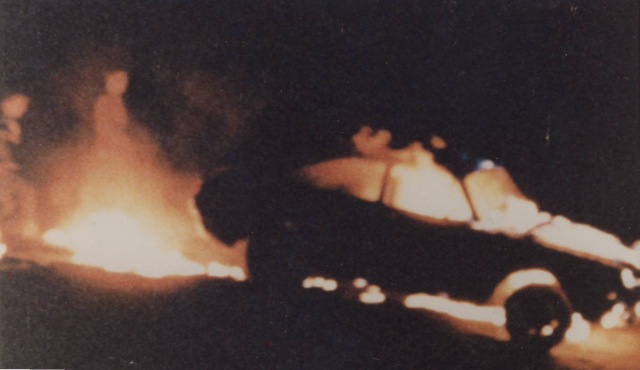 The unfortunate fate of a few cars. Even HD does not capture the spectacle of a burning car tumbling down bluff at night.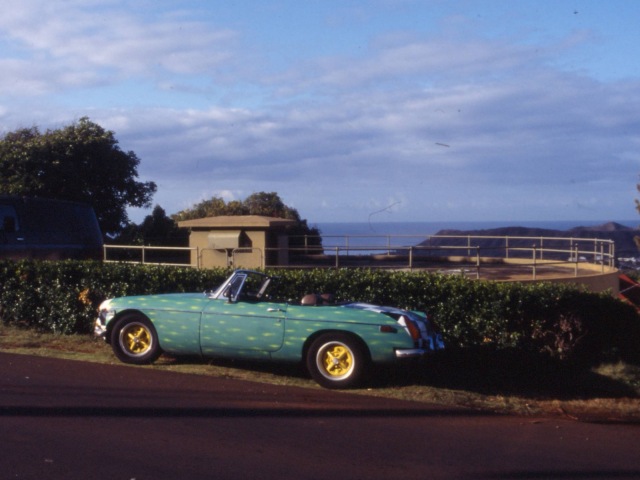 My last cool car.
I took Joan on our first date in this 1970 MGB. I really only drove it when I needed to buy groceries or take my kayak(s) to the beach or out with Joan. Mopeds are better in Hawaii because you can always find a place to park.