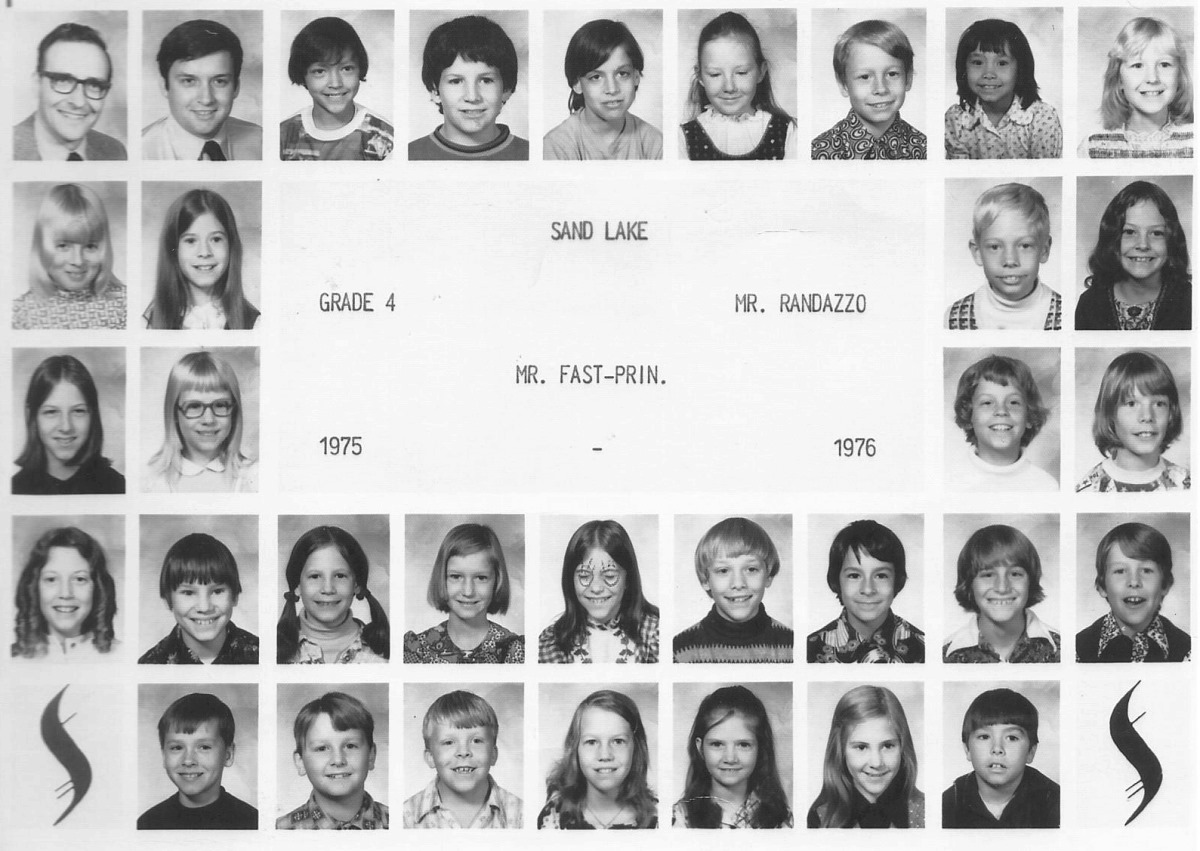 Sand Lake Elementary School
Anchorage, Alaska
1975-76
Mr. Frank Randazzo
Grade 4
Top Row: Mr. Bill Fast, Mr. Frank Randazzo, Terry Velarde, Joel Hawthorne, Lary Jacobson, Julie Quamm, Tony Delisio, Sandy Growler, Pam Machaud
2nd row: April Frazier, Christina Lightle, ( Spaces ) ???, Lori Ludwick
3rd Row: Lisa Pruit, Lisa Luchterhand, ( Spaces ) Andy Engstrom, David Kincaid
4th Row: Tammy Carlson, David Hall, Colleen Cary, Brunhilde Tesmer, Delaine Overway, Quinn Hennessey, Jamie Leon, Dan Sage, Shane Moncreif
5th Row: ???, Eric, ???, Liz Black, Elizabeth Davidson, Miriam Bly, James Hoff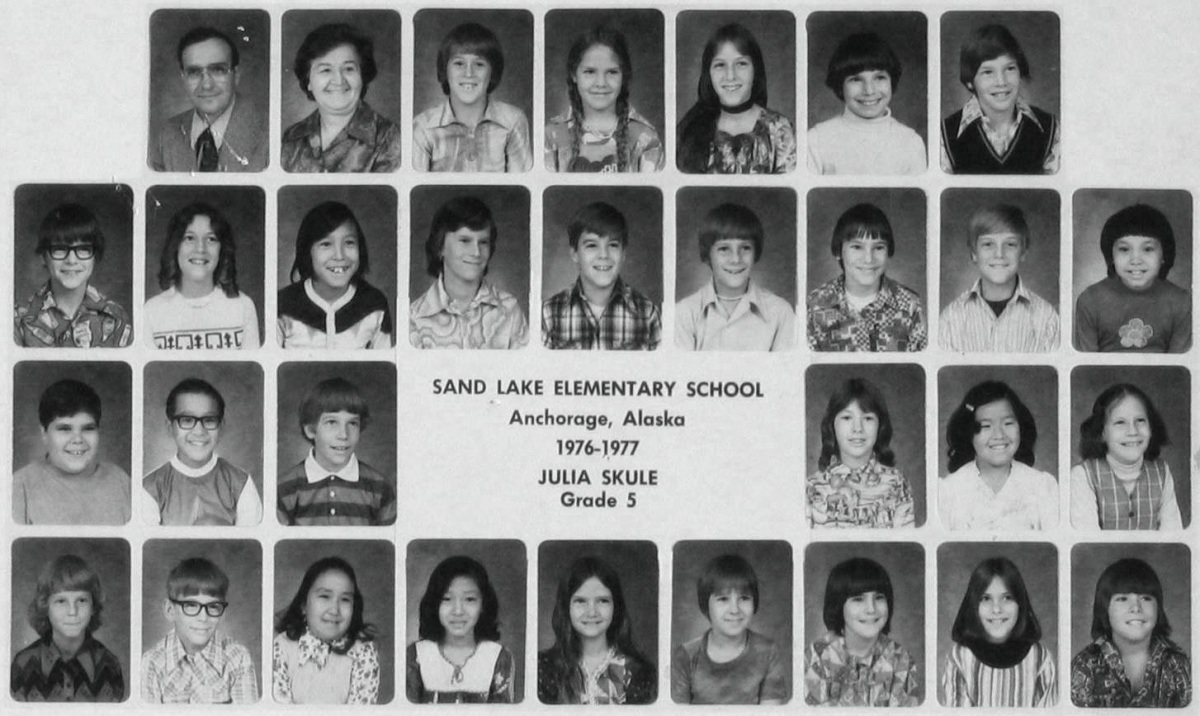 Sand Lake Elementary School
Anchorage, Alaska
1976-77
Julia Skule
Grade 5
Top Row: Mr. Bill Fast, Miss Julia Skule, Chris Roussell, Kathy Robinson, Lisa Pruit Marna Goch, Chris Burnett
2nd row: Don Duryea, Tammy Carlson, Eddie ?, Jill ?, Danny Moore, Kevin Dodds, David Hall, John Moore, Sandy Growler
3rd Row: Sidney February, Eric ?, ???, ( Spaces ) Michelle Neil (O'Neil?), Janet Peck, Colleen Cary
4th Row: Andy Engstrom, Kent Satoff, Christine Jones, Judy Lee, Elizabeth Davidson, Donna Silsbee, Stacie ?, Delaine Overway, James Hoff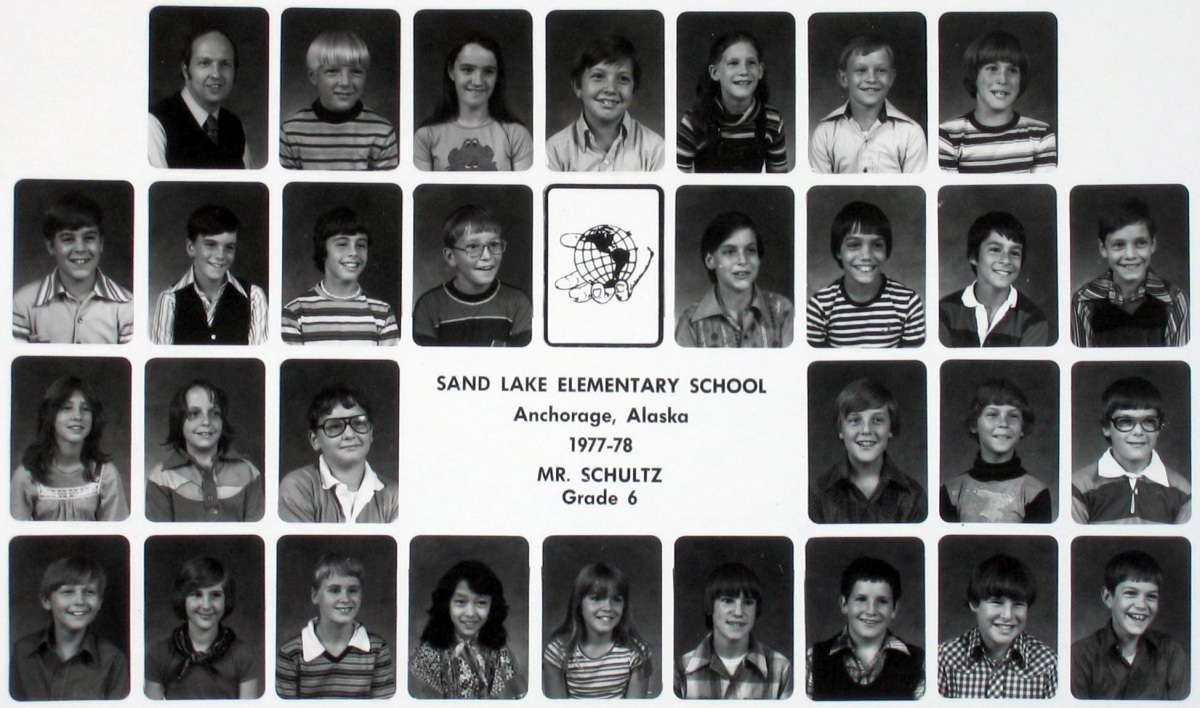 Sand Lake Elementary School
Anchorage, Alaska
1977-78
Mr. Schultz
Grade 6
Top Row: Mr. Don Schultz, Jason McDonald, Theresa Warren, ???, Colleen Cary, Bobby Kirn, Chris Roussell
2nd row: Danny Moore, Pat Hanley, Michael Rompa, Kimsey Eller (Deceased), (Space) Larry Jacobson, Sean Jefferies, Jaime Leon, Jeff Latta
3rd Row: Michelle McNeil, Benny Little, Eric ???, (Space) John Moore, Andy Engstrom, Don Duryea,
4th Row: Evan Hall, Miriam Bly, Brenda Risch, Judy Lee, Carey Bentson , David Hall, Joel Hawthorn (Deceased), Shaun Nault, David Woods
Not Pictured: Mike Sowash
Please email me if you have information that can help fill in any of these blanks.
* Note: these facebook links will take you to the person's +Add Friend page if you belong to facebook

and are not already their friend.
Pic
Name
Occupation
Location
Spouse
Children

Web

Mr. Donald Schultz

Retired teacher

Anchorage, Alaska

X

X

??? ???

Carey Bentson

PE/Health teacher - East High School

Anchorage, Alaska

Bret Miknich

Jordan 1988, Jameson 1991 , Julia 1998, Garret 2002

Miriam Bly

Colleen Cary (Menczer)

Mom

Former teacher

Bloomington, Indiana

Fil Menczer

Massimiliano (Max) (2000), Iris (2004)

Eric Cole

Anchorage, Alaska

Yes

At least 1 child

Don Duryea

Power lineman

ABC Aircraft Welding - Owner

Anchorage, Alaska

Rebecca

Grant (1989), Cody (1991). Haley (1992), Meghan (1999)

Kimsey Eller

Electrician

Deceased 2004 - Motorcycle accident crossing frozen Knik River

Angel Kidd (Eller)

Kelvin (1991) Cayley (1992)

Andy Engstrom

Juneau Alaska Window Cleaning

Juneau, Alaska

Yes

2 children ?

Evan Hall

Pepsi Bottling Group Customer Sales Manager

Anchorage, Alaska

David Hall

Technology teacher, K-8

Tallmadge, Ohio

Joan Wilsterman (Hall)

Svea (1999), Brigitta (2001), Annika (2005)

Pat Hanley

Anchorage, Alaska

Tracy

Joel Hawthorn

Civil engineer

Deceased 1997 - Kayaking accident in Idaho

X

X

Larry Jacobson

Gilbert, Arizona

Michele

Justin (1996), Jordan (1996)

Sean Jefferies

Bobby Kirn

Special education teacher - South High School

Anchorage, Alaska

Audrey

Josh (89), Kyle (92), Tyler (95), Trevor (97)

Jeff Latta

Alaska Airlines - 737 Captain

Palmer, Alaska

Valerie

Sam '96, Sarah '99, and Mary Beth '01

Judy Lee

Jaime Leon

Firefighter - Captain

Anchorage Fire Department

Anchorage, Alaska

Julie Anne Leon

Alexandra (1994), Alyssa (1998)

Benny Little

Truck Driver

Wasilla Alaska

X

Jason McDonald

Danny Moore

Municipality of Anchorage Treasurer

Anchorage, Alaska

Stephanie Galbraith

Maddy, Eliise

John Moore

Shaun Nault

Mechanic, Shop owner

Deceased 12/21/13 (cancer)

Anchorage, Alaska

Tanya

2 boys

Arctic

Thunder

Michelle McNeil

Brenda Risch

Resource Teacher at Gladys Wood Elementary

Anchorage, Alaska

Daniel

Luke (2002), Logan (2004)

Michael Rompa

Accountant - Geffen, Mesher & Company, P.C.

Portland, OR USA

Judy

Max (1993), Claire (1996)

Chris Roussell

Guardian Flight

EMT ?

Ketchikan, Alaska

Susan

Chelsea (1987), Christopher (2008)

Theresa Warren

Anchorage School District

Anchorage, Alaska

Lucas (1989), Kegan (1990), Taylor (1992)

David Woods

Carpenter (just like Jesus)

Tucson, Arizona

X

X

NP

Mike Sowash