Merry Christmas!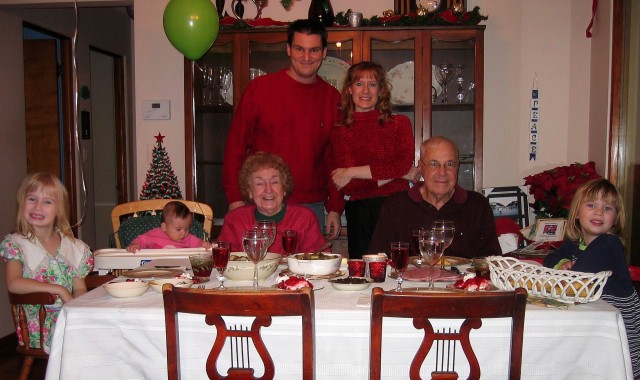 Although Joan does virtually everything to prepare our family for Christmas, I am always quite relieved when it has passed. We did, however, have a lovely traditional, low-key Christmas.

The big news today is that Annika pulled herself into a standing position for the first time ever. I was very surprised. She has always had plenty of arm and leg strength, but has never really shown any real understanding of balance. When she starts to tip she will often step the opposite direction or even into fifth position (ballet). Annika got a large activity cube for Christmas. The top has metal loops that have shaped beads that can be pushed around. She got a good grip on the loops and pulled herself up. It took all of her strength in her arm and legs to maintain herself upright, but I don't think that I've ever seen her more proud. I managed to take a movie clip, which should be on our movie page after I publish this blog entry.
I keep our digital pictures very well organized on our newer PC, but have never separated or edited our movie clips (taken with our regular pocket Canon digital still camera). Friday night I sifted through about seven gigabytes of folders and separated the pictures from the movies. I also put about a dozen of the better clips online. I don't take many movies because I'm always concerned about their massive file sizes, but I'm starting to appreciate their value and regret not taking more. I've also added a few things to our Archived Pictures and Stories page. Be sure to check out the "Out of Bounds in Alaska" entry; I had a bit of fun editing some older pictures.
Last year we had some pretty big snowfalls and I attempted to skate ski on the roads. The problem was that the roads never got a good snow pack. I hit pavement too often and damaged my skis a bit. The street maintenance crews are pretty good at clearing the roads before they get icy. About this time last year we had several inches of good snow. The snow had a very thick hard crust and would support cross country skiing. I had a few weeks of skate skiing across the six backyards on our block. I could skate about 600 feet each direction and would get in up to five miles a day on my very beaten path. (See a movie clip here.) Such conditions occur very rarely naturally, however. Joan found a great place an hour and fifteen minutes north of here that has trails groomed for skate skiing. I managed to ski there last year about three times before Joan was put on bed rest and our priorities changed greatly.
I've really been slacking aerobically since the lakes froze over, which has made rowing and kayaking impossible. The ski conditions lately have been less than ideal. Our part of Ohio just does not have the weather to support a good regular cross country ski season. A week ago we had about four inches of good snow on the ground. I've been thinking about how trails are groomed at cross country facilities and if I could replicate it at home. I pulled the riding mower out of the shed and tied my homemade toboggan behind it. With the girls on the sled I beat down a 13' wide oval track around the house. It took about an hour. Our lot is 100' by 262'; I would guess that the outside of my track was about 100' by 180'. Although the snow was fairly well compressed, it was still loose and would not support an edged skate ski. I figured that it would naturally firm up after a slight warm spell followed by a freeze, but I wanted to see if I could force the matter. A direct stream of water would probably do more damage than good, but a mist would probably help bond the snow together once it froze. Pressure washers make a fine mist, so in the dark, at night, I sprayed down about a third of the track. I wonder if my neighbors wonder about me... The next day things had firmed up pretty well and some of the track was good enough to ski on, but it was very spotty. I gave it another night and it looked even better in the morning. By the afternoon, however, we were well on our way towards a total thaw.
I'm discouraged that I didn't get to ski, but also encouraged that I can groom my own ski track. I don't know why I never thought of it before. My concern is that if we get more than four inches of snow at a time that the mower won't be able to pack it down without getting stuck. Our Ford Aerostar van is all wheel drive; I may try it when we get our next snowfall. I've researched building a snow-making machine, it would be fairly doable. I've also looked on Ebay recently for a cheap beater snowmobile, just for the purpose of packing any depth of snow. I'd be more than willing to spend a two or three hundred dollars on one, but I really want to see if a 100' by 180' oval is worth skating on. An 85' radius is a bit tight for skate skiing and the straights are pretty short to get into a good rhythm.