Father-Grandfather Night at Brigitta's Preschool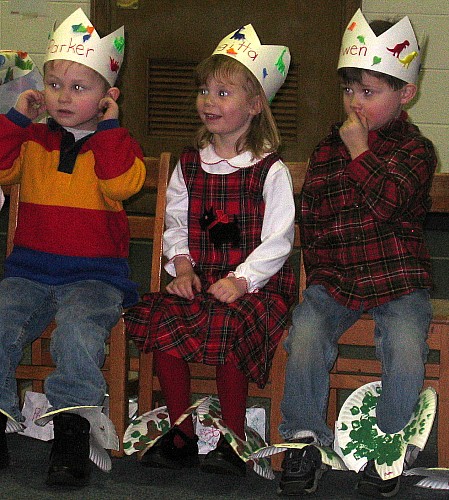 Bill and I attended Father-Grandfather Night at Brigitta's preschool on Thursday night. The theme was dinosaurs and they sang about eight dinosaur songs. She was very exited to perform and with her great memory did a wonderful job. Britta is pictured above between her friends Parker (Hear-No-Evil) and Owen (Speak-No-Evil).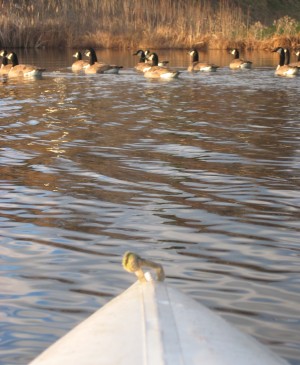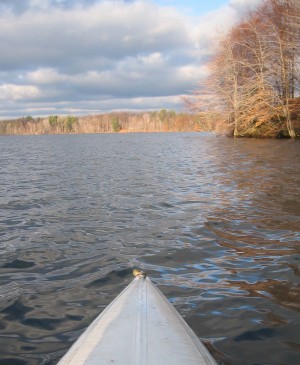 I went kayaking today. The last time I kayaked in the month of January was in 1995 when I lived in Hawaii. There wasn't a crystal of ice on Mogadore Reservoir. We are on track for setting an all time high average temperature for the month of January. Lake Erie has actually warmed up a degree this month. I'm sort of kicking myself that I haven't been out on the lake in over two months. Local lakes froze in November, but they have been thawed for the past few weeks. I think that my outdoors mind has been waiting for snow. I saw several Geese, two ducks and one swan.
Part of the reason why I haven't updated this blog or the site lately is that I have been swamped with grading for the last three weeks. My eighth grade students wrote 500 word webpage reports about school events. The seventh grade wrote 500 word wartime biographies about family members who were veterans of any war. They really did a fantastic job; probably the best work I have ever seen on any project, from any class. My sixth graders wrote 500 word biographies about one of their grandparents. Out of 117 students, only four did not make the 500 word minimum. Many students wrote over 1,000 words and one broke 3,000. I just finished grading the last report and am quite relieved. One of my seventh grade students will be reading her report at the World War II – Korean War Roundtable this coming Thursday. Two more students will be reading their reports at the February meeting. I'm also very excited that Bill will be the main speaker at the March or April meeting. I'm going to scan a number of pictures and make a PowerPoint presentation to go along with his talk. A few previous speakers have had traditional slideshows accompany their talks, but I think that this will be the first PowerPoint.
The other thing that has been occupying my spare time has been camera shopping. In December I got the bug to replace our 14 year old analog Handycam. I studied what is available and was not terribly impressed. Most consumer models range from $200 to $1,000, yet their image size is only 320 by 240 pixels at 30 frames a second. (Less than 1/3 of a typical computer monitor screen width.) My school owns a new Canon MiniDV camcorder; I played around with it and confirmed my disappointment. My little pocket sized Canon S400 also takes 320 by 240 images, but at 15 frames a second. (Most of the movies on our Movie page were taken with our S400.) Many decent digital still cameras are capable of taking 640 by 480m at 30 FPS. They consume memory quite fast, but memory cards are becoming cheaper every few months and the still camera can also shoot at 320 by 240 mode to conserve memory card space. The real advantages of the camcorders is that they can record for an entire hour, have a greater zoom range and cheaper memory (which only matters if you are away from a PC that you can download to). I think a decent still camera will serve as a better camcorder than a purpose built camcorder. I've also been wanting a still digital camera that offers the same manual control that I had over my old 35mm film cameras that I used in my college days. I considered getting a digital SLR camera. They really have all of the control of a 35mm film camera with almost no shutter delay and can take a variety of lenses, but none have movie modes. I also just couldn't bring myself to spend a grand on a camera. The problem with non-SLR digital cameras is that the widest angle that can be achieved is around 35-37mm equivalency. I've always swayed toward the advantages of wide angle lenses and consider a wide maximum width an essential attribute in a camera.
A handful of digital cameras offer 28mm equivalency; only one offers 24mm equivalency: the Nikon Coolpix 8400. The 8400 can also accept an optional Nikon fisheye lens and has a time lapse movie mode. It's a niche camera and is relatively rare and hard to find. Once I decided on the Nikon it took quite a bit of research to find it at a decent price from a reliable source. (By the way, NEVER order a camera out of NYC; my research found that the odds of getting ripped off are very high. Here's one example.) Anyway, I bought a new one on Ebay from a reputable camera store in Texas for less than half of its MSRP. Its on its way by UPS ground and I'm looking forward to experimenting with it; I think I'll even be able to make simple real life animations with it as well reproduce some of my old college still tricks. Its not a little front pants pocket camera like the S400, but its much smaller than a SLR.
If anyone is still reading this and wants my recommendation on a ideal general purpose digital camera, I recommend the Canon S80, SD400 and SD500. The S80 is a bit big for a pocket, but sounds reliable, versatile, takes great pictures, movies and has outstanding reviews. The SD400 and SD500 are also great and are pocket size; this is critical because it means that you are much more likely to take it with you. The best camera in the world will do you no good if its at home and you are not. These two cameras also have great movie modes. The one drawback to these two cameras, however, is that there have been reports of LCD screens cracking.