Look What Teaching at a Catholic School
for Four Years has Done to Me!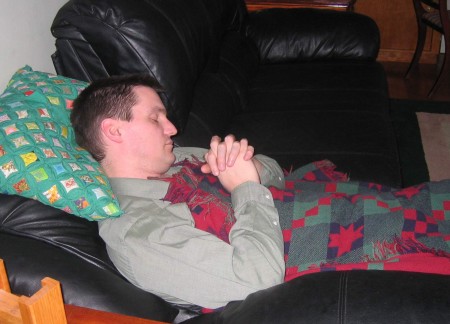 Catholic Schools Week has just ended. It's always full of extra activities and can be a bit wearing. Joan caught me taking an after school holy catnap.
Today is Annika's 11 month birthday. She is rolling onto her tummy and back at will. We are seeing her pull herself up to a standing position from a sitting position regularly and I find myself encircling her with pillows and cushions to protect her from the inevitable falls. Tonight when I was making salads I set her down to free up both hands. Within a few seconds she had pulled herself up with the aid of a dining room chair. Most of the time she only held on with one hand and I even saw her let go for a second or two. I don't know what she is thinking, she's not even close to being ready to walk. I think she wants to though. She is also starting to cruise (walking while holding onto furniture). Her biggest problem is getting from a laying position to sitting. For her birth age, she is a bit behind. Based on her gestational age, however, she is doing what eight month olds should be doing. She complains when she needs to, but she really is a delightful baby.
One of the selling points of my Nikon was that it can accept attachable lenses. I've really missed shooting things from the perspective of a fisheye lens and Nikon makes one that fits my 8400. Most of the different Coolpix cameras can take lens converters. Since I bought my 8400 I've been shopping on ebay and Amazon for a 0.2 X wide-angle lens and a 3.0 X telephoto. They each need a relatively inexpensive adapter to fit any particular Nikon Coolpix camera model, so I've actually been shopping for four lens pieces and an extra battery. One piece has arrived and the rest are on their way. In a week I should have a lens range from 5 degrees to 180 degrees (or a 35 mm film camera equivalent range of 255 mm to 7 mm). Yesterday I took a time laps movie of the drive home from work. The camera will take one picture every 30 seconds, so it only captured about 40 frames. It's not very fluid, but is still fun. Check it out on the Movie page.
I've been playing online WWII flight simulators for almost a decade now. Like anything, flight sim pilots have their own community, traditions and sense of humor. One thing that has persisted since before even my time has been a running joke that flight sim pilots prefer sheep... We never tire of this joke and it pops up constantly. Recently the flight simulation game that I play (Aces High) released the most significant update in four years. It's almost a new game and is a hybrid between a multi-player online simulation and a boxed, store-bought sim. The announced the new version with a few screenshots, including one of a pilots pre-mission briefing room. I took the briefing room shot and worked in the running joke with this animated cartoon.