Happy Svea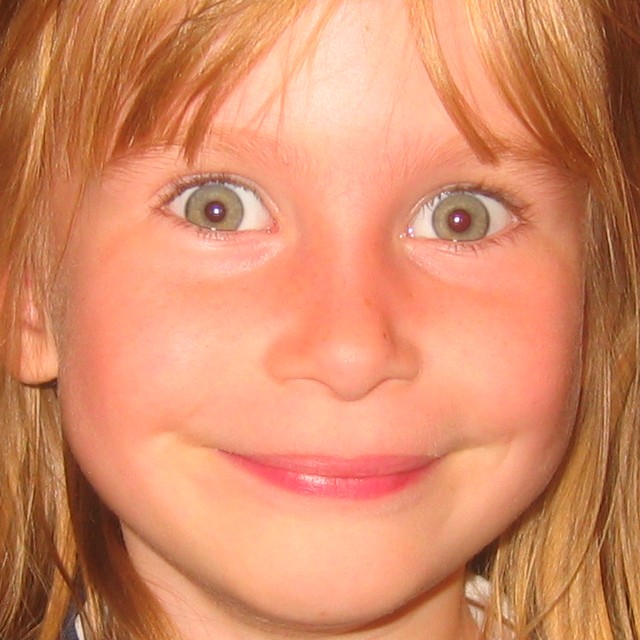 I took this picture at German class today; it's already one of my favorite pictures ever.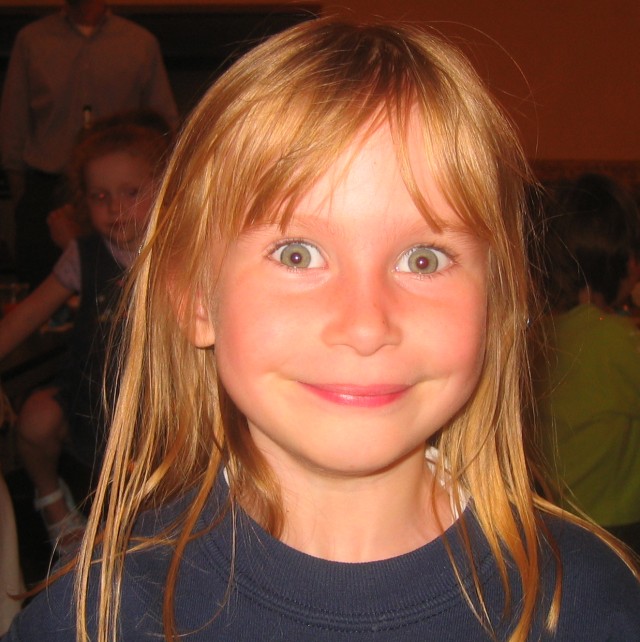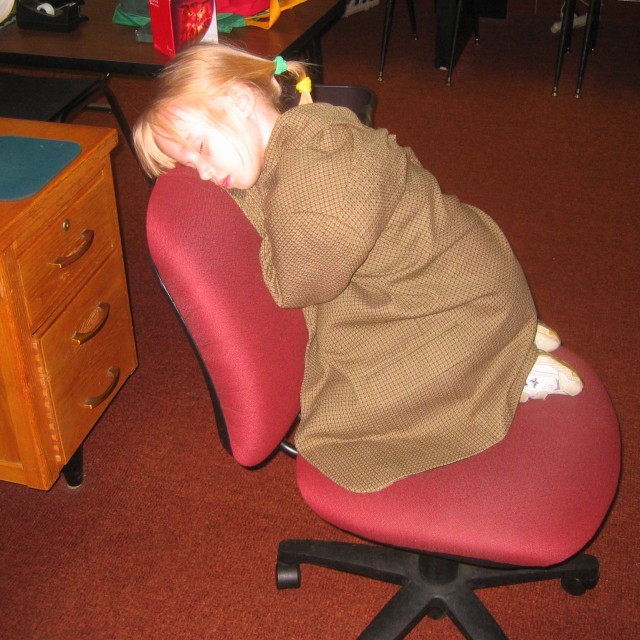 Svea fell asleep in my chair at school while we were working/waiting for ballet class.
Whatever I can't fix on my Volvo I take to a great Sicilian Volvo & European car mechanic on the other side of town. He has a cheesy looking messy shop and a strong Italian accent highlighted by colorful language, but he knows his stuff extremely well, is 100% honest and for some reason charges much less than the going rate. So I can't explain why I strayed from him and had the old Volvo's catalytic converter replaced at Monroe chain store. They ended up installing the wrong catalytic converter; one that didn't have an oxygen sensor input, so they just left that part off. Joan and Bill picked the car up on Thursday and Friday I immediately noticed the "Check Engine" light. I worked late on Friday because I was chaperoning a school dance so I didn't have a chance to do anything about it. I knew that they messed something up but I was too busy with the garage sale all weekend. On Monday I took the car to my mechanic, Santino, and he immediately explained what they did. I went back to Monroe furious and made a big scene. They offered to fix it but I insisted on a full refund as I wanted it fixed by a knowledgeable mechanic. The manager was off so I ended up talking to the corporate office; they promise to give me a full refund when I bring back their part and after our check clears. Santino fixed the car today for 60% of what Monroe charged; I gave him a $30 tip and have vowed to never take my car anywhere else. If you are in the Akron area and own a European car, take it to Santino's at 1266 E. Archwood Ave in Akron.
On our Lake Erie trip the windshield wipers on our Ford Areostar stopped working. While Svea was at ballet yesterday I tore the motor cover off and discovered the windshield wiper motor mounts were broken. The auto parts store has a motor in stock, but it doesn't come with mounts. I had to order them through the dealer and they cost as much as a new motor. Bill's Lincoln is leaking oil noticeably and Harriette's Toyota also has a "Check Engine" light issue. What would we do without four cars?
I know I've been saying this a lot lately, but Annika is really walking all over now. She still crawls at times, but seems to prefer walking now. When I came home today she walked across the kitchen, opened the mini pantry door and helped herself to a box of Cheerios. I took some movie clips today at German class; look for a new movie soon. Our baby is becoming a toddler. Her diction is not all that sharp but her vocabulary is becoming relatively broad. Some of her most regular words are "curl" = squirrel, "ba" = bath, "baw" = ball, and of course Mama, Dada and Papa.
In February Brigitta asked why she couldn't see things far away; we scheduled an appointment with an ophthalmologist. The one that our doctor recommended was booked for three months; she finally got to see him yesterday. I half expected her to come home with glasses since her mother has them. It turns out that she can't see things far away, because... they are far away. That's just how it works; you get too far away from something and it just becomes too small to see well. Brigitta has 20-20 vision. Her parents now have 20-20 hindsight.