Camping in Homer - Saturday
Sea Kayaking
I've been kayaking for over 20 years but had never sea kayaked in Alaska. Our big splurge while in Alaska was a short guided sea kayaking paddle with True North Kayak Adventures. Joan and I paddled a solid and stable plastic tandem kayak. We rode to Yukon Island on the Harlequin while other kayakers on other tours rode over on the company's other boat, the Beowulf. The weather was decent and the water was pretty calm. I didn't feel the need to take the Nikon on this trip so we brought only the little old pocket Cannon S400. Joan took all of the pictures and several movie clips that will be edited later in the summer or fall. We saw a sea otter, a seal, several eagles and a peregrine falcon.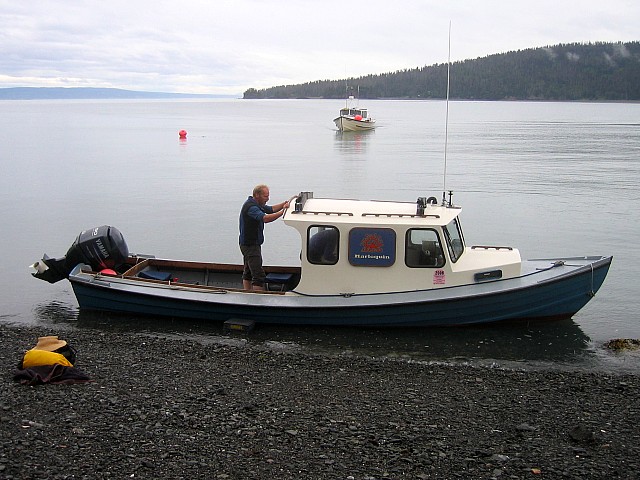 The Harlequin and the Beowulf at Yukon Island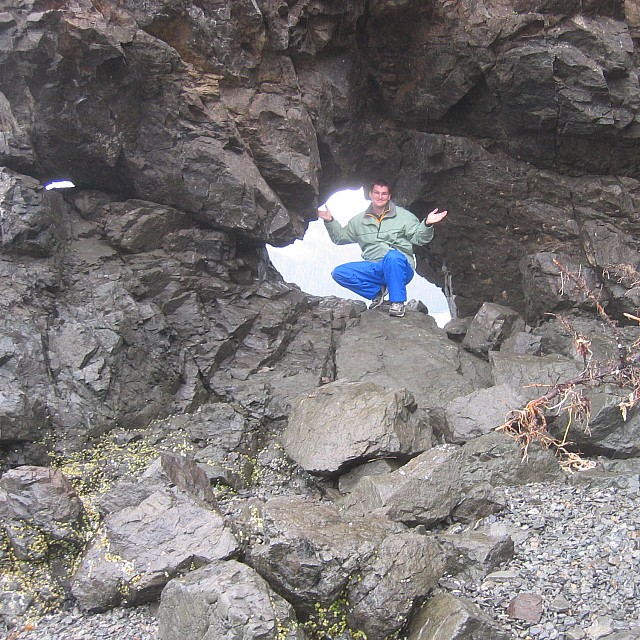 Yukon Island has several aquatic natural arches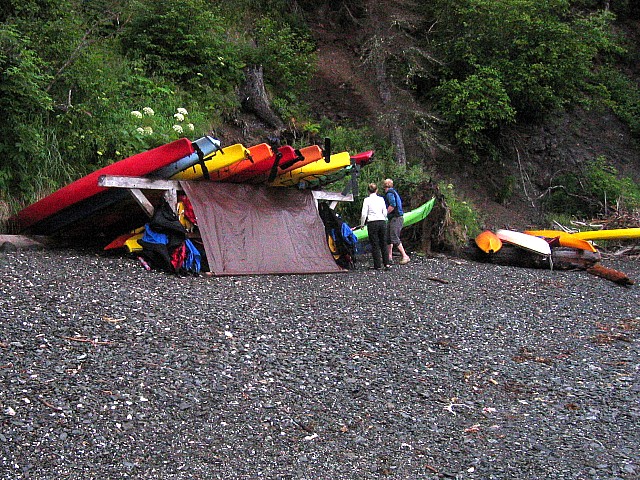 True North's kayak and gear cache on Yukon Island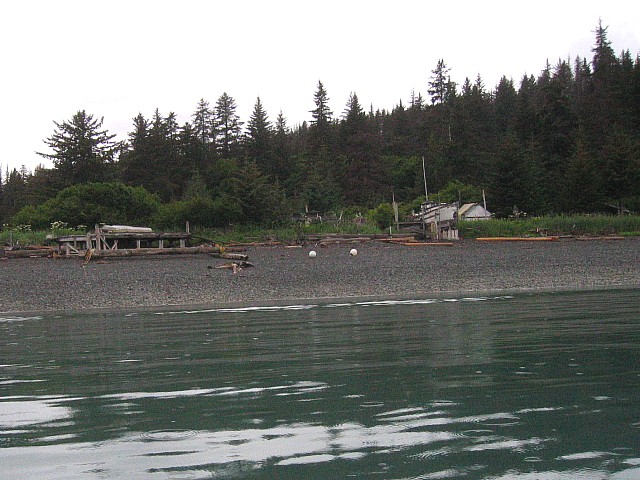 One family homesteaded 40 acres of Yukon Island's 200 acres and has several cabins belonging to its family members. Yukon Island also is an important archeological site and has been inhabited for about 3,500 years.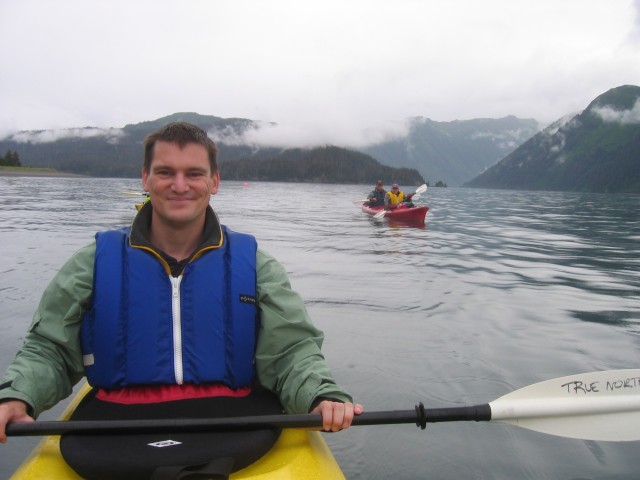 I'm always happy in a kayak (except for that unfortunate Baidarka incident). Our group included a guide and a cute newlywed couple on their honeymoon.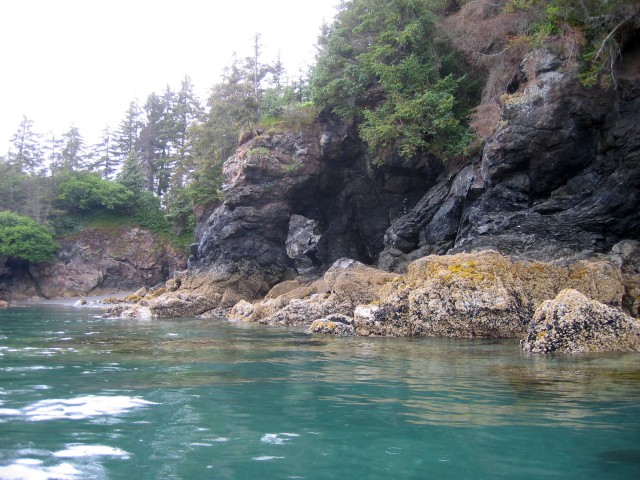 What a great place to be a barnacle.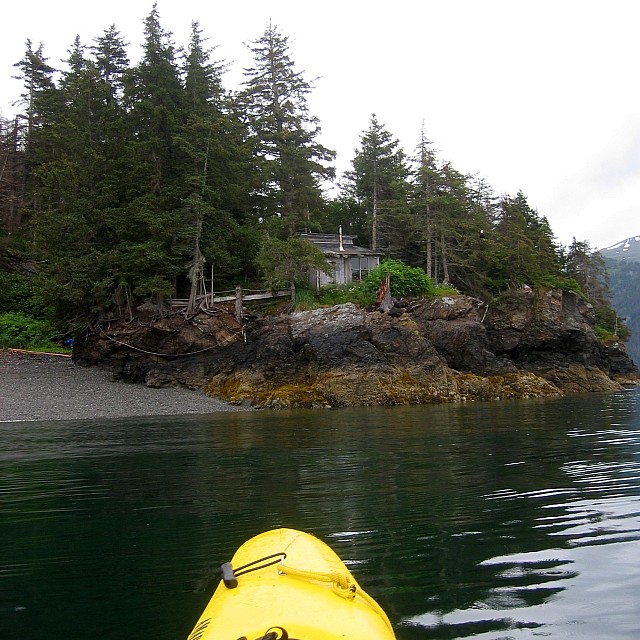 Beachfront cabin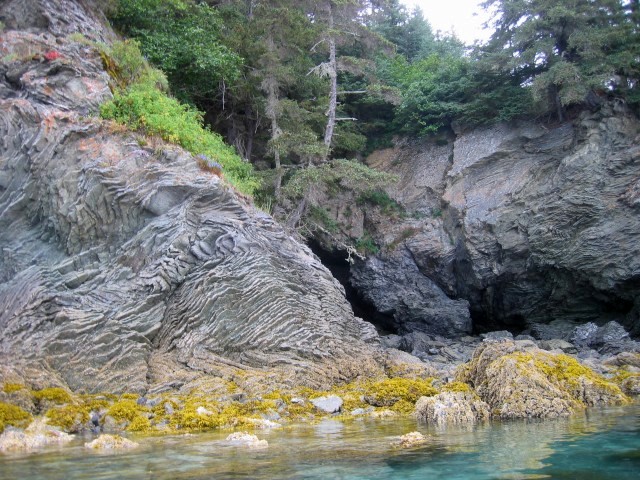 These rocks were formed in Mexico by layers of petrified microscopic sea critters. Each layer represents about 1,000 years. According to our guide, continental drift brought them all the way to Alaska and Kachemak Bay.
(Click here to view this image in 1024 x 768 resolution)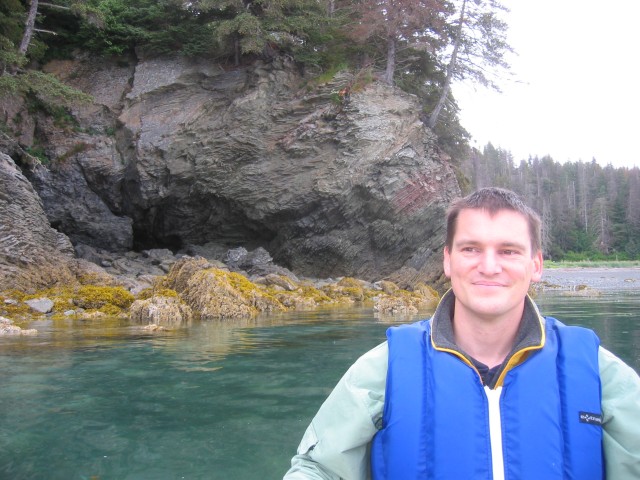 Just feel the bliss.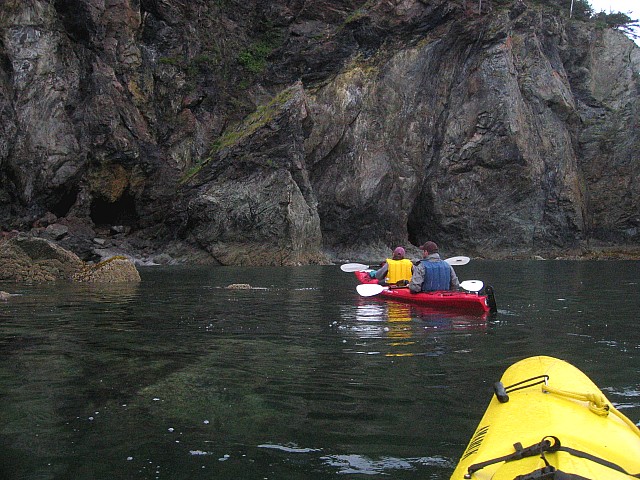 Following Tammy and Ivan, aforementioned cute newlywed couple.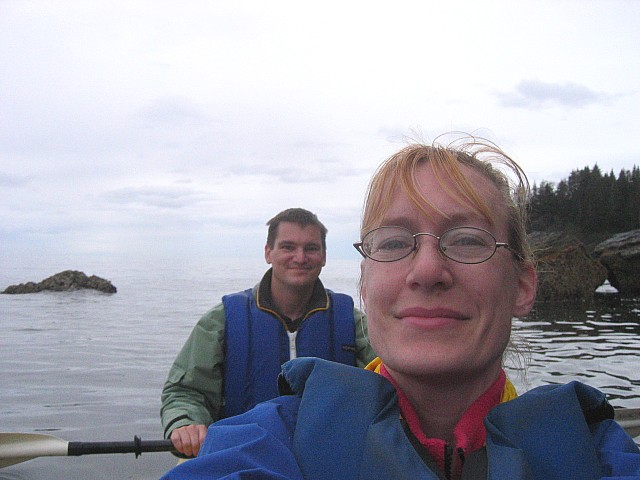 I think Joan had fun too. (self portrait)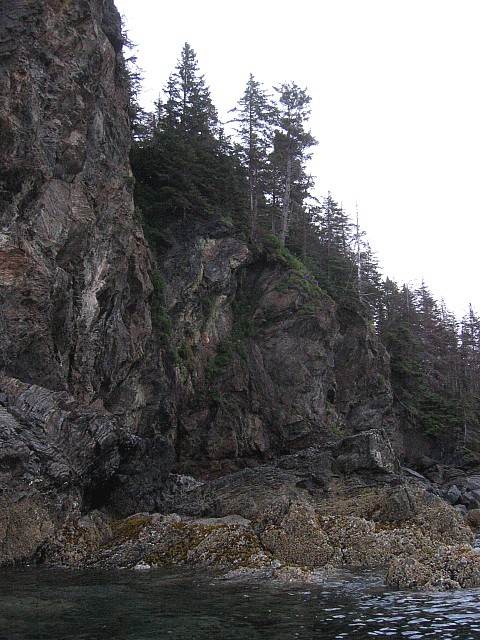 Tall, dark and handsome cliffs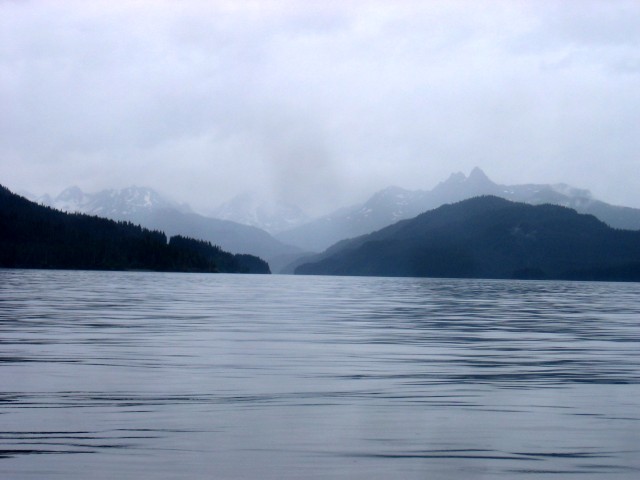 Sadie Cove (I think)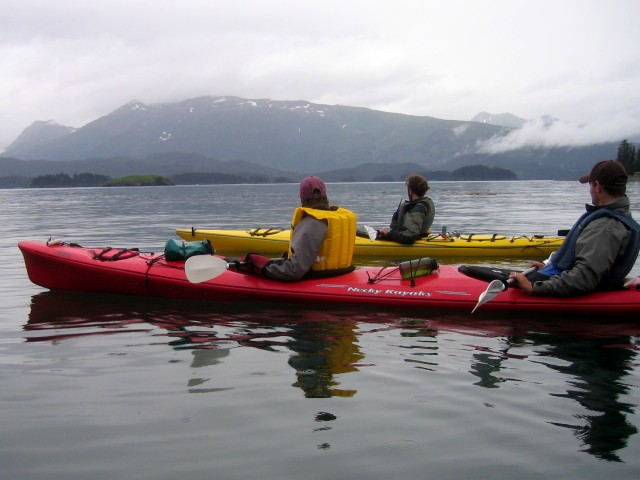 Joan was the first to spot the seal that surfaced close to us. Here we are waiting for him to resurface. He followed us for a few minutes.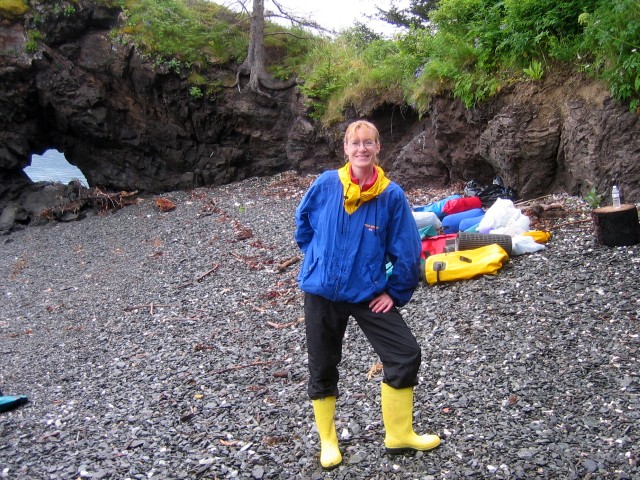 Yep, Joan definitely had fun.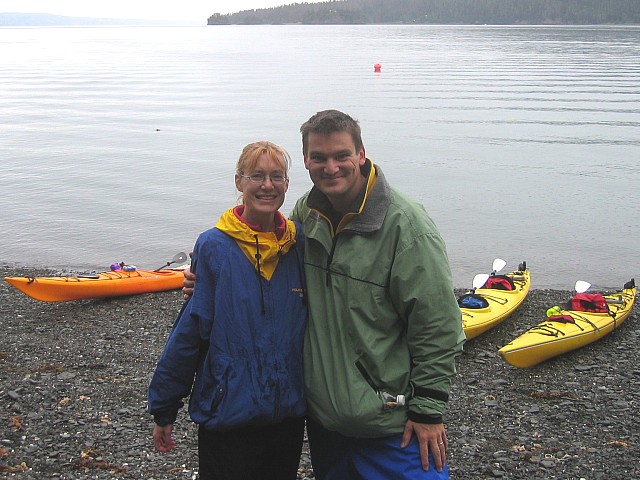 My wife is such a sport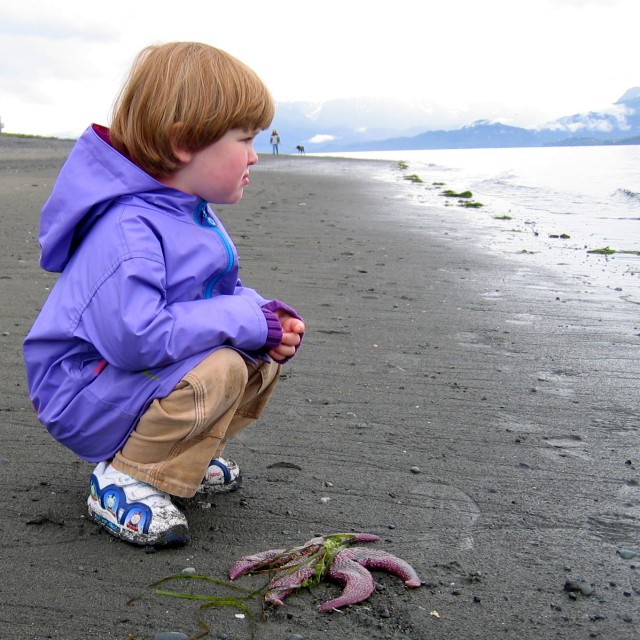 Meanwhile, back at camp, Becky contemplates the fate of a starfish.
Photo complements of her dad.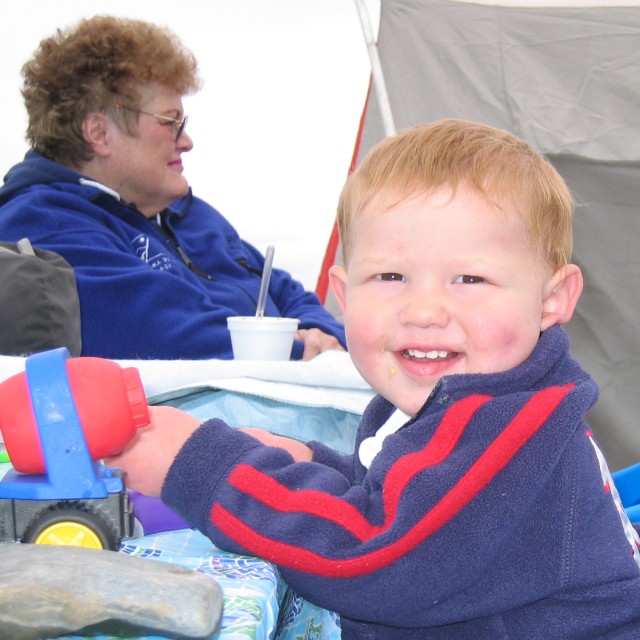 Michael and Grandma, also by his dad.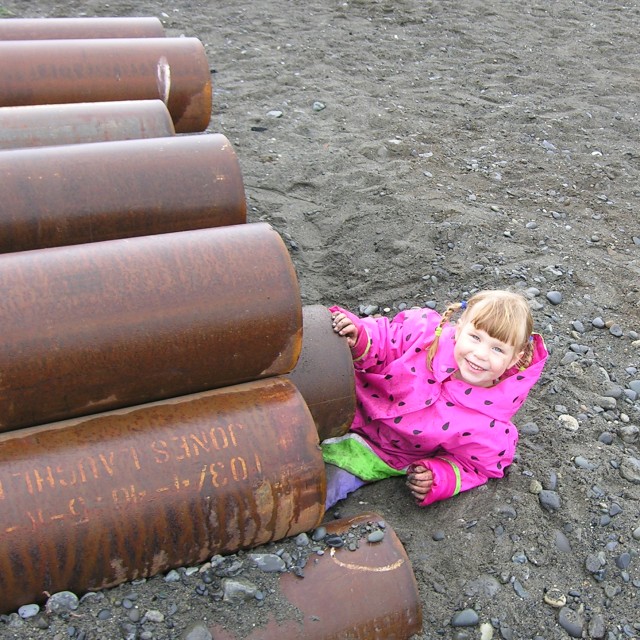 Brigitta had a good time creating echoes in some rusty old pipes.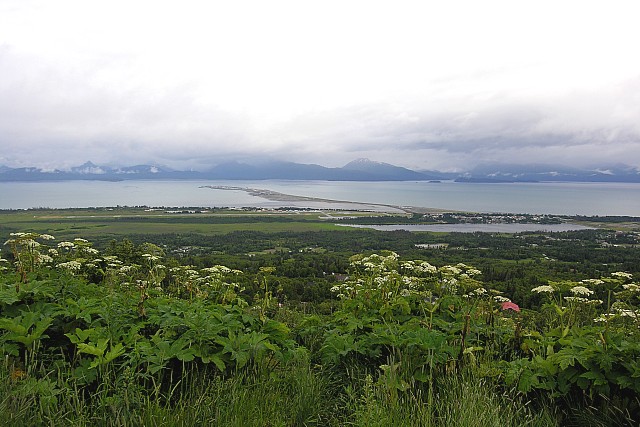 Homer Spit and Kachemak Bay
Annika wouldn't nap so we went for a drive on East Ridge Road. The views were spectacular in spite of the drizzle.
(Click here to view this image in 1024 x 768 resolution)
(Click here to view this image in 1632 x 1088 resolution)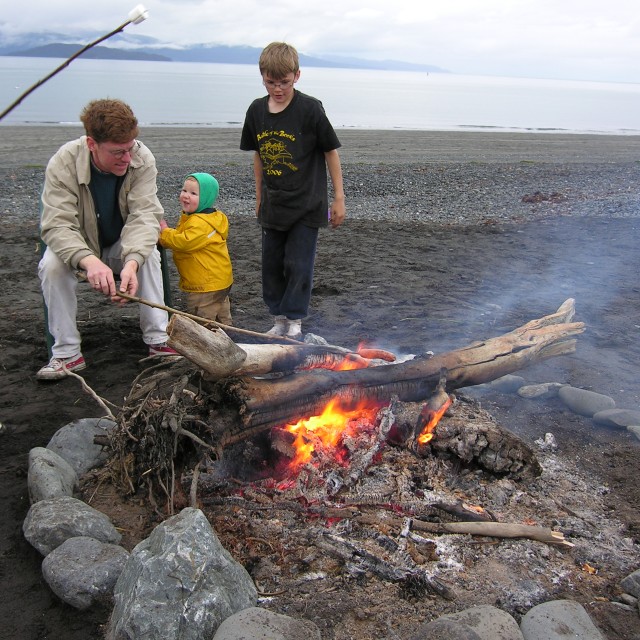 Michael, Michael, Kevin, campfire, hotdog.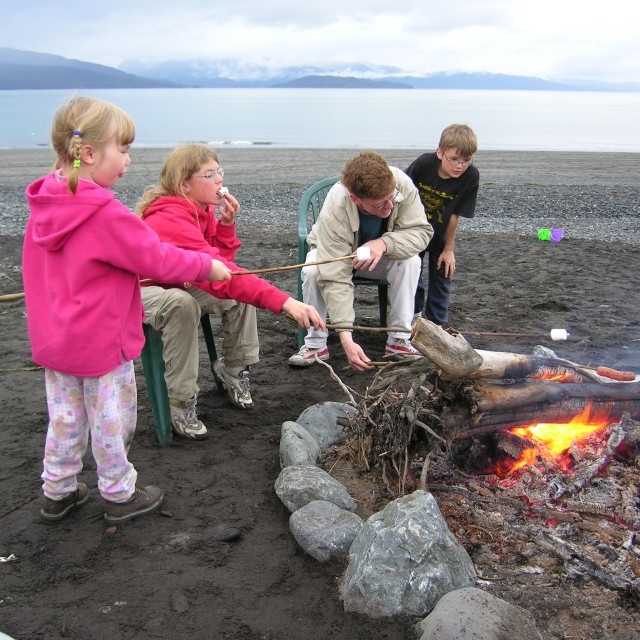 We went through bags and bags of marshmallows and quite a few hot dogs.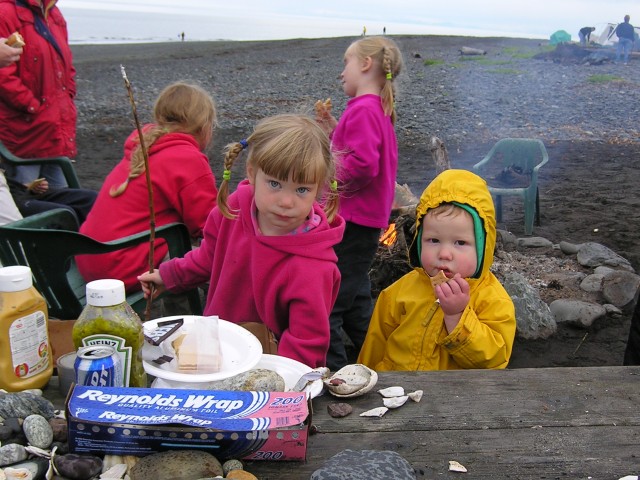 "Yeah, this is my 17th marshmallow..."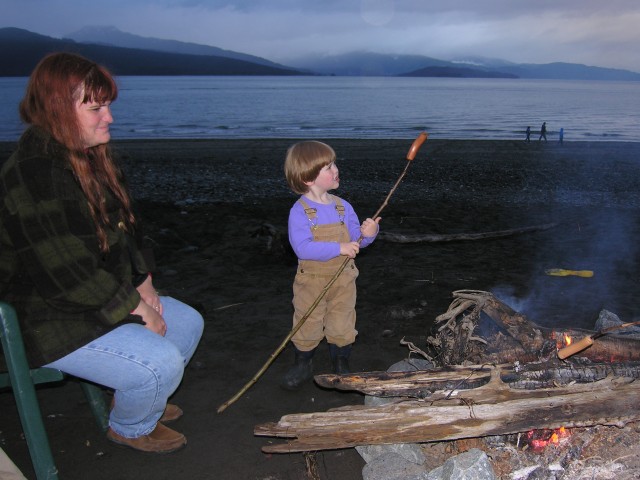 I think Becky ate her weight in hot dogs.