Happy Birthday Svea!
To celebrate Svea's seventh birthday we threw a party for seventeen children, including Svea and Brigitta. We have had birthday and Halloween parties for our kids before, but never on this scale. Traditionally we have allowed our children to invite one child per year of their age to their birthday parties. I talked us into expanding things a bit since Svea now has so many friends at school. I was also a bit concerned that many of her friends would be away on vacation, committed to summer activities, out of contact, ill or who knows what. I figured that the turn out could be as low as 50%. As it turned out, however, only two out of the nineteen invited could not attend. In hindsight its not that much more work to prepare an outdoor party for seventeen as it is for seven. It appeared that all of the kids had a lot of fun, especially Svea so I'm glad that we invited so many. The weather was ideal and pretty much everything went as planned.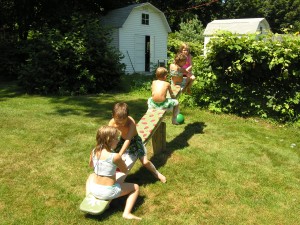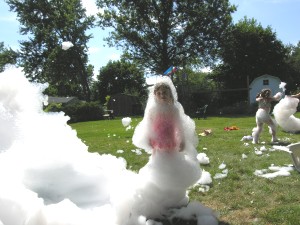 The kids liked the Merry-Go-Totter, but as expected the bubble machine was the real hit of the party. Just the day before I found a huge, long hose at a garage sale; I was able to move the shop-vac/air pump to the front of the house to minimize noise in the backyard. It still made a ton of bubbles, but did so silently.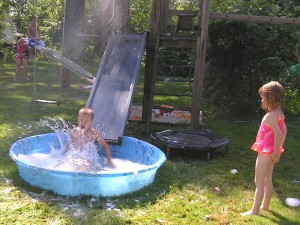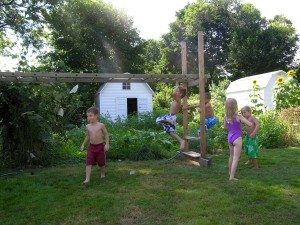 Jeff Foxworthy could probably add a bit to his routine after seeing our "waterslide", but the kids didn't seem to mind. Perhaps boys just like monkey bars, perhaps they just lined up to impress Svea.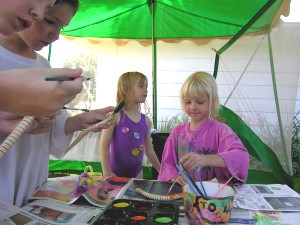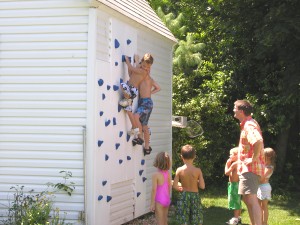 Joan ordered a couple dozen wooden articulated snakes and gathered paint supplies for the party craft. Not everyone tried the climbing wall, but those who did seemed to really enjoy it.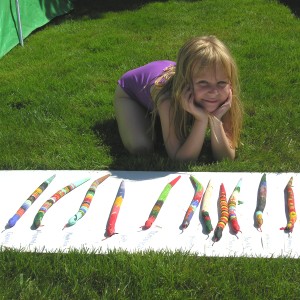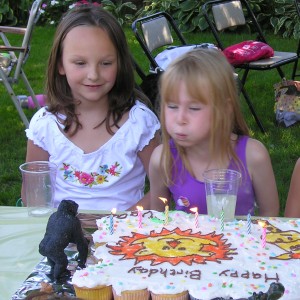 Svea with her friend's finished and drying snakes and blowing out the candles on her animal themed
cupcake cake.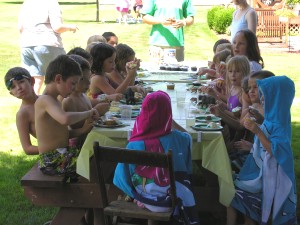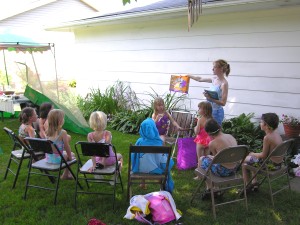 With a loan of our neighbor's picnic table butted up against ours, there was plenty of room to seat everyone. We figured the kids might get bored watching so many gifts being opened so we broke them into smaller more intimate groups.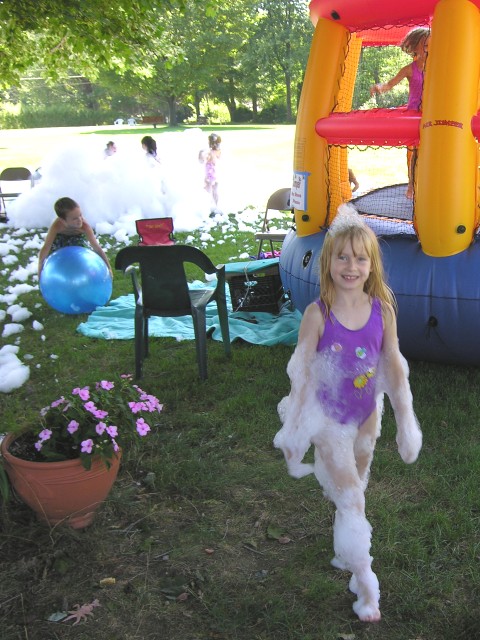 Svea Hall strikes a pose.
Backyard Block Party
Joan and our neighbor, Pam, planned a second annual backyard block party for this weekend as well. Our section of Atwood Drive has six unfenced lots that back perpendicular against two unfenced lots of the cross streets. Our homes are in the middle so we hosted the party under two shady apple trees that somewhat divide our lots and the backyards of the block. We left the kid's stuff up from Saturday's party. I put a new twist on the bubble machine by placing it in the screened tent. The screens on the tent kept the bubbles from being blown away and at times the 12' by 12' based tent was full of bubbles, wall to wall and touching the ceiling. It was a fun party.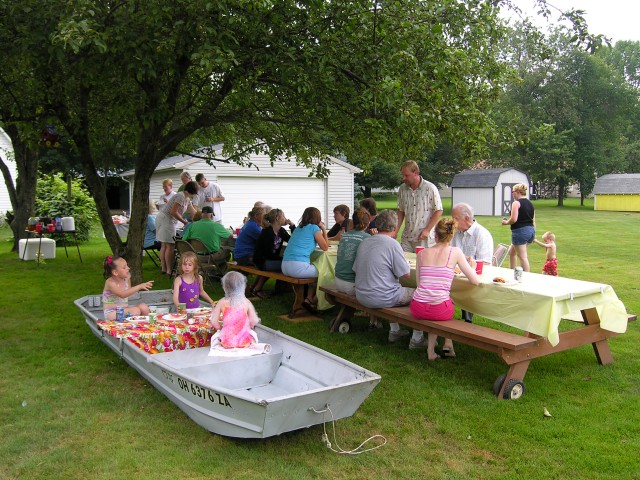 The kids ate in the boat; Brigitta is the one still covered with bubbles.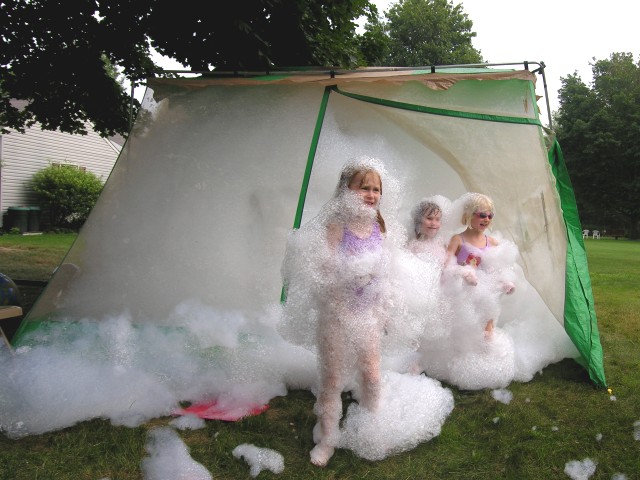 Svea, Brigitta and Grace emerge from the bubble tent. Jasmine and Cassidy eventually found their way out as well.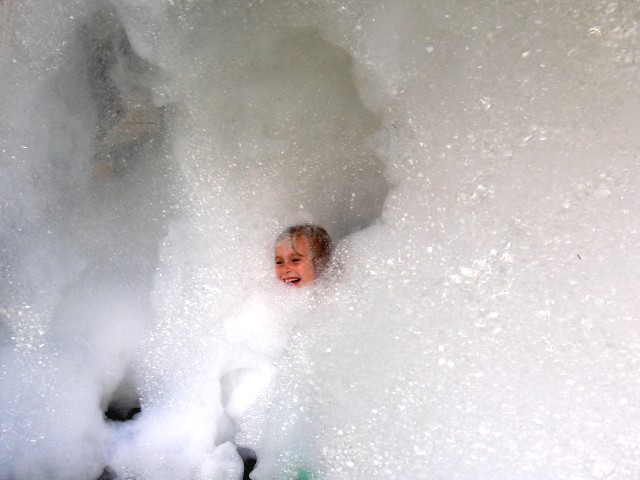 Svea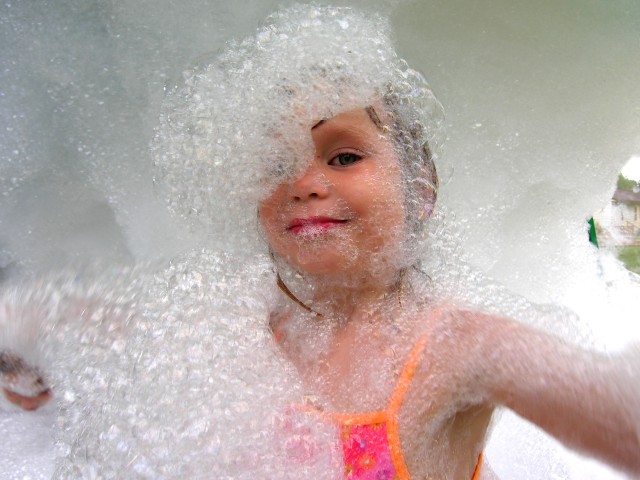 Brigitta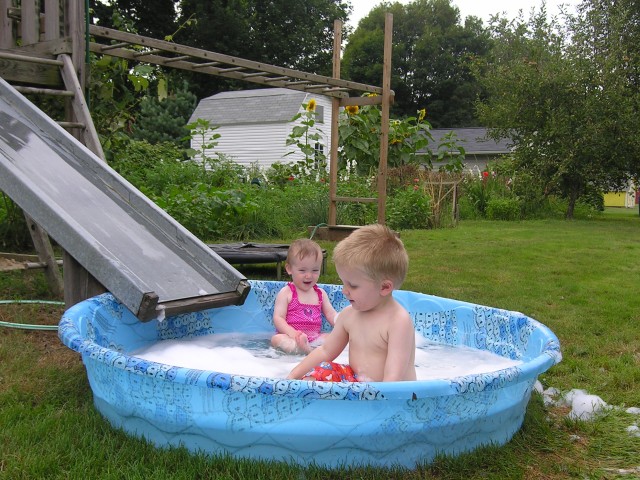 Pam and Gary have a grandson, JD, who is a bit older than Annika.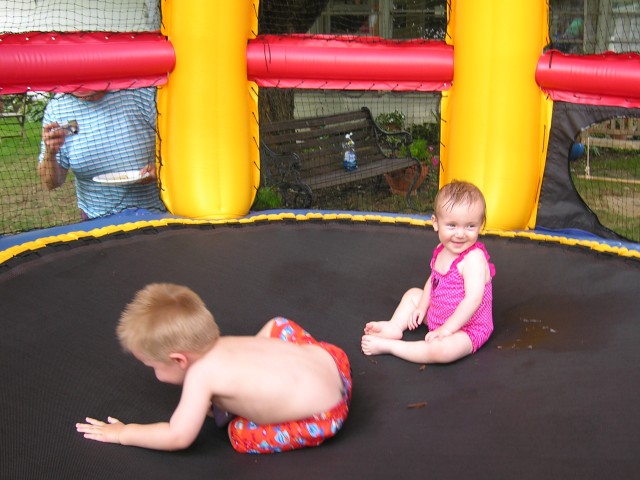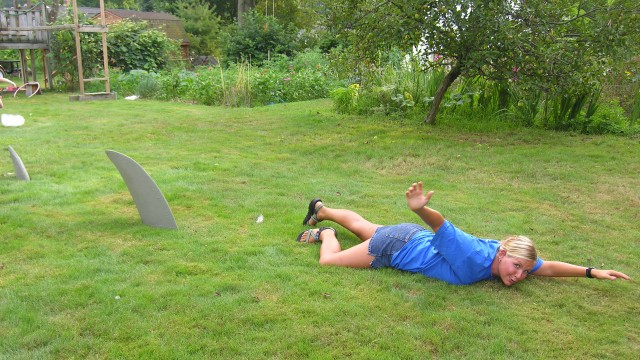 Neighbor Brianna Harris, who in college studied oceanography and most specifically sharks. This was her first encounter, however, with the elusive Ohio Lawn Shark.
Dish Pan Two Man Kayak
Today (Tuesday) I tired an old Rubbermaid dishpan to the back of the Sprinter kayak. The sit-on-top kayak is narrow and tipsy when properly crewed. Add 42 pounds of seven-year-old girl on top and it becomes even less stable. Nevertheless, we managed to paddle four and a half miles along the shores of Mogadore Reservoir today without a getting wet. I had to stay pretty focused on balance and never fully relaxed. It was a fun paddle though and we saw a record number of Great Blue Heron. After explaining to Svea how we would handle a deep-water/far-from-shore capsize versus a shallow/near-shore capsize she entertained me with a running commentary as to where the good and bad places to tip over would be.
Last week I let her paddle solo for the first time. She paddled the 56 pound 17 foot Sprinter while I paddled my old white boat alongside her. She did alright but seemed to be in a perpetual state of overcorrecting and made continuous S turns. The rudder peddles are adjustable but Svea is way too small for even the shortest setting. Nevertheless, its best to learn to control a kayak without peddles. Eventually she grew tired and I towed her around for awhile. Our adventure ended with a dash to the shore and dock just as a very wet thunderstorm hit.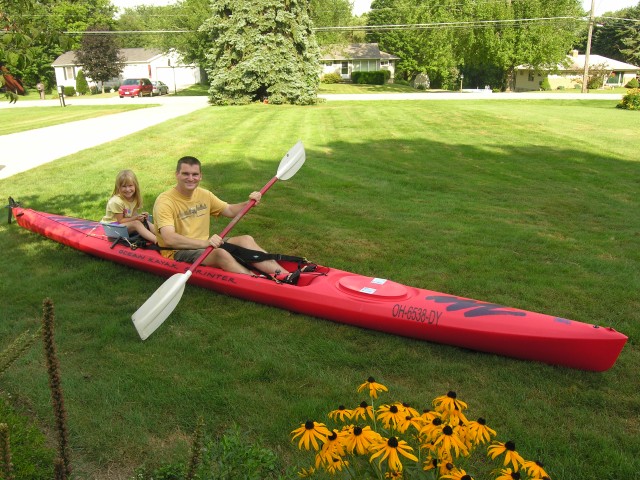 Home Sweet Infirmary
I'm the only one in the family who has not been to the doctor in the past week. Joan has been especially sick lately. Yesterday she slept about 20 hours and now is on medications that should knock out her bacterial infection. She is also recovering from a cold that gave her lymph glands a pretty hard time. On Friday I took Svea and Brigitta to their pediatrician to determine if it was safe to host Svea's birthday party. He confirmed that they were not contagious but discovered that Brigitta had two ear infections (that didn't seem to bother her at all). She had also been complaining of stomach pains and had thrown up a few times. Joan and I have suspected a bacterial infection since my mother has been dealing with one since we left Alaska. Nevertheless, she is on Amoxicillin for the ear infections and hasn't had stomach issues since. Last week Svea and Brigitta were diagnosed with eye infections and have now finished a week of eye drops, much to everyone's relief. Annika passed her ten day post illness check-up yesterday. Papa has eye infections to accompany his cold and cough. Nana is also suffering from congestion. My cold started the night before our Homer camping trip; I'm still not completely over it. I'd go to see a doctor, but rumor has it, there is no cure for the common cold. I did manage to get through the day today with a mellow paddle in place of a major nap.