Sharbot Lake Trip
Even though we didn't get "North to Alaska" this year we did manage to get to the "Great White North". The day after Svea's birthday party we headed ten hours north east to Sharbot Lake, Ontario, Canada. It was a difficult week preceding our trip trying to plan and execute Svea's elaborate party and pack for a week in a barely furnished cabin. We packed our van full of seven people and our stuff and set out. The drive up was pleasant in part because of the portable DVD player we strapped to the middle seats to occupy, mollify and pacify the girls in the back seat. Although not a huge proponent of these electronic tranquilizers, with seven people in such a confined space for such a long time, I made sure it was charged and ready to go. We left early on Sunday morning and arrived about 10 hours later.

Sharbot Lake has always been a favorite vacation spot for the Wilstermans. In the 1940's, Papa began fishing there with his children. John has such fond memories of the many summers he spent there that he has often brought his own family back to experience some of the same "magic". Joan had been there a few times in her childhood and was happy the girls got their first taste of Canadian fishing. John called in late July asking if Papa would be up to traveling there "one more time". When told that Papa was thrilled to go, John made all of the arrangements for us.

Sharbot Lake Trip - Monday
Cabin 5
We spent our first night in cabin 5 at Mohawk Lodge. The cabins are very rustic and dated, but much nicer than tents. Here are a couple snapshots of the living area. It also had two small bedrooms and a bathroom without a shower/tub.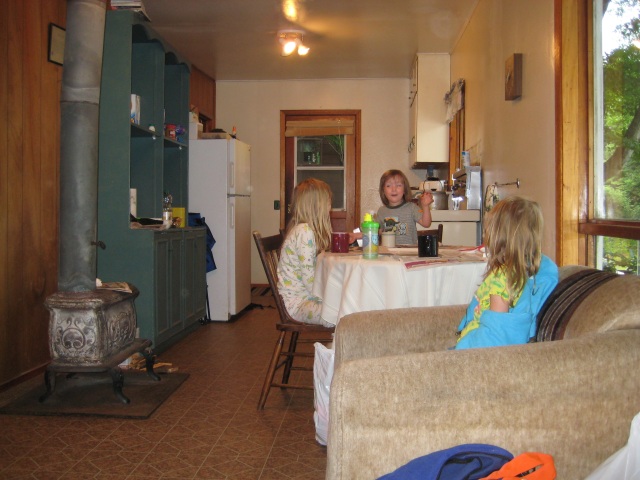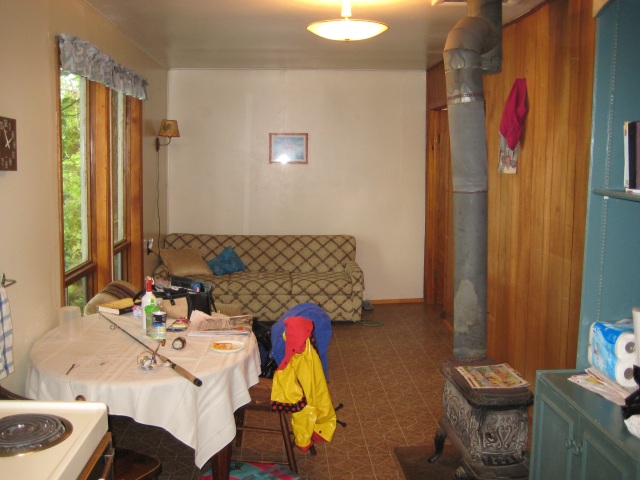 Brigitta points to a shellfish from the dock at Mohawk Lodge.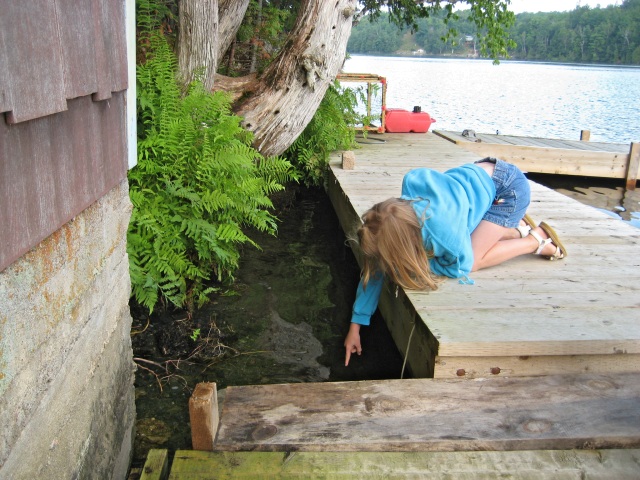 Annika - looking sharp in her oh so cute fishing hat.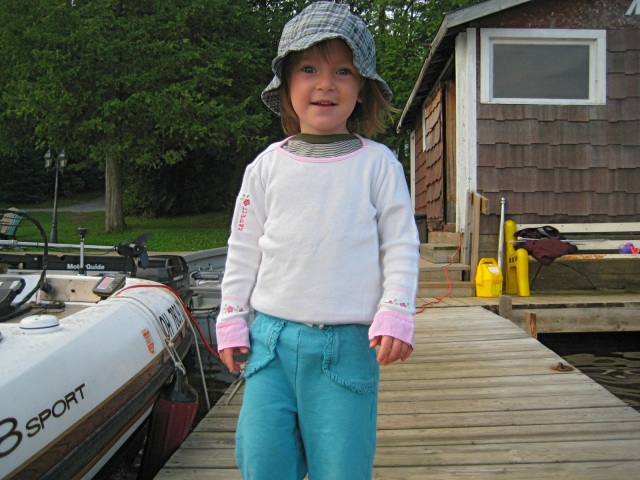 John gives Svea and Brigitta a rod and reel lesson.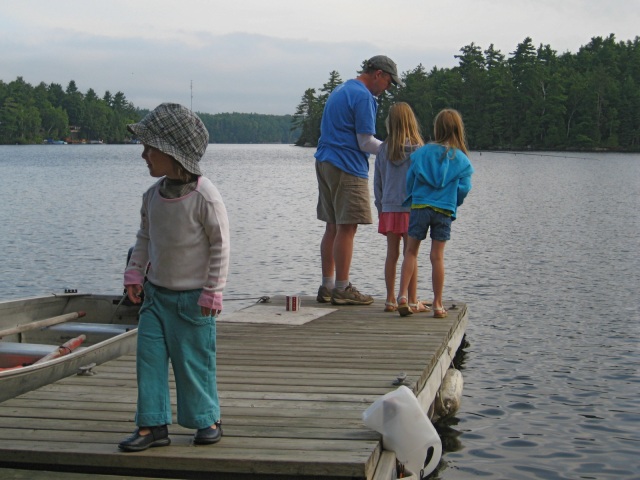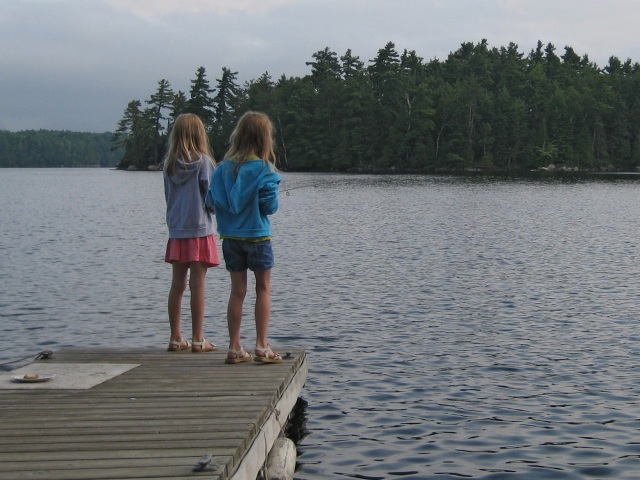 John, Papa and Brigitta used the rental motorboat to tow Joan, Annika and Svea in the rowboat that came with the cabin out to a spot where the fish were.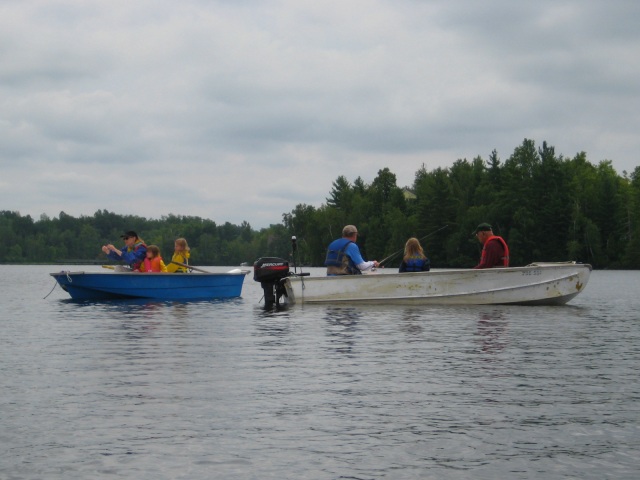 I followed in the Sprinter kayak and took a few pictures and fished a bit myself.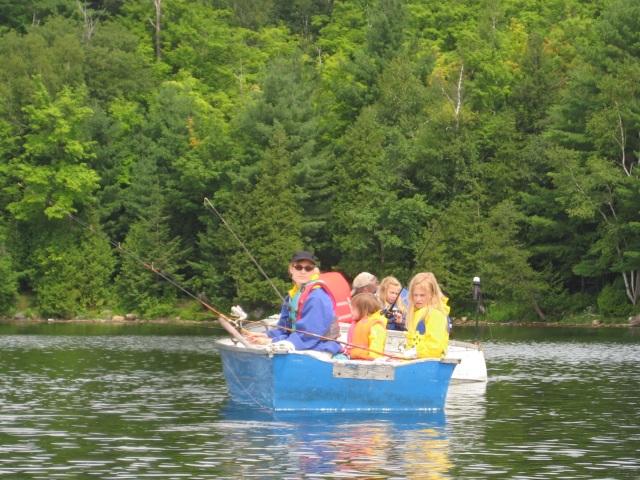 Then I paddled around much of the western part of Sharbot Lake.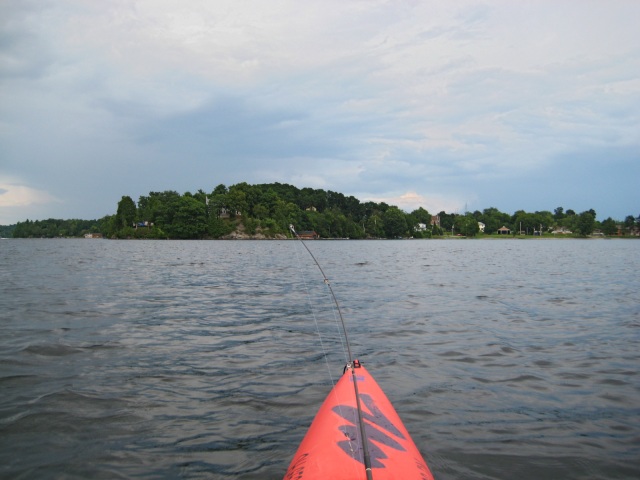 I even paddled under the railroad and highway bridges to view the eastern side of the lake.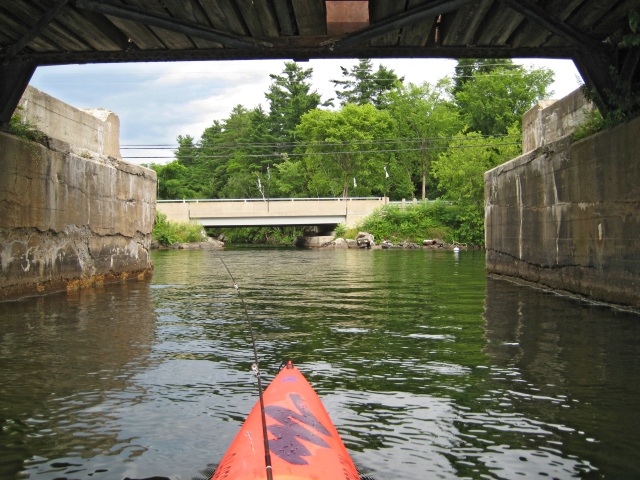 They say they the lake water level is 30 inches higher than normal. This little rocky bonsai island may have been part of a larger island just behind my kayak when the water is at normal level.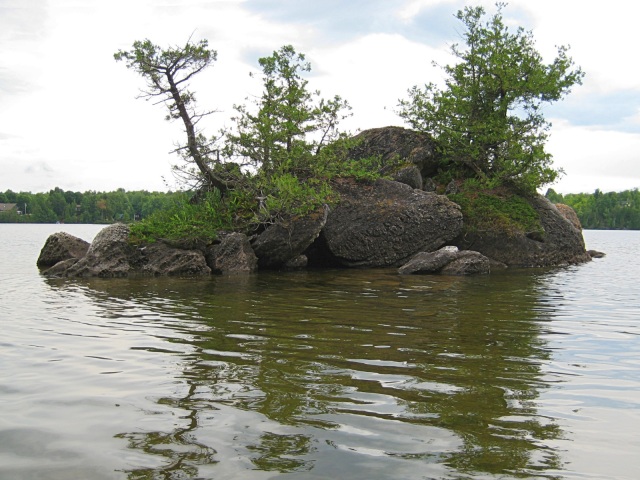 Papa shows off the day's catch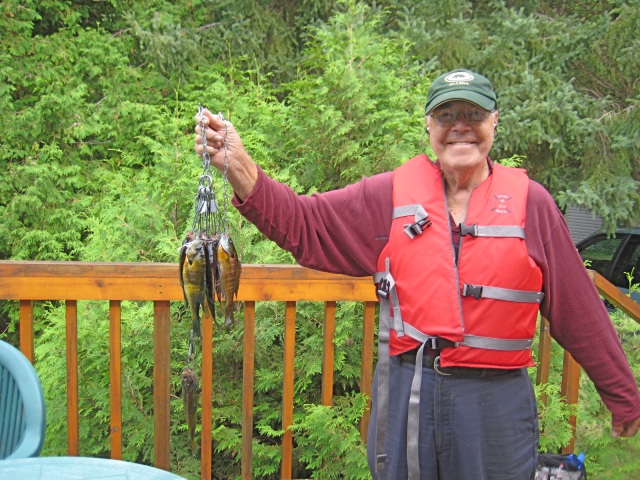 The Apartment
Instead of a cabin, John and Jean upgraded to an efficiency apartment that was converted from within the owner's old home; it was much nicer than any cabin and had an indoor shower. The family in the larger apartment next door was from Cuyahoga Falls; mother and son were Hoban graduates. It was truly amazing to run into folks from our area 500 miles from home. They gave us a ride on their awesome speedboat, gave us some fishing advice and shared their perishables before they left. Since they left nearly a week early, we upgraded and moved into to the much nicer apartment that also had an indoor bathroom/shower. Another big benefit to moving on up was that we could unlock the doors between the two apartments which made sharing meals and interaction with John and Jean much easier.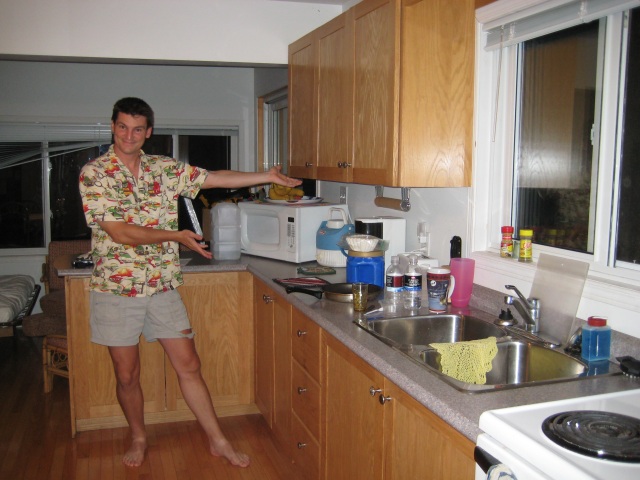 Nana tries to hide from the camera behind the microwave and bananas.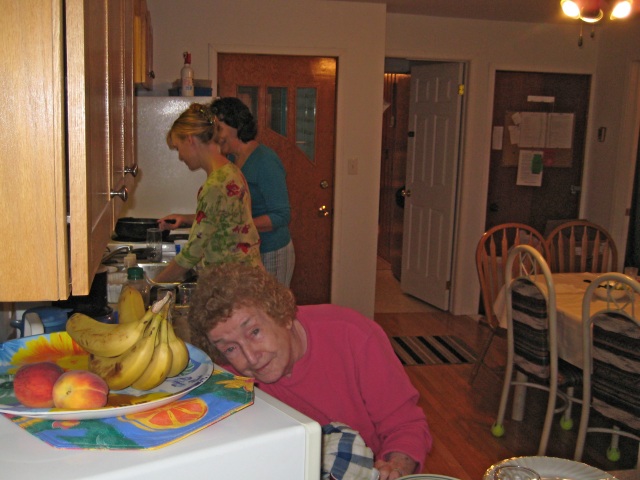 The girls on the pull out couch in the living room - not sleeping.