Nan Klinger Dance Studio Ballet Recital
Annika, Brigitta and Svea had their ballet recital at Cuyahoga Falls High School last night. All three girls did a great job and the show was very enjoyable; look for a video on our movie page. Annika was up first; Brigitta ad Svea were back to back. Although I tested and compared the video zoom capabilities of the Canon and Olympus, I did not realize that the Olympus focus locks when a video clip starts recording; unfortunately I realized that while filming Annika's performance. It's totally out of focus; I'm bummed since it was her first recital.
The vast majority of dancers are girls which makes the boys really stand out. One boy in particular, named Dustin True, has always been remarkably good; I look forward to his performances. He's only a sophomore in high school and he has been accepted into the New York City Ballet's Training School for the summer. Mark my words, he's going to be a big star some day.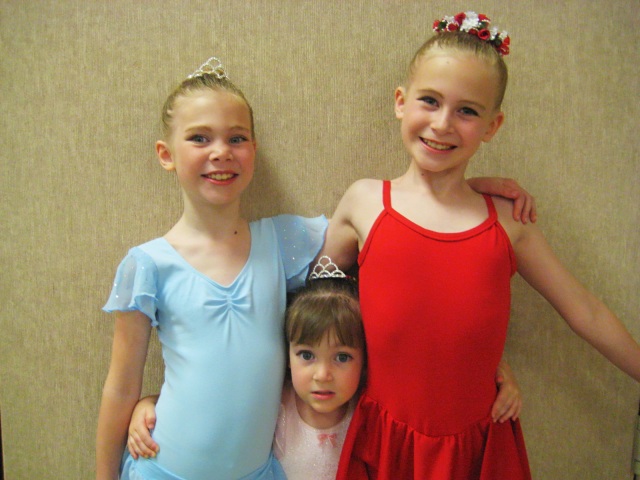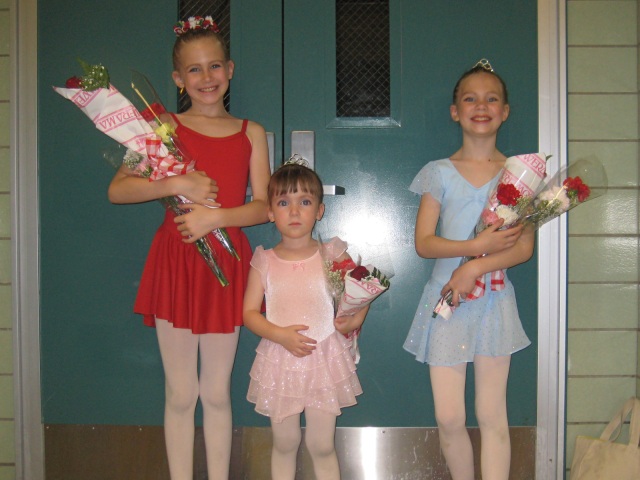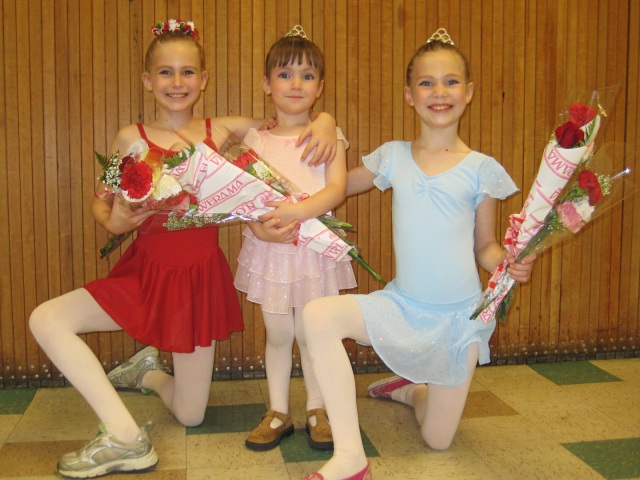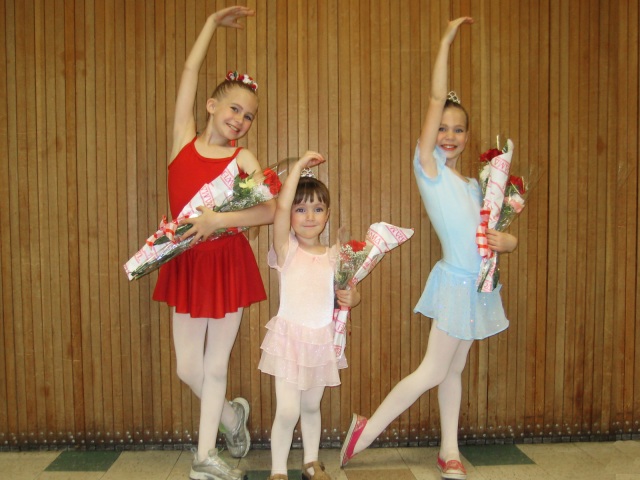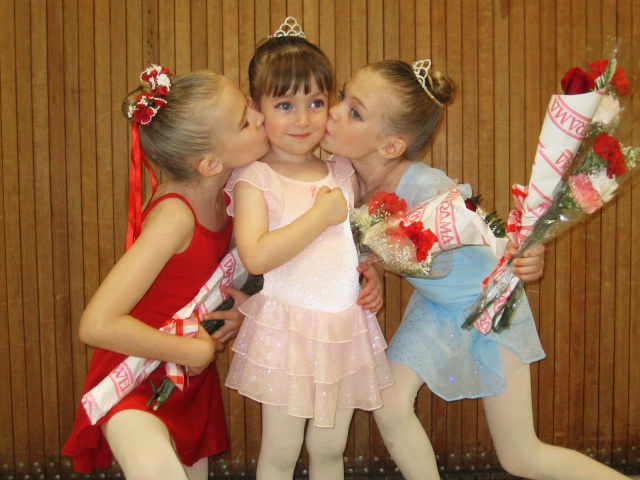 Annika Gets Glasses
We had no idea that Annika's eye sight was less than perfect; her yearly check-ups also showed that her eye-sight was fine. At the end of her preschool school year her teacher pointed out that one eye slightly crossed when viewing things nearby. Joan took her to an eye doctor who determined that Annika is far sighted. Her prescription is significant, although we can expect it to lessen as she gets older. Annika was extremely premature, her mother wore glasses and her grandmother also has a turned-in eye; it's not surprising that she needs glasses. She likes her glasses and is adjusting to wearing them and taking care of them quite well. She also appreciates how her near vision has improved. She tends to bow her head when viewing things at a distance so she can look over her glasses; she sees things at a distance better without them.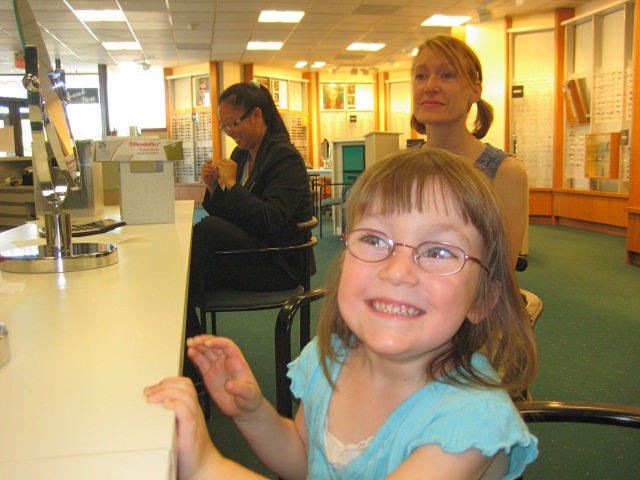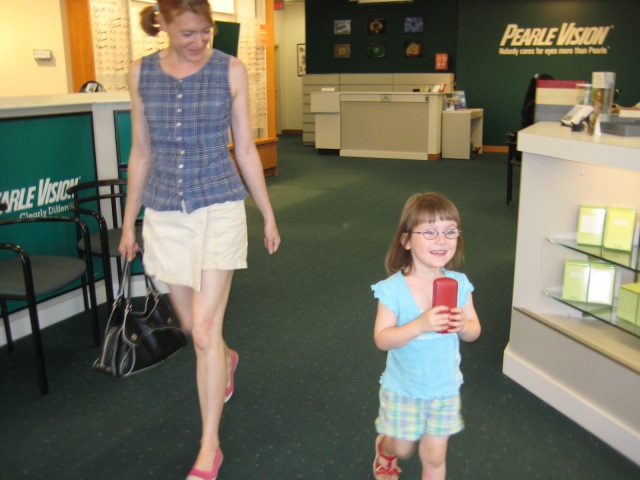 Svea Gets Her Nails Done
Last week Svea attended a friend's birthday party that was at a salon/spa.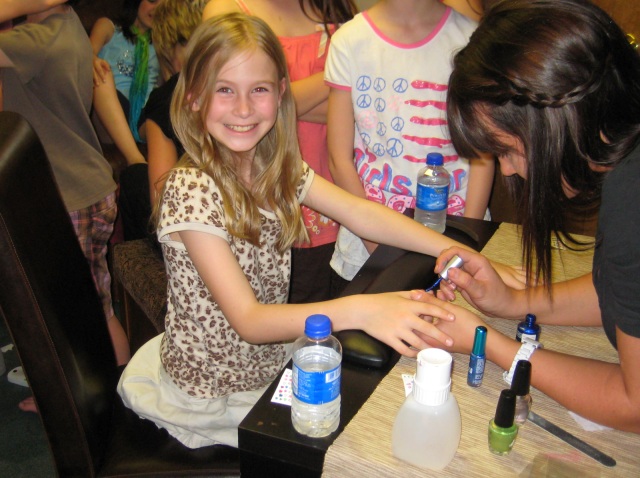 New/Used Computer and Camera
Last week was a banner garage sale weekend. I've been thinking about getting another digital pocket camera so that each of us will have something to take pictures with in Alaska. I found an Olympus 8.0 Megapixel Stylus 810 for $40. I'm not crazy about Olympus; their performance lags behind Nikon and Canon cameras in the same price range. Some models do have redeeming features, however. They make a waterproof/shockproof line and an all weather line. The 810 is an all weather model which is good for someone who paddles, bikes and skis in all sorts of weather. I usually keep my little Canon in a Zip-Lock bag, which is a bit of a pain. This Olympus takes decent pictures and I think it takes slightly sharper movies at a zoom than our Canon SD1000.
I also bought a Vista computer for $75. Joan's old XP computer originally came with Windows ME; it was a hand-me-down from Joan's brother John. Over the past seven years I have replaced every single component except the motherboard, clock battery and case. It's been a real dog lately and I've spent quite a bit of time troubleshooting in attempt to get it up to reasonable performance. It won't even play YouTube videos anymore. Anyway, the new garage sale computer (no monitor) is a Dell with a 2.6 processor, 1 GB of ram and a 250 GB hard drive. It originally came with Windows XP, but now has a fresh install of Vista. I spent another $70 online on a second GB of ram and a cheap video card. I also swapped the better power supply from the old machine. It seems to run very well and I am quite relieved to not have to fix the old machine right away.
DVD Yearbook
I'm swamped and will remain swamped a little bit past the end of the school year with my school's DVD Yearbook. Right now it's hovering around 500 pages/slideshows and 9,000 files within 1,000 folders. Most of the big movies and slideshows have yet to be added.
Happy Anniversary Mom and Dad!
Today is my Mother and Father's 52nd and 22nd wedding anniversaries. No, they were not married twice, believe it or not they have been married three times.
Into Friendly Fire: the RP-63 "Pinball"
Papa was featured in an article "Into Friendly Fire: the RP-63 "Pinball" on a short lived online magazine: Ghost Grey Aviation Magazine. The article appears to be based on research from a book that I have read; "Operation Pinball" which is about the RP-63 manned target plane project and my tribute sub site to Papa: http://www.wwiirt.com/usaaf/william_wilsterman/william_wilsterman.htm.
Alaska in One Month!