Trip to Alaska
We left Ohio early Thursday morning, June 25, and drove to Chicago O'Hare where we waited five hours for our flight. We really expected traffic and construction to slow us down, but everything went quite smoothly. The girls watched movies in the airport and I played with the new camera and telephoto lens. It was 24 hours of travel time from waking up in Tallmadge to going to sleep in Wasilla - one LONG day!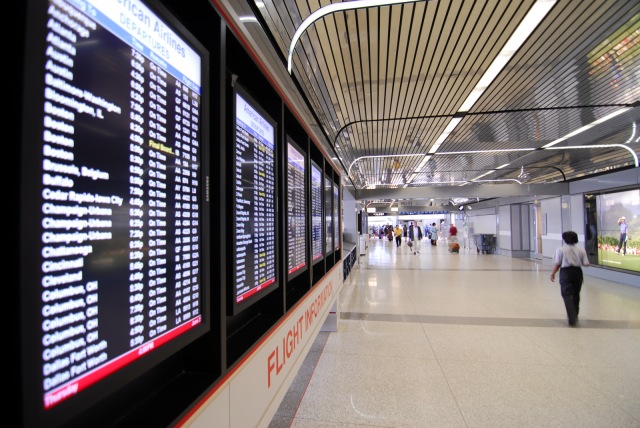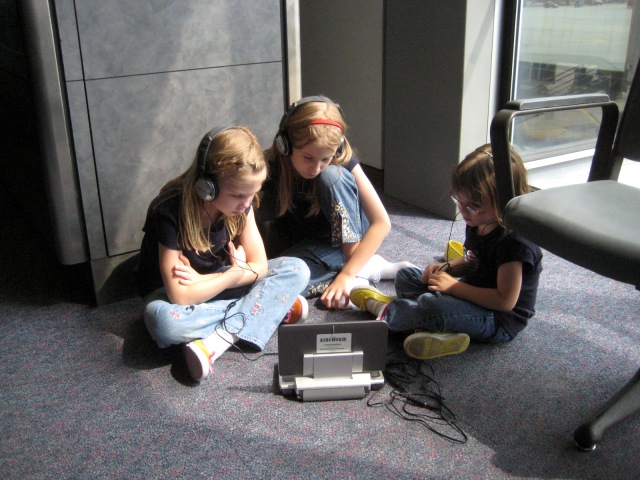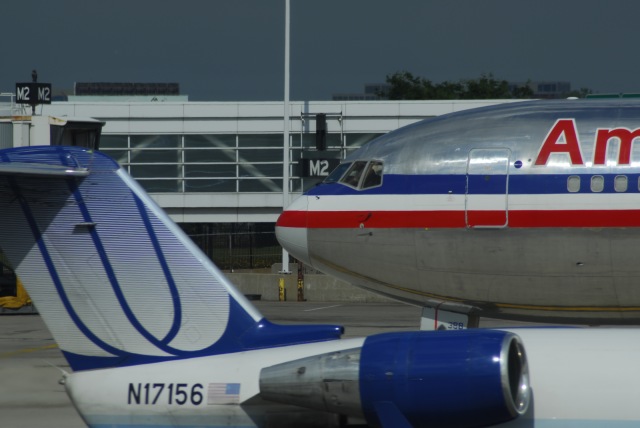 Independence Mine at Hatcher's Pass - Hike One
I worked for my brother during our first week in Alaska, but we managed to get up to Independence Mine for a couple morning hikes before I had to head to work. Everyone took lots of pictures. These first two were my first attempts at HDR with the new camera and lens.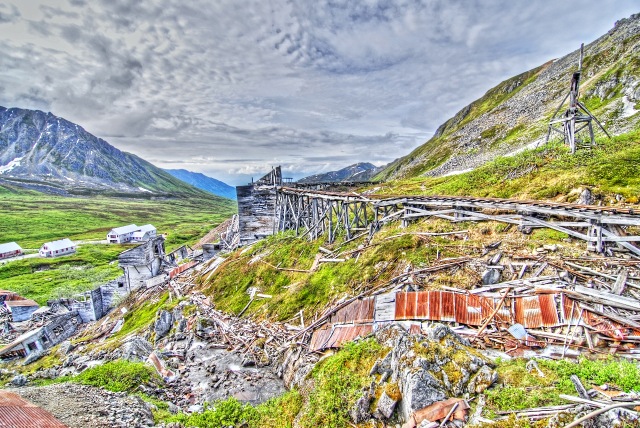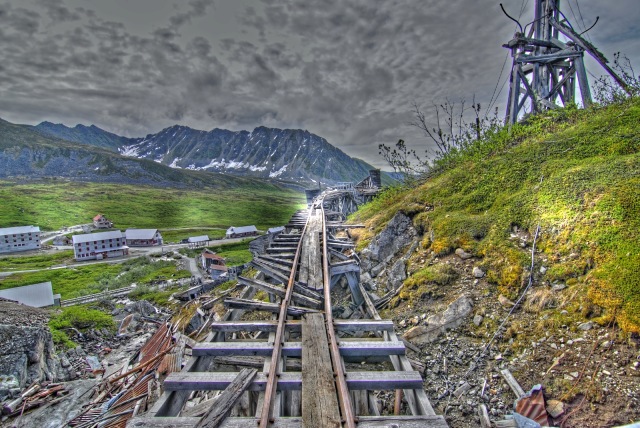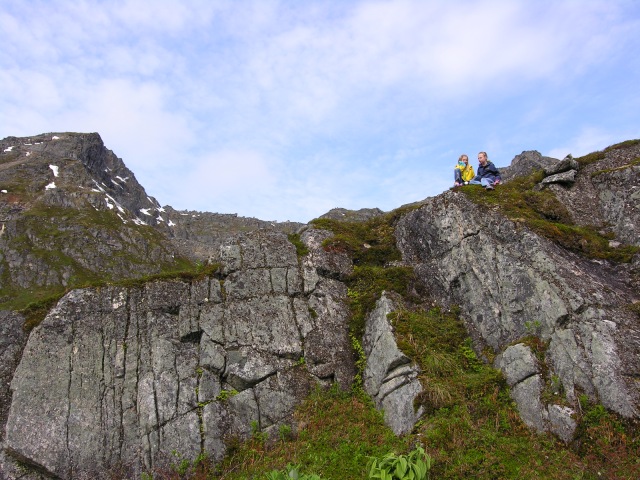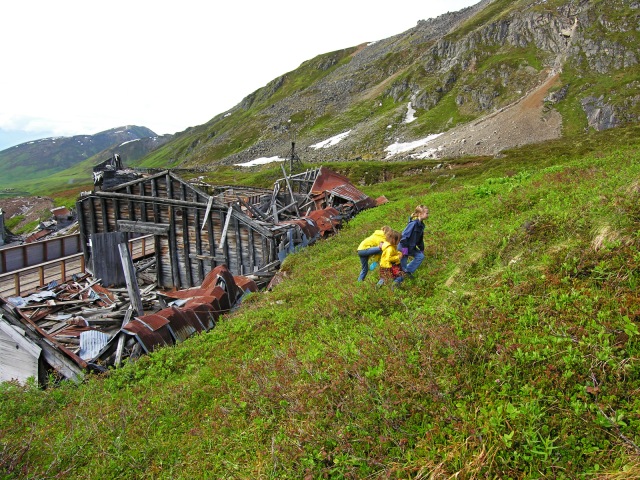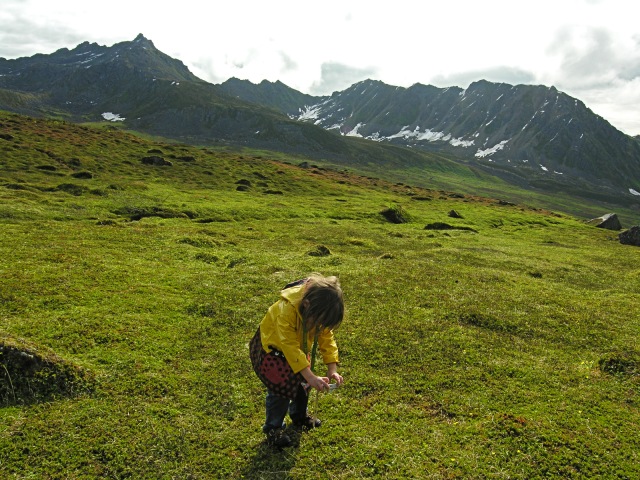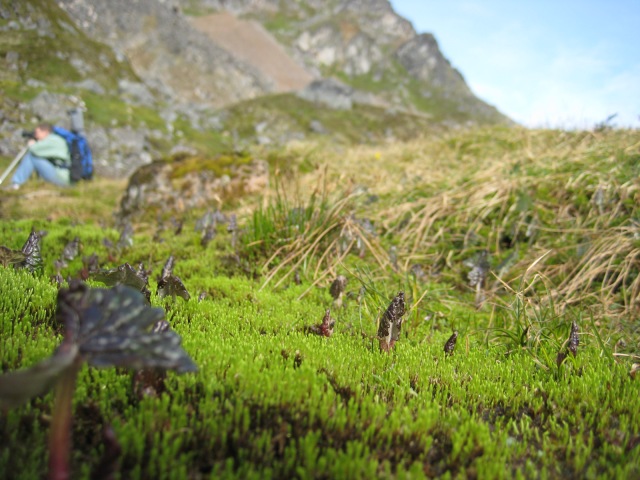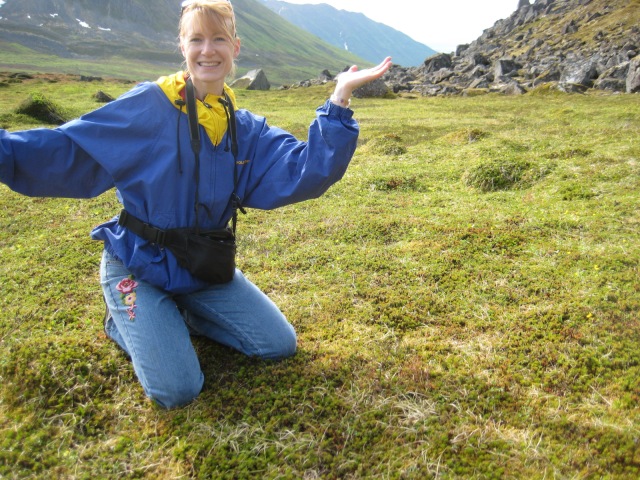 Annika took this one of Joan. It was the first time Annika had been allowed to use a camera. She loved it and has requested to have one ever since.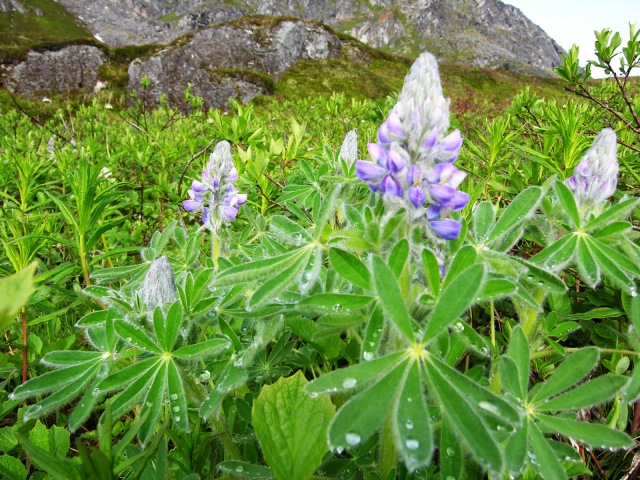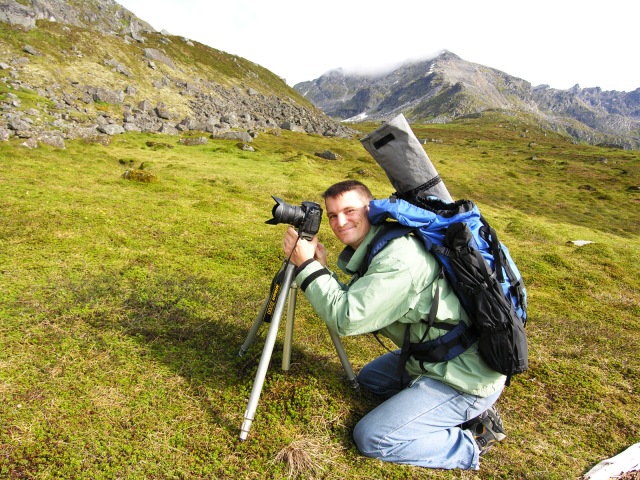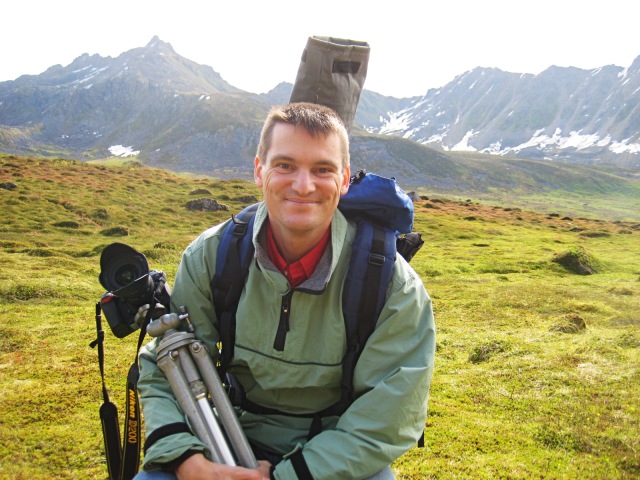 Annika took this one of me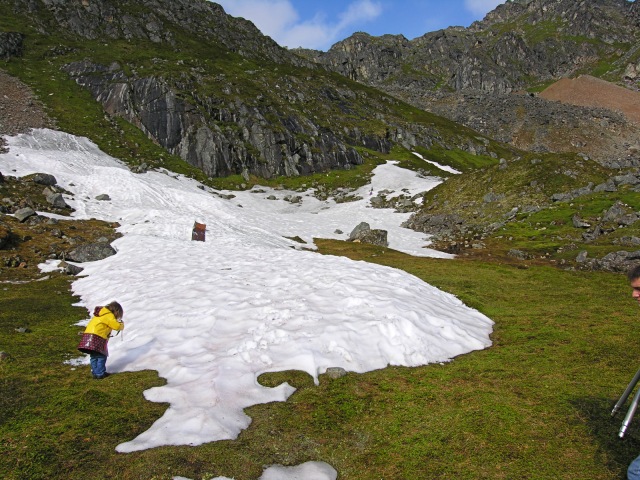 There she is photographing snow.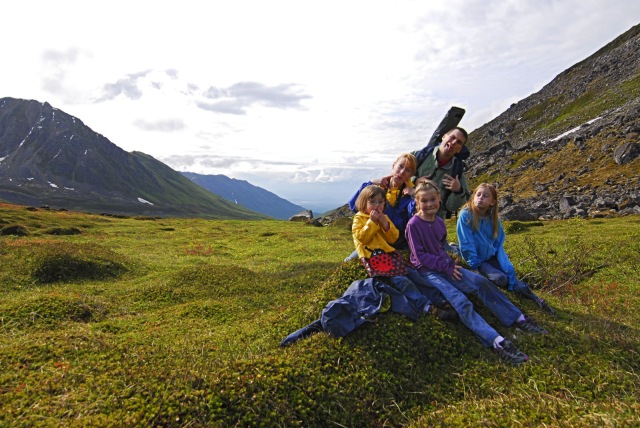 Our family portrait.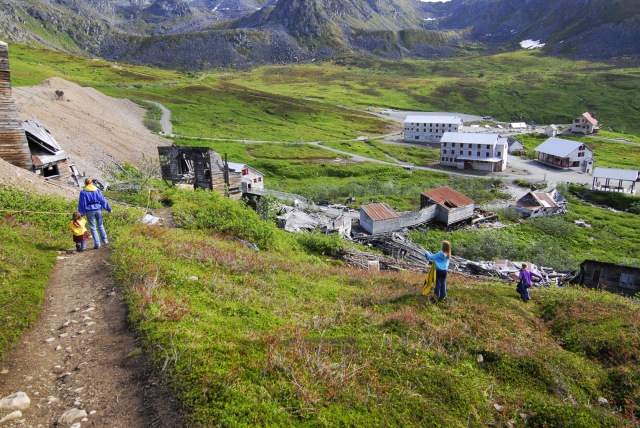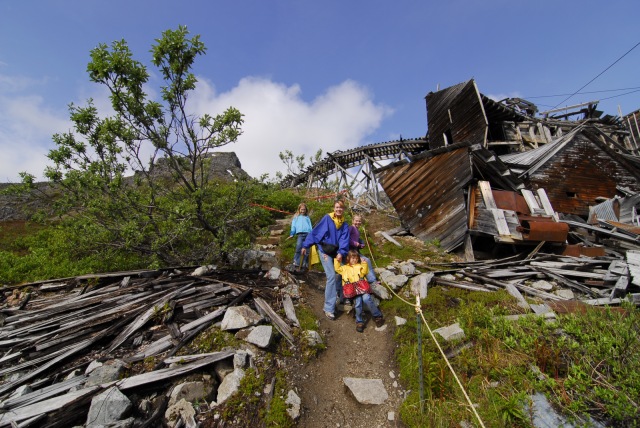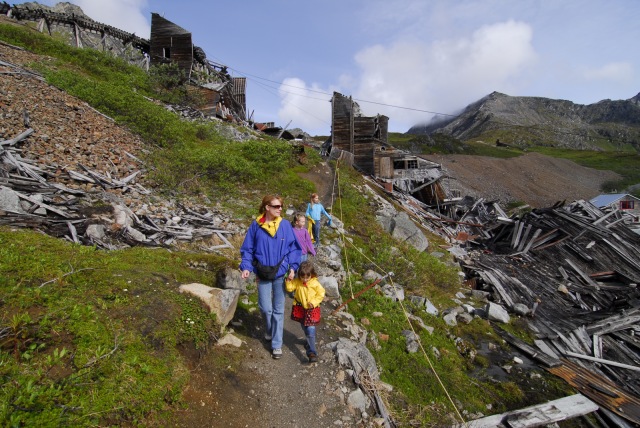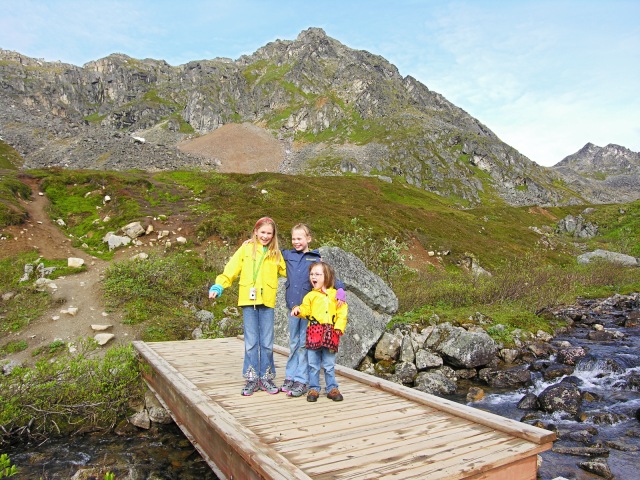 Musk Ox Farm
Joan and the girls kept busy while I worked. Grandpa took everyone to the musk ox farm.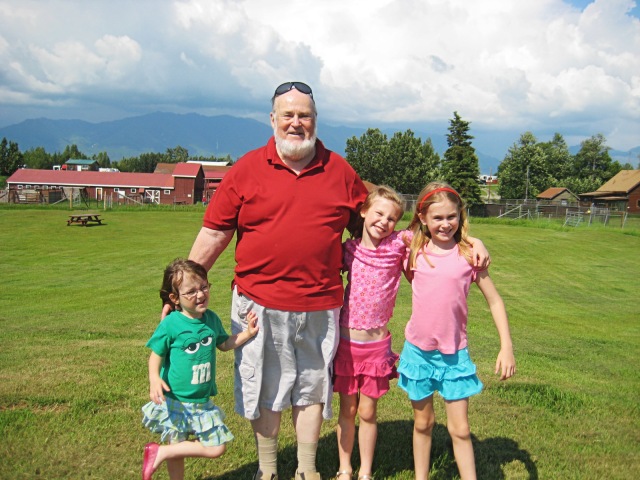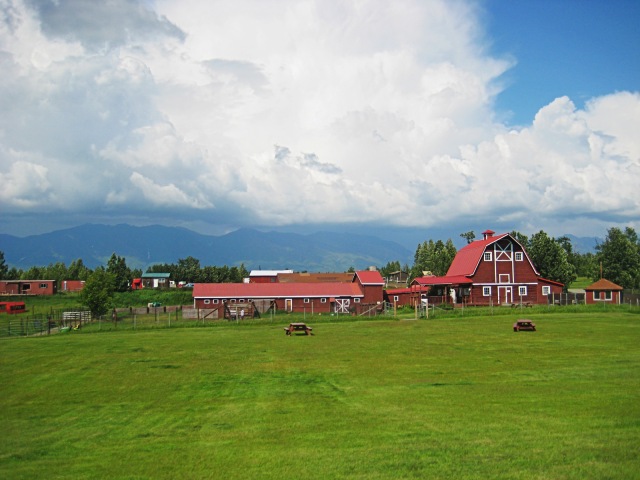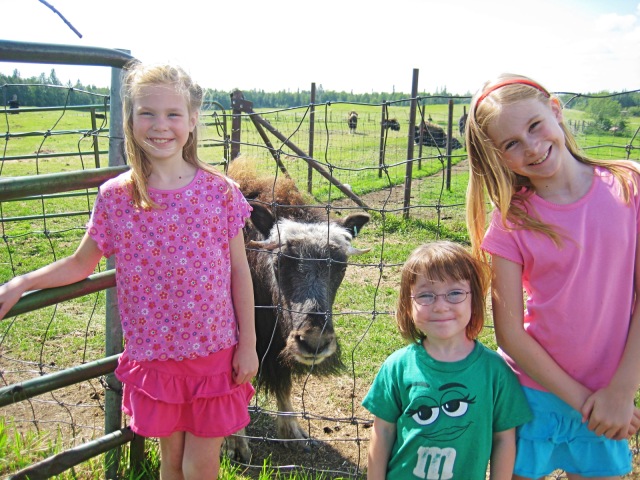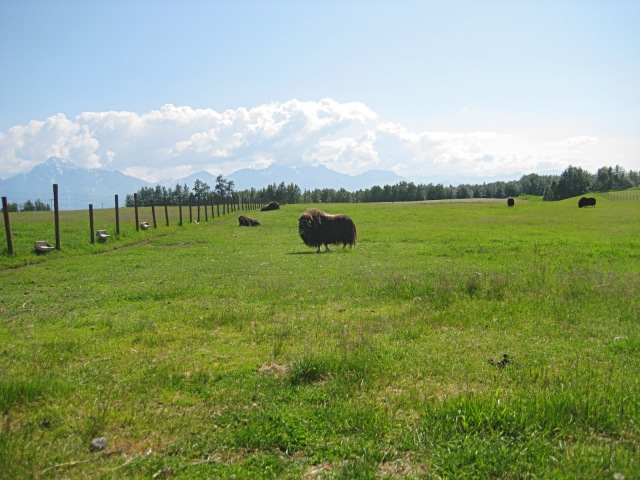 Gorilla Fireworks
I worked for my brother to pay for my new camera; here's the stand that Charlie Bader and I built twenty-some years ago and the Batmobile that I built around the same time. I biked 11.5 miles from my parents' house to Gorilla every day. There are now beautiful paved bike trails all the way from Wasilla to Houston.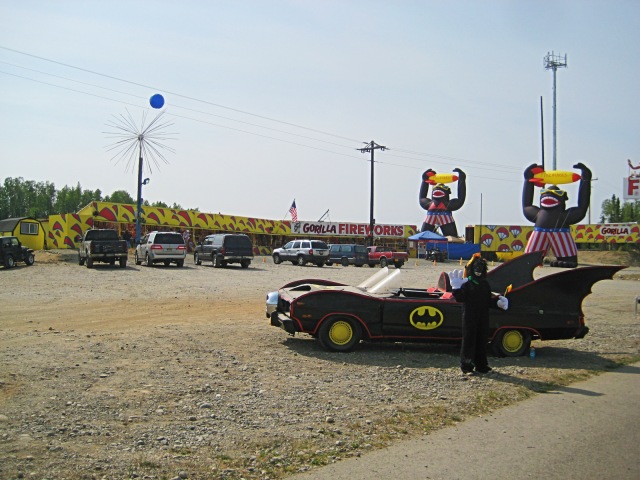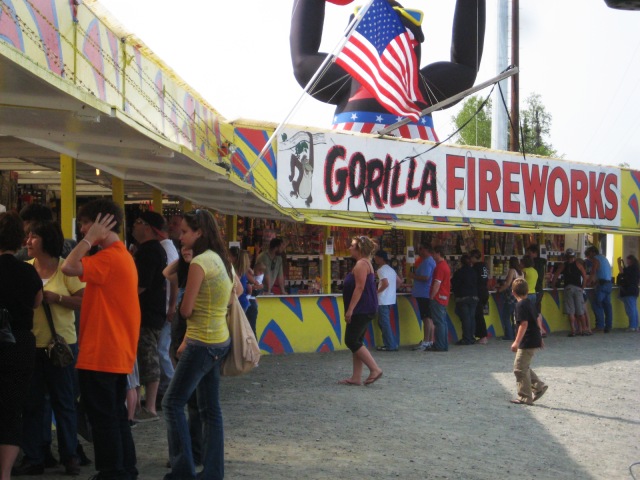 One of my projects was to semi-cheesy-restore a 1957 Bristol London Bus that my brother recently purchased. My old friend Kelly Hebert and I worked on it together. It was missing 12 windows and the entire front hood-grill area. I still have to get an "after" picture since it's been painted.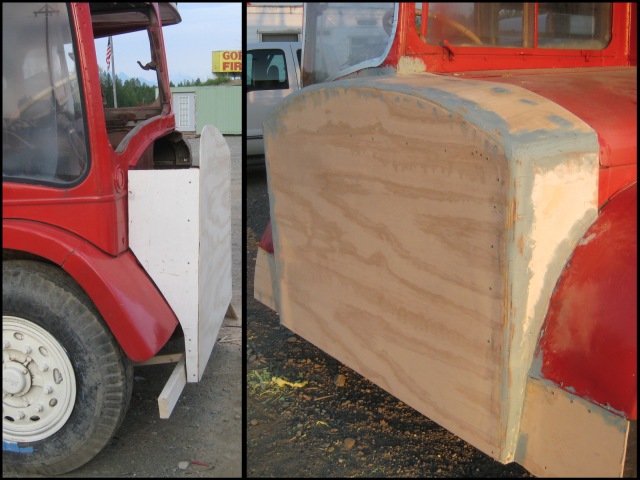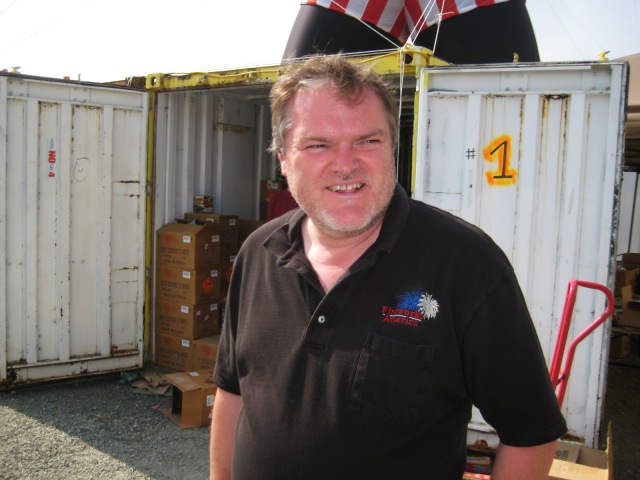 My brother, Robert, behind Gorilla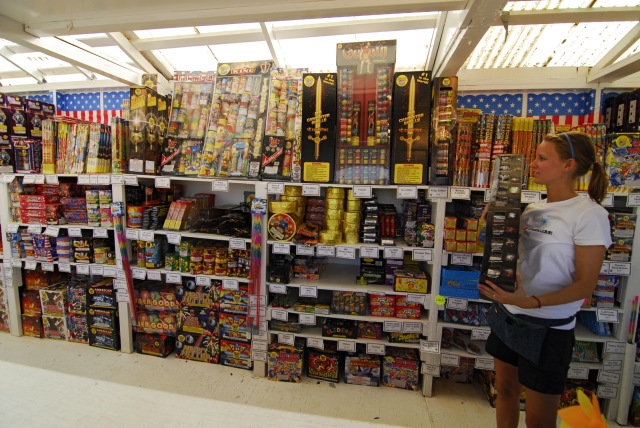 Fireworks and Sammy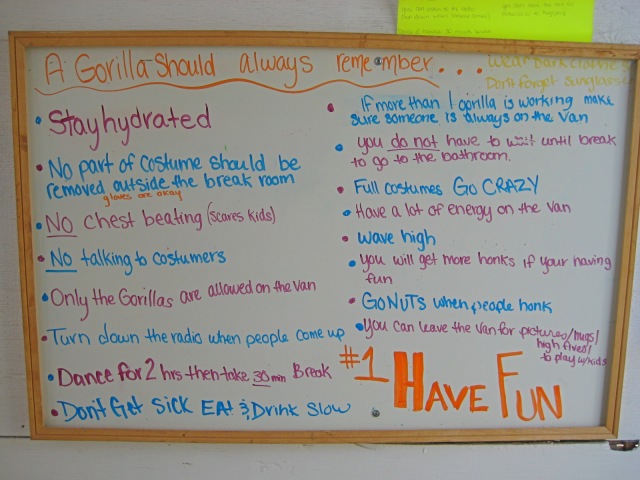 During the busiest days, gorillas always dance and wave in front of Gorilla Fireworks. Being the Gorilla Fireworks Gorilla would kill anyone over the age of 19. The van that they are dancing on is Doug Roth's old Dodge van.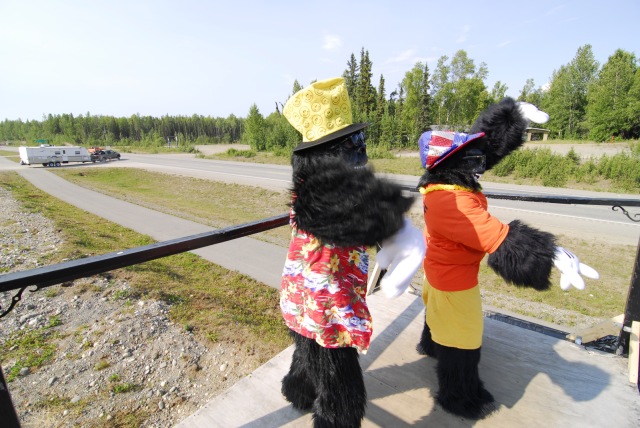 Independence Mine - Hike on Gold Cord Lake Trail
This was our second morning hike; we only had enough time to get to a historic cabin before it was time to turn around.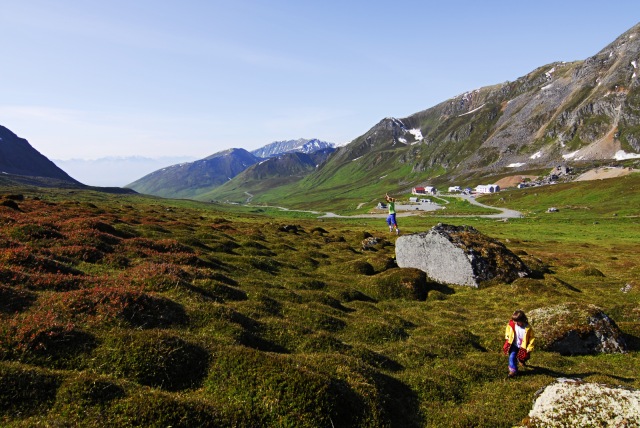 Brigitta must have jumped off of this rock a dozen times. Hiking with Britta is much like hiking with a dog; she runs ahead and then back, and then runs off to the side and then back. She likes to lead and then doubles back to see why we aren't keeping up with her.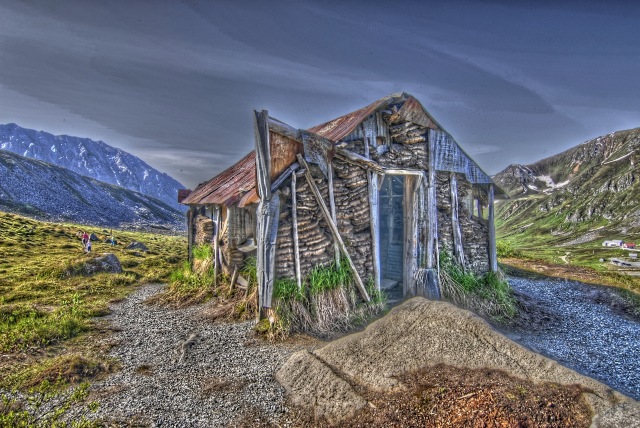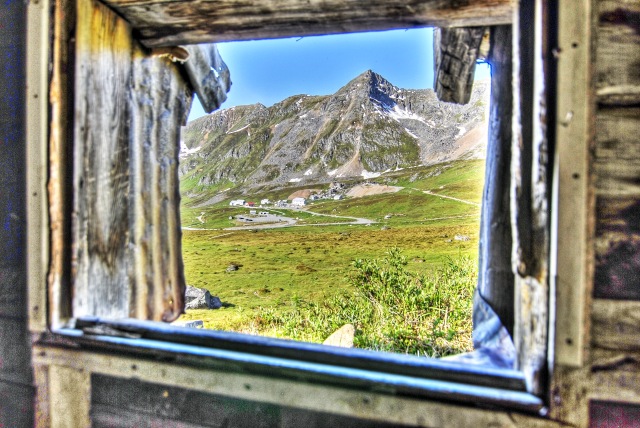 A moment of Zen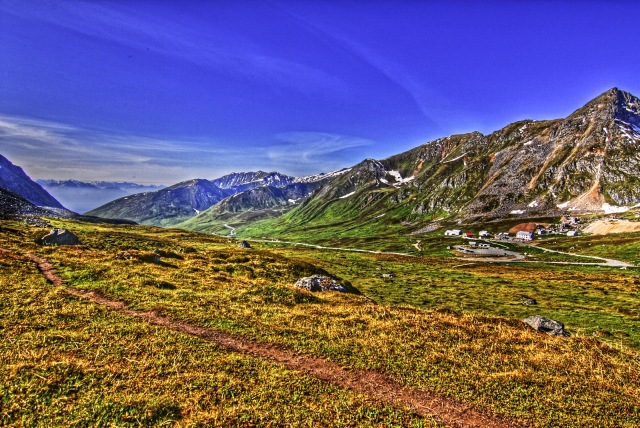 Reindeer Farm near The Butte
Grandpa took the girls to a reindeer farm where the got to feed reindeer. The reindeer came right up to you and ate the food out of your hands. Reindeer have no upper teeth (or so they told us) and cannot bite.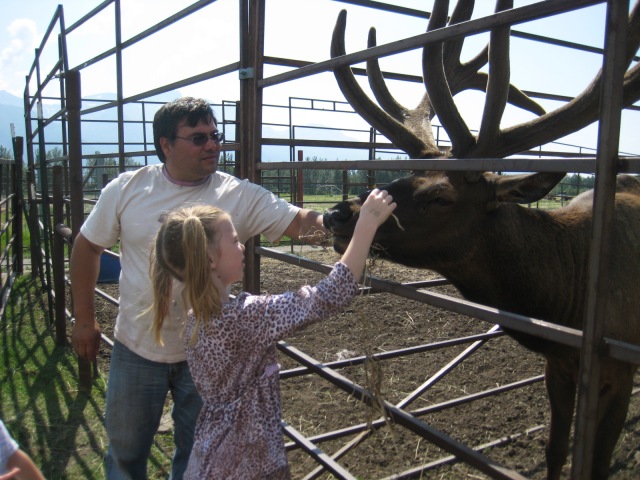 Brigitta even fed an elk.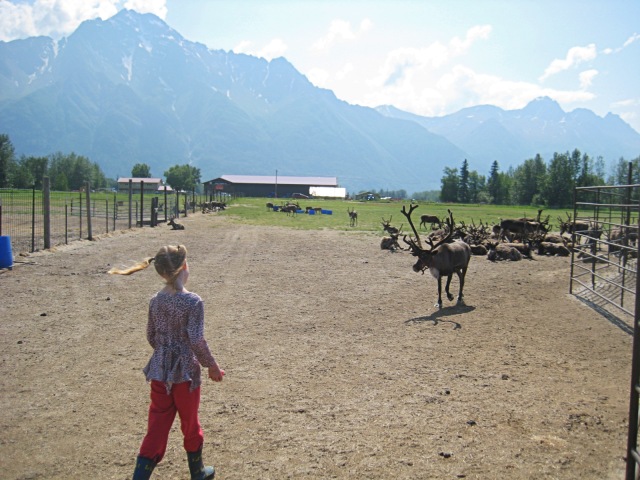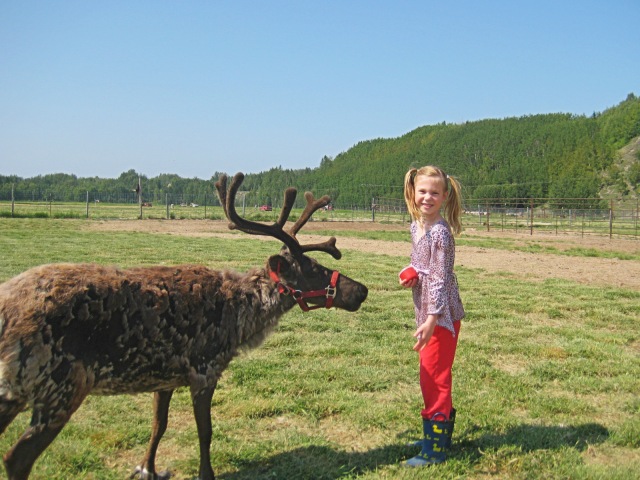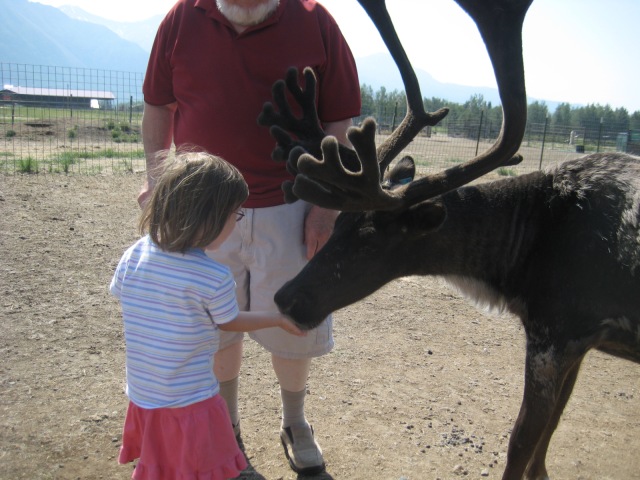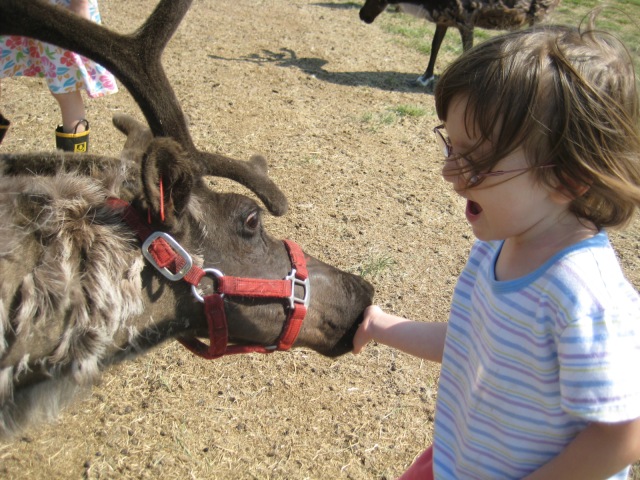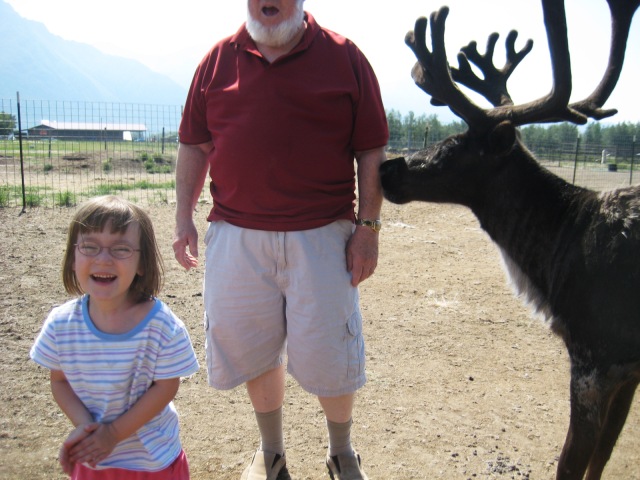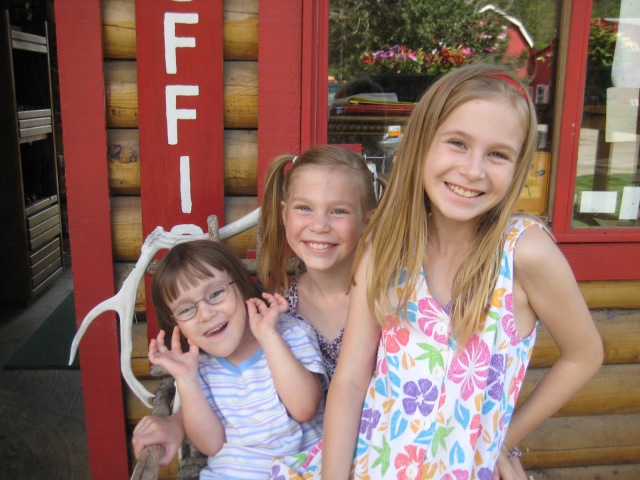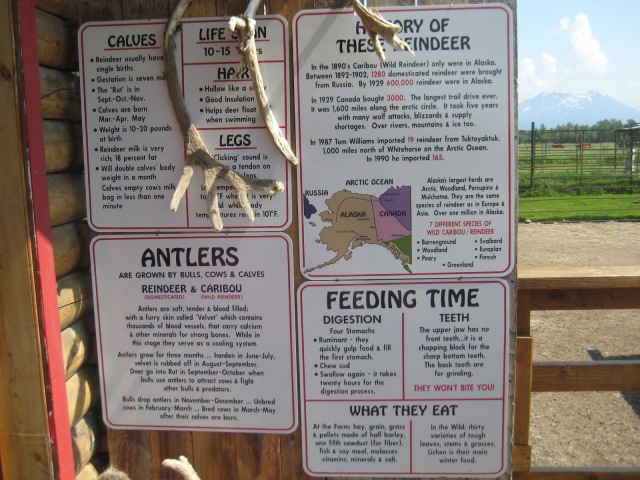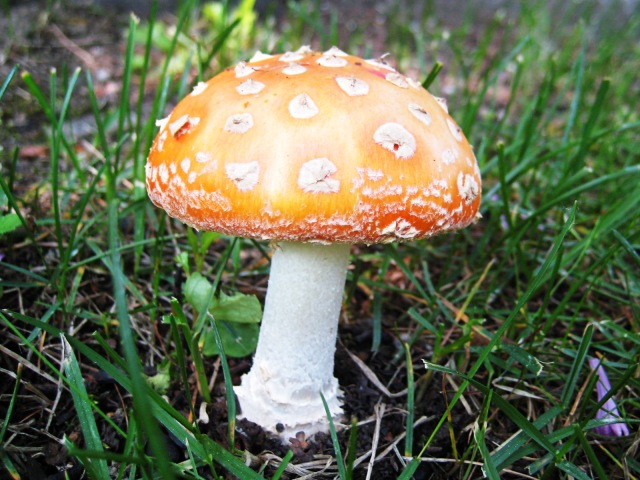 Joan likes mushrooms.
Happy Birthday Mark
We celebrated my brother Mark's 50th birthday last Sunday. I remember when 50 seemed old...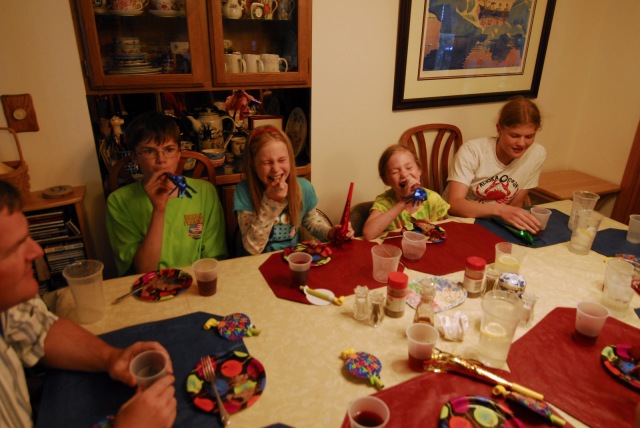 A Few Random Pictures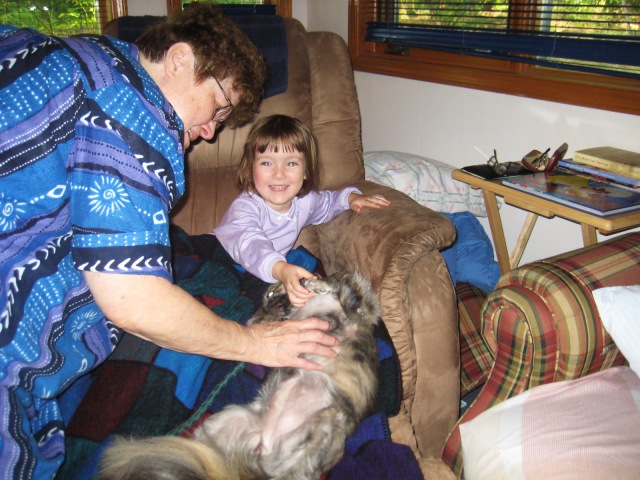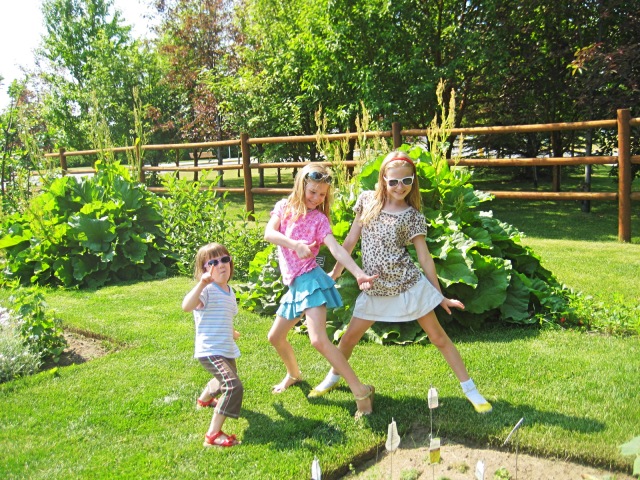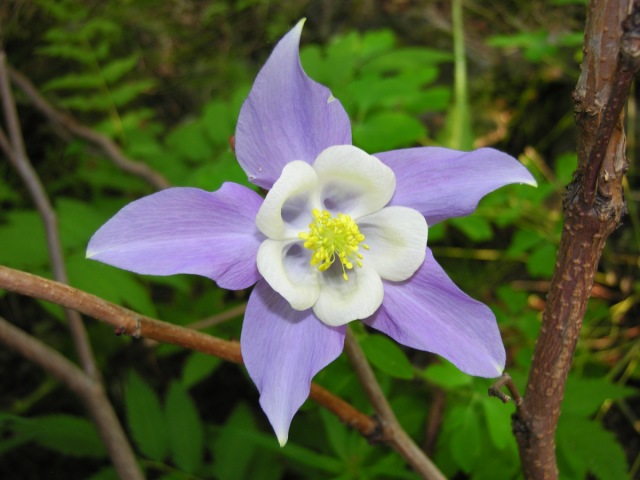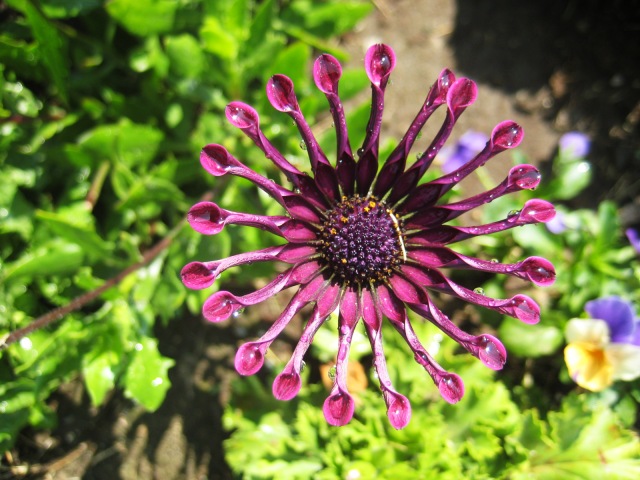 Spoonflower
Wasilla Fourth of July Parade
Mark joined the family for Wasilla's Fourth of July Parade. Sara Palin was supposed to lead the parade but this was the day after she announced that she was resigning her governorship of Alaska, so she wasn't there.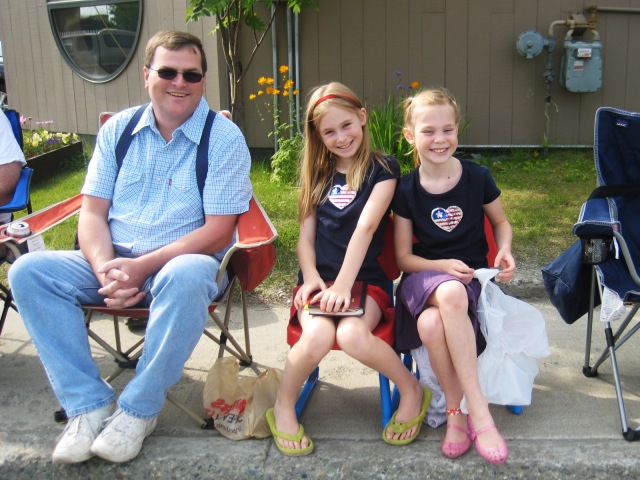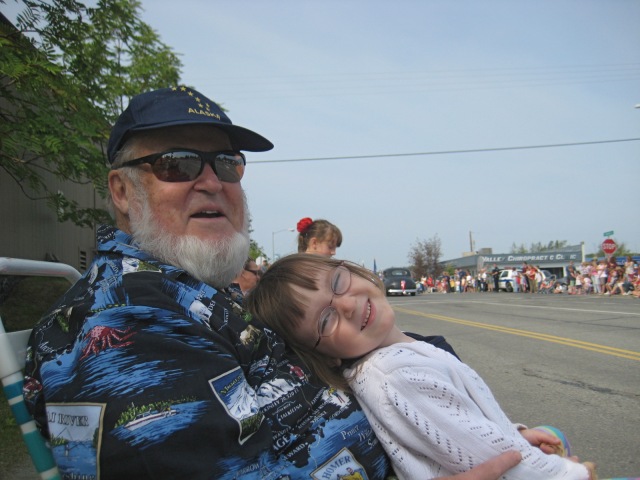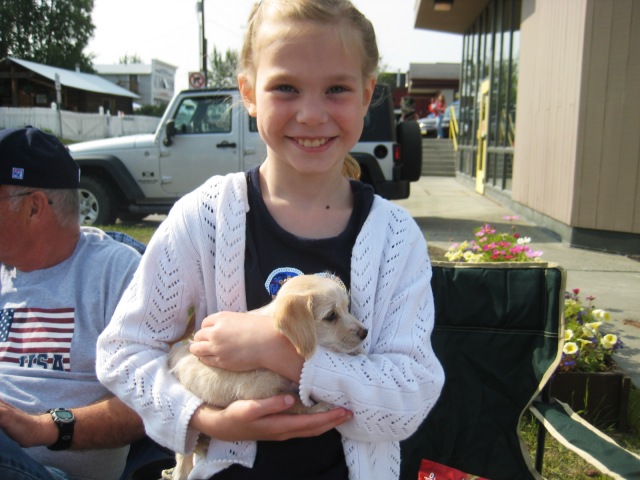 Brigitta's and Svea's favorite part of the parade was holding someone's puppy.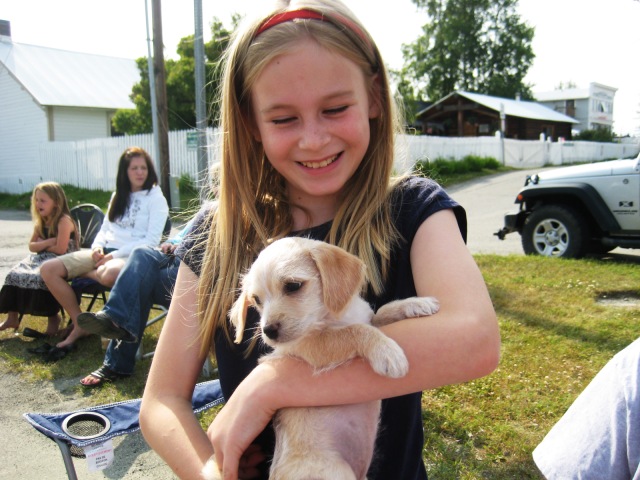 Independence Mine - Hike to Gold Cord Lake
This time we had enough time to hike up to the lake and hang out for awhile. It was a great day.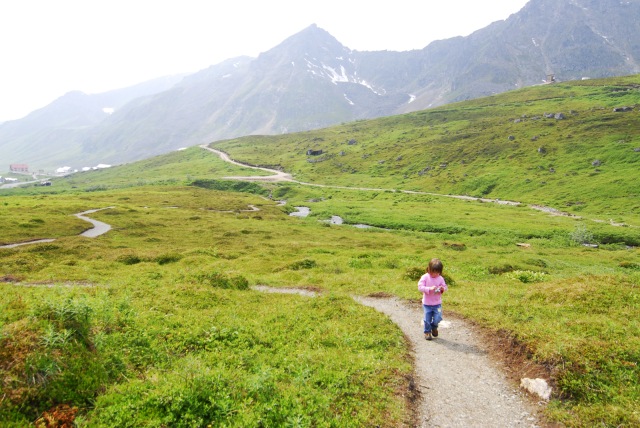 Brigitta jumped off of this rock another dozen times.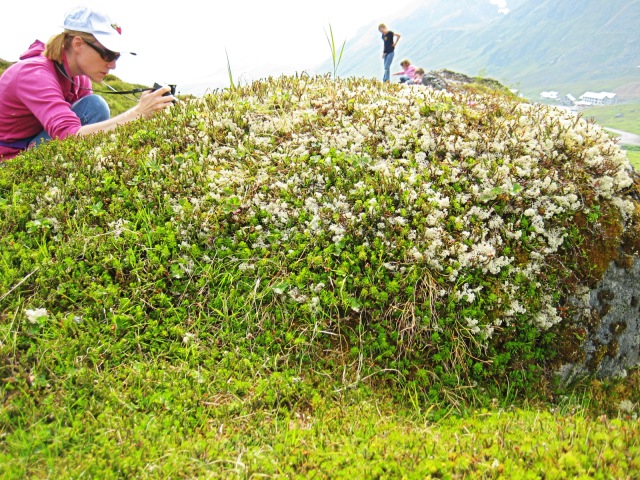 Svea took this shot. I just realized this looks like Brigitta and Annika are tiny and standing on top of the mound Joan is photographing.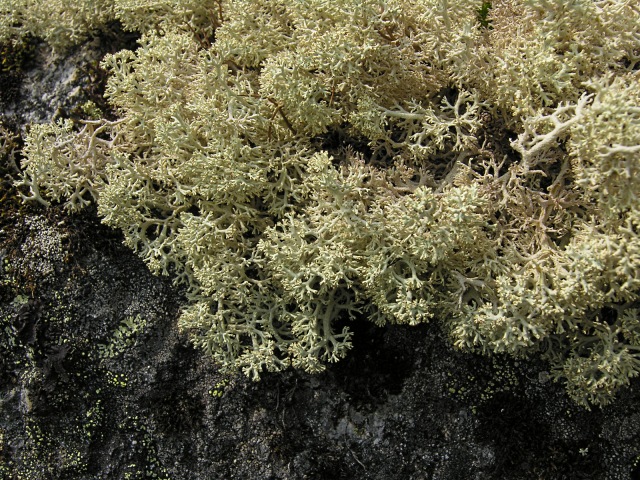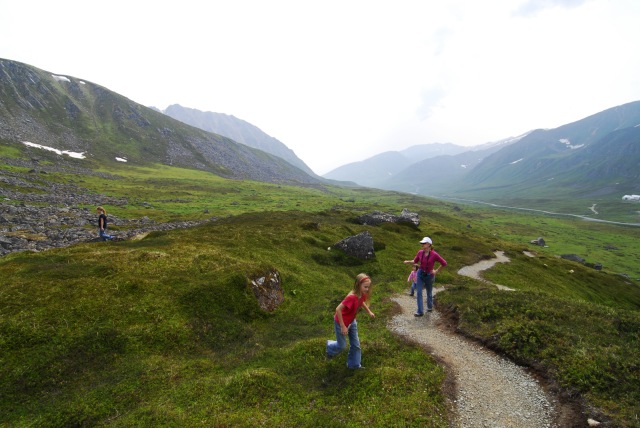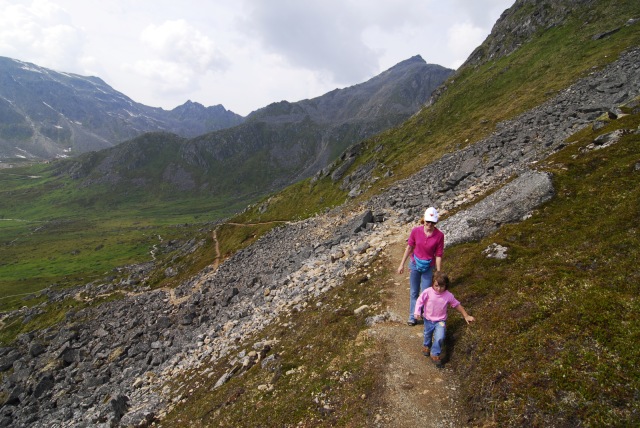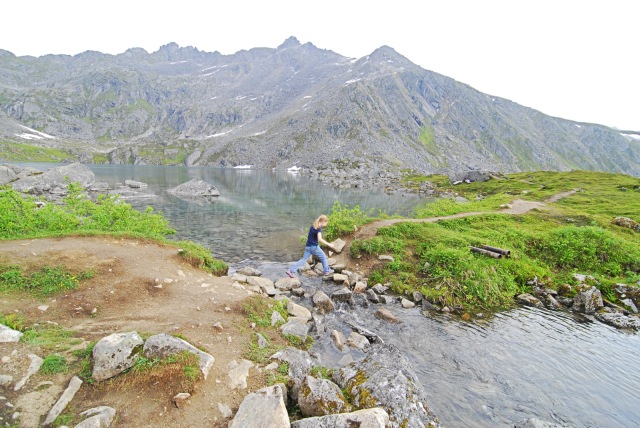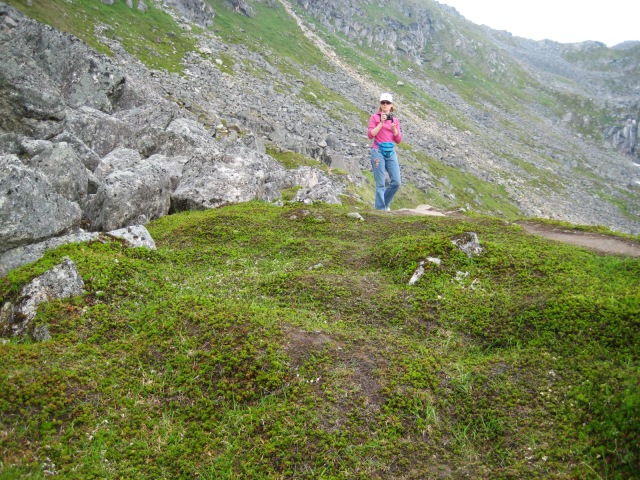 Annika took this one of Joan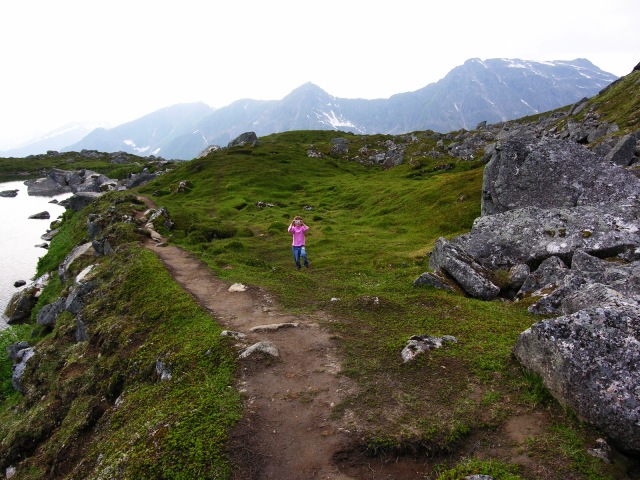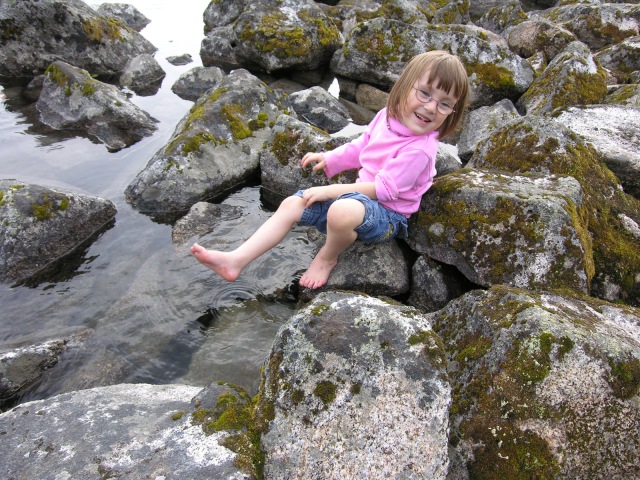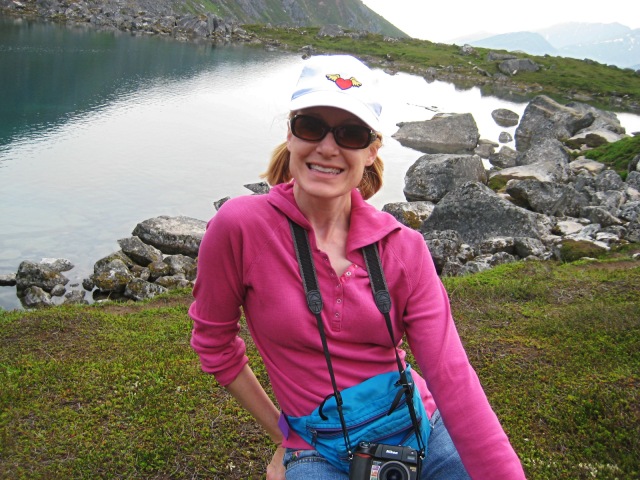 Annika also took this one of Joan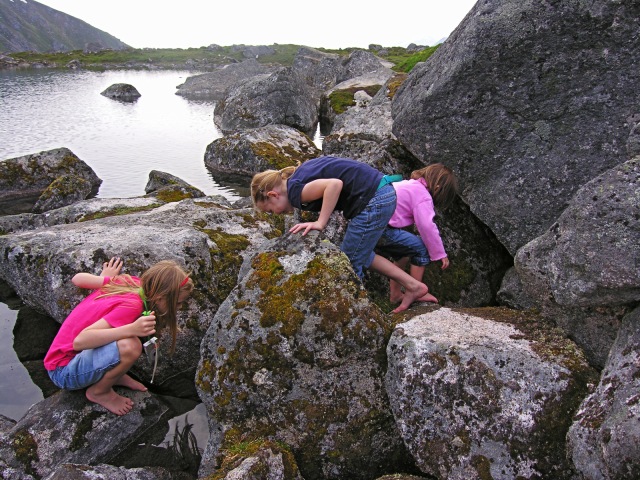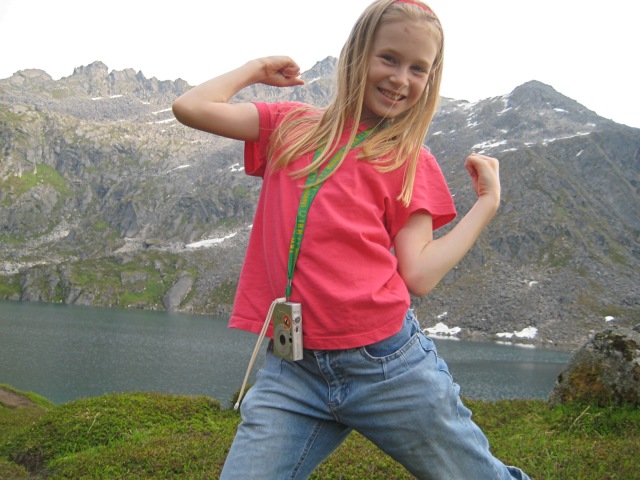 Annika took this one of Svea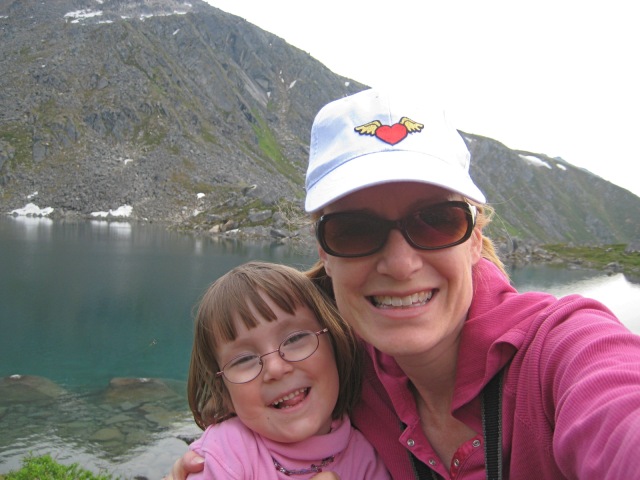 Annika and Joan - self portrait.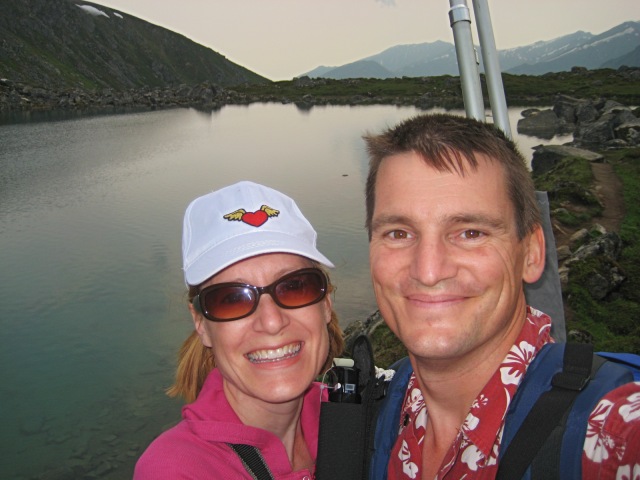 David and Joan - self portrait.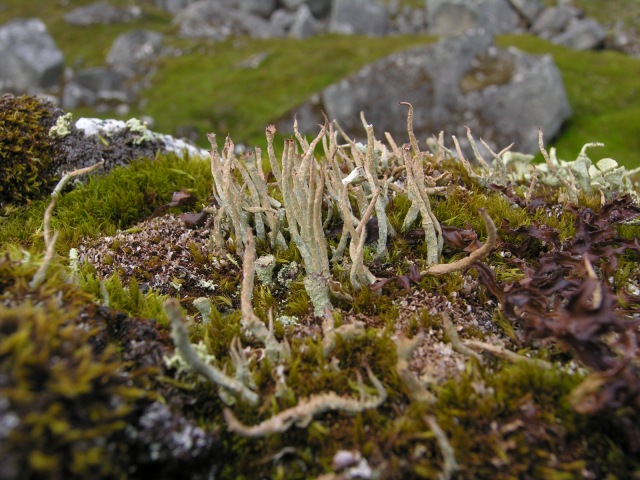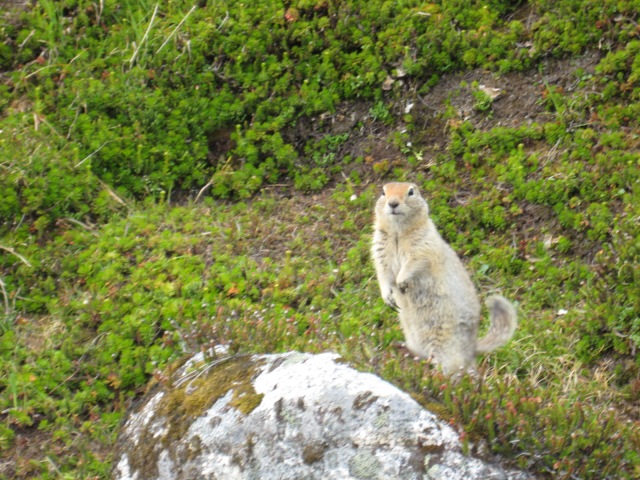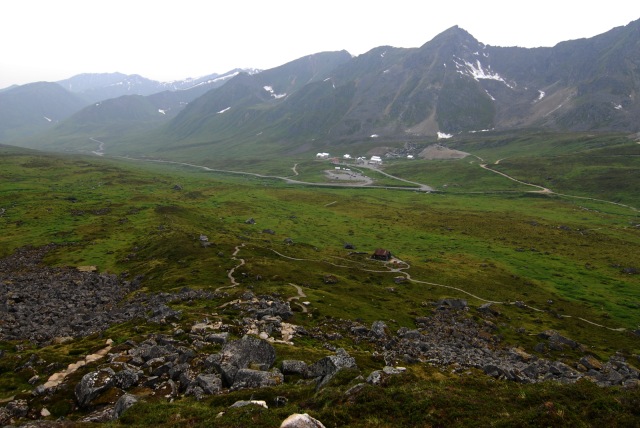 The trail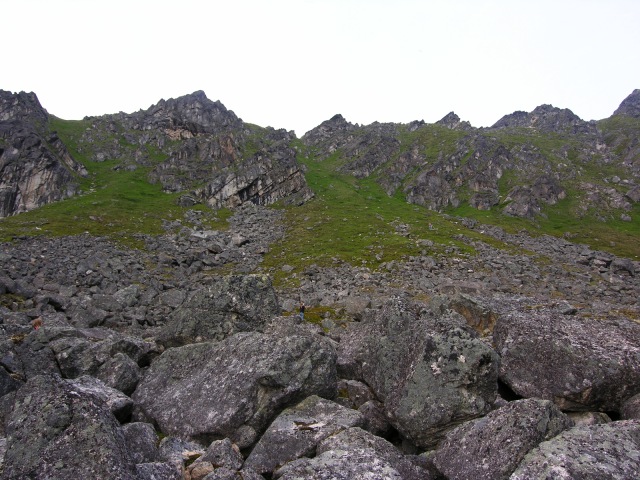 I climbed up a bit to get a vantage point of the lake and Independence Mine. I'm just right of center, if you squint you can just see my tripod. The next pictures were taken from up there.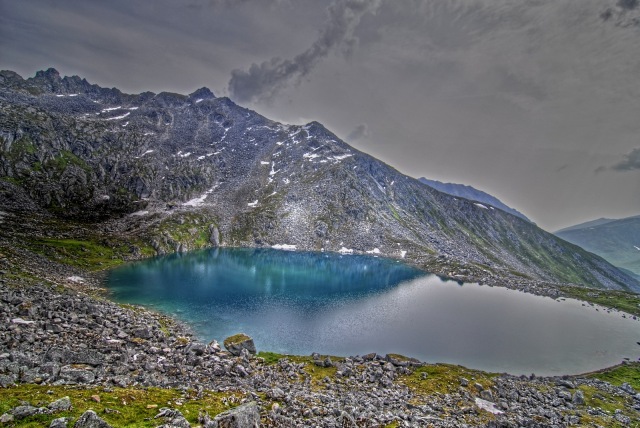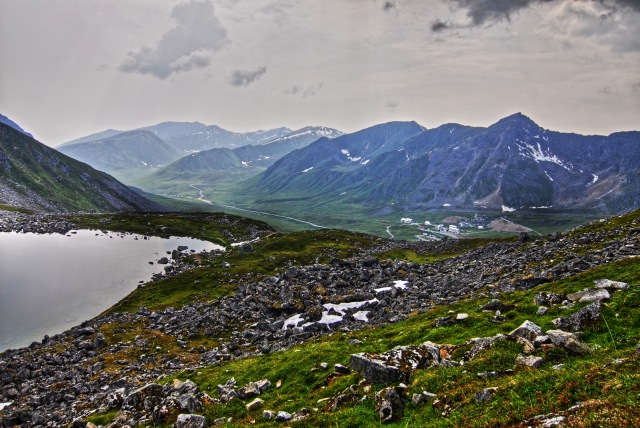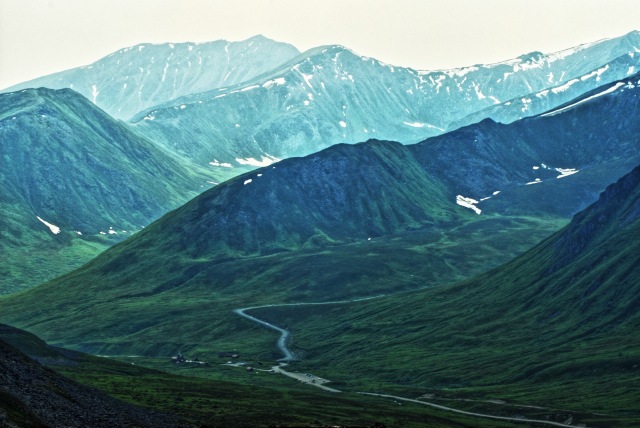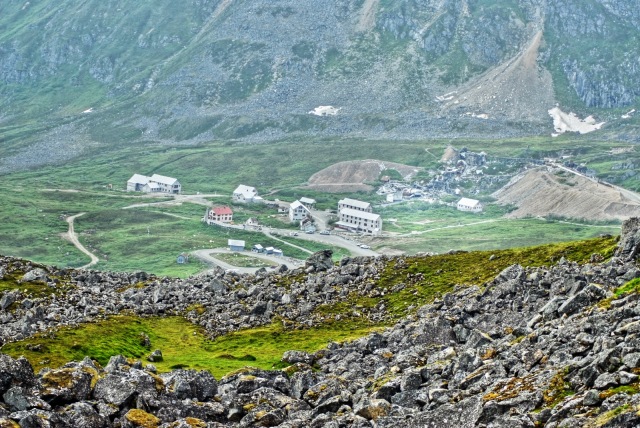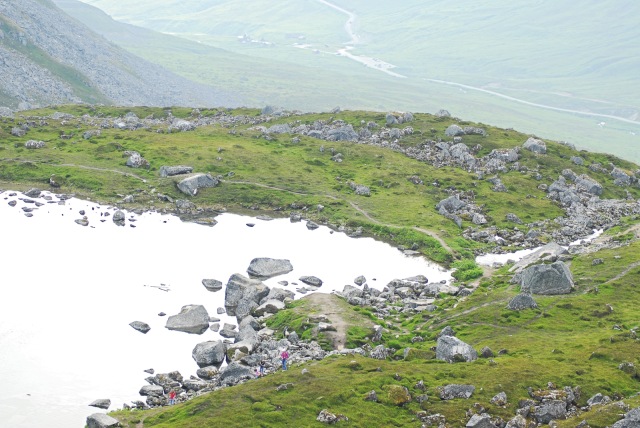 Family Portraits: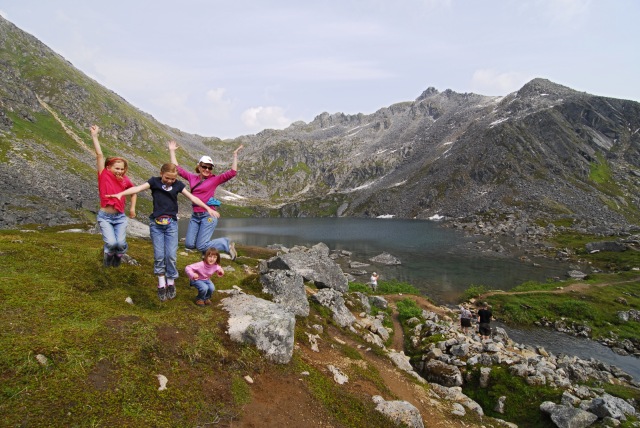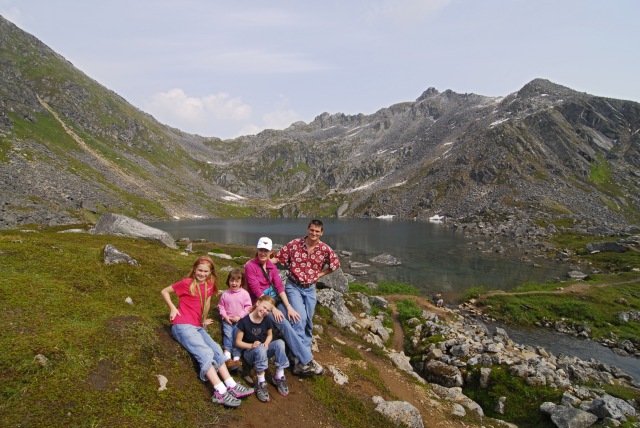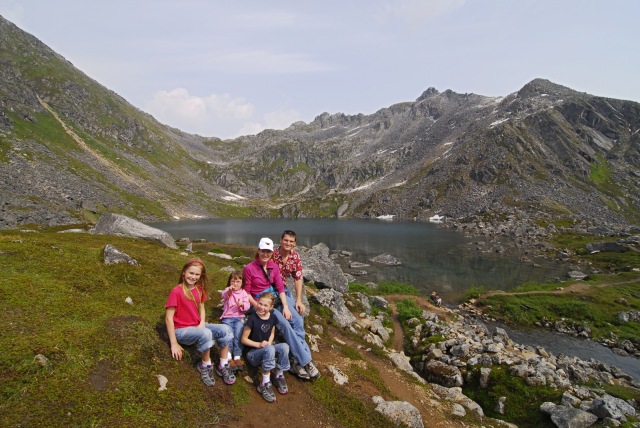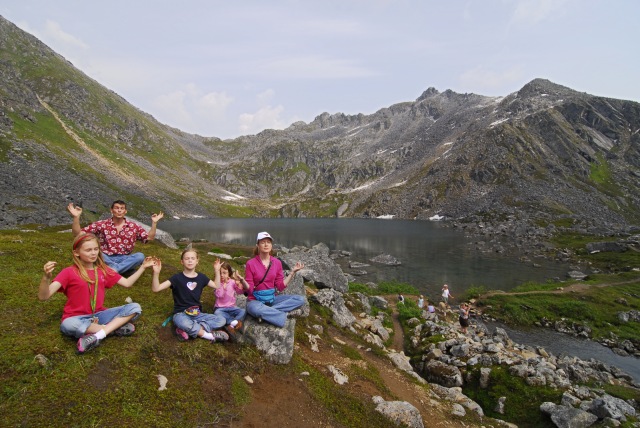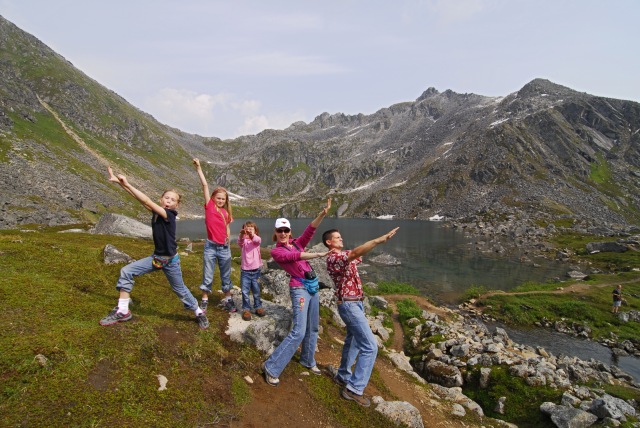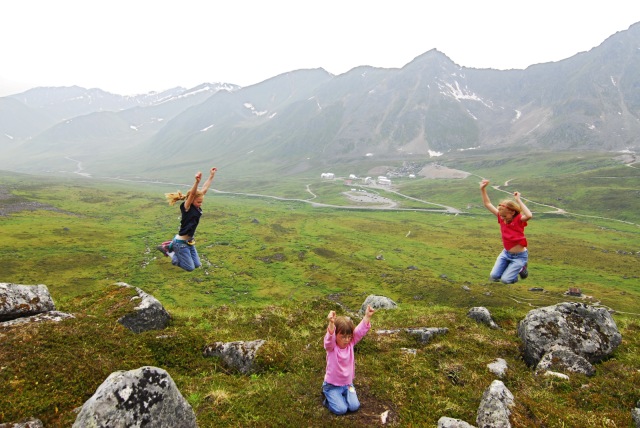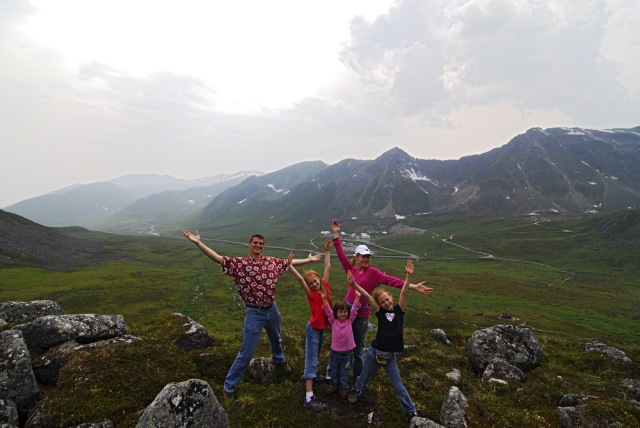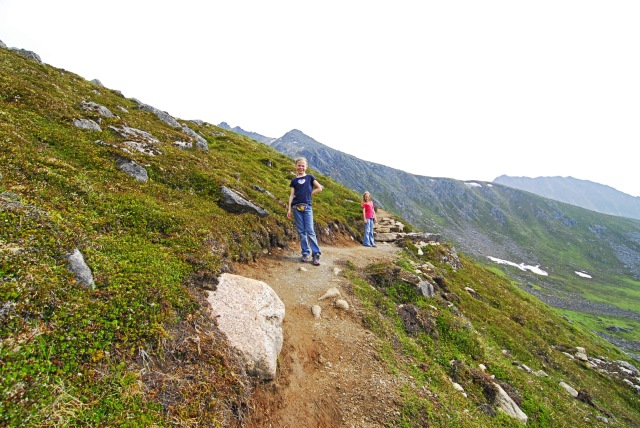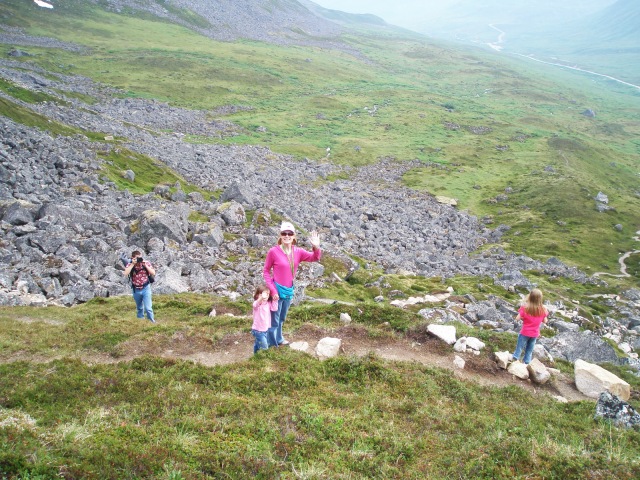 Brigitta took these two. Each of the girls has a camera and we encourage them to take many pictures. Some of their shots do make it to the blog.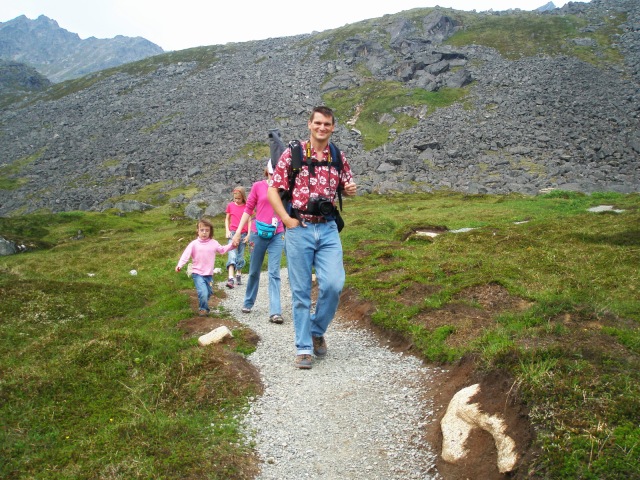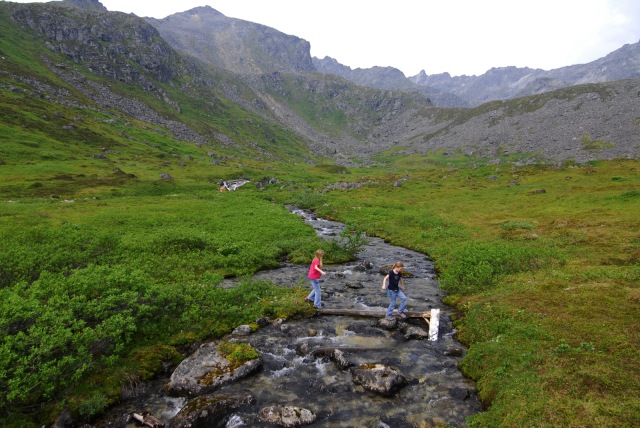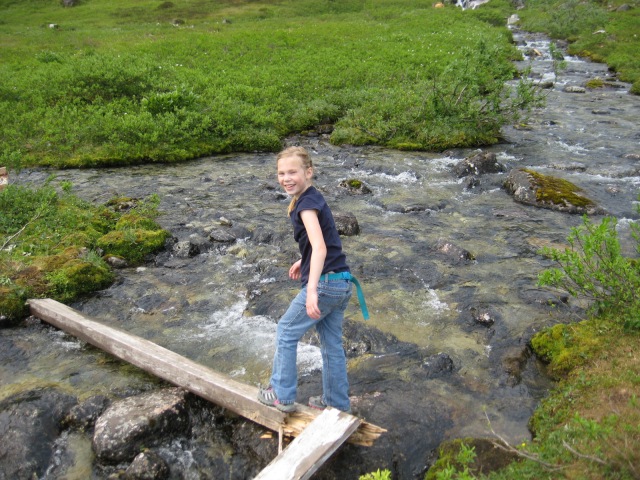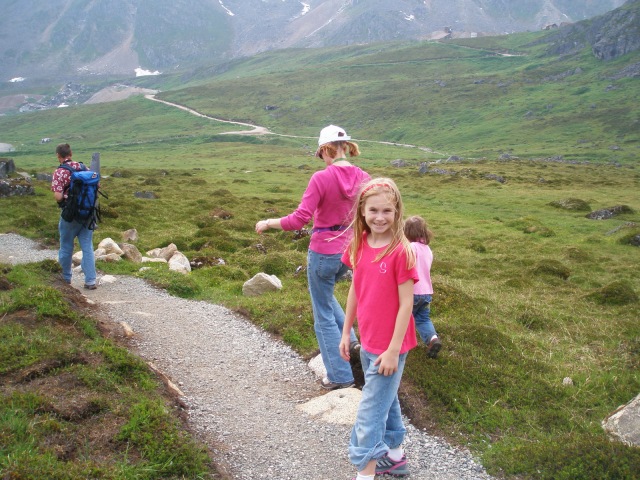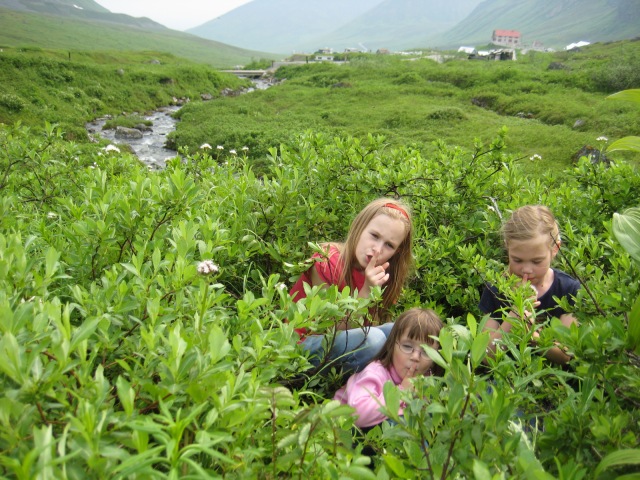 Shhhh - hiding from Dad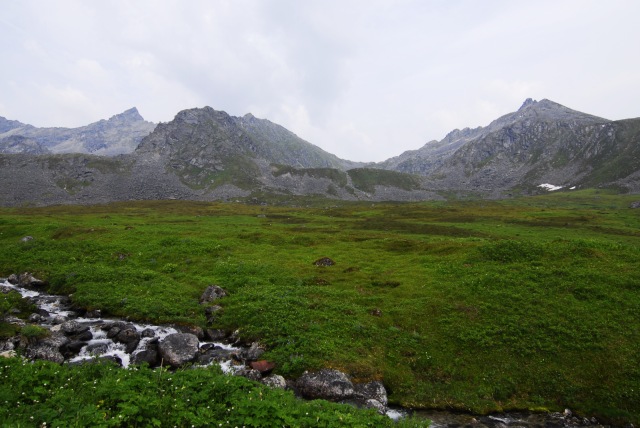 Where we were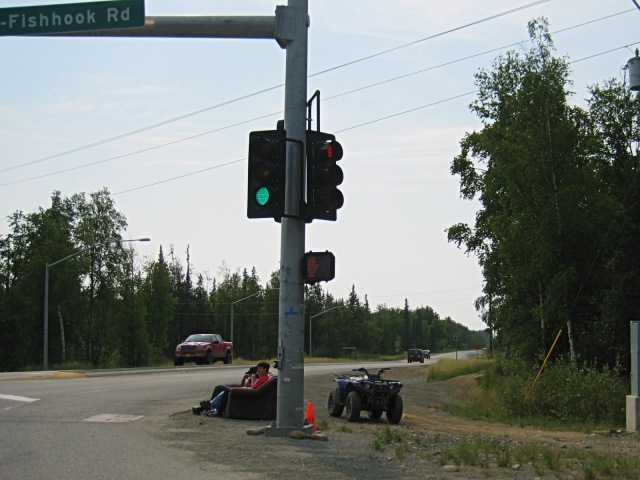 "I know, let's drag a sofa down to the intersection and watch traffic!"
Yesterday I saw a kid riding a bike in a full Santa suit... Alaskan kids are weird.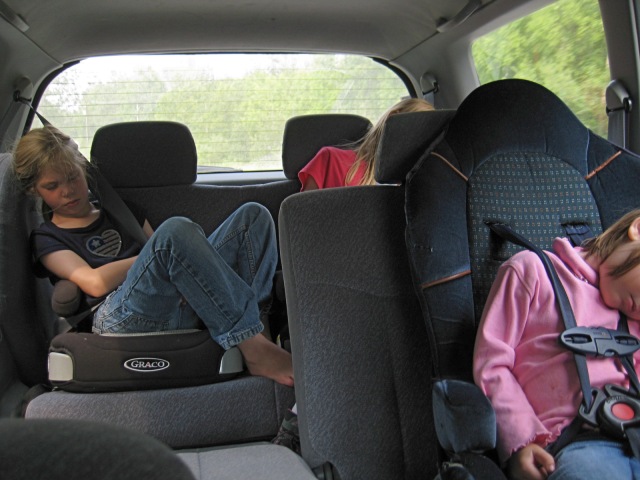 After a hike like that....what else do you do on the 45 minute ride back home?