Late Night Paddle & Row
We went for the first family paddle/row of the summer last night; it seems that summer has only just begun even though school got out nearly two weeks ago. It was a nice paddle and row; neither Svea or Brigitta capsized.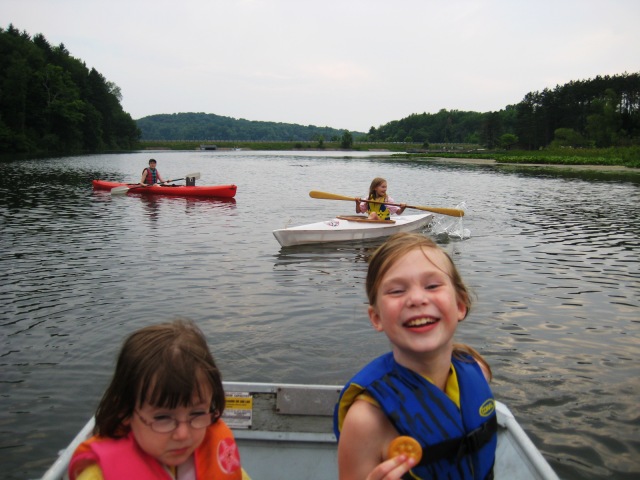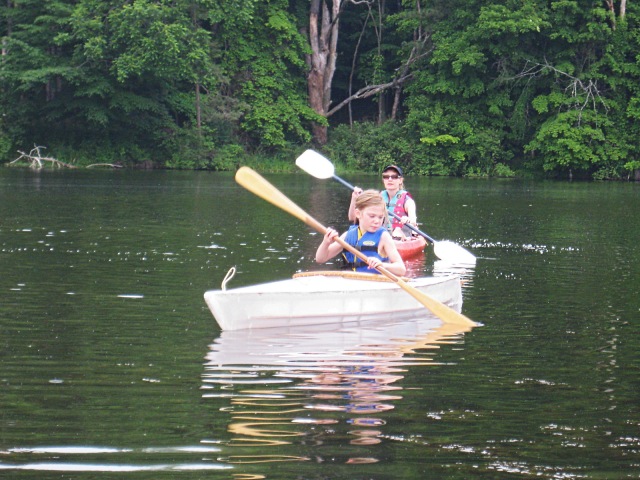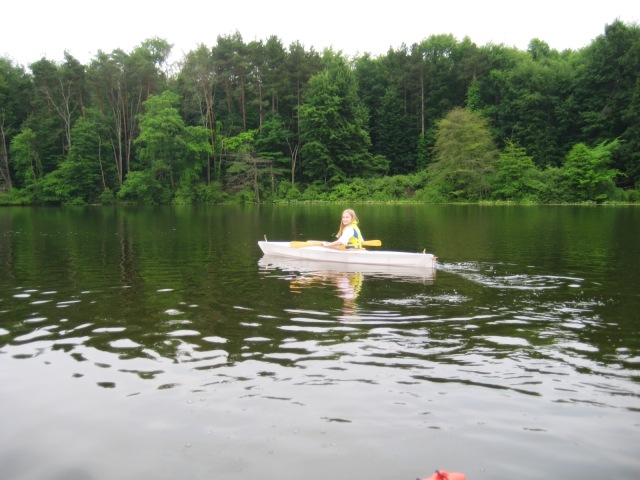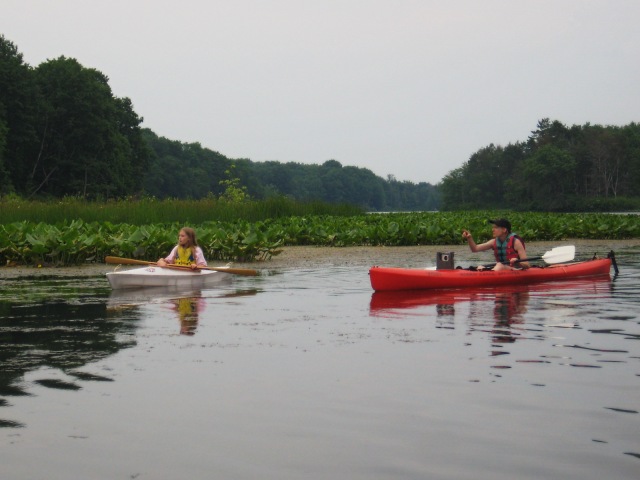 The Cleveland Zoo Sucks!
Well, at least the parking lot at the zoo sucks. We went to the Cleveland Zoo on Joan's birthday. We parked almost in the back of the main parking lot. A row count and some multiplication and estimation in Google Earth shows that this parking lot hold about 2,000 cars, that all exit through one lane in one exit. If you try to leave around closing time, all of the cars parked closer to the exit get into the exit line within a couple of minutes. Those in the back don't move. When we got into our car, the parking lot was well over half full. By the time we left the parking lot 50 minutes later the lot was 95% empty. In that time I walked the four tenths of a mile from the back of the lot to the entrance and spoke to the manager who seemed oblivious that there was a problem and insisted that there were workers directing traffic. I explained that we had moved one car length in 25 minutes, what was wrong with the parking design and that I had just walked the entire length of the lot and traffic line and that there were no zoo workers on duty. He said that he would send people out; they came but really didn't know what to do because there clearly was no plan. I already had borrowed several huge cones and blocked a few lanes in attempt to give those folks who had been waiting 30 minutes a chance to move over those who had only been waiting three or four minutes. I'm still amazed that a zoo that has been around for 127 years can't get something so basic. I can't believe that I'm the first person to notice this or to point it out; I can't believe that people don't complain every busy summer day.
We did have a nice time until we left, however. the zoo featured animatronic dinosaurs on display for the summer so we made the trek just to see them. It was a nice weather day, not too hot and partly sunny.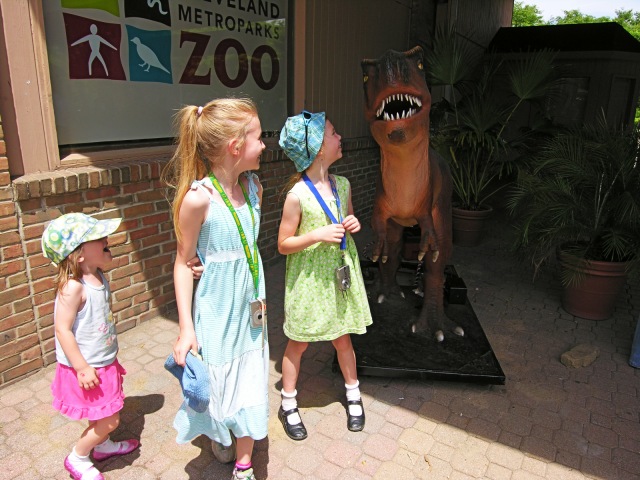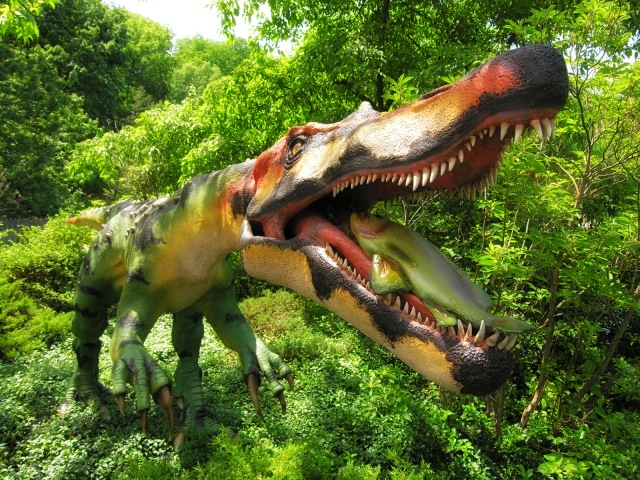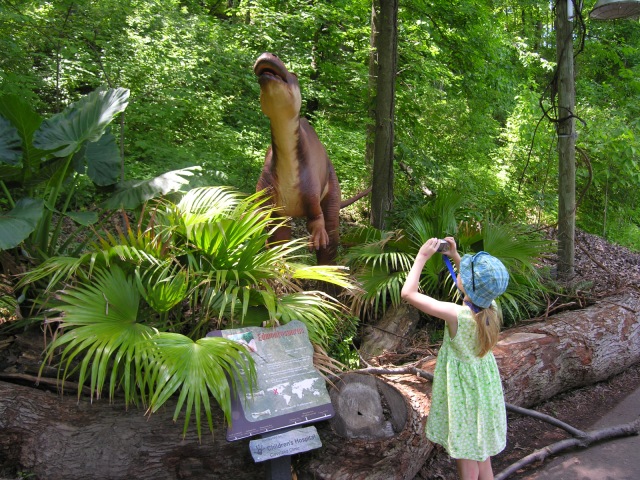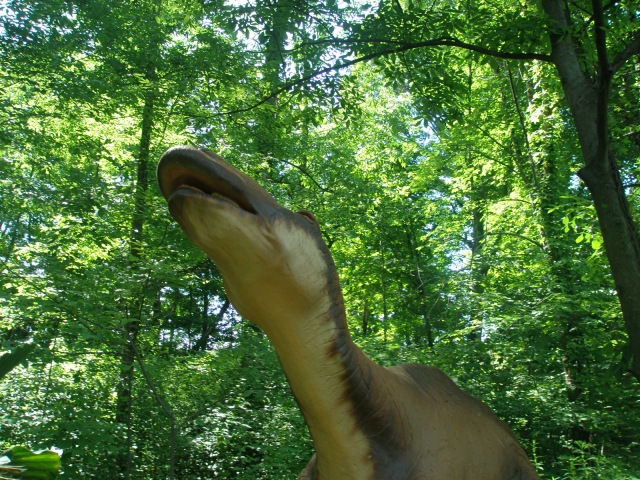 Brigitta took this one (above)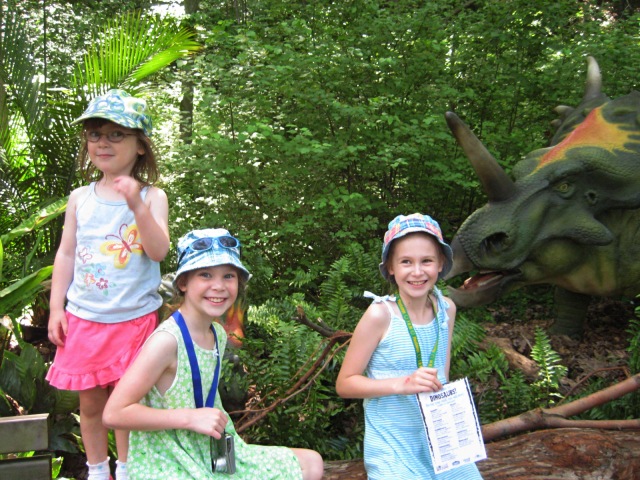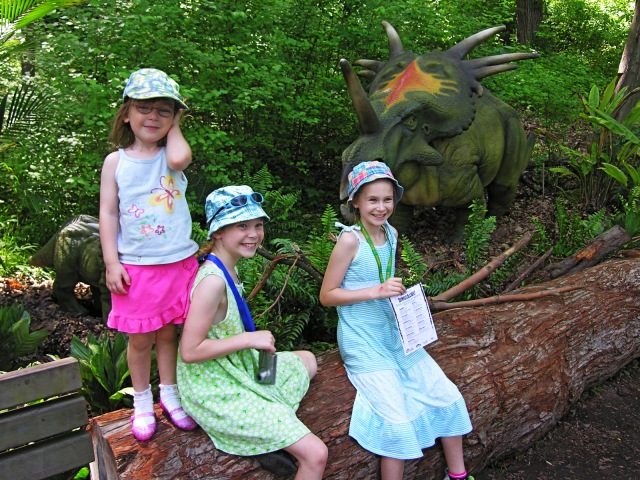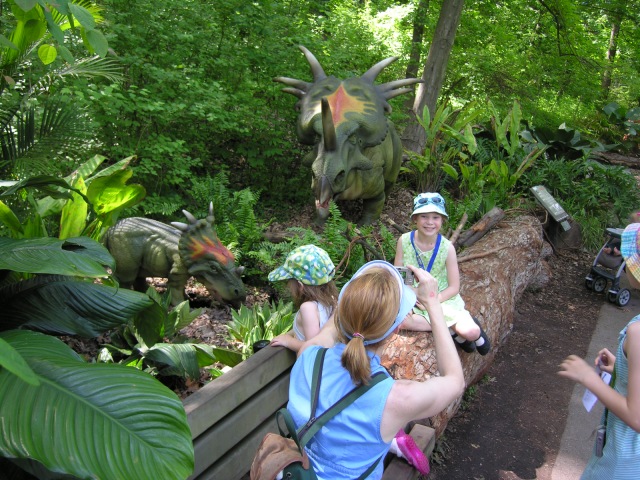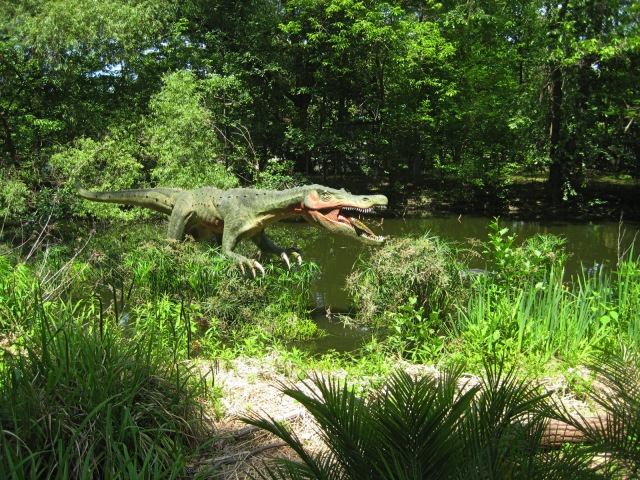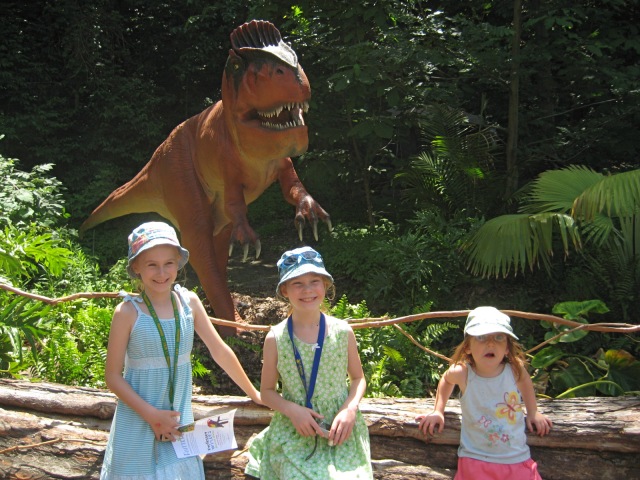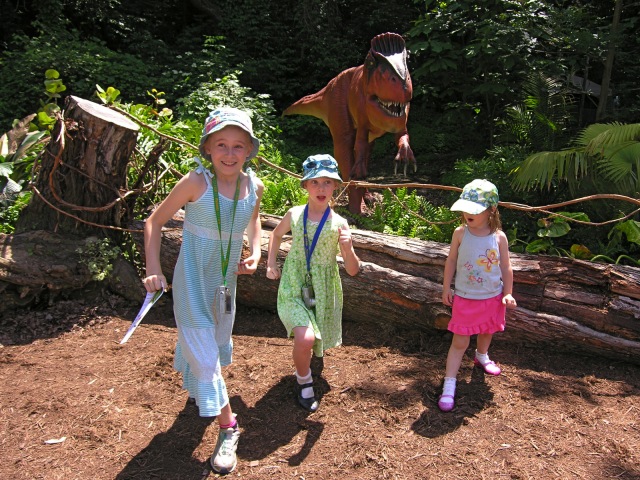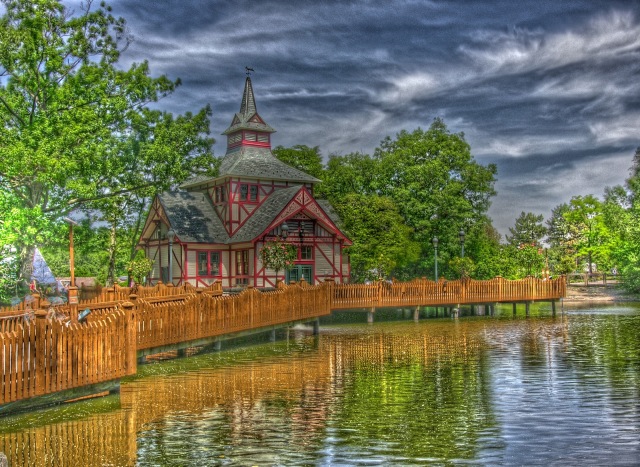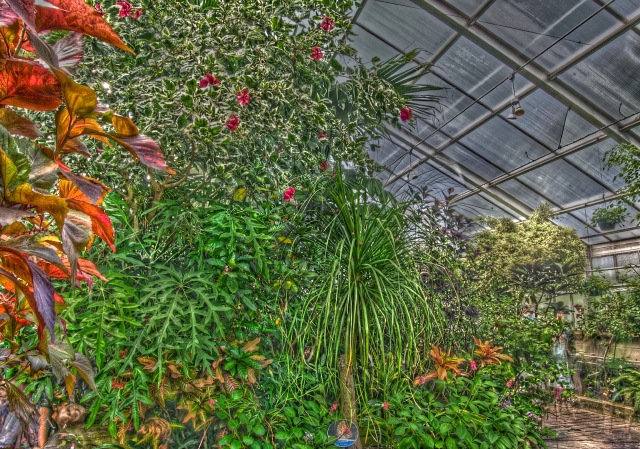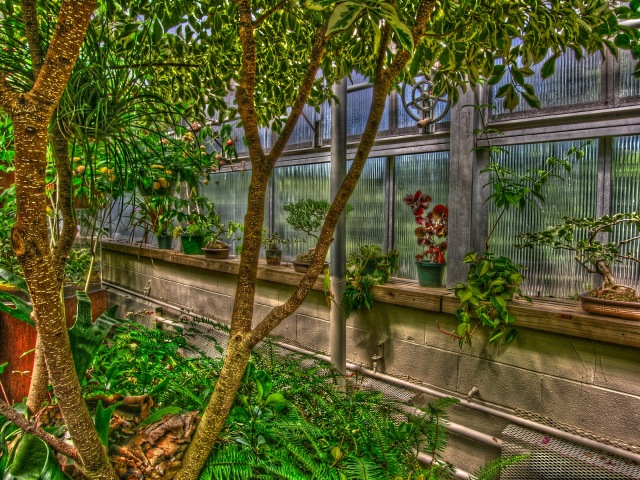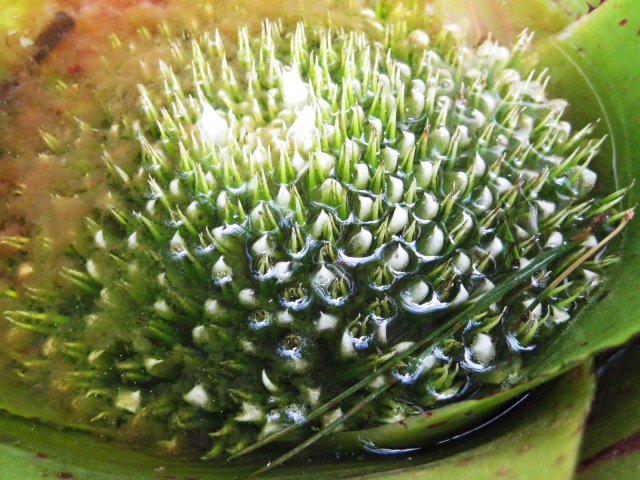 Joan took this one (above)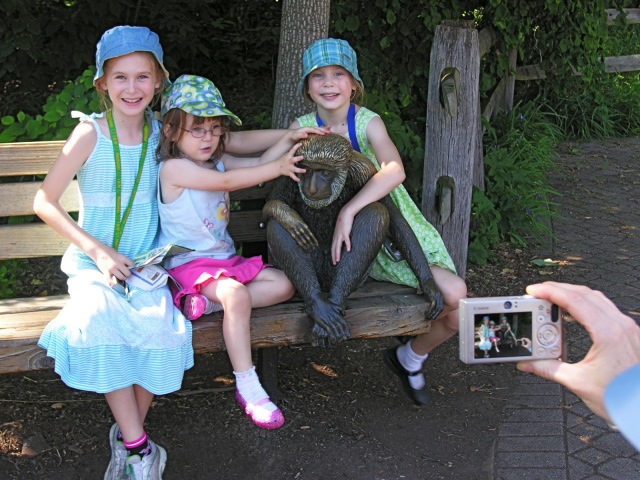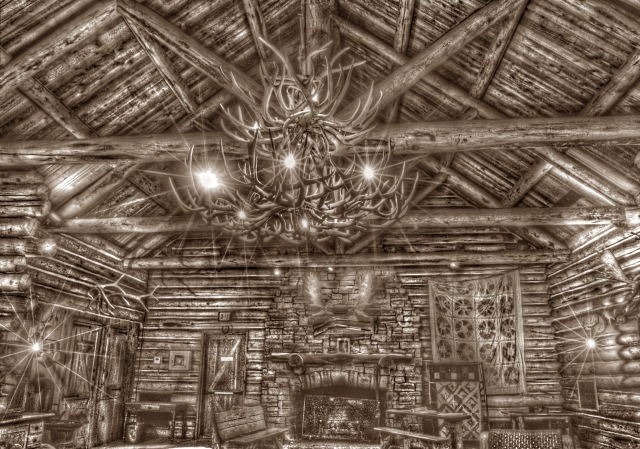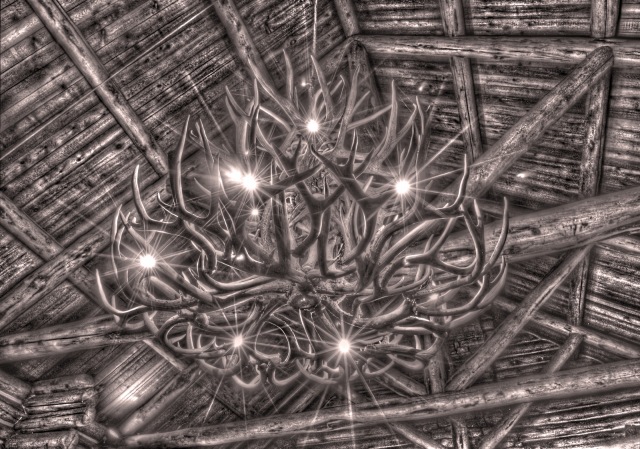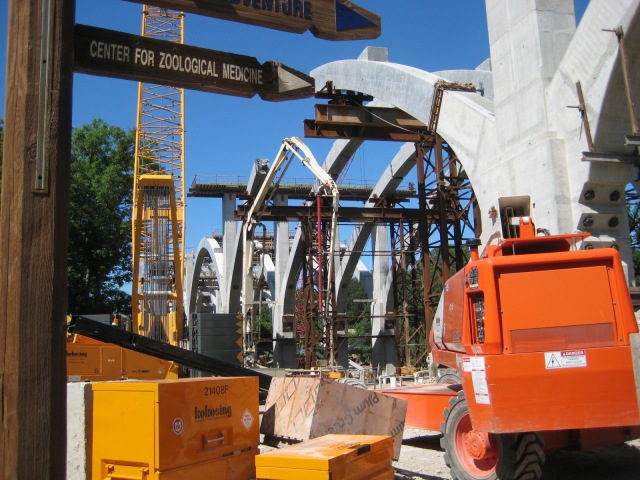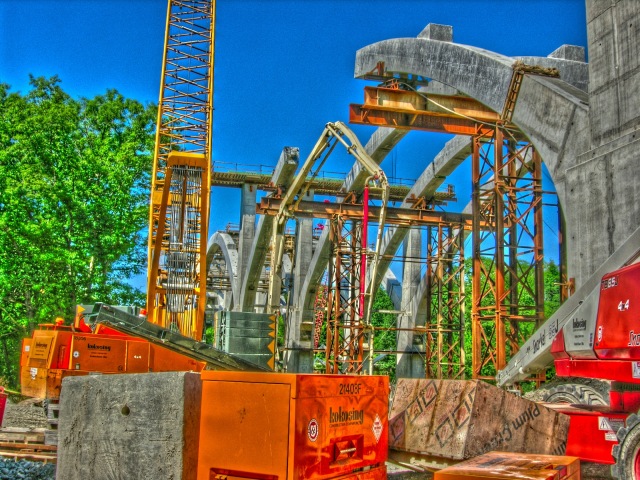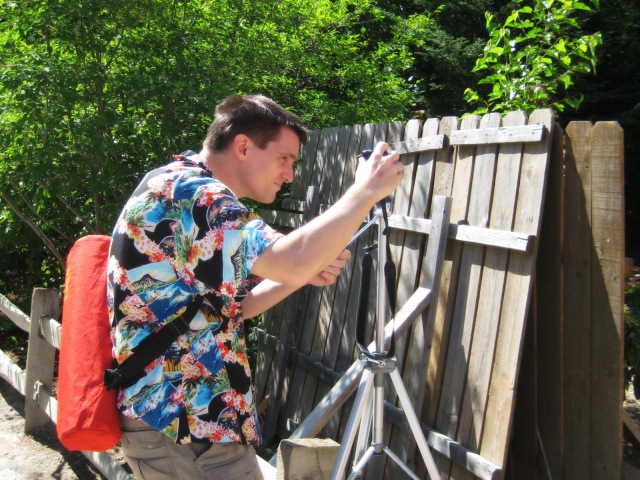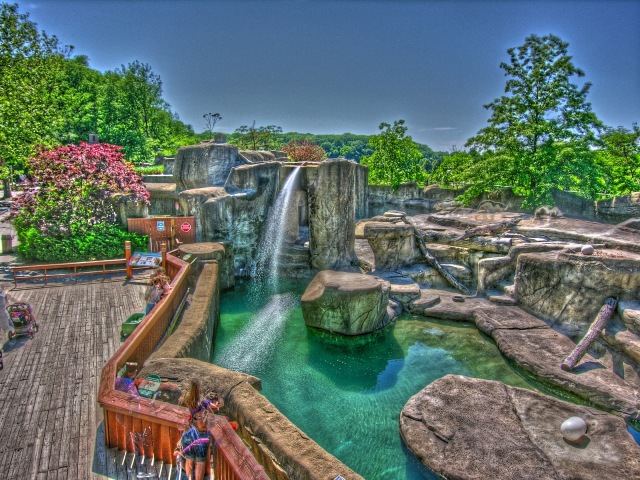 The DVD Yearbook is Done!
The 2008-2009 IHM DVD Yearbook contains: almost 12 hours of YouTube quality movie footage, six and a half hours of VHS quality slideshows and 18 minutes of animations. There are also over 550 pages with nearly 5,000 images and probably over a quarter of a million words.
After the school year ended I finished the DVD Yearbook, burned a master disk, tested it for accuracy and scanned it for viruses. The new DVD duplicator worked perfectly. In ten minutes it will duplicate five copies of the master; the doors then open and another five disks can be loaded. I had planned on stamping/labeling the disks with a custom made rubber stamp; my test with an old stamp and pad showed that a rubber stamp works very well on DVDs or CDs and does not rub off easily. The while-you-wait 10-minute Copy Max self inking stamp was completely different than a regular rubber stamp and permanent ink, however. It never really dried and would wipe off after an hour. I took it apart, cleaned it and tried reloading it with different inks. It was a disaster and I made a huge mess. I called a real stamp store the next day and had a true rubber stamp made at Sackman Stamp and used their recommended ink; it worked beautifully. On Monday I dropped off the DVDs at the IHM rectory where families can pick them up. What a relief. Note to self; arrange help and delegate some of these tasks for next year's DVD Yearbook.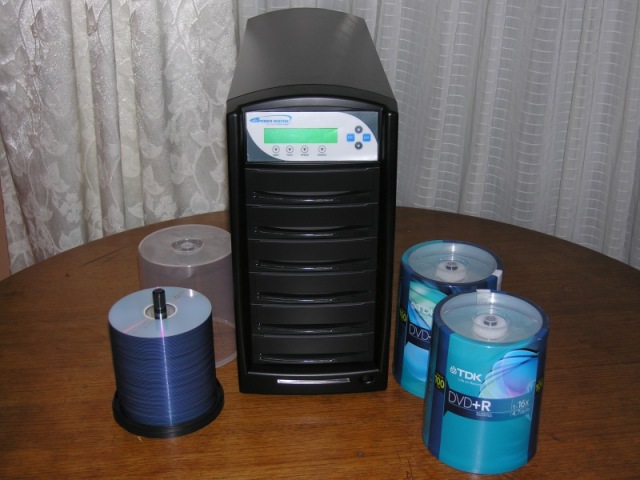 Annika and the Bird Bath Shark
We were wondering why birds stopped using the bird bath; perhaps Annika's guard shark was scaring them away: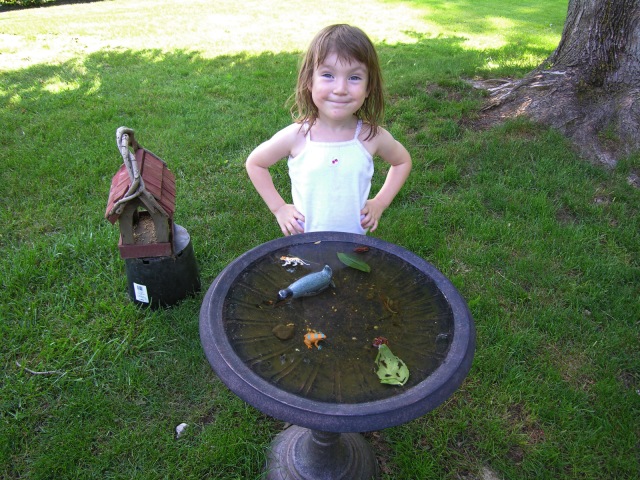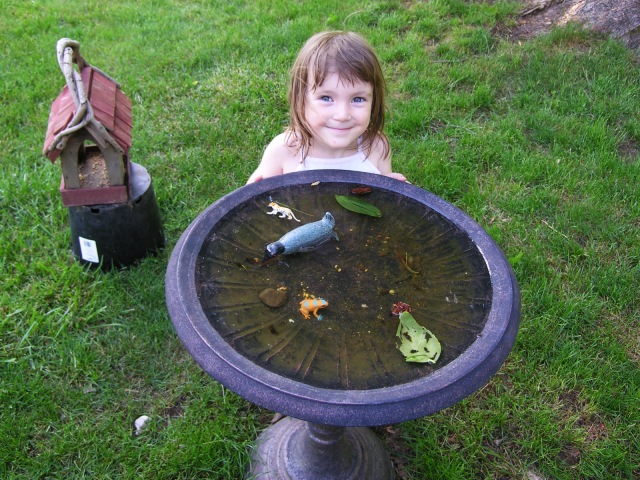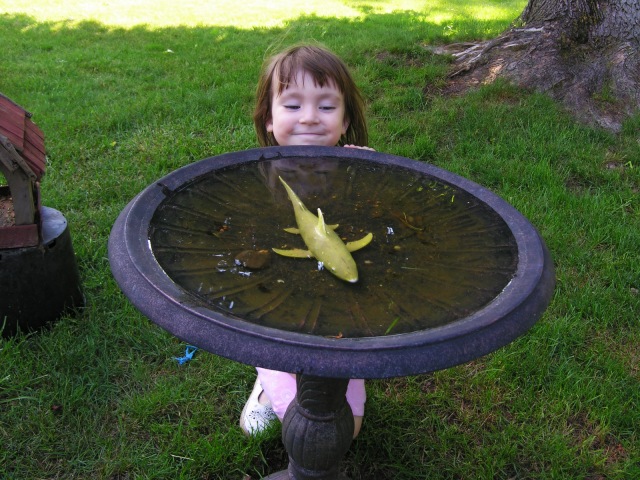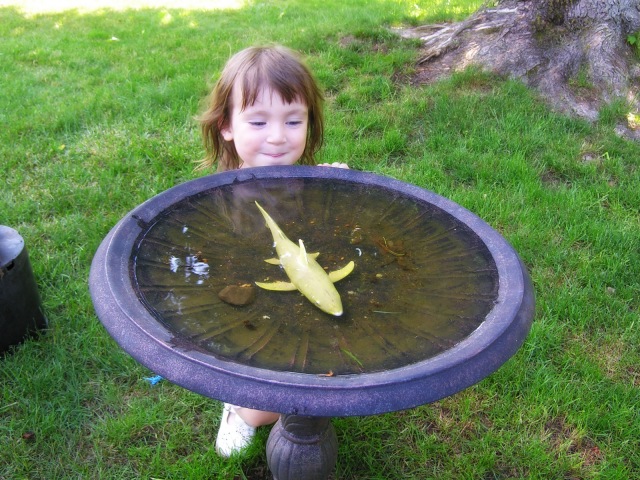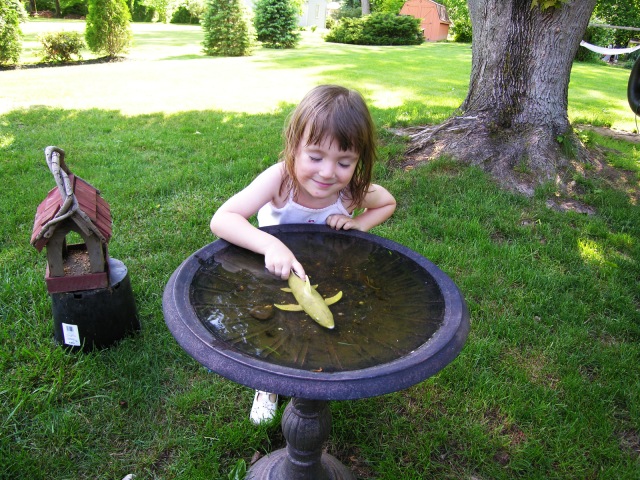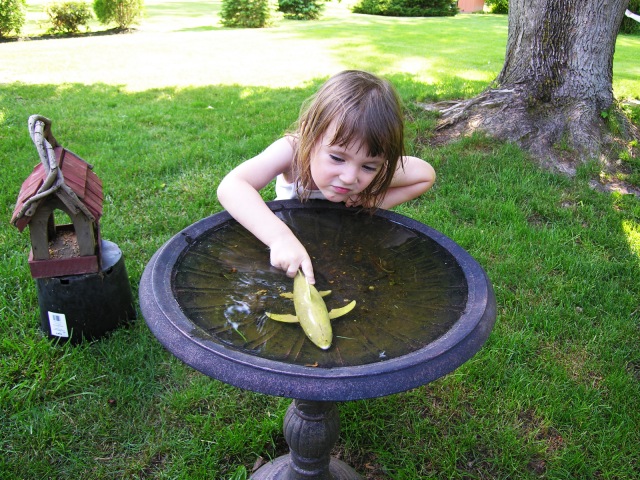 Nikon D200
I bought a new camera, a digital SLR. I am very frugal, shop mostly at garage sales and have a difficult time purchasing anything at more than 10% it's original price. Photography has been a major lifetime passion and hobby of mine; I even have a degree in it. In the past three and a half years I've taken about 24,000 pictures with our Nikon Coolpix 8400 and thousands of other with our Canon SD1000 point and shoot and my other garage sale cameras and probably thousands more with the school's cameras. I love the Coolpix 8400, it's been a great camera and still works well. It has severe limits, however. There is no precise control over focus for one. When I shot Joan's butterfly necklace last month I had to bracket the focus because you can't really tell if something is perfectly in focus via a LCD screen. It may have taken me 20 minutes of shooting several shots, removing the memory, checking the results and repeating the process. With an SLR camera you look through the same lens that takes the picture, focus is precise and not digitized. SLR cameras also tend to shoot almost the instant you press the shutter; I hate missing shots while the camera is trying to figure things out that don't always matter.
I didn't know much about DSLR cameras two weeks ago; the price tag always seemed out of reach. I researched the Nikon and Canon DSLR camera lines. I settled on the Nikon D200. Nikon makes about eight lines of DSLR cameras that range from very inexpensive consumer grade entry models to high end professional grade that cost thousands. The D200 is about in the middle; it's the least of a camera that most professionals would consider using. Many pros consider it a good back-up camera. The main reason I chose the D200 was its full manual control potential, advanced features and greater compatibility with older Nikon film lenses. One feature example is that the D200 has an auto-bracketing feature that allows a choice of 3, 5, 7 or 9 shots. As far as I could tell, every other DSLR under $1,000 (and many well over $1,000) only offer 3-shot auto bracketing. I'm sure most of my shots will be ordinary family shots, but I like the idea of being more able to do some of my experimental projects. The D200 also has a metal body; pretty much all consumer grade DSLRs are plastic (not that I plan on dropping it). The D200 isn't being made anymore, it's been replaced by the D300. I bought an affordable body-only on Ebay.
Generally, DSLR cameras and lenses are separate purchases. I love wide angle; they are especially great for landscape and architecture. The lens I bought was an ultra-wide Tokina 11-16mm auto-focus. Its angle of view is 104°~82°. Several reviews rate it as being sharper and better than anything made by Canon or Nikon. They are very hard to find and are sold out nearly everywhere in the US. Because are rated so well, the used ones fetch 95% of what new ones are listed at. Although it cost more than the camera, it was an easier decision than my camera body choice.
As luck would have it, while garage sailing this passed weekend I found a new $40 battery for this camera for $2 and an old Nikon film camera with a Nikon 70-300mm auto-focus lens and a Nikon 50mm prime (non-zoom) lens. I'm pretty sure they will work in some modes on my camera and got them both, with the camera for $20.
I am so glad to be done with my camera and lens research (so is Joan). It's been like finals week in college because I needed to get everything ordered so that it would arrive in time for our Alaska trip. The USPS online tracking shows that the camera is at the Tallmadge office; I expect to get it today. I have the lens and my spare batteries and charger are in the mail.