Homer Camping Trip - Best 1.3%
We went camping in Homer Monday through Wednesday and had a fantastic time. The weather was great, for Homer. It was rainy and windy at times, but we also had some sun and calm, which many Homer visitors never see. I took over 2,000 pictures; here are the best 31:
Monday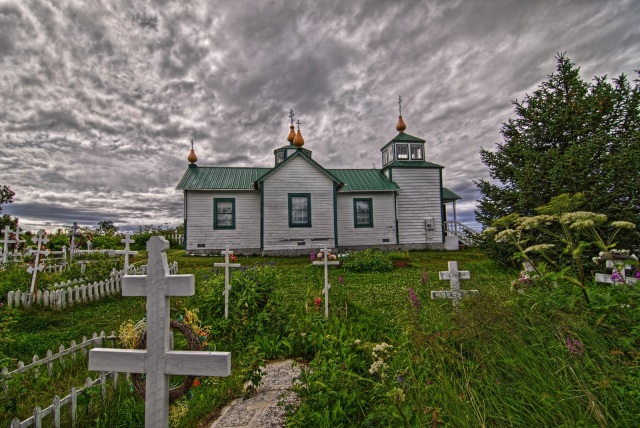 We stopped at the Russian Orthodox Church in Ninilchik and then the Kachemak Bay overlook on the hill entering Homer. You can just see the Spit on the far left of the bay.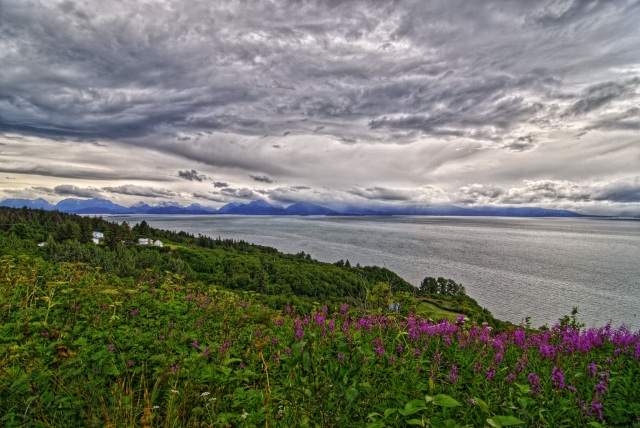 As Joan and I set up camp the girls played on the beach. No, Svea has not seen Titanic.
Yes, she really is that lovely, especially when she doesn't realize there is a camera on her.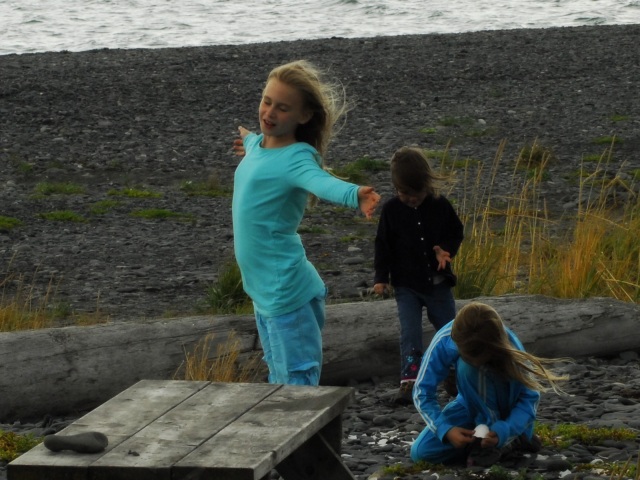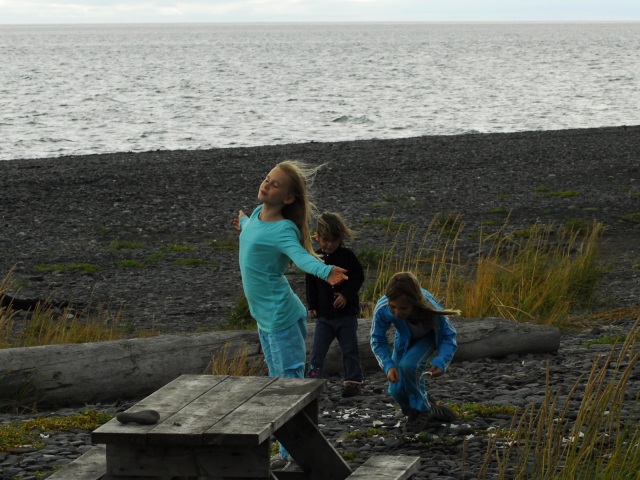 The wind calmed down and we went beachcombing.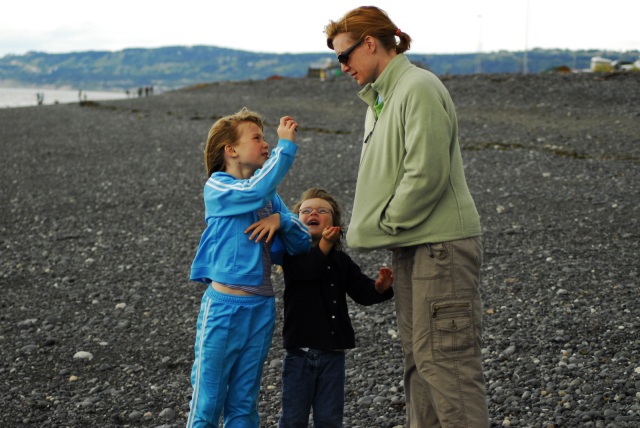 It wasn't warm, but Brigitta wanted to wade in the surf and not get her pants wet.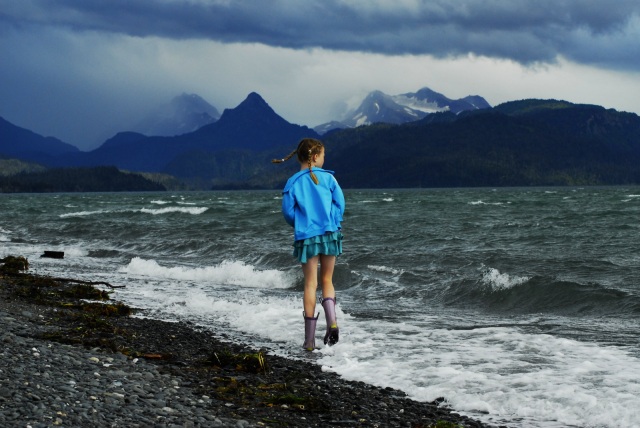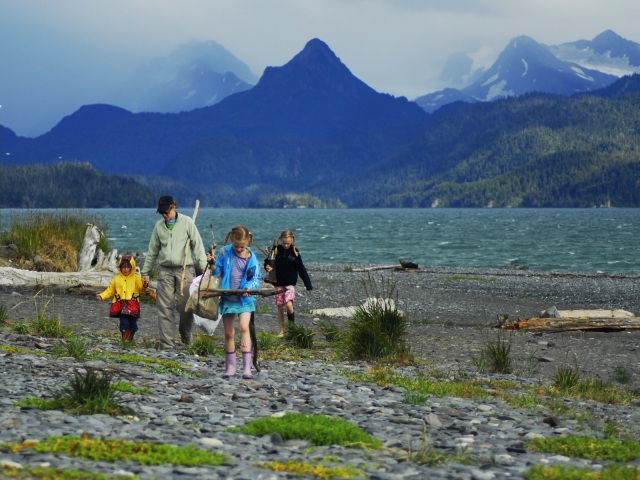 We brought back drift firewood, made a campfire and s'mores.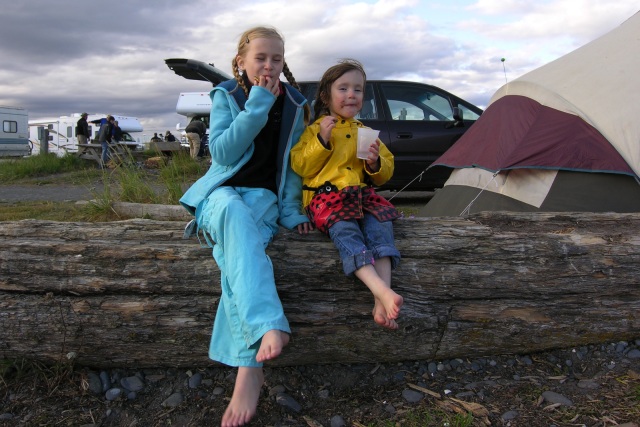 I've camped on the Homer Spit since I was a child; I don't recall seeing such tame, almost friendly sea otters. We sometimes could walk within 20 feet of them and they would continue playing; it was like they were showing off.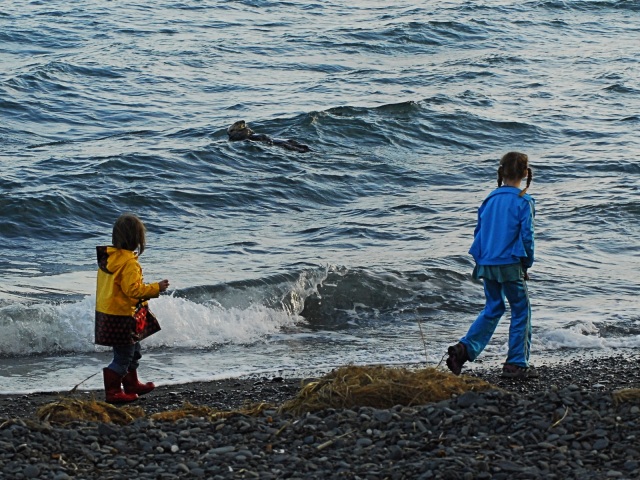 Brigitta grossed out Svea with dead crab parts.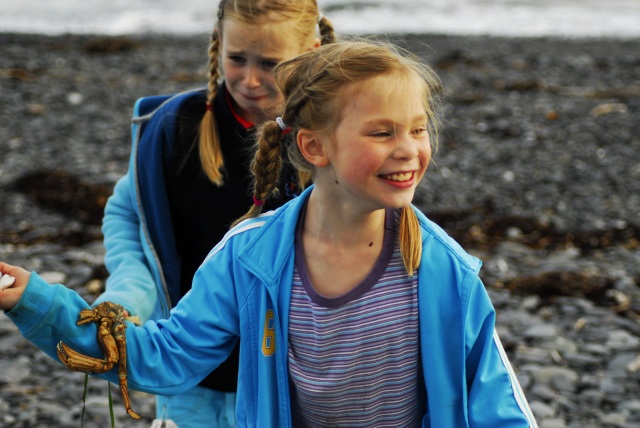 By sunset it was calm and the sun had come out. We went for a late walk. In Homer you can't waste a minute of clear weather; it may be all that you get. Bedtime that night was after 11 pm.
The harbor at sundown (after 10 pm). I was actually comfortable in short sleeves.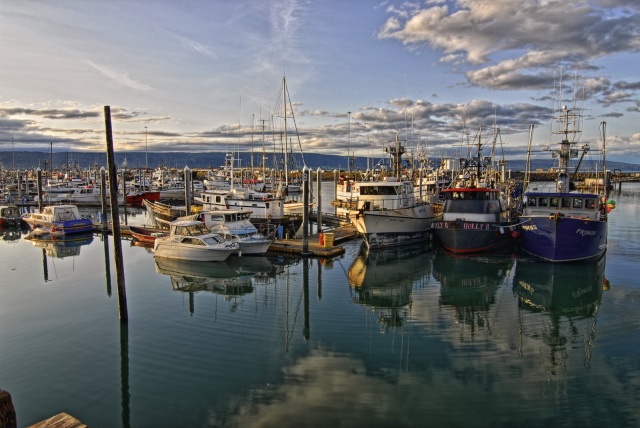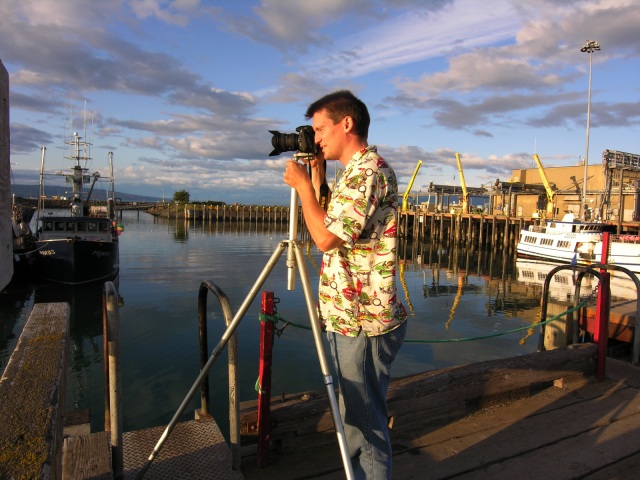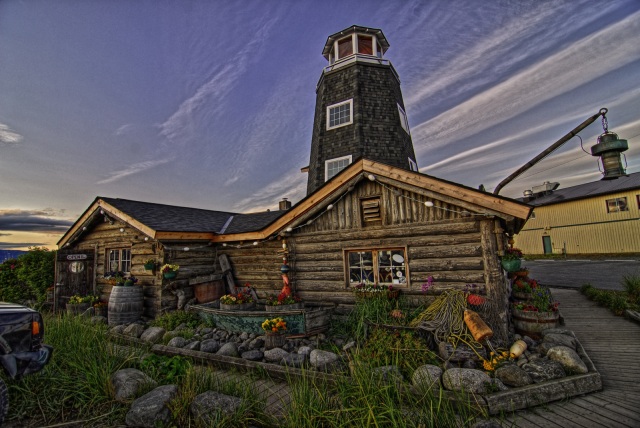 The inside walls of the Salty Dawg Saloon are covered with graphitized dollar bills.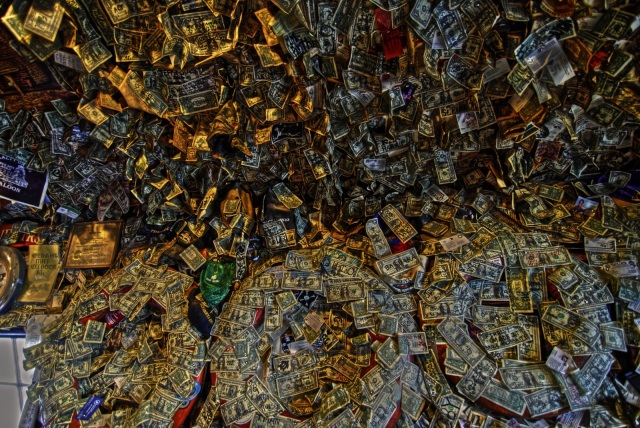 Tuesday
I got up at 5:30 on Tuesday morning and went for a short walk. I watched a bald eagle on the beach tear up and eat what I think was a loon. The light was very low and my eagle shots were poor. I did get an interesting long exposure shot of the remains of his breakfast: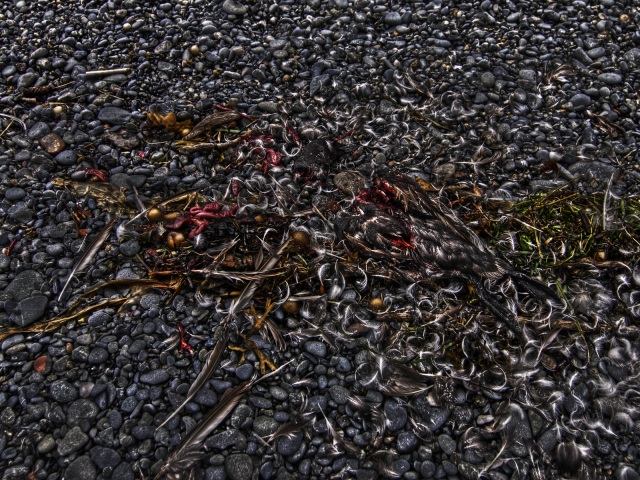 Behind the Salty Dawg Saloon is Salty Girls Gifts: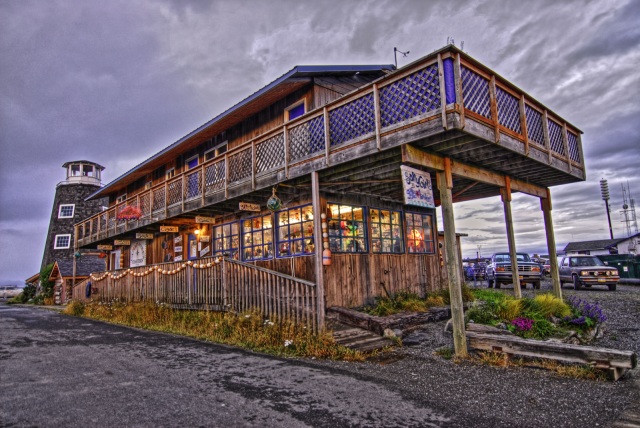 Svea and Annika waking up: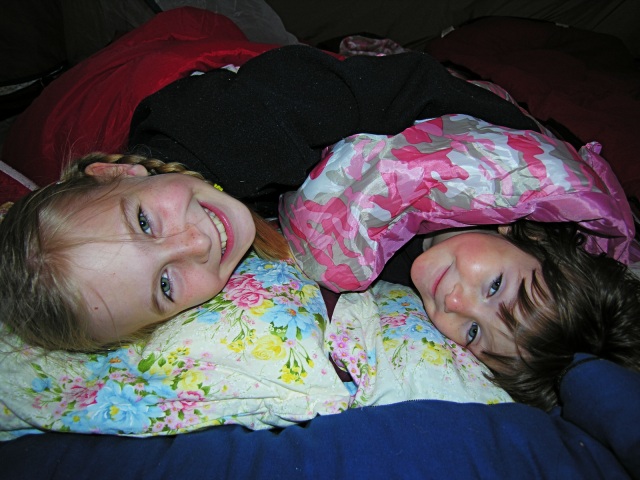 We ate breakfast and then it rained so we went for a drive. This interesting houseboat-wreck-contraption has been on the Spit for decades.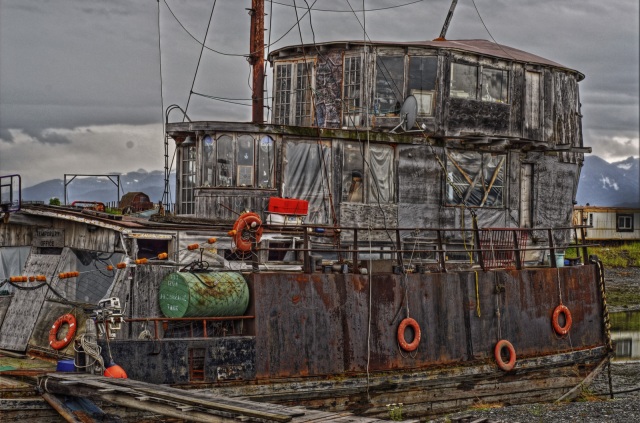 More abandon wrecks on the Spit: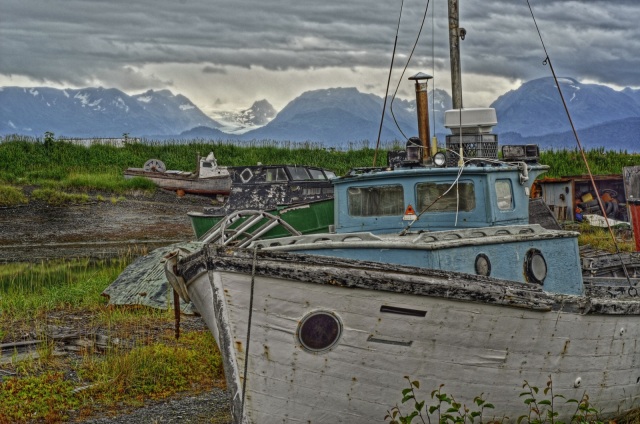 We drove up West Hill and Skyline Drive and found a nice view of fireweed, the airport and the Spit.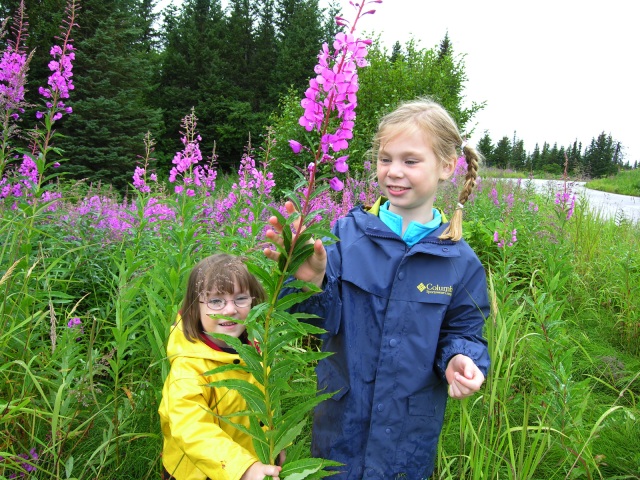 By lunch it stopped raining so we went for another walk and found starfish.
I just love wet rocks.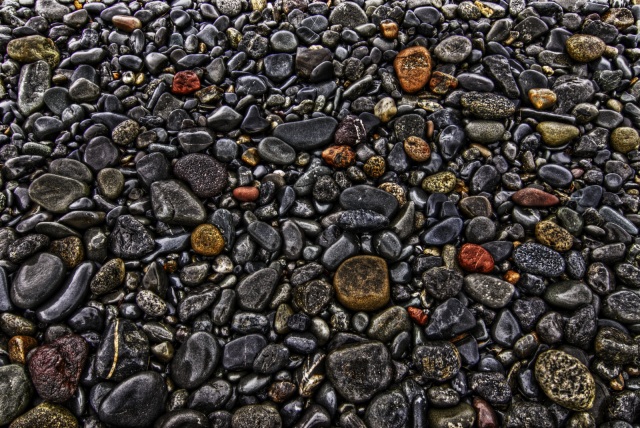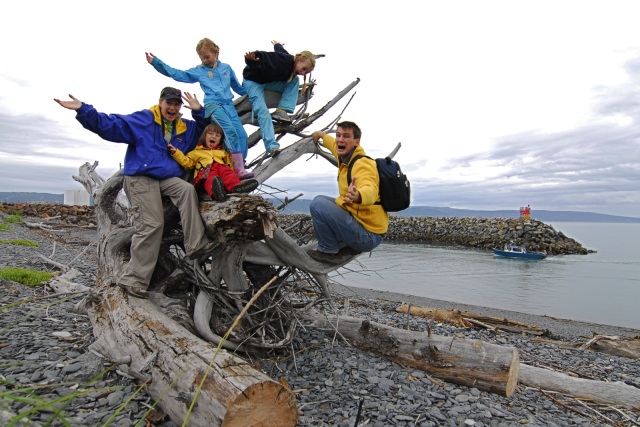 And I really love boats.
The girls and Joan went back to the beach while I took harbor photos. Overall I think I took about 500 pictures of boats in Homer; I'll go through those and post more this winter.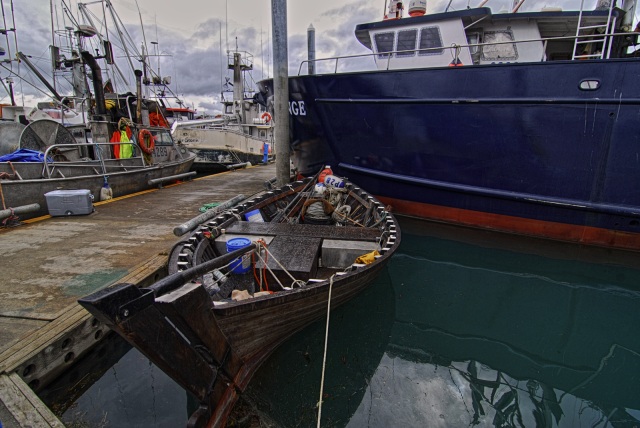 Meanwhile, Joan and the girls made beach art with the flat beach stones.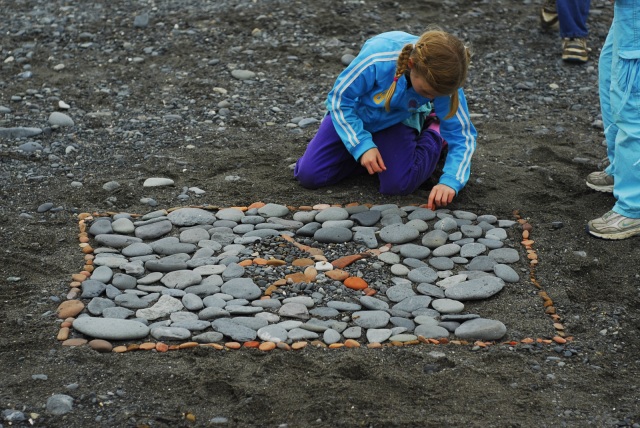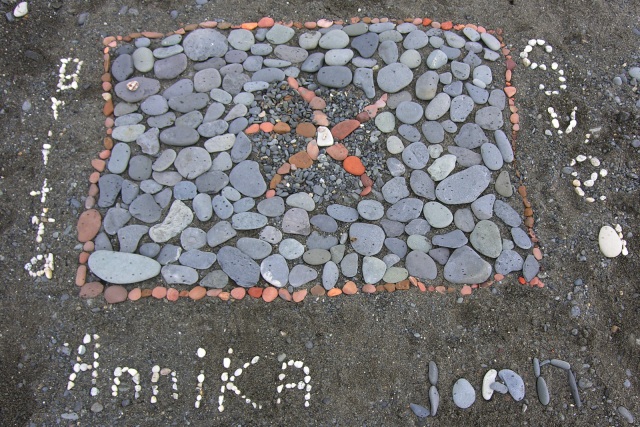 Wednesday
Wednesday we ate breakfast, broke camp, packed and drove home. This picture below is the backside of the laundry at the Homer Spit Campground: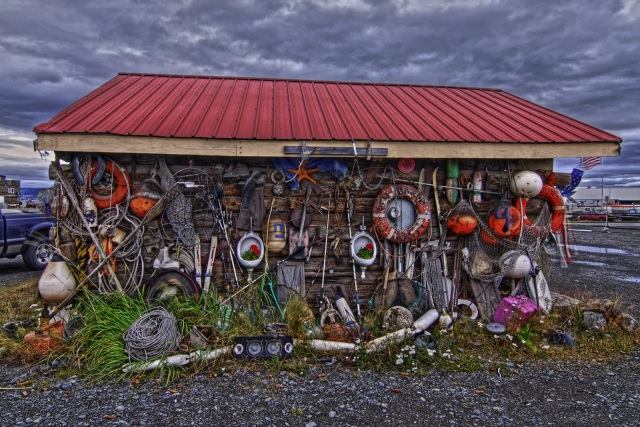 As we left the Spit we saw an Eagle on top of a pole: