Joan has spent much of the past two weeks making Halloween costumes and preparing the house for back to back parties. On Friday we had a party for a few of the girls' school friends. On Saturday we did it again for their neighborhood friends. By "we" I mean Joan, of course.
Below: As the guests arrived they crafted magic wands.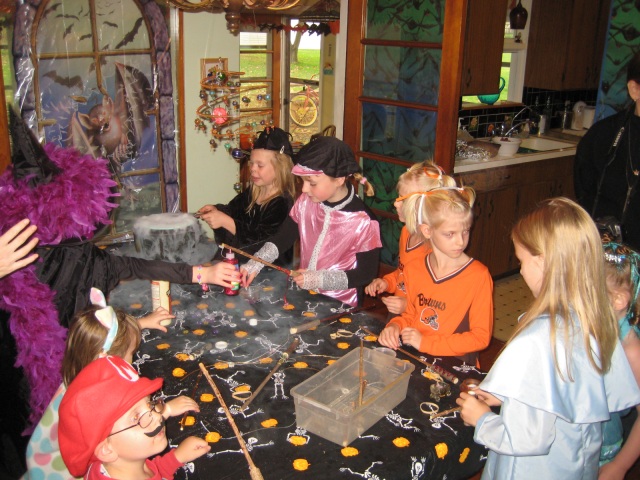 A group photo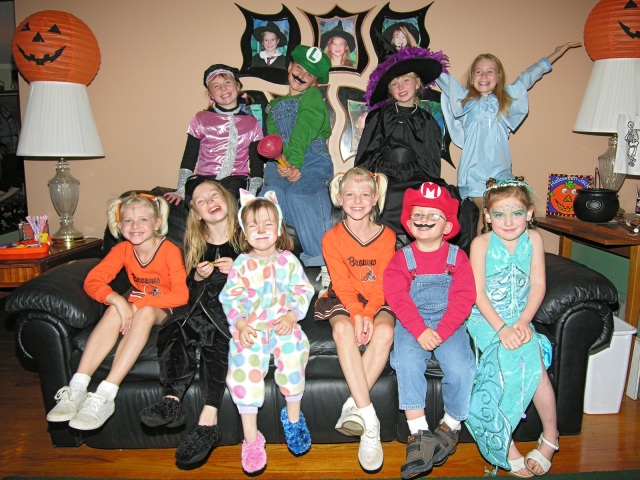 The girls' room was thick with theater fog.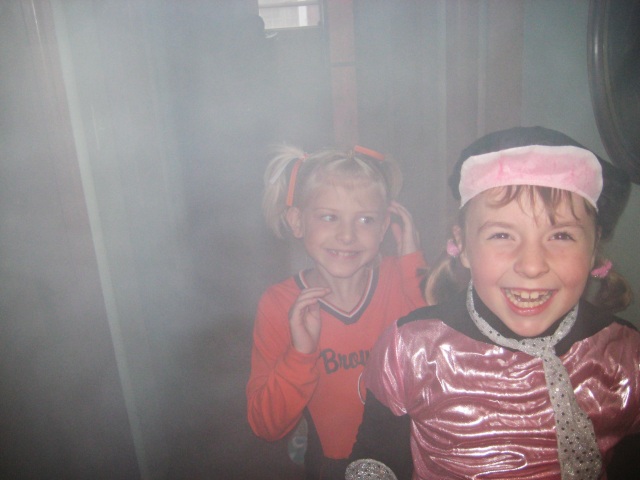 Joan put on a magic show.
Note the magic pepper star.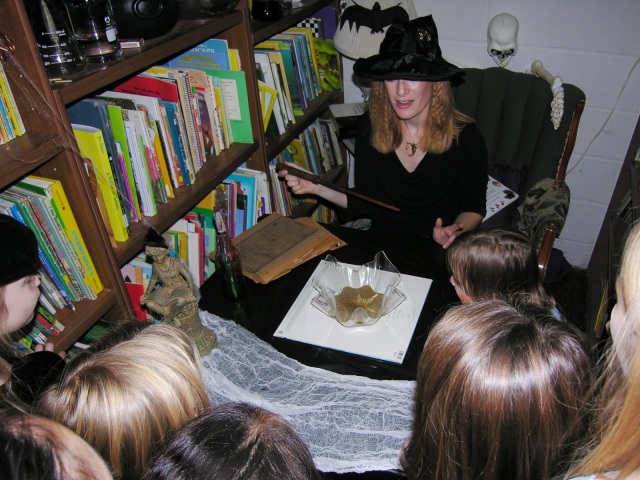 The haunted food table.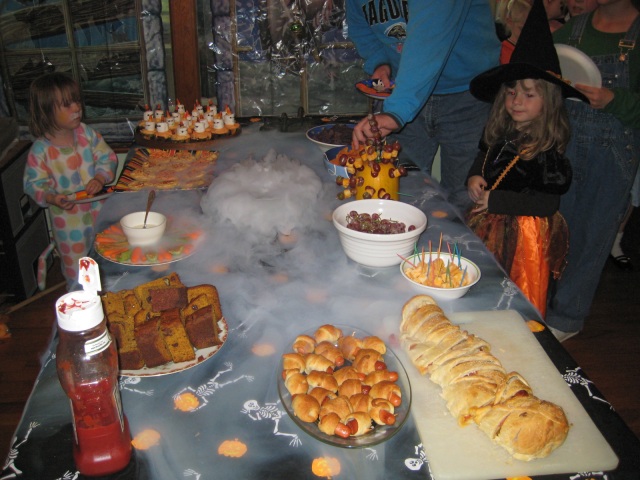 Svea decorated this pumpkins with grape-cheese-kabobs.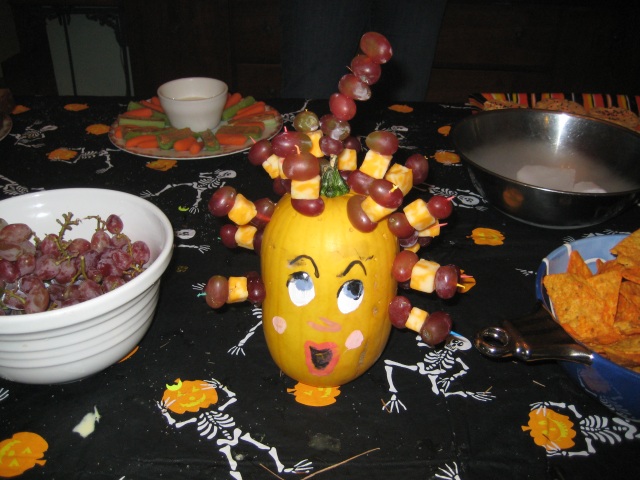 Joan and Svea made these mummy cupcakes.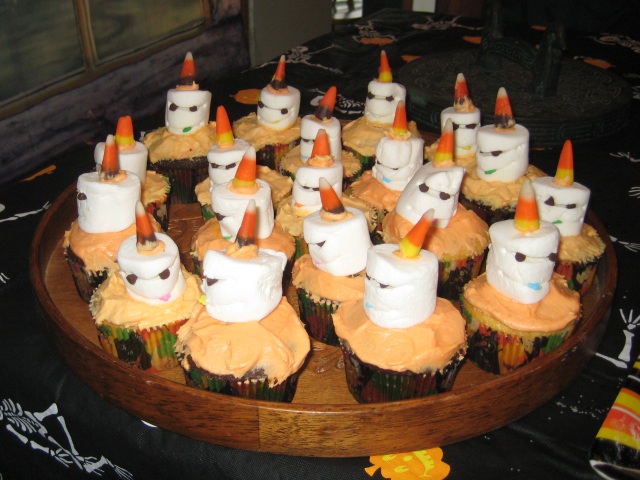 At the spooky snack table.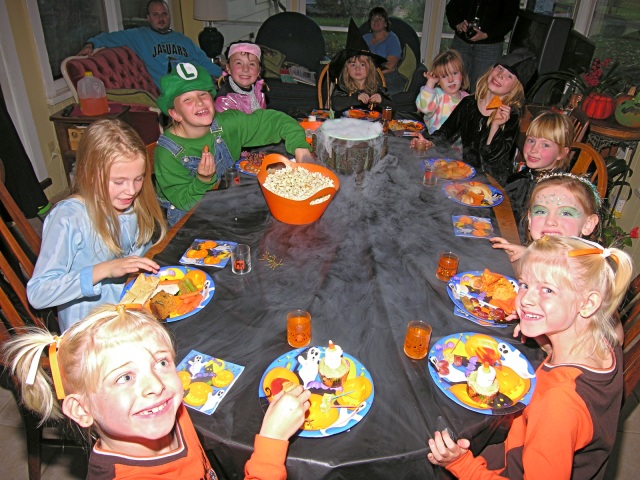 Making crafts.
Our standard game of "Catch a Doughnut on a String with Just Your Teeth"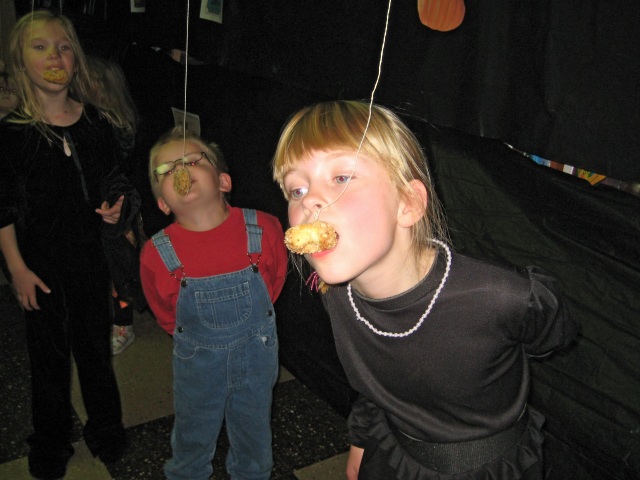 A bit of magic on TV.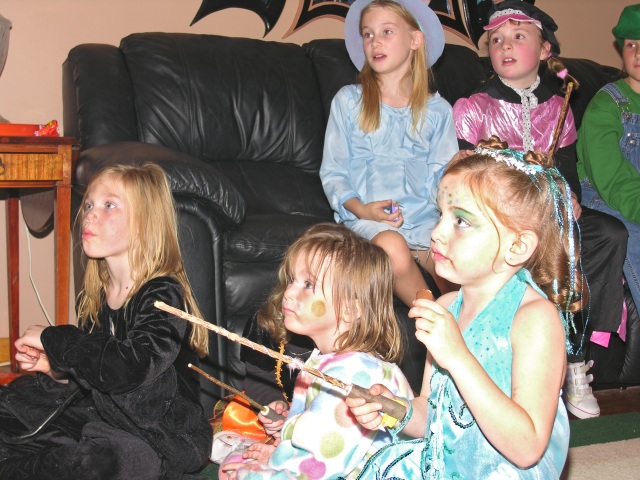 Joan and the girls made me keep this project a secret until Halloween. Our trap door was featured in their premier magic trick of the evening. Svea went into the closet, Joan closed the door, I made some noise on the stereo to mask the trap noise, Svea and Brigitta switched places and then Joan opened the door to reveal Brigitta standing there.
This summer I built the trap door in the living room closet. It leads to the play/craft area in the basement. To keep the door swing height short and the center of gravity low, I bi-fold hinged the door. In the up position there is a safety catch so that it won't slam down on little heads or fingers. In the down position a loop of cord sticks out through the floor as a lift handle. Halfway down the steps there is a landing platform and the ladder turns 90 degrees. My hope was that if one of the kids fell they would only fall four feet instead of eight. The platform also creates a double-decker play area. The kids absolutely love the hatch, platform and little play rooms. A final benefit of the hatch is that it creates a possible fire escape from the basement. Prior to the hatch installation the only way out of the basement was up the regular stairs.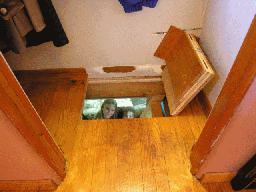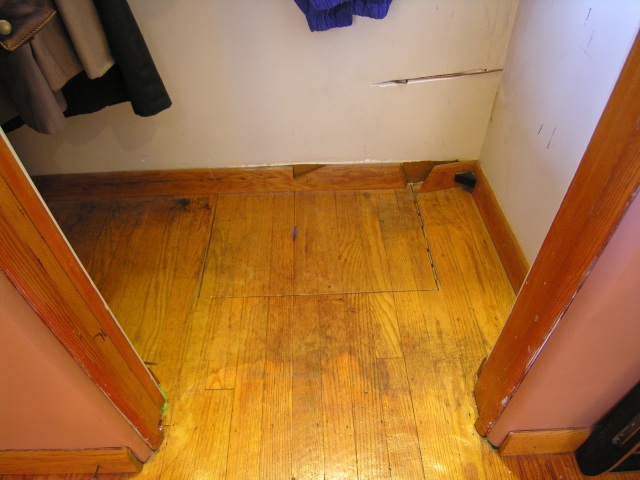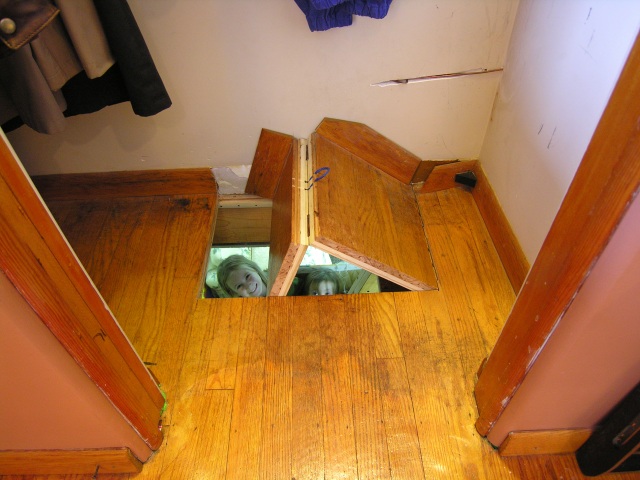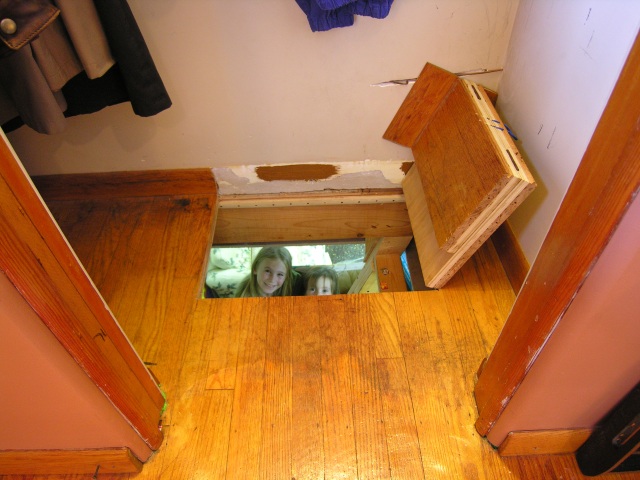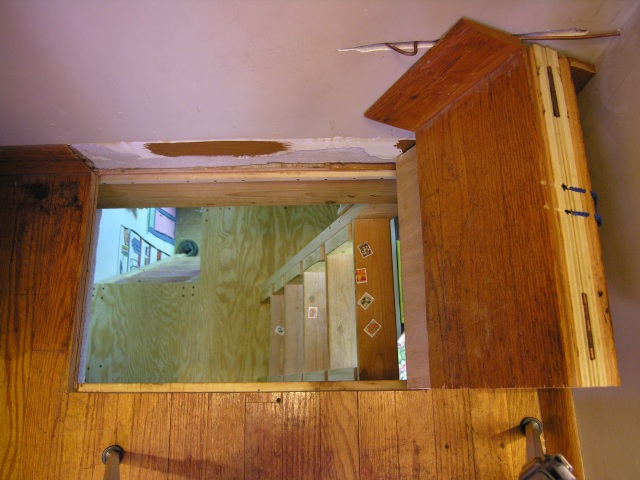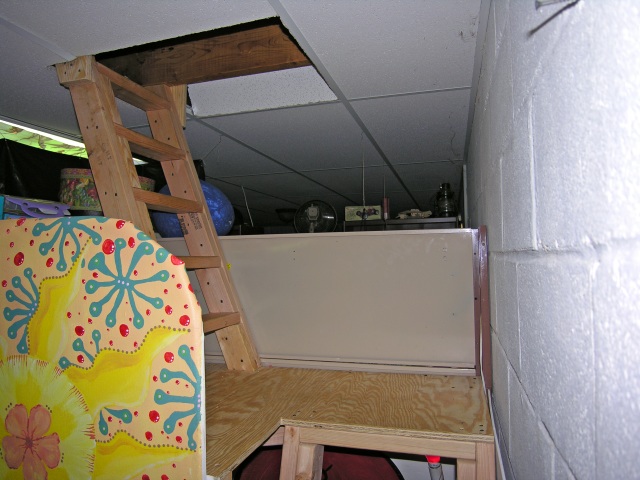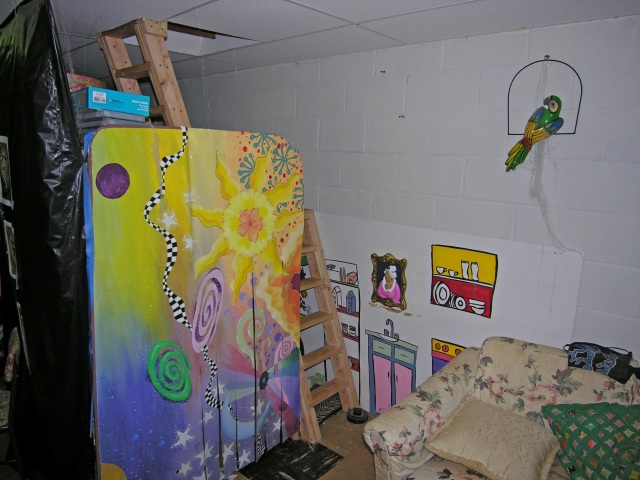 Blogging Seminar
This Tuesday I presented a blogging session for the Diocese. These things always take much preparation and create a bit of anxiety. When I teach my students at school, I know who they are, and pretty much what they know and I prepare my lessons accordingly. When I teach an adult session for the Diocese, however, I never know who will be in attendance. Based on the topic I have to guess what kinds of people will be in attendance. A month ago I was asked by the Diocese to teach blogging. I assumed that most attendees would have novice level computer skills since blog service providers have made the process of creating an account and blogs as simple and user friendly as possible.
As it turned out most attendees were fellow technology teachers. There also were a few classroom teachers and a principal. My superintendant also was present. This caught me off guard, I hadn't contemplated teaching my contemporaries. Most of what I prepared was geared more toward the beginner level and I didn't bother to use it. Although the attendees had much computer experience, they were unfamiliar with blogs and only one had ever worked with traditional html code/webpages. So what I had planned was appropriate; the students worked hands-on; actually creating free blog accounts as well as free image and movie accounts on Flickr and YouTube. I just wasn't prepared for them to go much deeper. Many of them were self sufficient and investigated on their own. I would have prepared things differently had I known.
All of my blog experience has been through hallbuzz which is scratch built html webpages hosted on my paid web host. Although it is not terribly difficult, all of the issues involved in creating and uploading a website are more than can be covered in an evening; especially mixed with another topic. To prepare for this session I created accounts and blogs/pages on Blogger and MySpace. I found Blogger amazingly easy to use and get started; what you see is what you get and everything is very intuitive. MySpace, on the other hand, was not very user friendly. I had countless errors and often was frustrated often. MySpace is huge, however, and I wanted to be prepared in case I had younger students who were more interested in social blogging over more traditional blogging.
I have accounts on Flickr and YouTube just for fun. I created new accounts on both services and noted the process so that I could foresee issues on Tuesday. Most of what I taught, I've learned in the past month, so I didn't have much depth to fall back on.
In the future I would probably be able to better prepare for these seminars if I insisted the titles describe a prerequisite skill level.