Svea's Birthday Party
We went to Canada the day after Svea's birthday party. When we got back I sorted through 1,375 pictures and 50 movie clips; it was a lot of work so I put Svea's birthday party pictures on the back-burner. Only a handful of pictures are published below since we didn't receive internet permission from all of Svea's twelve party guests.
Svea had been planning this party for over a year. Per Svea's instructions, guests completed tasks (such as climbing the rock wall) to earn the right to add a body part to their own dragon sculpture. Each girl began with a dragon body and added a head, fire, wings, feet and a tail. We had a bubble pool, treasure hunt and a dragon cupcake cake. As a take home gift the girls made melted crayon and glitter dragon eggs. Thankfully, the weather was wonderful and everyone had a great time.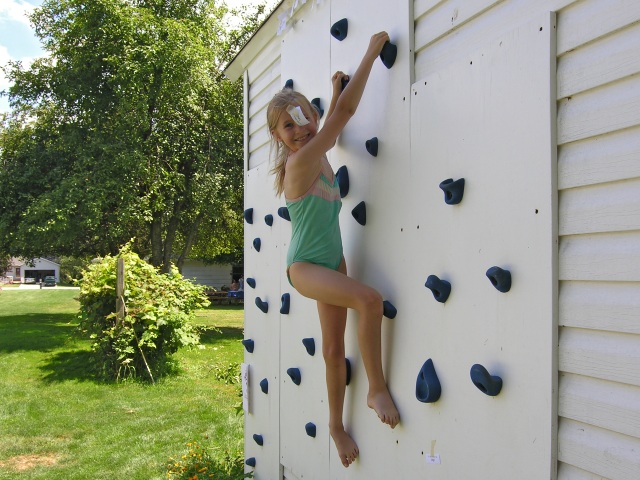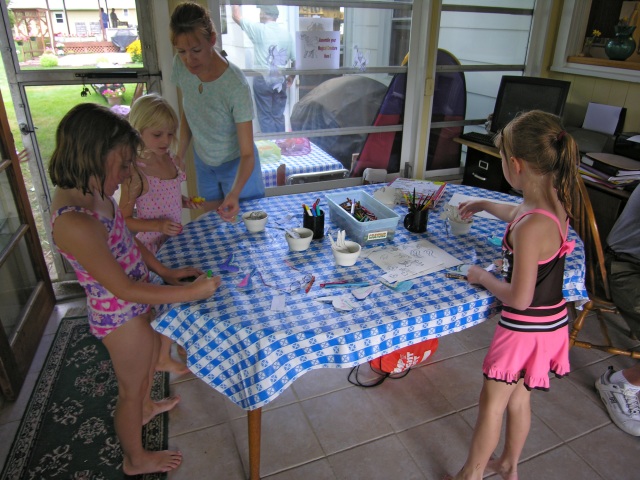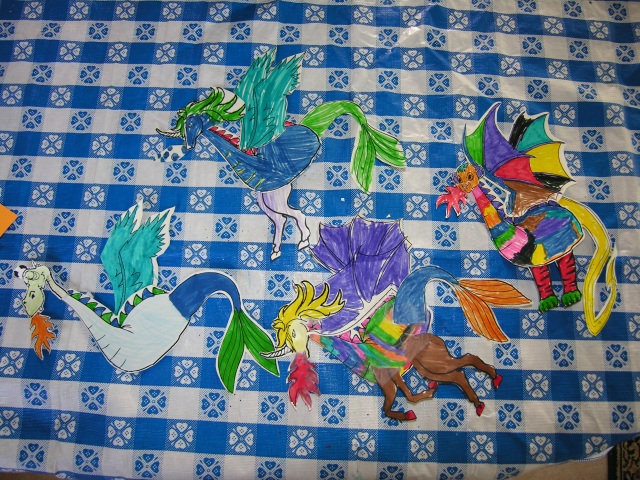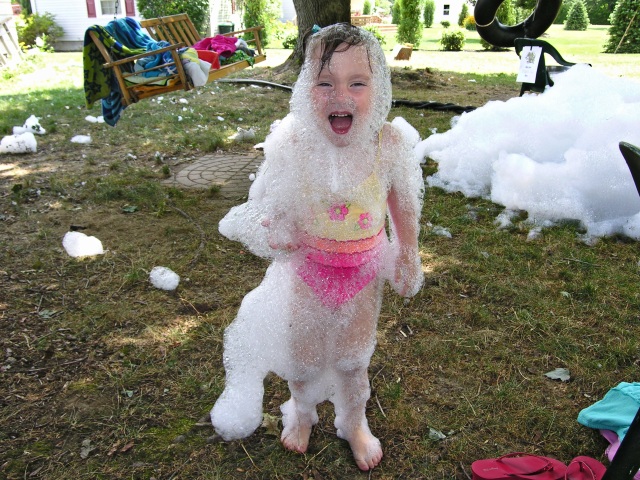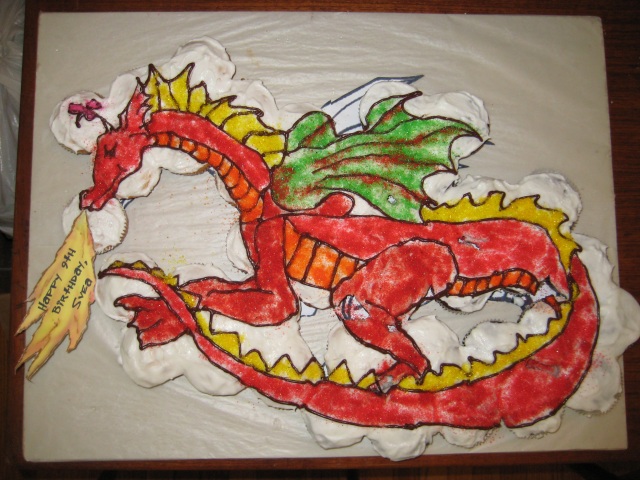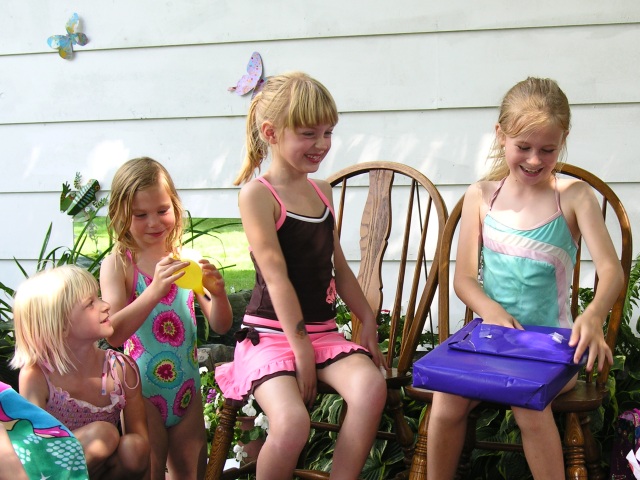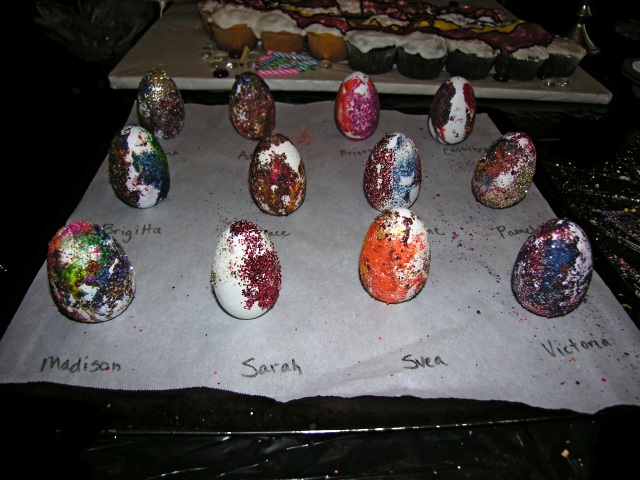 Sarah Palin - Alaska Governor and GOP VP Candidate
(Edited for terminology and links on 9-6-2008)
I'm sure that our readers outside of Alaska must be wondering if I have any connection to Governor Sarah Palin who was just selected by Senator John McCain as his running mate. I can understand thinking that, but realize that Alaska has 670,000 residents in about 700 cities and towns. Alaska is 1,479 miles wide by 808 miles tall; it's physically larger than the smallest 23 states. The city of Wasilla, where Sarah Palin grew up, had a population of around 5,000 when she was elected Mayor. Since then it has grown considerably but is still under 10,000 residents. So, what are the chances...
When we go "home" to Alaska, we go to Wasilla, where my parents live. They moved to Wasilla in 1987. Around the same time my brother, Robert, his wife Amy and I ventured into area to sell fireworks. Until I left Alaska in 1994, I listed my parents home in Wasilla as my legal residence since I moved from three different places in the Matanuska Valley to five different places in Anchorage (I moved twice every year). My brother Robert, his wife Amy and their children, Robyn and Kevin now live in Wasilla.
Being the Governor of Alaska, Sarah Palin also lives in the state capital in Juneau, Alaska. In 1969 my father became the Commissioner of Health & Welfare for the State of Alaska; we lived in Juneau for two years. My sister, Sheryl, her husband Michael and their children Becky and Michael live in Juneau where Sheryl teaches.
The real connection to Sarah Palin, however, is through my father, Bert Hall. He's known her since she was on the Wasilla City Council. Dad is very active in the Alaska Republican Party, Wasilla Rotary and the First Presbyterian Church of Wasilla. He also serves as Chair of the Alaska Veterans Advisory Council and the Wasilla Chamberís Military Affairs Committee. He was recently named as Wasilla Citizen of the Year. Both my father and brother Robert were very involved in her campaign for Governor.
One thing that dad has done through his involvement in the Alaska Veterans Advisory Council has been to revive the display of Blue Star Service Banners and Blue Star Service Tacks (through the American Legion). These are a throwback to the World Wars; displaying the service flag in a home's window or wearing the lapel pin shows pride in having a family member serving in the Armed Forces during time of "war or hostilities". The Service Tacks \ lapel pins are a 1/4" by 3/4" red trimmed white bar with a blue star, one star for each child in the service. If you look at recent pictures of Sarah Palin you will often see her wearing one of these tacks; her oldest son, Track, enlisted in the US Army last year. The tack/pin that Sarah wears was given to her by my father (as well as several spares).
Below is a picture of Governor Palin; note the pin. The second picture is a close up of a Blue Star Service Tack. In the third picture below (Alaska Veterans Advisory Council Members), dad is standing to Governor Palin's left.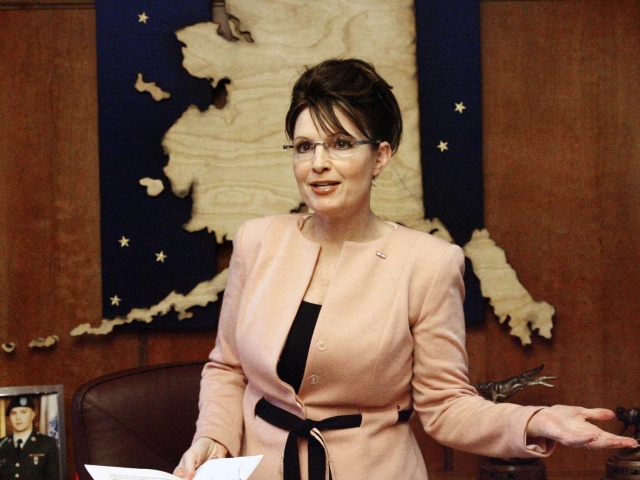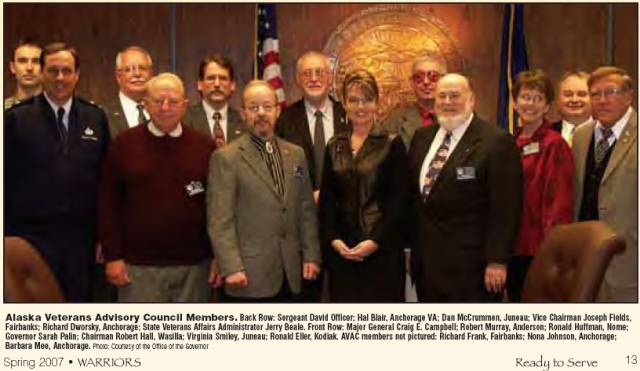 Donauschwaben
The girls danced at the Donauschwaben in Berea (near Cleveland) on Saturday. Joan and I thought that this was just another Oktoberfest type of thing. My goodness, the Donauschwaben was more of an Uber-Oktoberfest. It was huge. There were GFS groups from Hungary, Toronto, LA, Detroit, Cincinnati, Milwaukee, Trenton, Mansfield, Chicago, Philadelphia and St. Louis. Our girls, in the Akron Kindergruppe, were the first to dance and Brigitta was the first on the floor. As always, the tent lighting was poor and it was tough to get a good shot.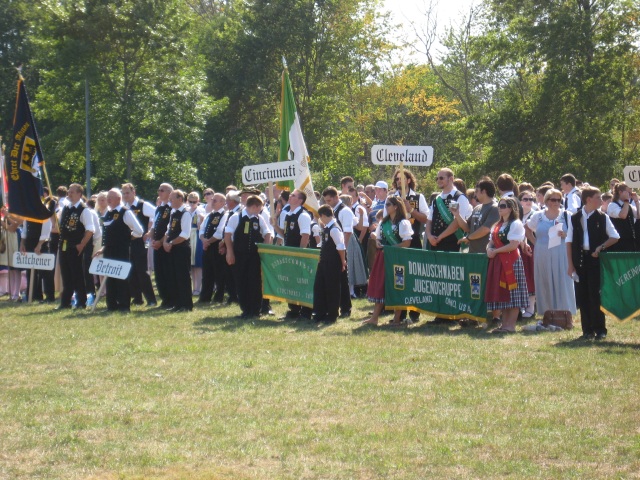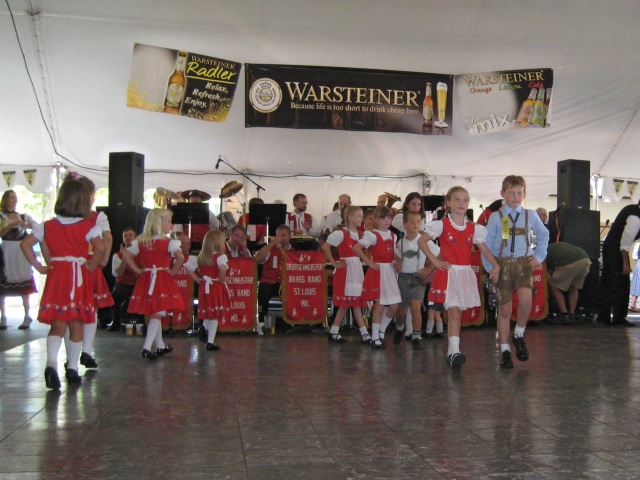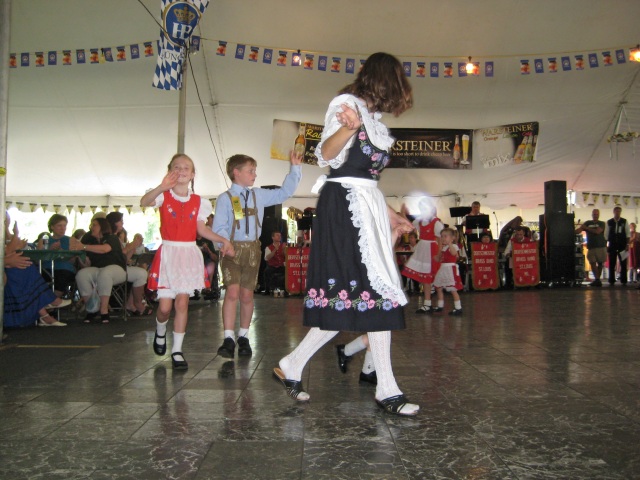 Other Stuff
Anni on a recent hike: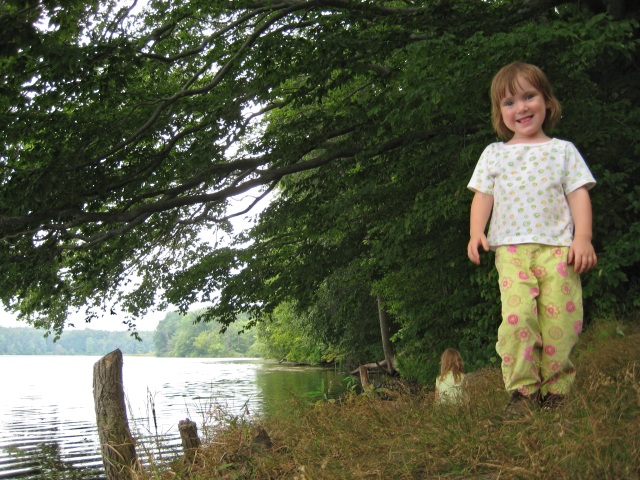 A tire recycling business only a few miles from home spewed smoke late Saturday night.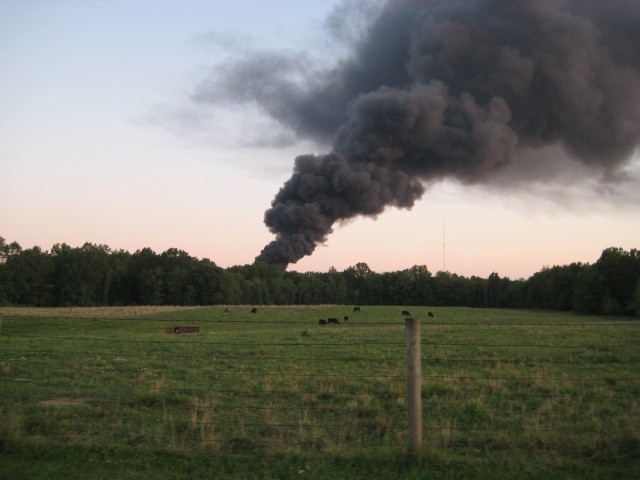 Annika on a roller slide. Today we all biked four or five miles on the Metro Parks Hike and Bike trail to Waterworks Park. Joan watched the girls while I biked back to retrieve the car and back to the park to retrieve my girls.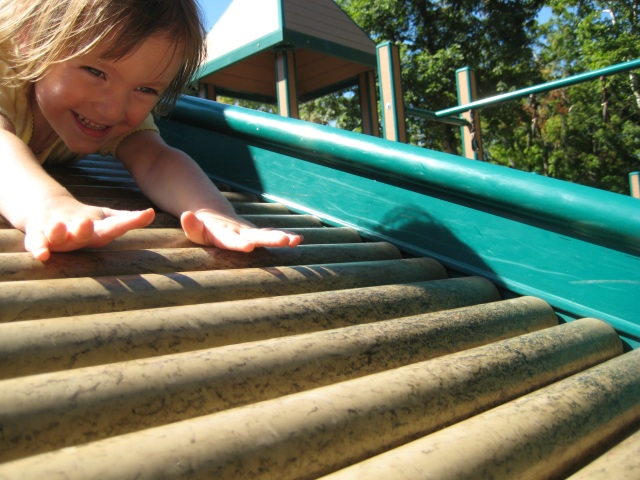 Brigitta found a bunch of shells in a stream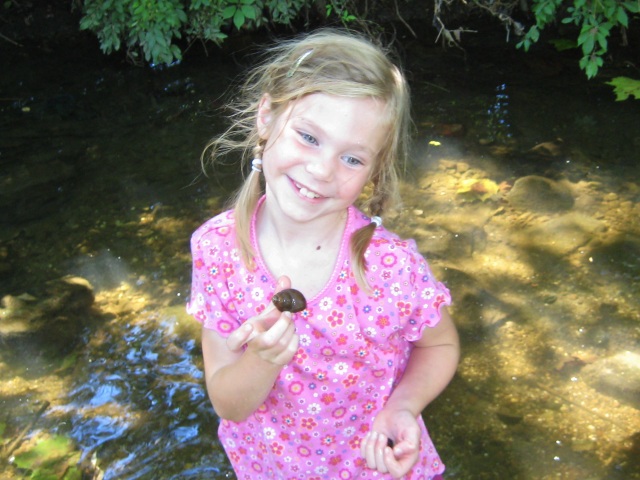 The stream