Happy Birthday Joan!
(Yes, she's 40!)
It wasn't intentional, but Harriette pulled a "You're really old now" gag on Joan for her 40th birthday. She bought us tickets to a community theater musical. "Swingtime Canteen" is a musical based on the pop music of World War II. Joan and I both appreciate the Big Band era and love everything to do with the 1940's. It should have been obvious, and it certainly didn't matter, but the vast majority of our fellow patrons remember the pop music of World War II, firsthand. I don't think I've ever been in a place with a higher concentration of octogenarians, and I tend to seek them out. We generally enjoy community theater shows, but this production could have been better. It was still nice to get out, however. Earlier in the day we went to the zoo. The Akron Zoo has opened its new jellyfish exhibit. Its at least 100 times cooler than it sounds.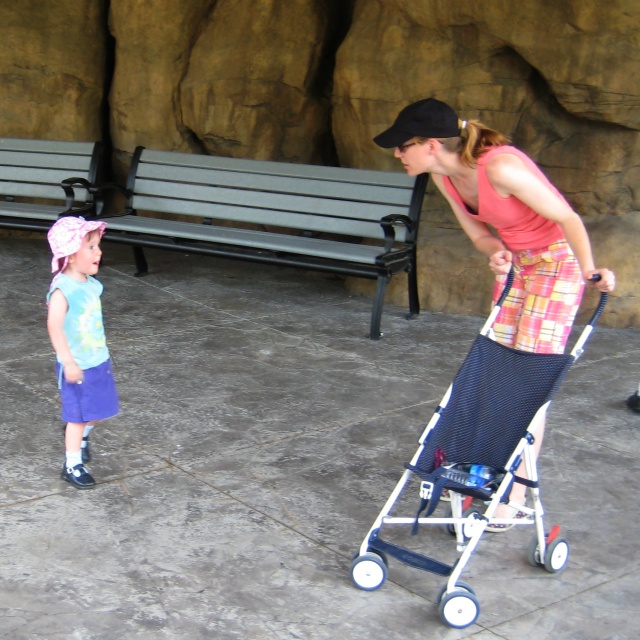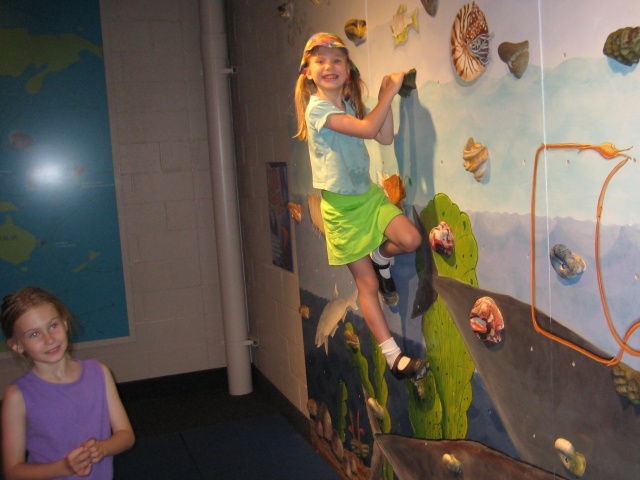 Svea's camera's battery died after just a few minutes so I swapped her batteries. Svea took all of the zoo pictures below.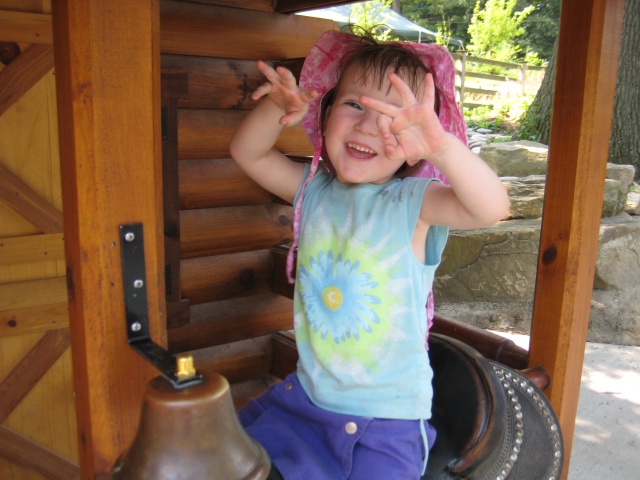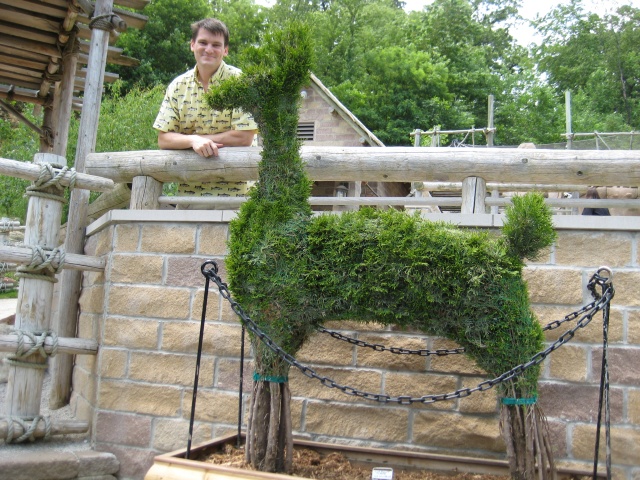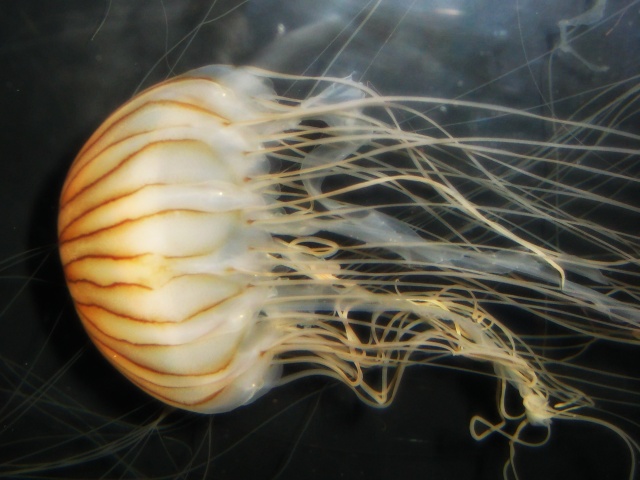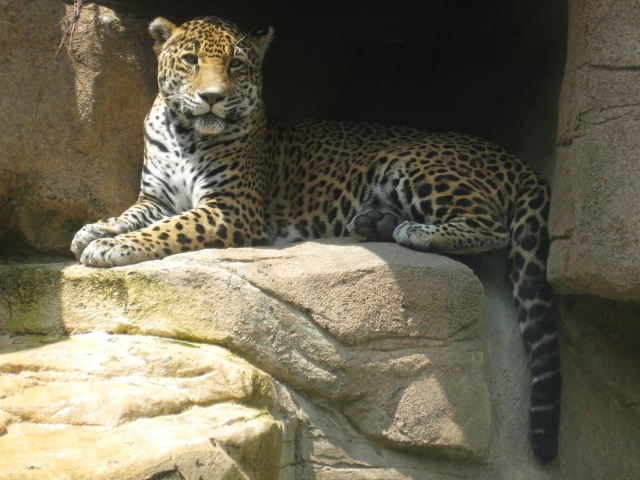 Meat in a Glass
I cooked a steak and scampi dinner for Joan on her birthday. I figured I could marinate in a glass as well as any other container. Joan was amused at the sight of meat in a glass and wanted a picture.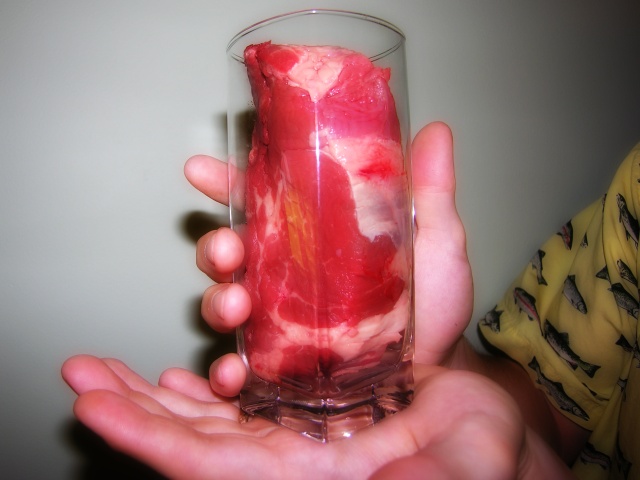 Brigitta Graduates
Brigitta graduated from kindergarten with perfect marks. She loved the fact that her "straight A's" allowed her to get a three free movie rentals at the local video store. The kindergarten graduation was more of a song and dance show, and a pretty good one at that. Brigitta had a relatively major repeating solo line in "The Twelve Days of School", and pulled it off very well. I admire her fearlessness.
Svea Earns Awards
The school year at IHM ends with an awards ceremony. Older students can earn awards for straight A's, A's and B's, alter serving and quite a few other things. Art, Music, Spanish, P.E., and Technology teachers also give an award to a primary, intermediate and middle school student. The final awards are for Christian Attitude. Each homeroom teacher selects one boy and one girl who they feel most reflects Christ-like behavior. Joan, myself and most teachers feel that this award is especially important. Joan and I received a note indicating that Svea may be receiving an award. We figured that she probably had been chosen for art; she really pours her heart and soul into everything artistic and has a knack. So, we were not terribly surprised when our art teacher called her name to receive the primary art award. We were very surprised, however, when her name was called again to receive the Christian Attitude for her class. We are very proud of her. When I explained the award to Brigitta, her response was, "But she's not always like that at home." This is true and I love that we can now dangle it over her head for the rest of her upbringing...
IHM DVD Browser-Based Yearbook
I haven't blogged, biked, kayaked, goofed around or even slept much for the past several weeks; I've been busy. At the beginning of the school year I promoted an idea that I've been toying with for the past few years: releasing our school yearbook on a DVD, viewable through a browser like a website (but not available on the Internet). During this school year (mostly during the last quarter) I've had my students build web pages about themselves. Each student wrote an autobiography, including a small portrait of themselves (linked to a full screen portrait) and chose their own web page color scheme. Many students also included mp3 voice recordings about their favorite thing of the school year. Kindergarten and first grade students have sixth and fifth grade "big buddies" who built their pages for them and interviewed their little buddies for the biography information. The student pages account for 440 of the 575 pages of the yearbook.
The other pages cover school clubs, events and sorted candid pictures. Sports were haphazardly represented this year; we just didn't have much to work with. In addition to web pages, the DVD yearbook includes about nine hours of: video, animations, slideshows, student video projects and presentations. One sub-project of this yearbook was the "hello" videos. I filmed all of our students saying hello in their language of choice or a synonymous word. The hello videos are grouped together by class; so 18 videos cover all 440 students. The resolution of the 140 videos varies quite a bit, but most clips are about broadband quality.
We have sold quite a few DVD yearbook and have promised a copy to each staff member. Originally, I planned on burning the copies myself on the school lab computers. Considering that we needed nearly 200 copies, however, we opted to hire out the duplication work. Since we only charged five dollars for the yearbook, we pretty much blew our budget on the duplication costs. The owner of the company that is making our copies was amazed; he said that he had never seen anything like it and repeatedly stated, "I can't believe that you got all of this on a DVD." I'm a bit amazed myself, but I was confident it would fit. I spent much of my time compressing files as they would be compressed for the web. The DVD yearbook is similar in size to hallbuzz. Both the hallbuzz website and the IHM DVD Yearbook consists of a little over 9,000 files. The DVD yearbook consumed about 3.8 gigabytes of the 4.7 available on a DVD. Hallbuzz uses about 3.0 gigabytes of server space. I just bought a 4GB memory card for Svea's camera; it just amazes me that something the size of our yearbook not only fits on a DVD, but it will fit on a tiny SD memory card...
The day after I burned the master copy I began planning and allocating 4.7 GB of DVD space for next year's yearbook. I wish that ten months ago I knew what I know now, but that's the nature of doing something for the first time. After I finished I did some research to see if other schools have done something similar. There are commercial businesses that produce browser based DVD yearbooks, but all aspects appear to be very standardized and generic. I'm much happier not placing creative limitations on my students and myself. If this year's DVD yearbook is well received and we decide to do it again next year, I'm confident that it will be much better.
Tomorrow morning we will distribute the yearbooks between the IHM Masses and they will also be available at the school office.
Alaska
Over the winter I think that the best price we've seen on airline tickets to Alaska for this summer have been around $630, now we are looking at $710. Times five, that's a bit tough on a Catholic school teacher's salary. Alaska may not happen for us this year...
Girl Scout Camping Trip
(By Svea)
Mom and I and the Girl Scouts went to a private campground at Wyoga Lake. We went swimming, fishing and hiking. Our Girl Scout troop went on a night hike. We made sculptures out of sand and slept in a tent. For crafts we made walking sticks and a jumping toy that spins around your ankle. We sang karaoke and danced to it. For breakfast we went on a hike and tried to find our own food. I found some rhubarb but my Girl Scout leader wouldn't let me pick it because it was behind some poison ivy. There was a playground at our campsite. I want to go camping with my Girl Scout troop again!
Joan's ongoing fascination with mushrooms continued on the camping trip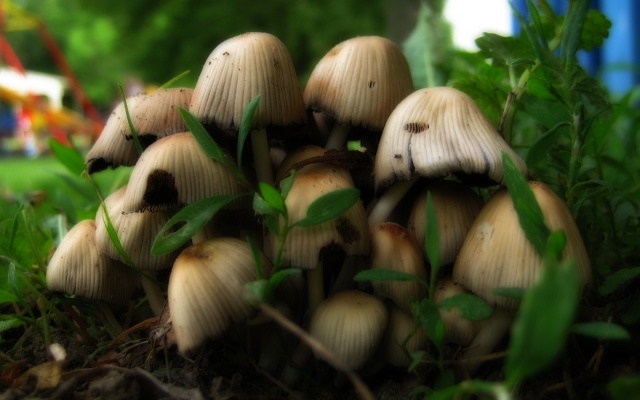 Coon
A ground hog family has been raiding our garden so papa has been setting the live-catch-trap. He caught a raccoon the other night. Svea used the movie feature of her camera for the first time to capture the raccoon's release. The video is rough, but her audio throughout is hilarious, at least it is to me. Check it out on the movie page.