Papa turned 90 on Wednesday. Not many of us live 90 years and even fewer have a healthy, happy life at that age. We are so blessed to have Papa, with his kindness, generosity, zest for life and hard work ethic. He is not only our inspiration, but our recipe for longevity.
Our family celebration for such a monumental event was less than spectacular. His birthday was sandwiched in between a party at the German Club, trick-or-treat and parties at school. His gifts were few, but the real present was a family costume party two days after his birthday.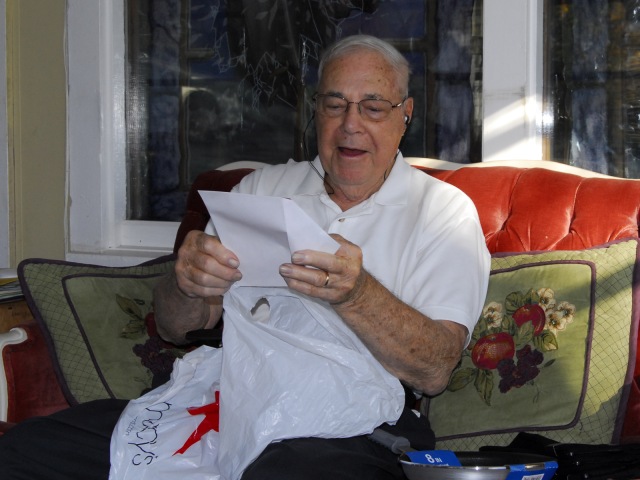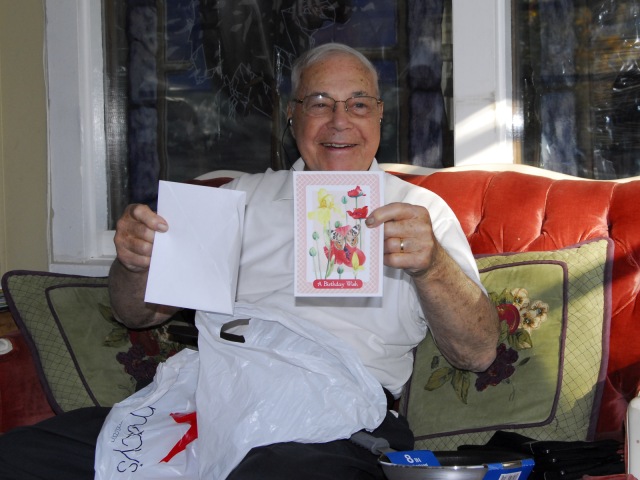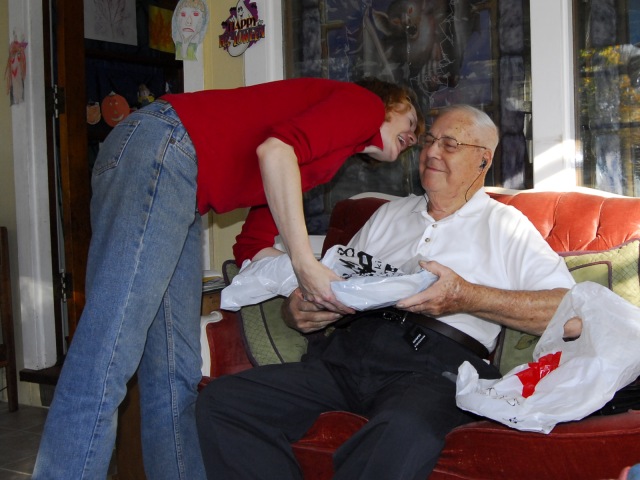 Papa's 90th Birthday Costume Party
The link above will take you to Papa's 90th Birthday Costume Party page with 96 pictures and 3 movie/slideshow links.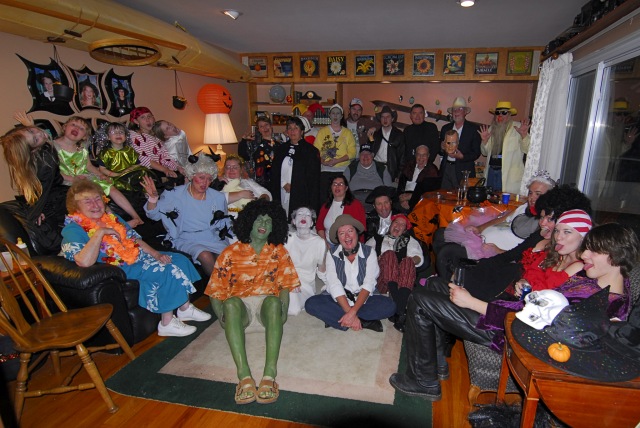 Nana Busted Her Head Wide Open!
In an unsuccessful attempt to "gain the spotlight" from Papa, Nana tripped over a misplaced stool on Thursday, and cut her forehead on a metal filing cabinet. EMS transported her to the hospital and after a CAT scan and at least twenty stitches, Nana returned home. In all fairness, Nana did capture our full attention on Thursday afternoon. She recovered quickly and even wore a costume at the party, although not the "Massive Headwound Harry Costume" from SNL, we thought she might choose.
Svea made a Harry Potteresk witches' broom with the intention of playing Quidditch. The girls are very much into Harry Potter; they have discovered that hitting a quaffle (ball) with a bat while sitting on a "flying" broom is much harder than it looks.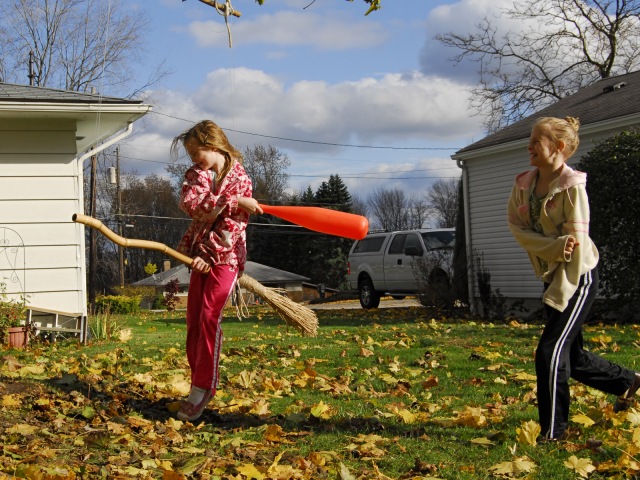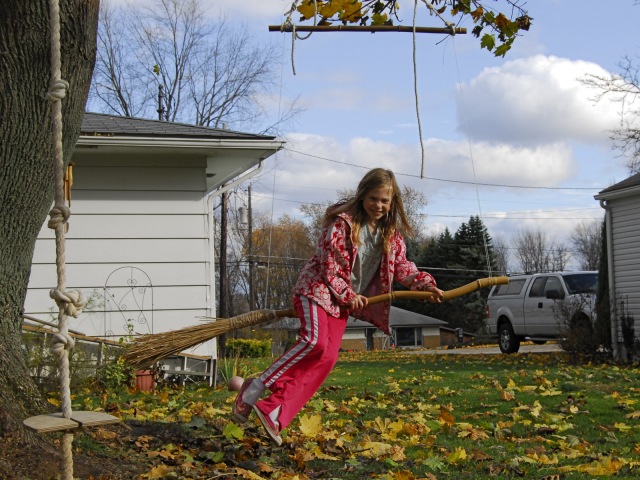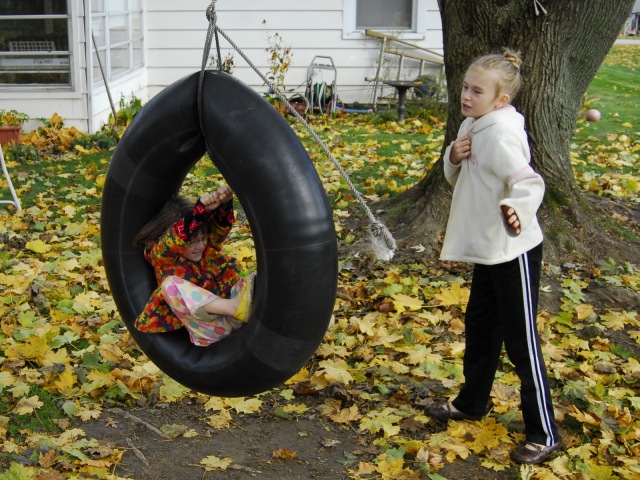 Also check out a movie of a giant dry ice bubble that we made:
Big Dry Ice Bubble ~ 10-31-09 ~ WMV ~ 22 Seconds, 8 MB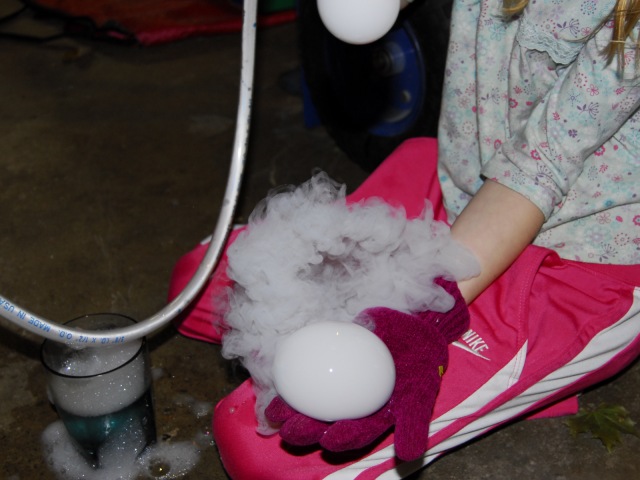 Examples of bubbles filled with dry ice. Gloves have to be worn, not for the dry ice factor, but because oil on you skin will cause the bubbles to pop.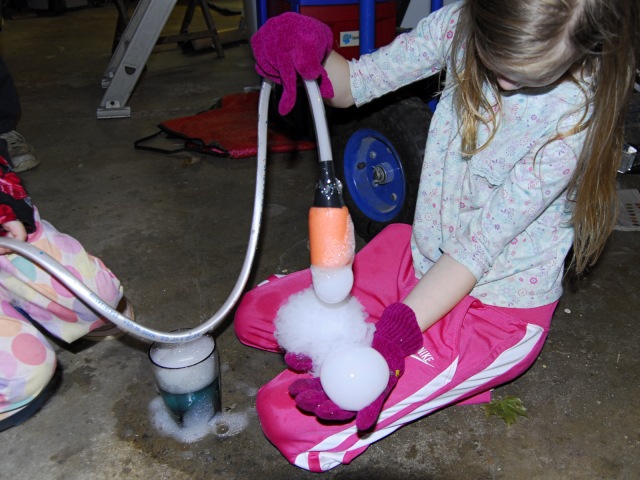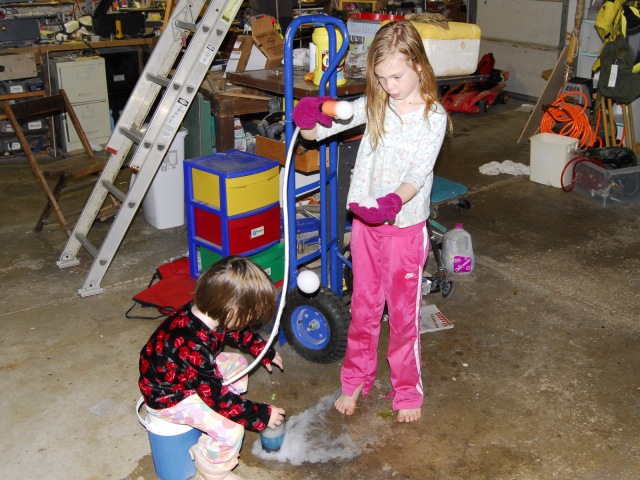 Annika is sitting on the valve of the David made "Fog Bubbler Machine.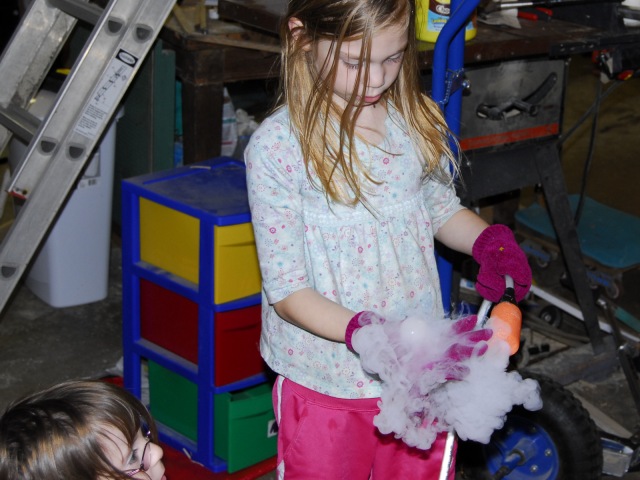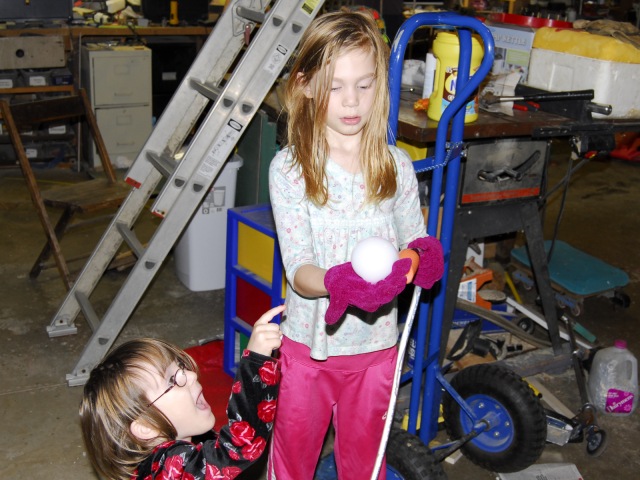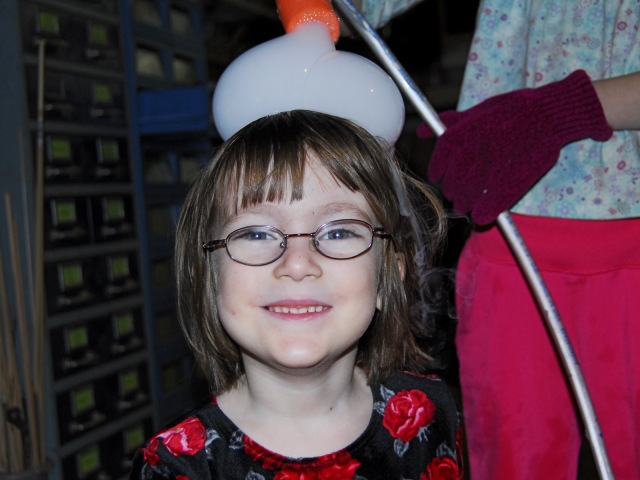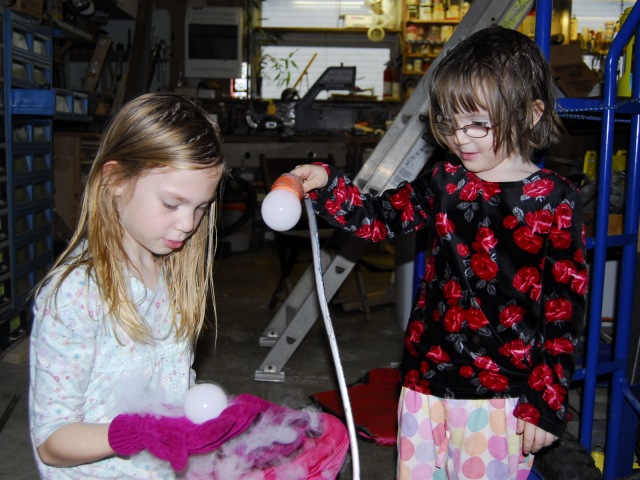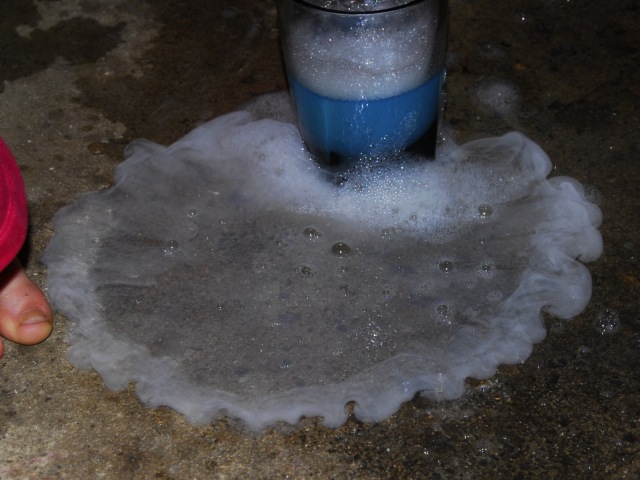 Also check out a time lapse movie of trick-or-treaters who visited our home:
Trick-Or-Treat Time Lapse ~ 10-30-09 ~ WMV ~ 4 minutes, 32 MB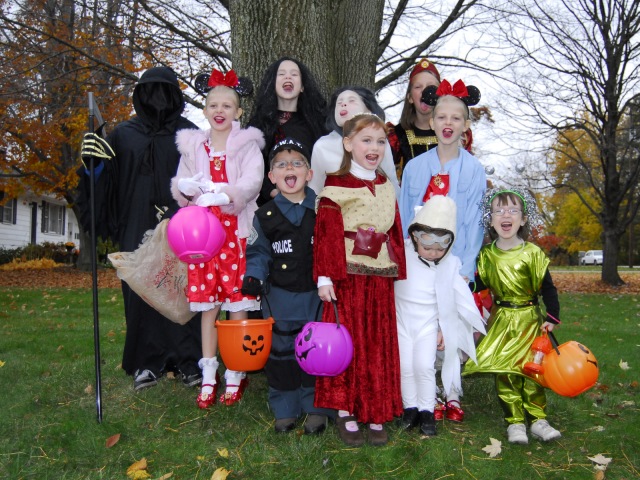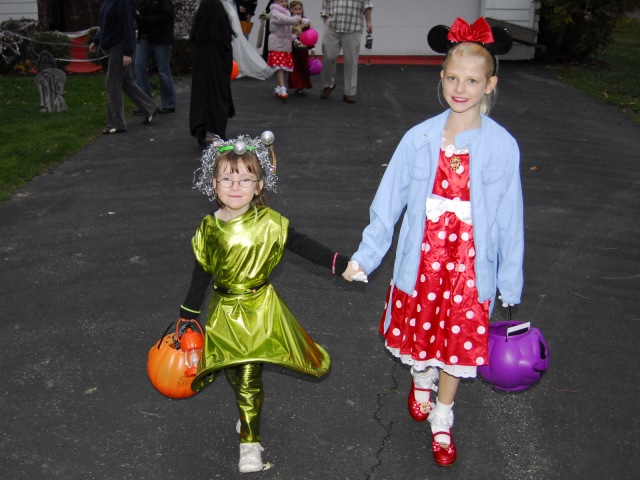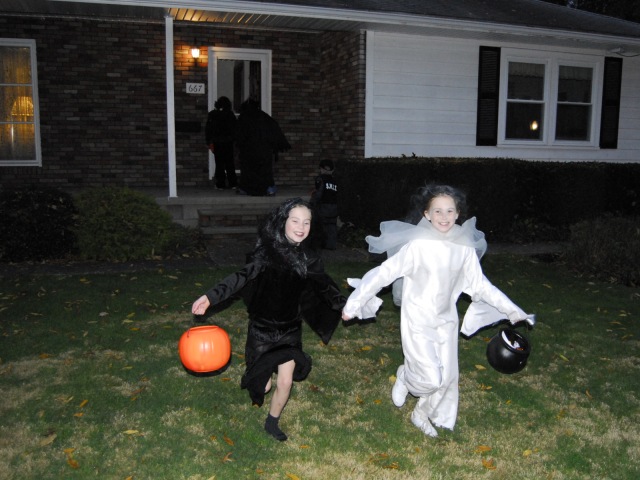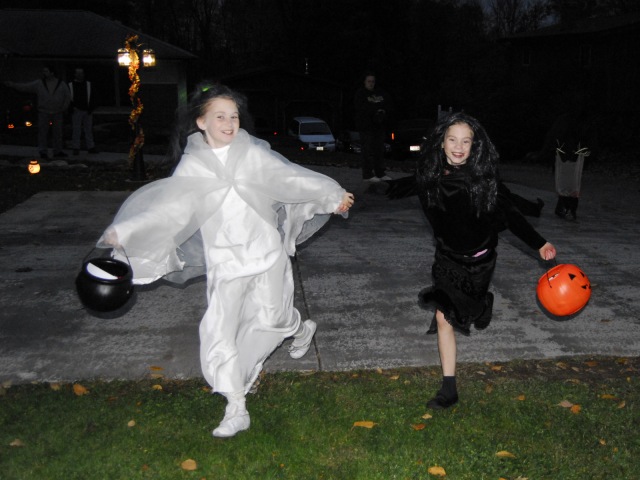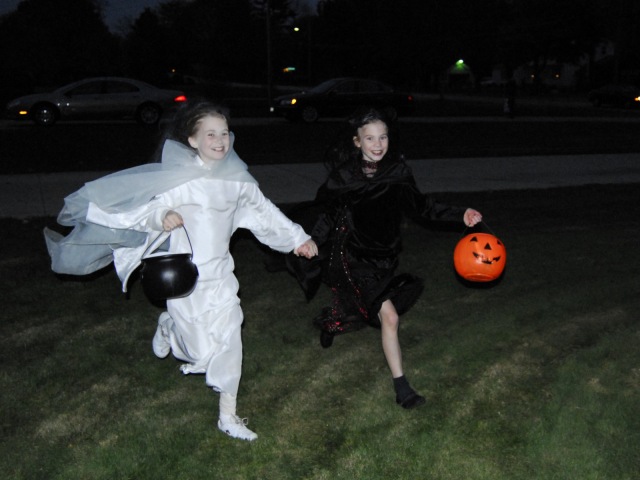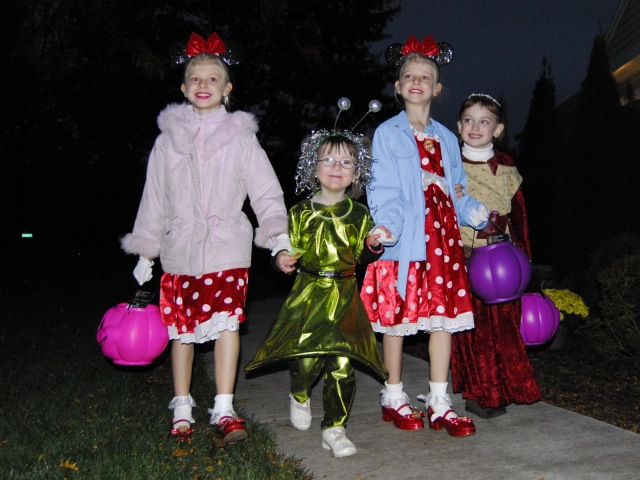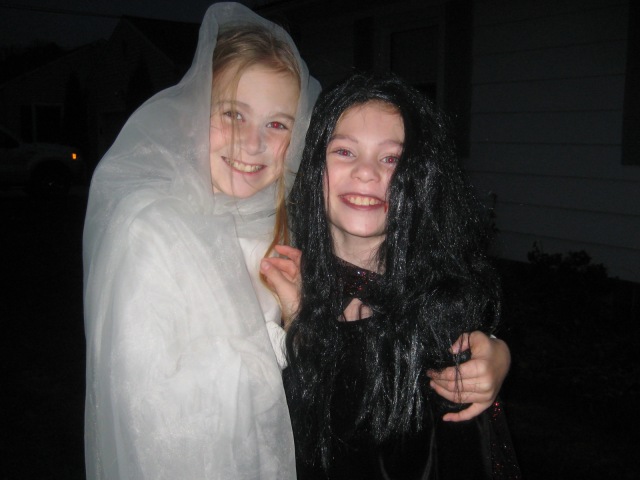 10-28-2009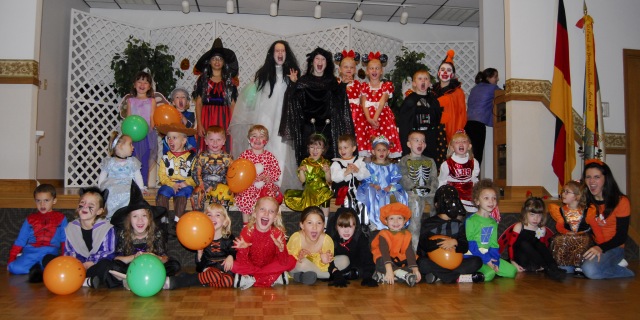 10-24-2009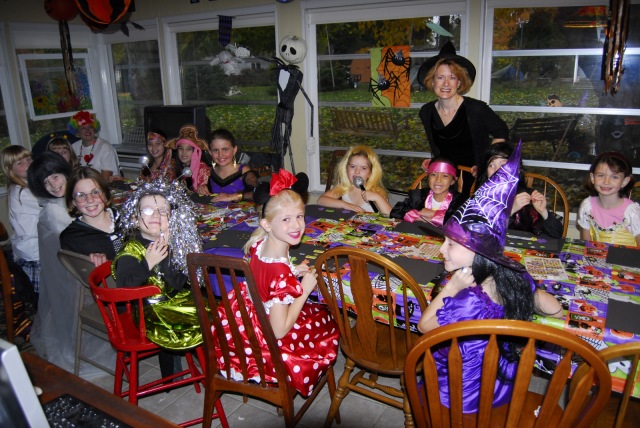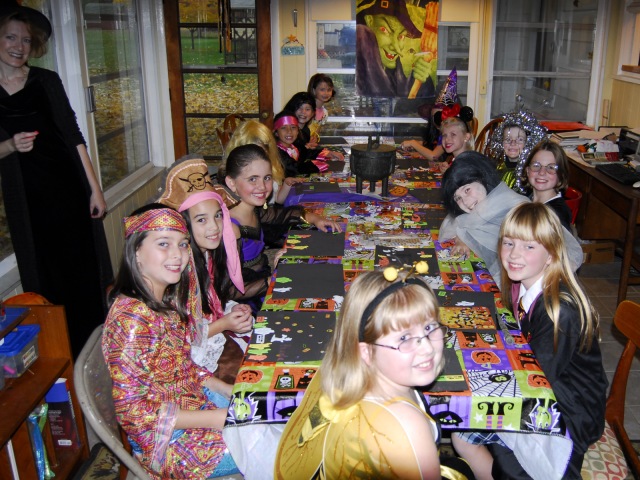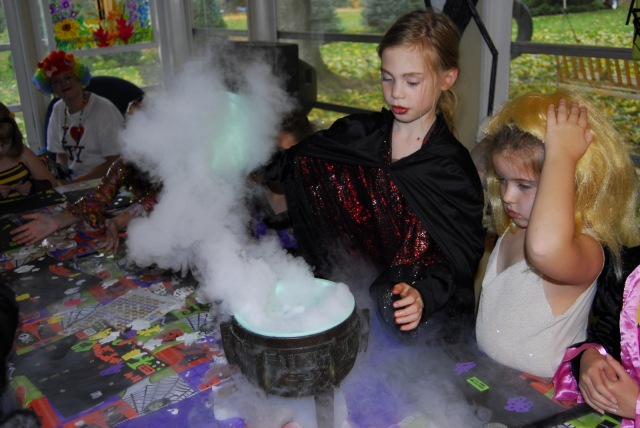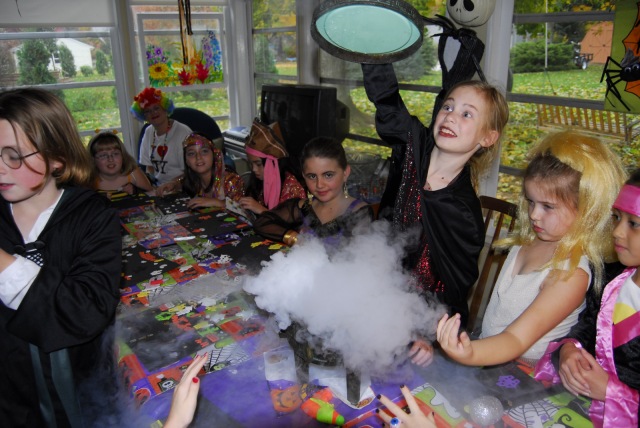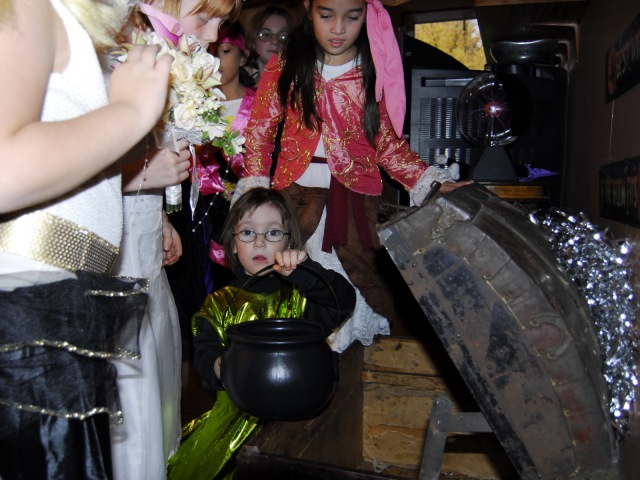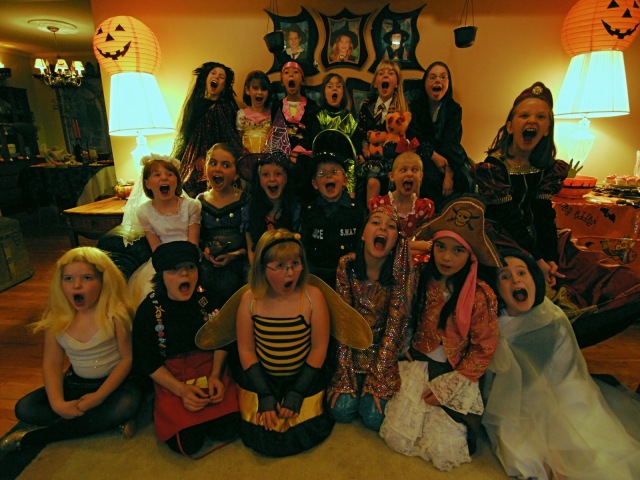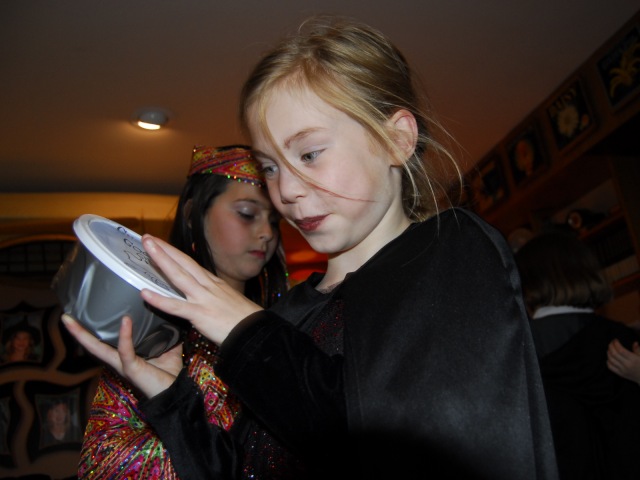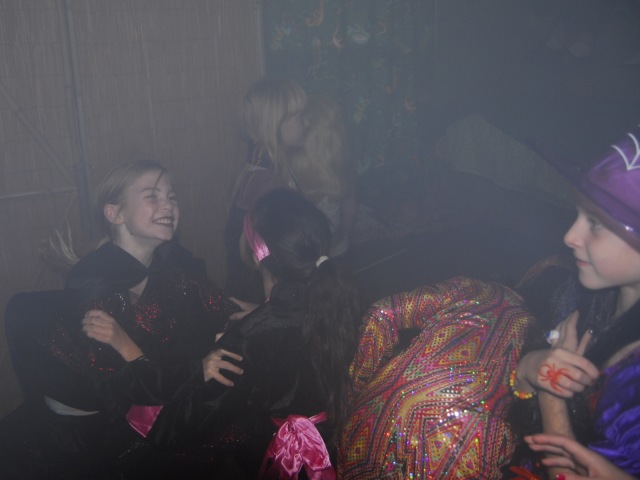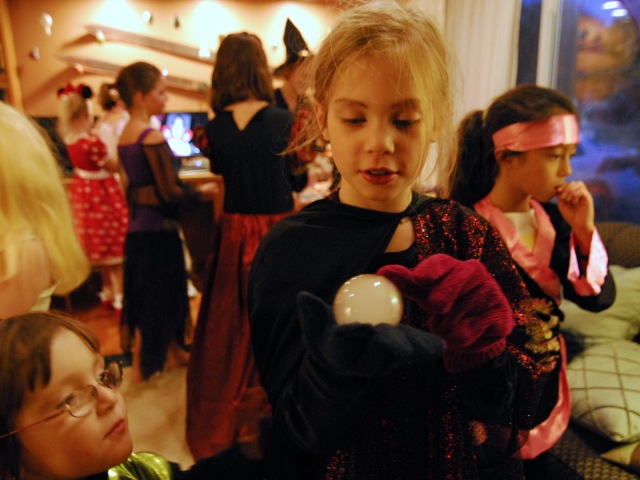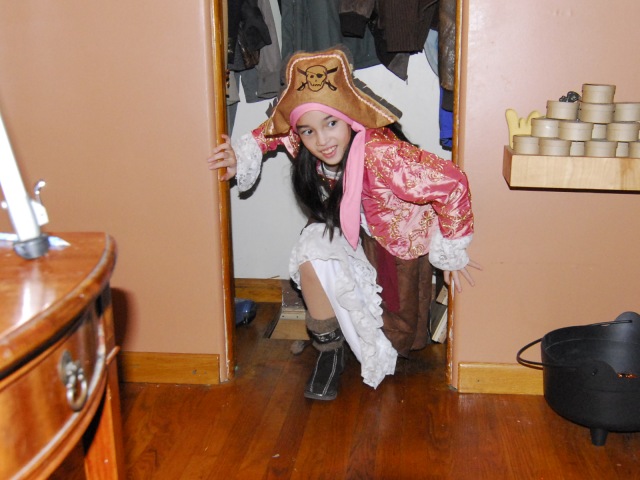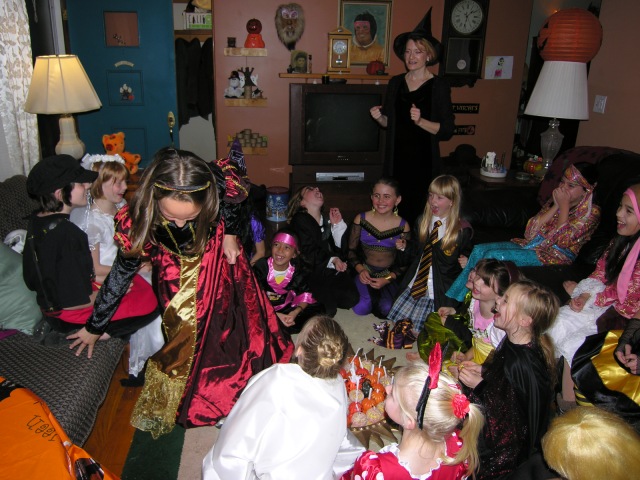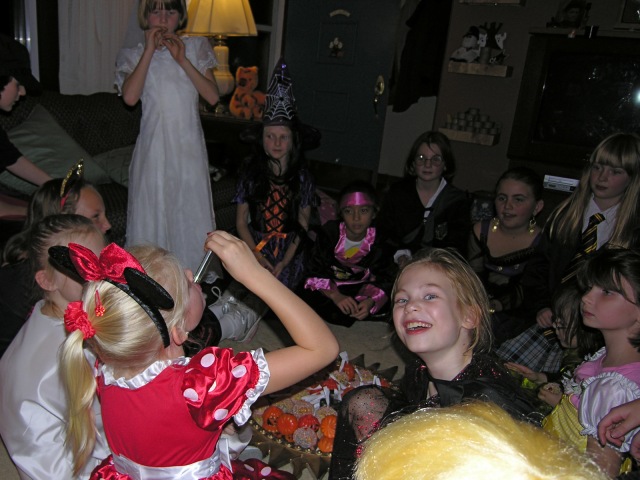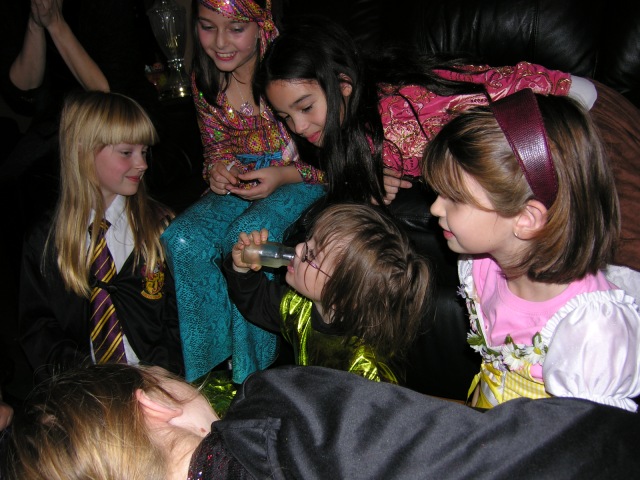 10-21-2009
Annika's four year old class at Treehouse Preschool took a field trip to a horse farm where the children learned to feed, groom, and ride a horse. A few kids were a little afraid, but not Annika. She loved every minute of it.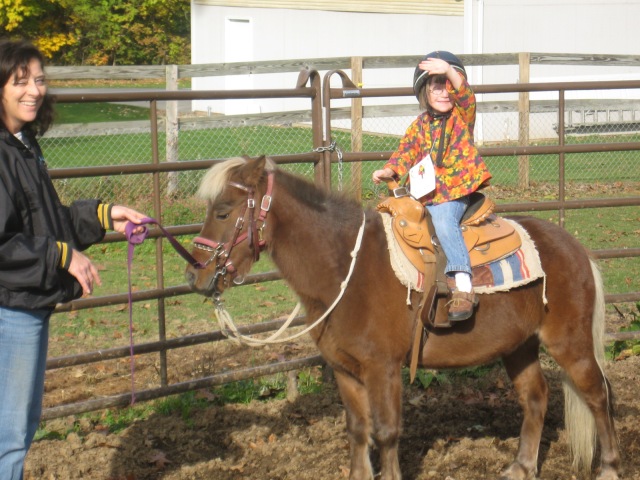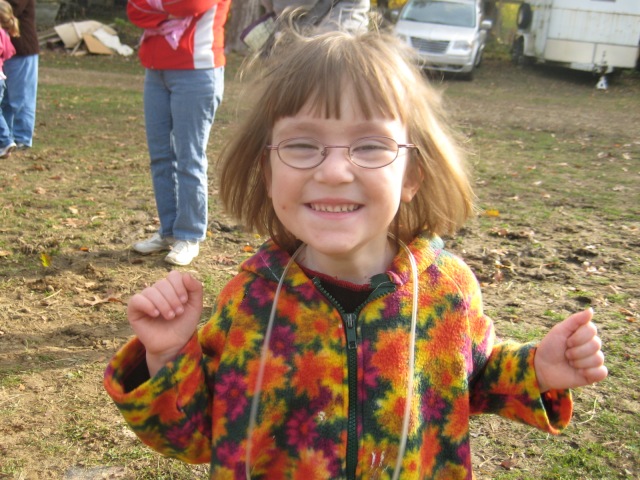 "And how do you feel after riding the horse, Annika".
If you haven't checked out our movie page this October, here are some that are worth watching:
We are family (I got all my sisters) ~ 10-27-09 ~ WMV ~ 3 minutes, 25 MB
Hatchers Pass Hike Slideshow ~ 10-11-09 (from 8-1-09) ~ WMV ~ 8 minute, 68 MB
Bite the Butte Dust ~ 10-16-09 (from 7-14-09) ~ WMV ~ 1 minute, 24 MB