Happy Easter
(Or: Never Underestimate the Power of CANDY!)

After one Easter party and three egg hunts, the Hall girls were inundated with more candy and sugar than they had seen since Halloween. We had become a candy free zone during Lent so Easter morning must have seemed like a Willy Wonka dream for the girls. We let them indulge some, but kept their consumption in check. At 11:00 last night Anni woke up crying and called for me. After calming her down, I told David that she was afraid that something had "happened" to her candy. With assurance the basket was safely on the dining room table and would be waiting for her in the morning, Annika went back to sleep.

The Easter Bunny hid the baskets well this year. Annika's basket was in the kitchen pantry, Brigitta's in the living room trash can and Svea's in the garage. Obviously anyone who has seen our garage knows that it must have taken Svea the longest to find her basket. In fact, we could have set it in the middle of the garage floor and it wouldn't have been easy to spot.
These first two pictures were taken at the GFS Easter Party.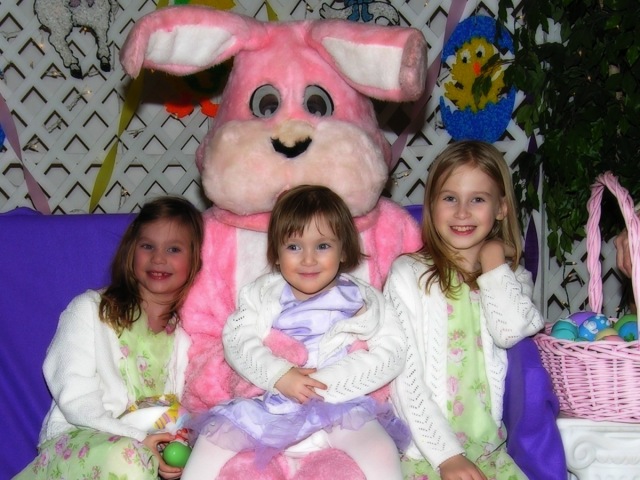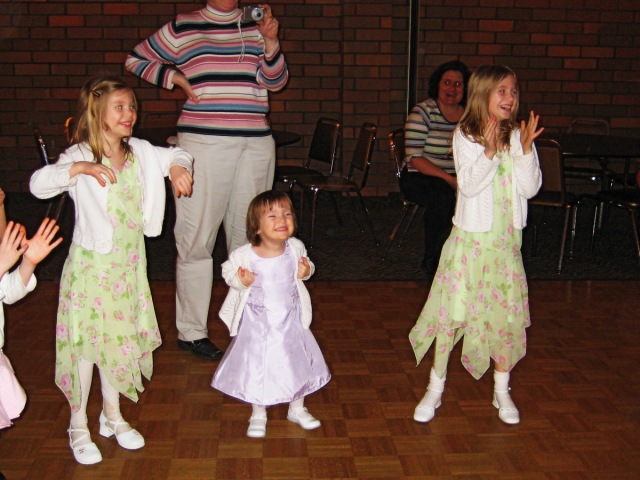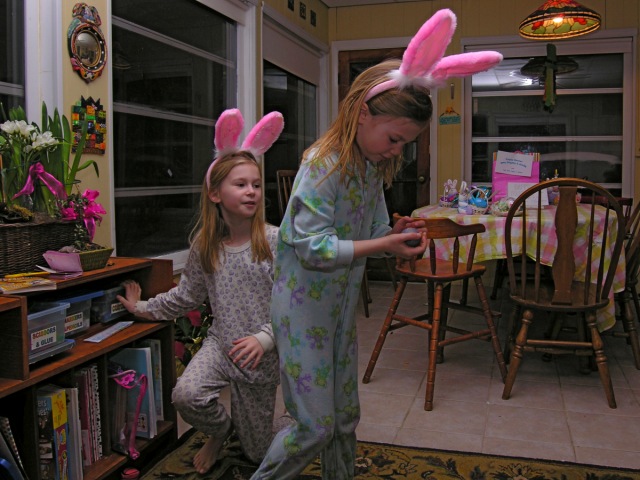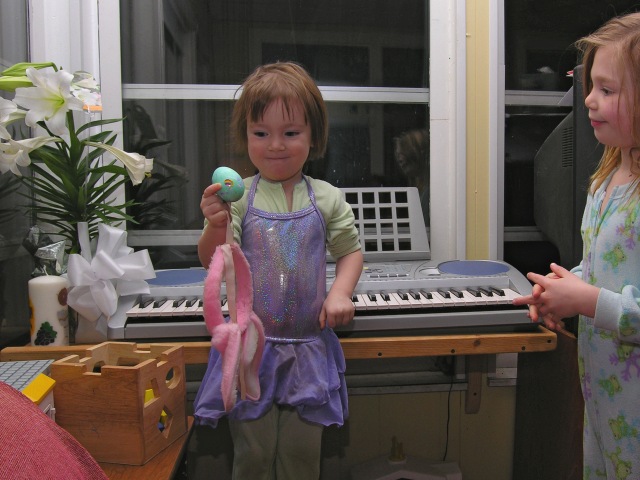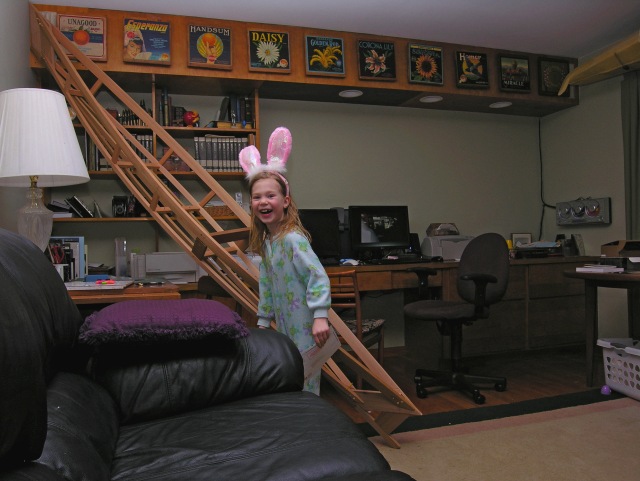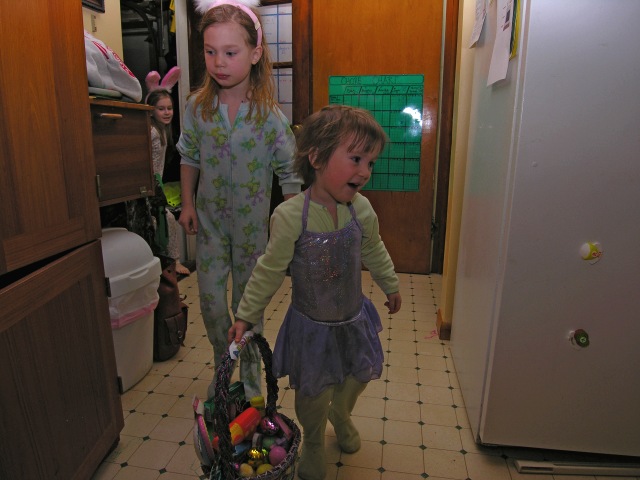 Portraits - Easter 2008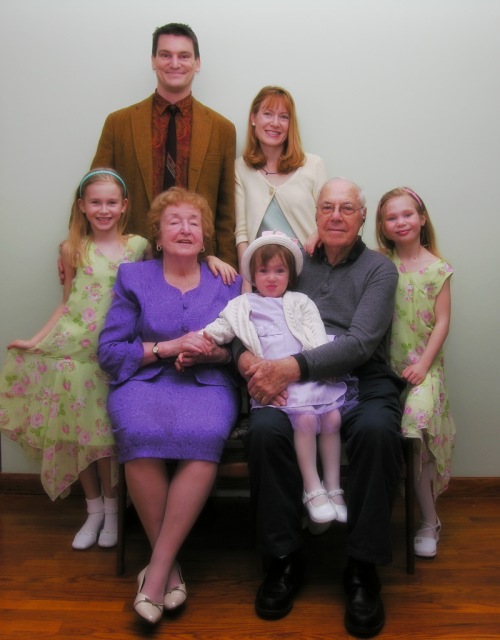 The portraits were taken to update our living room frames, right now we still have Christmas! We usually take quite a few pictures before we get one that works well. David and I expend so much energy just trying to get the girls to smile/laugh that we only manage to update the frames several times per year.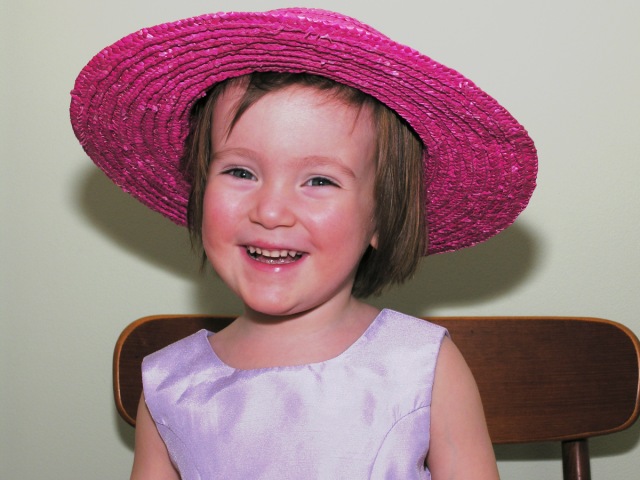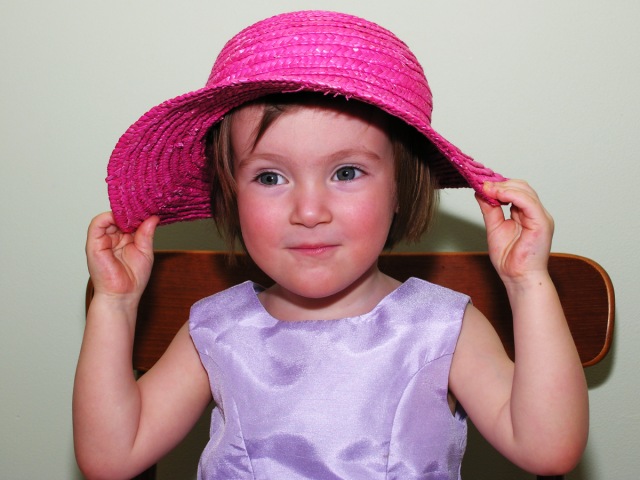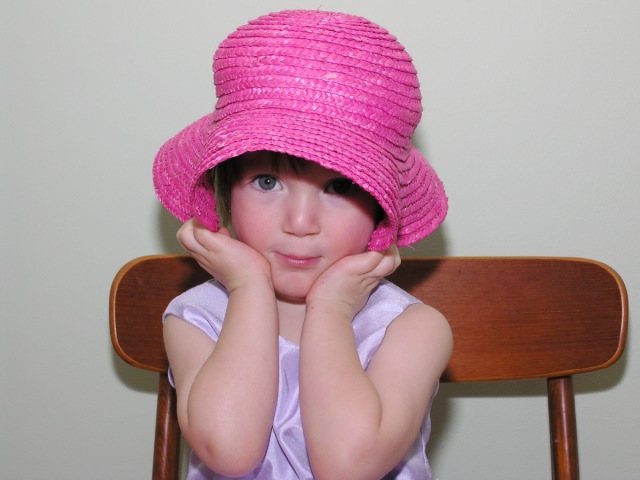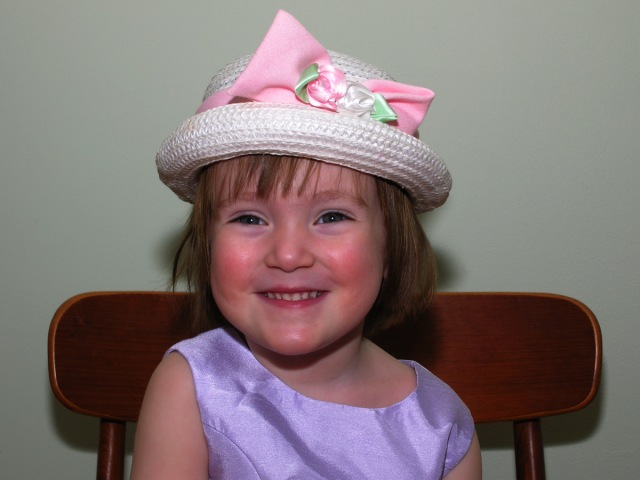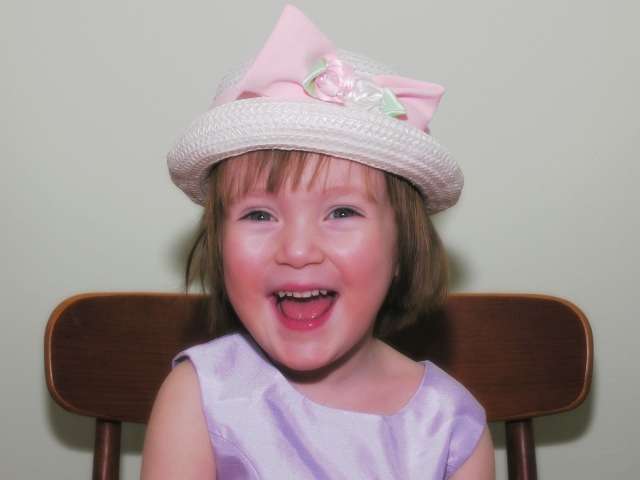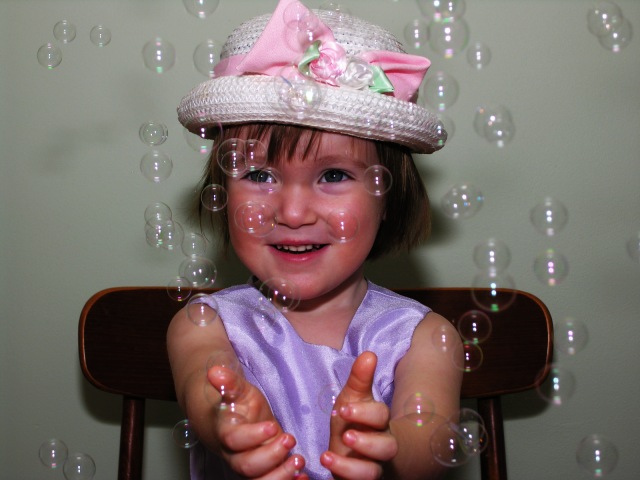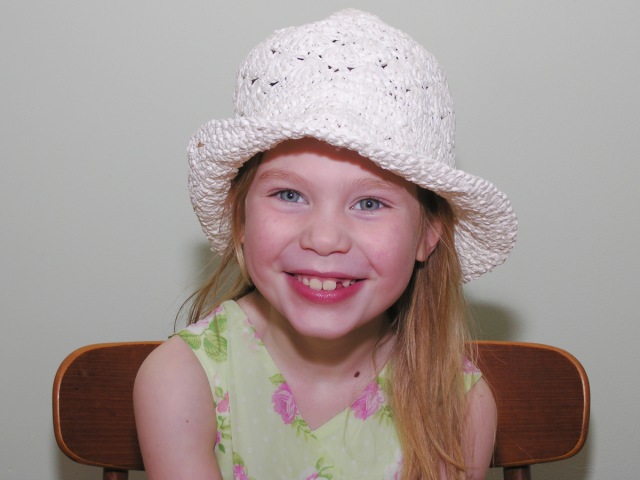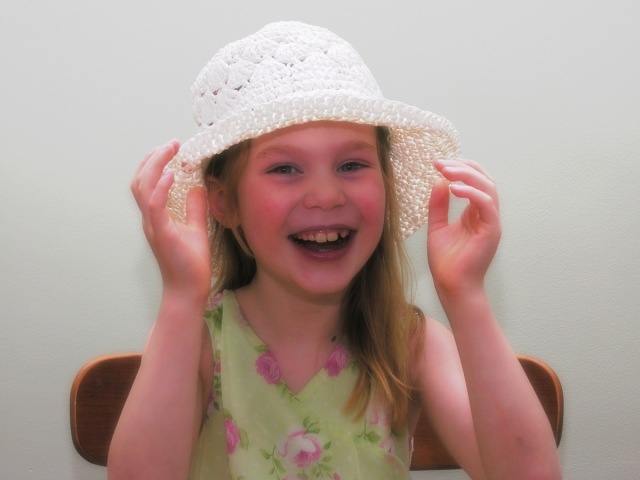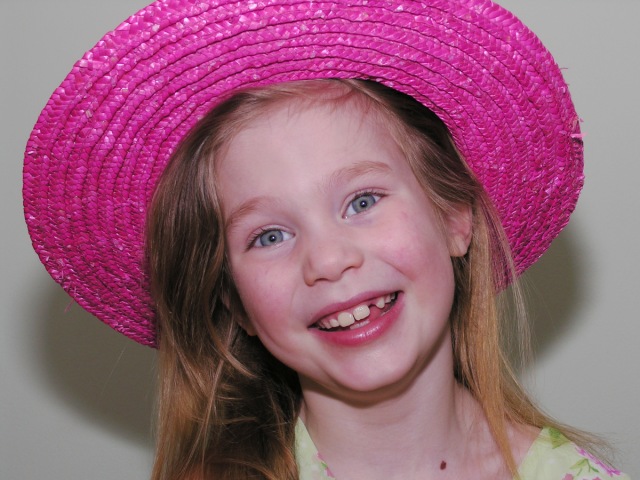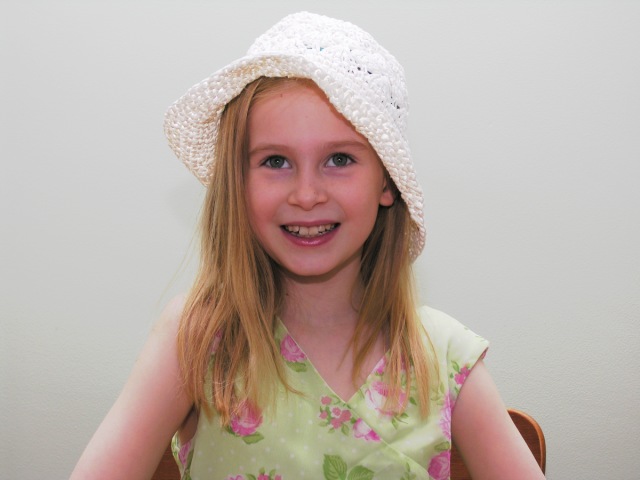 This one was severely overexposed, but after some experimentation it became my favorite of the shoot.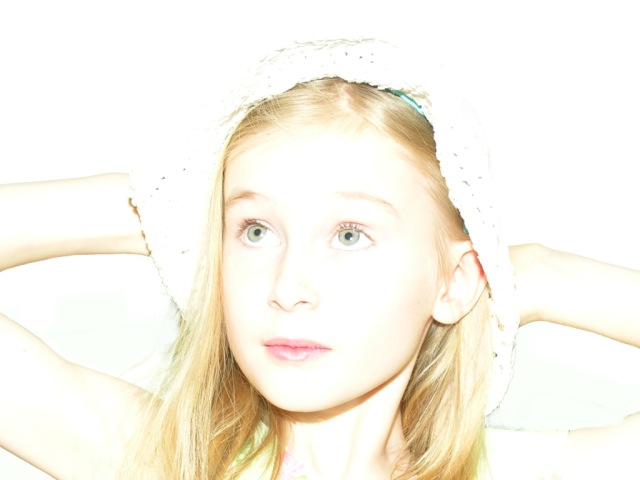 Kiddiyak
I've never seen a factory made kid-sized kayak. A four foot tall 45 pound child is way too small to effectively paddle an adult sized boat. Last year I let Svea paddle the Sprinter; this boat is four times as long as she was tall and it significantly outweighed her. She had fun but really had trouble since everything was so oversized. She was at the mercy of the wind and eventually my tow line.
So, I'm building a little skin-on-frame kayak for the girls. I intended on starting this project last summer, and bought five one-by-four by ten foot cedar boards. The boards, waiting to become a kayak, sat in the shed until Friday. Although I have thought about design and construction methods for years, I didn't even begin to sketch this boat until Friday. I wanted to keep this kayak small, light, relatively stable, relatively fast and above all I wanted to make it exceptionally easy to enter and quick to build.
The baidarka hanging in our living room is 17.5 feet long, weighs 75 pounds and is too small for me. Eskimos built their kayaks relative to their body proportions. Measurements for every frame member was measured by the paddler's finger-span, or elbow to opposite outstretched fingertip, etc. The builder of my baidarka had shorter legs than I do. The diameter of the hoop/hole and location of its front and rear supports is such that I cannot enter the boat without hyper extending my legs. I also cannot bend my legs what-so-ever while seated. Entering a holed kayak involves stepping into the boat and sliding one's feet forward while gripping the sides of the hoop to lower oneself into the boat. The legs must be straight while entering. This is difficult to do from a dock and nearly impossible to do from the water. With my plastic and fiberglass boats I've always entered the cockpit from the shore and scooted into the water, exiting first involves running the boat onto the stable shore. A cloth skinned boat will only survive this so many times.
I wanted to make their boat easy to enter from a dock or shallow water. The solution was too make the hoop significantly bigger. I wanted to make the hoop big enough that even I could enter the boat from the water; this would ensure that the girls would never outgrow it. There are many styles and designs of Inuit kayaks. Variables effect the boat's stability, speed, cargo capacity, stealth, maneuverability, tracking, seaworthiness, easy of entry, crosswind profile and weight. This boat is not patterned after any particular Inuit tribe design, but is an amalgamation of many design features. The hoop is glue laminated from eight pieces of wood, including plywood. The front and rear vertical boards also are glued. Everything else is held together only by wooden pegs and lashing; Eskimo style. I've also ordered some Kevlar strands/string; I'm not happy with either of the strings/cords I've used so far. The Inuits built their kayaks to be semi flexible so that they would work/twist with the waves. I don't think glue was an option for them, but I think if I build another one I'll save much time gluing and pegging the the frame together.
As shown below with floorboards, the ten foot boat weighs 16 pounds. One fourth of that weight is the hoop and floorboards. As I type Svea is putting a coat of sealer on the wood; that should add a bit of weight as well. I have a few yards of aircraft Dacron fabric on order. I expect the fabric and fabric glue to increase the boat's weight by about two pounds and the sealer/paint also may add a couple of pounds. Today I'll build a polycarbonate rudder. The rudder hinge is aluminum, the lines will be made of fishing line and the rudder "pedals" will be nylon straps. I'm hoping to keep it under 20 pounds, but it may end up around 21 or 22 pounds.
I've devoted about 28 hours to the the project so far. This includes design, building a simple hull form, drawing a few patterns, tweaking ill performing tools and sanding. The last eight of these hours were spent on the hoop and partial lashing work.