We, too, joined the ranks of the thousands of fans all around the world by participating in a Harry Potter Final Book Release Festival. The Hall family, along with several thousand of our closest friends journeyed to Hudson, Ohio to celebrate this momentous event. Hudson is a small historic town about ten miles north of Tallmadge. It has beautiful century homes as well as McMansions for the nouveau riche. In the center of town is a square with shops and restaurants surrounding it. It is lovely and quaint. They also have a small "old fashioned" bookstore (ie..not a huge chain store like Borders or Barnes and Noble) which over the years has held a small release party for the Harry Potter books. This year however, they had the whole town participating. Streets were closed down, shops changed their signs to have a Harry Potter theme, and restaurants had "magical" menus. People were encouraged to dress in costume, which our girls did with glee. Even though Brigitta has never read a Harry Potter book or seen a film, she was glad to dress the part of a Hogwarts' student along with her sister. Sometimes it is fun to be "in with the crowd", but that crown brings with it long lines for EVERYTHING! There were many events, like the Hogwarts' Sorting Hat or the wand making that had over a two hour wait to participate. We found a few things, like the lightning bolt tattoos, that had no waiting and chose those instead. Mostly we enjoyed walking around, taking in the carnival-like atmosphere and seeing adults as well as children dressed in their finest Harry Potter costumes.
It's not often that all three girls pose well for pictures; we included all three posed pictures that turned out well.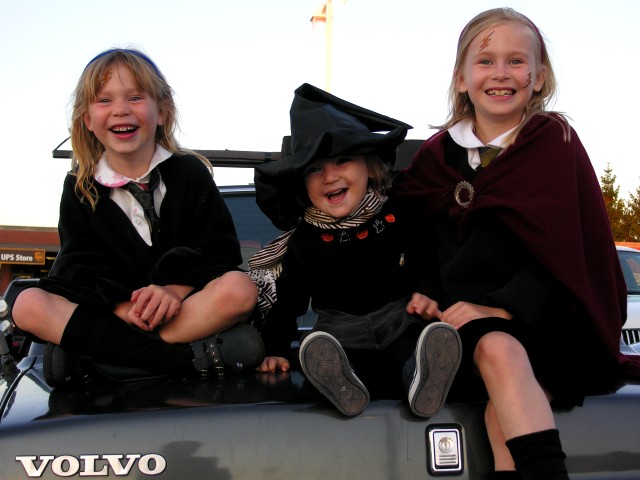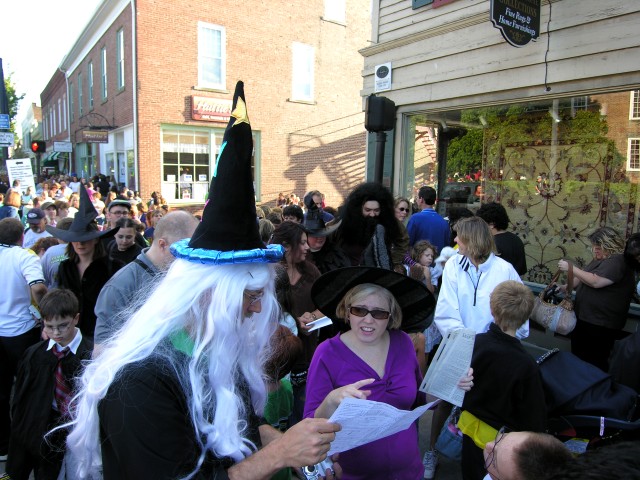 A typical crowd at the festival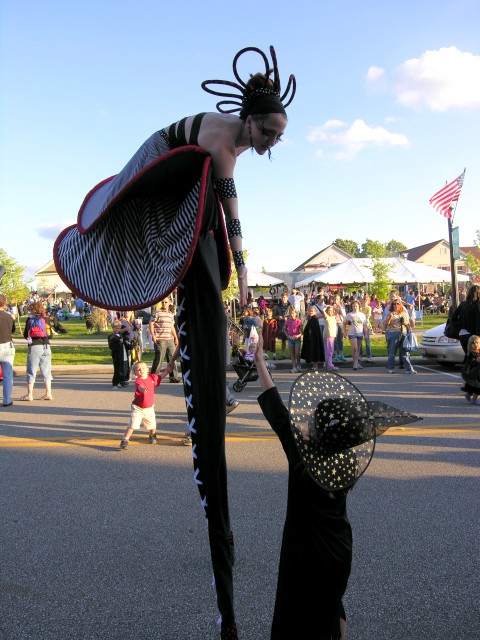 This stilt walker had a fantastic costume and really stood out in the crowd.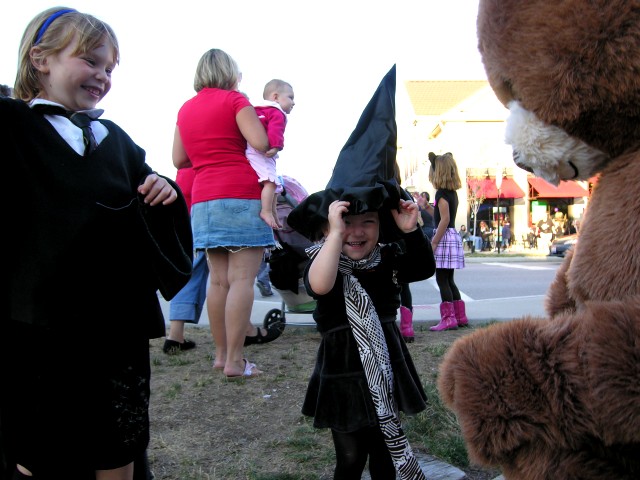 Annika made friends with an enchanted bear.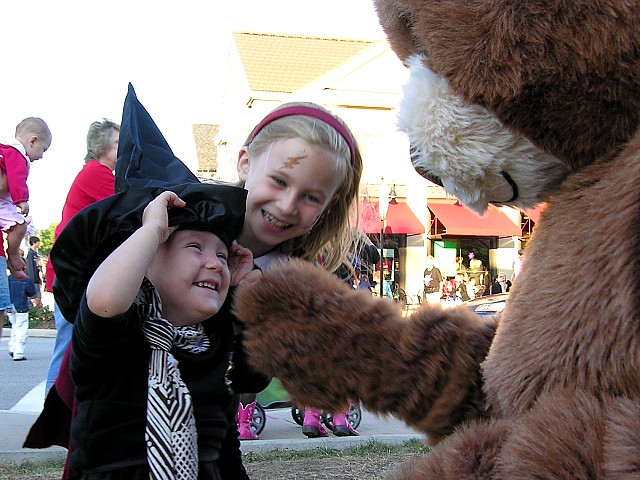 Tee-hee-hee.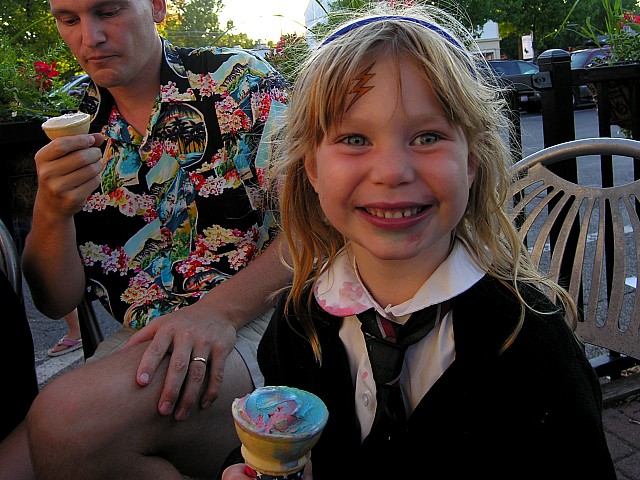 Afterward we walked to an ice cream shop.
Pittsburg Zoo
On Thursday, we decided to take a small road trip. I love spontaneous adventures and on this day, ours was to Pittsburgh. We decided to visit the zoo and aquarium since they are a reciprocal zoo to our Akron Zoo (so we got in free.) I had done a bit of online research on the city, printed maps, etc. the night before, packed lunch in the morning and we were off. Unfortunately, the drive over was rainy. When I say rainy, I mean heavy downpours combined with thick foggy mists. I felt bad for David, but he drove well and we arrived safely to our destination. At the zoo, the rain had stopped and we had a cloudy, muggy, yet enjoyable time. The Pittsburgh Zoo had many of the same animals as the Akron Zoo, but there were some, like elephants, rhinos, and zebras that were new to the girls. We all agreed the aquarium was the most interesting. I think this was the girls' first aquarium and they are ready for a return visit. One word of advice, if you have a nose….avoid the Monkey House. That place is in need of a good ventilation system.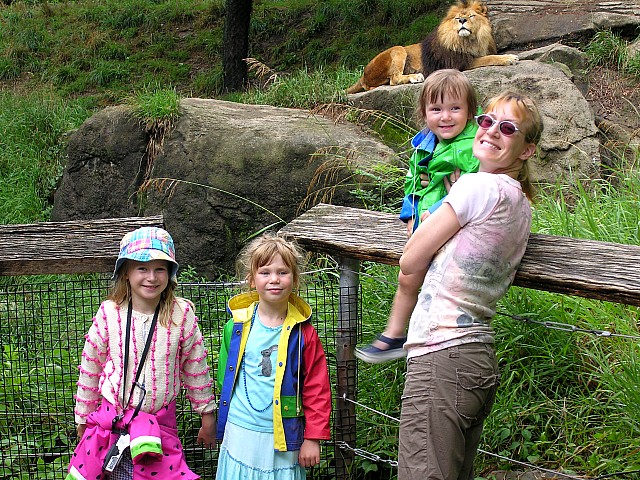 Even the lion is preening for the picture.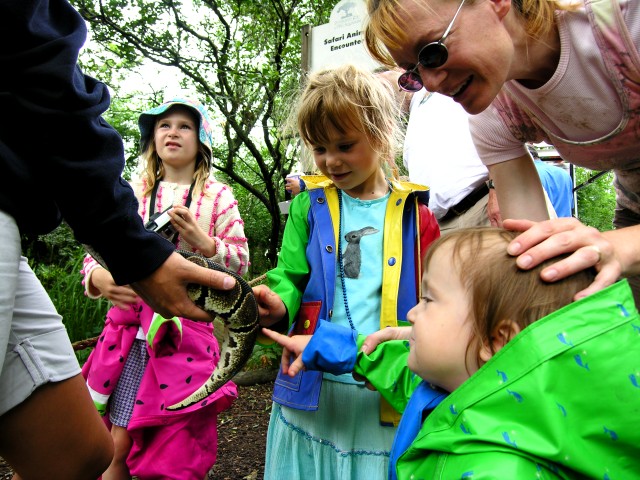 The girls got to touch a constrictor snake and a hissing cockroach.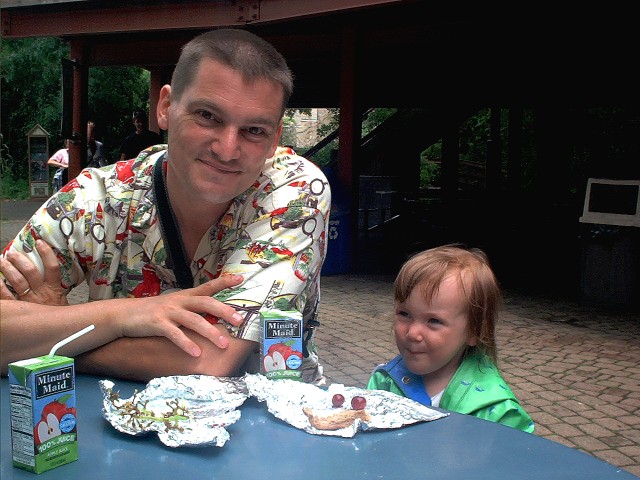 We have given Svea and Brigitta our old digital cameras so they can try their hand at photography. Both girls brought them along to the zoo and this was one of Brigitta's best shots.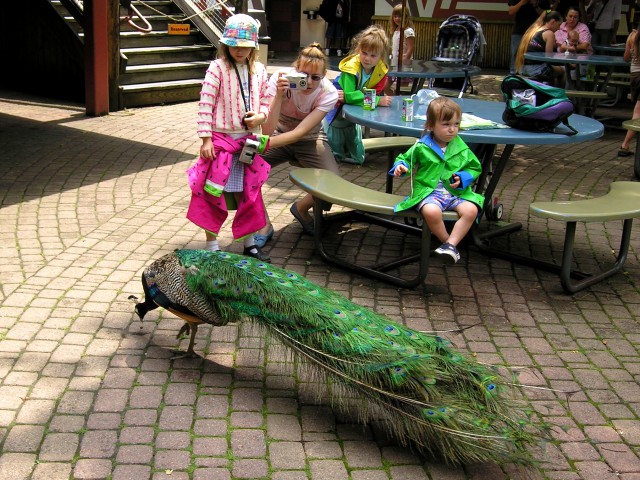 Our lunch companion.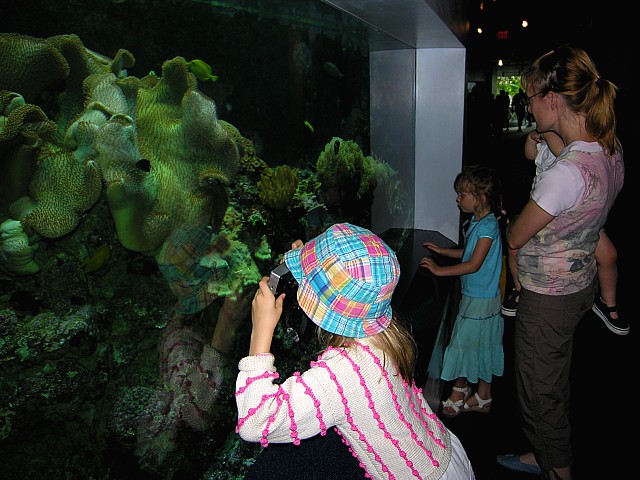 Svea taking pictures at the aquarium.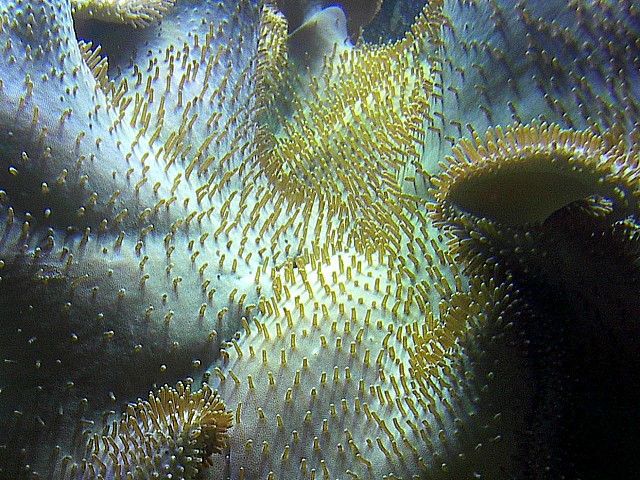 This is the picture Svea was taking above. Not a bad job through the glass with an old obsolete camera.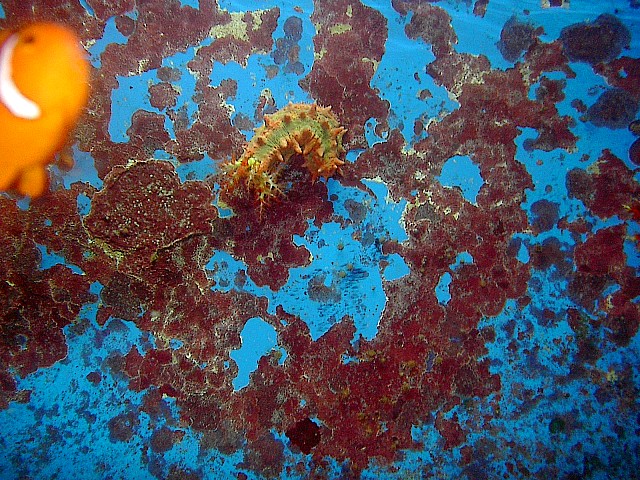 Another one of Svea's pictures.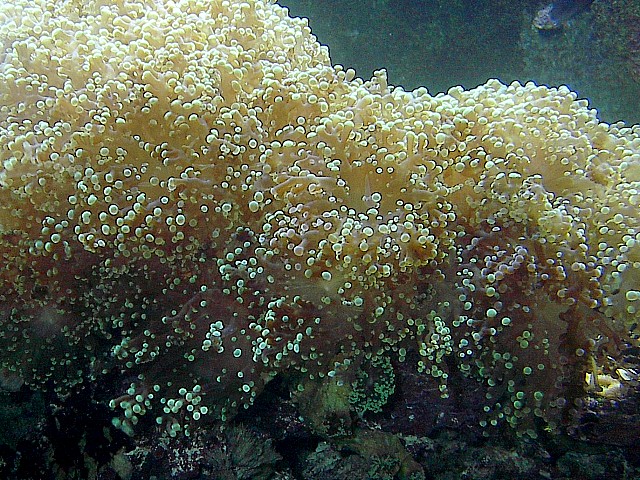 And a third Svea picture.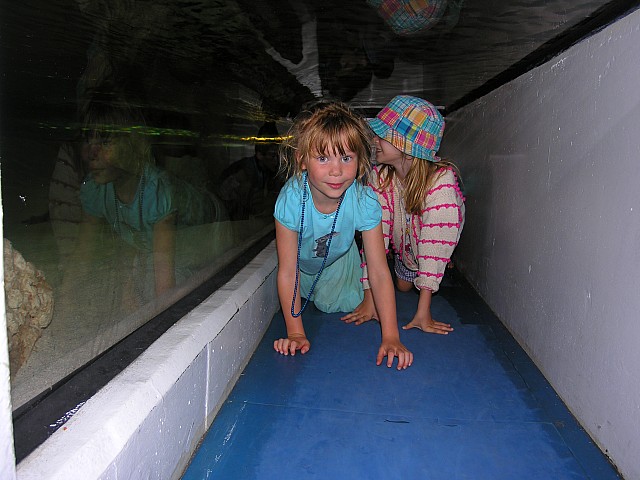 The aquarium had a crawl through stingray viewing tank. Each of the three girls made two trips through the tunnel.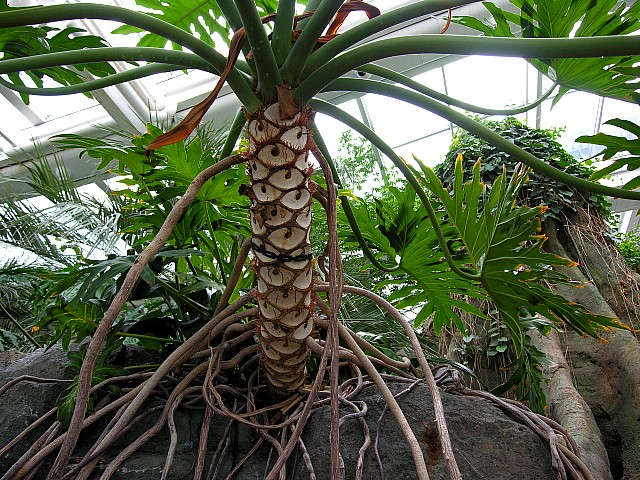 Cool tree growing in the aquarium.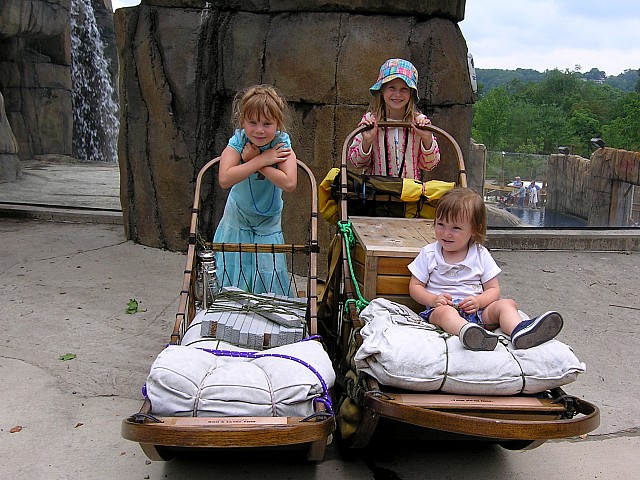 Waiting for the sled dogs...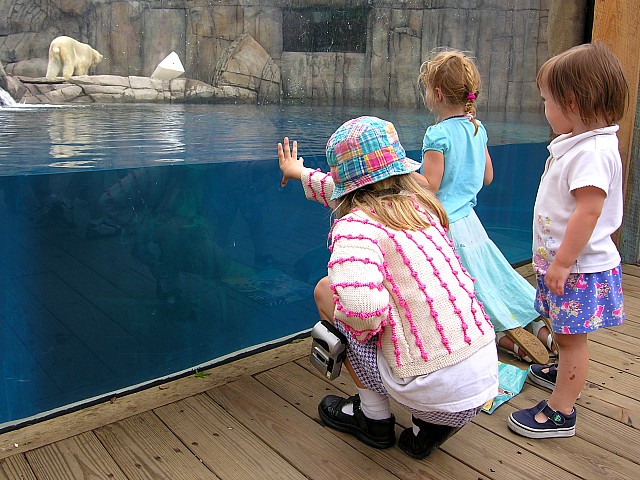 Here polar bear, polar bear, polar bear.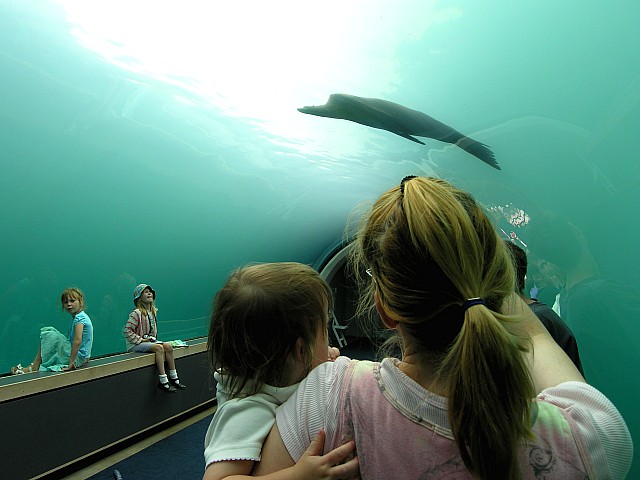 Watching a seal glide overhead was thrilling for the girls.
Pittsburg - Downtown
After a nice zoo visit we spent less than two hours driving around the Pittsburg downtown area. This was long enough for me to determine that I really like Pittsburg; the city is hilly, intersects three major rivers and the geography has forced some interesting roads and architecture. Mostly, I like the great vistas, which are very hard to find in the Akron area.
(Click any of the next four pictures to view in 1024x768 resolution)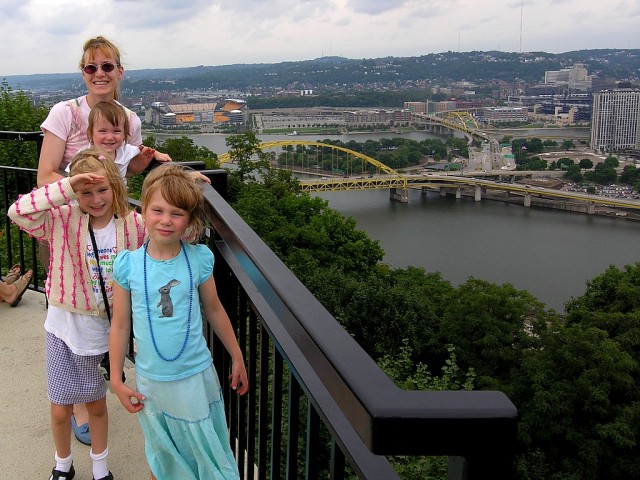 At a lookout on the Mt. Washington side of Pittsburgh.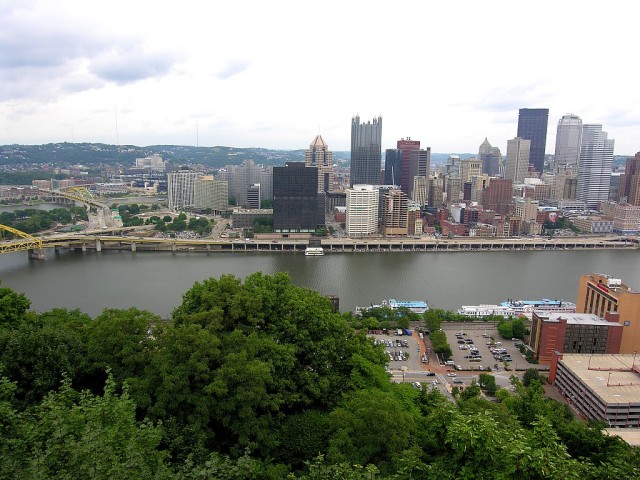 Views form the lookout.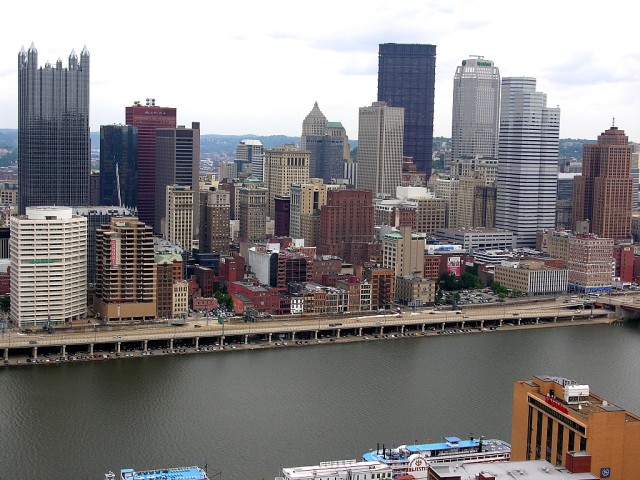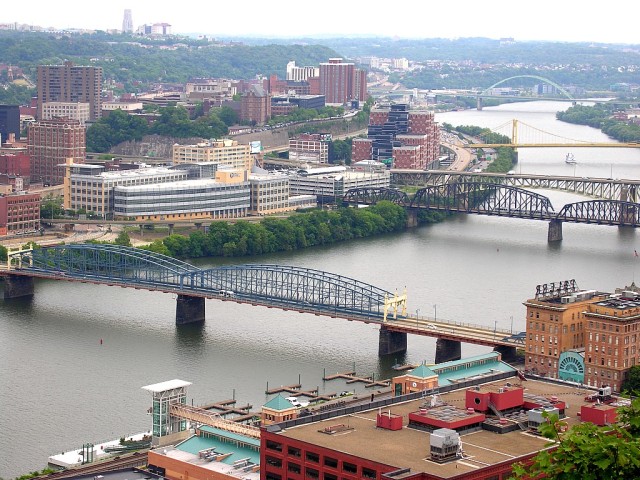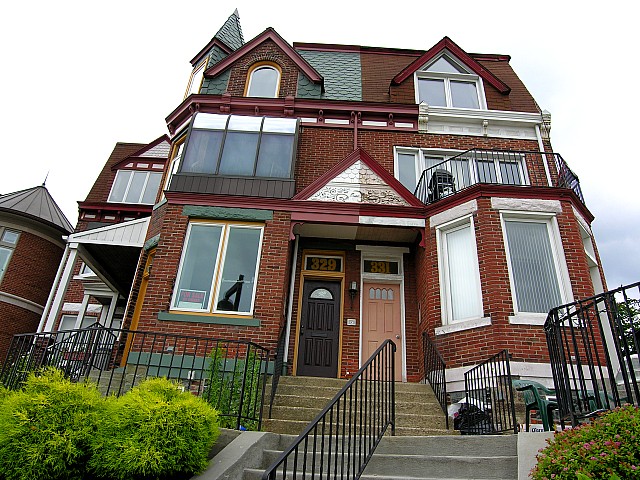 Good fences make good neighbors.
Interesting row house in Mt. Washington. Notice the For Sale sign on the bottom left window; this would explain the new windows, roofing and paint on only HALF of the house.
* Note: Papa will be the main speaker at the World War II – Korean War Roundtable meeting this Thursday night at 6:45