Lost and Out of my Comfort Zone
Yesterday I team taught a class in Cleveland for diocese teachers on using/creating videos for the classroom. For the past few nights I had been staying up late, writing, gathering files and preparing for this class. Joan had helped me out in several ways including pasting the address for Corporate College East into Google Maps and printing out my directions and back-up maps.
My day began horribly; have I ever mentioned that I hate freeways? During my drive I realized that I had left my phone at home and my car's wiper squirter stopped working. The roads and my windshield were white with salt and the sun was low. I was on I-480 nearing my destination and took Exit 23 and then a right onto Broadway Avenue, like my directions said. After turning onto Broadway Avenue I traveled past the 2.6 miles indicated by my directions. The area was suburban, not collegiate. I was seriously missing my phone. I stopped at a mart for clearer directions. Two kind gentlemen described how to get to Corporate College East.
Once I got back onto the freeway, I realized that I hadn't traveled far enough on I-480 when I exited, so I continued to follow my Google Maps directions. Once I-480 swings west the exit numbers stop increasing and start decreasing. Sure enough, seven miles further on I-480 there is a second Exit 23 for Broadway Avenue; that some really clever highway planning. Broadway Avenue runs northwest; when I-480 swings 90 degrees it crosses the same Broadway Avenue again but a right turn takes you northwest instead of southeast. I had to confirm this on a map today; even though I saw it first hand yesterday I doubted what I saw and remembered. Did I mention that I hate freeways?
I was planning on arriving at 8:00 AM. A breakfast was provided and the session started at 9:00. My mistake had cost me 20 minutes; I was frustrated, but not terribly worried yet. Two point six miles down Broadway Avenue is Richmond Avenue, not Richmond Road. The only thing on Richmond Avenue is a welding business. The area was small industrial, not collegiate. I was exactly where my map indicated I should have been but clearly it was wrong, I didn't know anything about the area and I didn't have a phone. Once again two kind gentlemen described how to get to Corporate College East. When the first man started with, "Get back on the freeway..." I sighed heavily and the second man chimed in, "You're killing him that way." The first man agreed, contemplated a second, and then explained that the cross road that the store was on would eventually run into Richmond Road. After eight miles of city streets and millions of lights I made it to Richmond Road and Corporate College East. It was 9:00, and I was a wreck.
Growing up in Alaska did not prepare me for freeway or big city driving; I remember when the first cloverleaf in the state was installed. I love a treacherous, steep, snowy mountain road without guardrails, but have I ever mentioned that I hate freeways?
I didn't really have a chance to eat or calm down before we began, but I was the third out of three to talk so I did get to compose myself a bit before I spoke. I ended my portion with a sales pitch on why standard pocket digital cameras are better and cheaper than dedicated tape, DVD or hard drive camcorders. Flash memory has made them a better option for many of the same reasons that iPods and MP3 players have replaced personal cassette and CD players. After the initial presentations to the whole group, the class split into Mac users who moved to another classroom to learn iMovie (Mac) while the remaining 31 students remained to learn Windows Movie Maker. The basic idea was that the students would be put into small teams, film footage on their own cameras, and then download and edit their clips on their laptops. I was very happy with my scripting and filming plan and handout; the students were to script a short QVC commercial about an article of clothing that one of them was wearing.
The hardware gave us a lot of grief, however. Many students were missing cables and many cameras shot incompatible video formats. I've really only used Canon cameras at home and school and have never had any compatibility/file format problems. Some students tried to download and run format converters with limited success. At least one laptop that was too weak to run the software. In a preplanning conference call, it was suggested that I bring raw footage in case we had students without cameras. I burned a variety of raw clips onto CDs; it was the last thing I did the night before. All 10 CDs made their way around the classrooms. I also loaned my little pocket Cannon SD1000 to a few students; it proved to be simple and effective than many of the bigger, more expensive camcorders that were not useable without significant troubleshooting. I hadn't anticipated that my sales pitch on pocket digital cameras being better than dedicated camcorders would prove itself true so soon. I'm still kicking myself that I/we expected things would go more smoothly; I should have known better. Then again I encourage my students in my clubs to buy and use digital cameras over camcorders so problems are rare; I'm not sure if I could have foreseen this had I contemplated it more.
The room came with a computer, two large screens and projectors. The computer locked up a few times, however. The plethora of problems pretty much killed any whole group instruction; everyone was terribly out of sync and scattered about the college filming or editing and troubleshooting in the classrooms. I ended up spending most of my time working with individual groups.
I am quite comfortable teaching children, but my students yesterday were fellow teachers who all had a good grasp on technology. Many also are technology teachers; I was a bit intimidated teaching my peers. It was a joy to have a class of students who were all 100 percent attentive, on task and quite capable; I didn't have to scold or redirect anyone all day!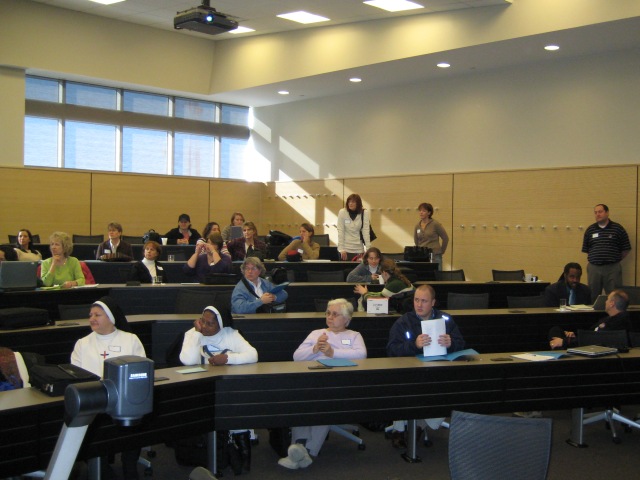 Afterwards I skied seven miles at Chapin Forest. It was only 30 minutes away and the drive home from the college or Chapin was about the same. It made sense to bring my skies and gear. When I got home Joan and I re-pasted the address for Corporate College East into Google Maps; it produced the same wrong location. Today I tried it again several times and it produced the correct location. What a time for a hiccup.
The Great Ones!
The temperatures are still cold and the ice is still great. I picked up some kiddy hockey sticks at a garage sale a few years ago. When I saw the girls knocking a plastic cap around with a broom I dug them out.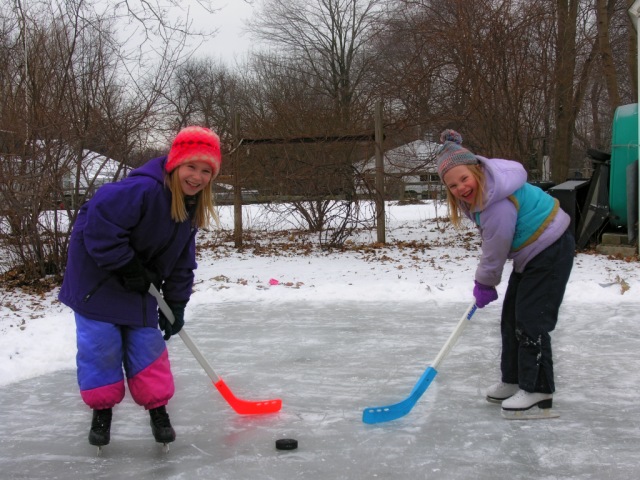 Night Skating