Georgia Wilsterman's Visit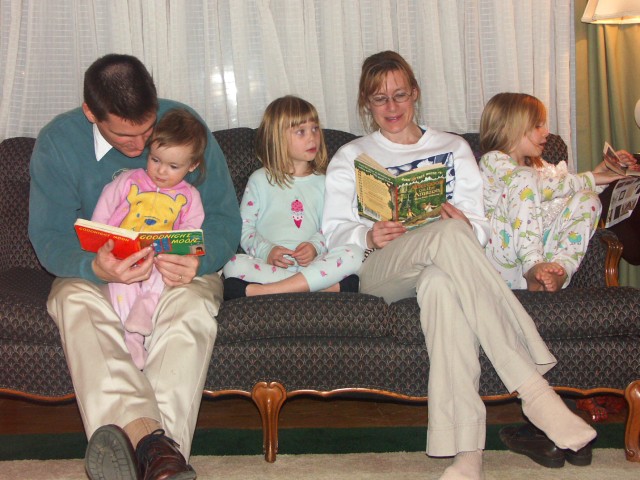 Joan's brother John took this picture of our family last night. It's nice to have another photographer visit and capture the five of us.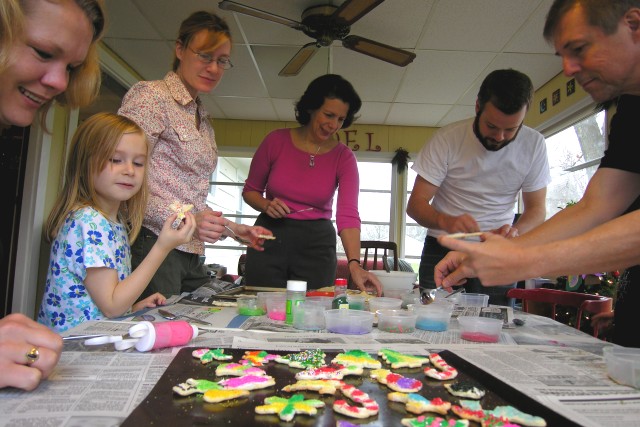 Kira, Svea, Joan, Jean, Luke and John decorating traditional Wilsterman/German ammonia cookies.
Ammonia is a leavening agent that was used in Europe before the advent of baking powder. This powder was historically made from the antlers of the deer, but it has the smell of a household cleaner. The ammonia odor evaporates as the cookies cook, but the first whiff as the oven door opens will truly clear your sinuses. These German cookies are a Christmas tradition passed down through Joan's paternal grandmother. We decorate them with a light frosting and a variety of colored sugar.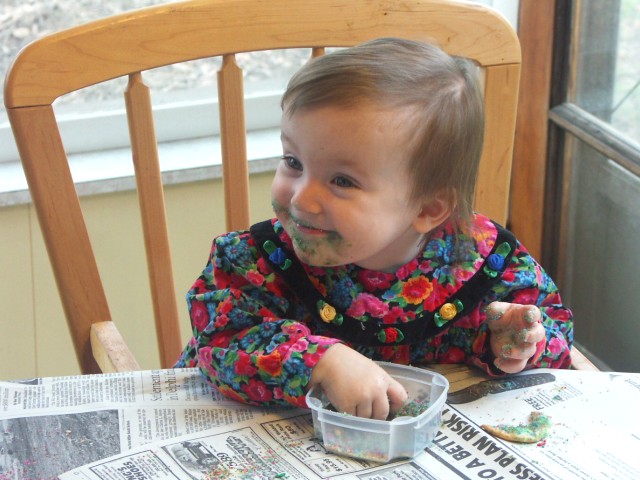 Annika had her own little corner to decorate cookies; mostly she just ate the sugar.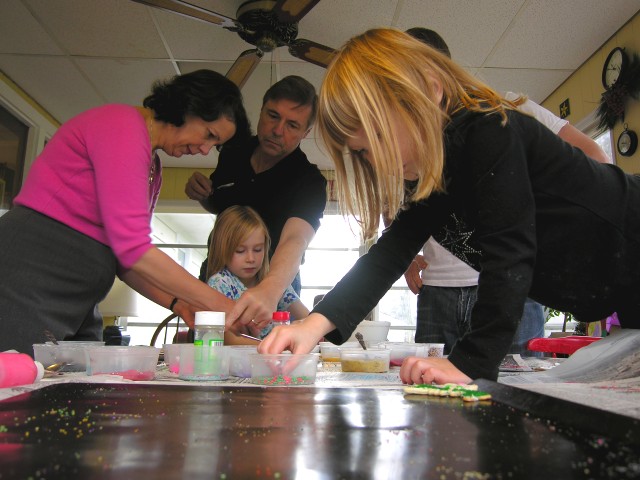 Decorating involves much reaching.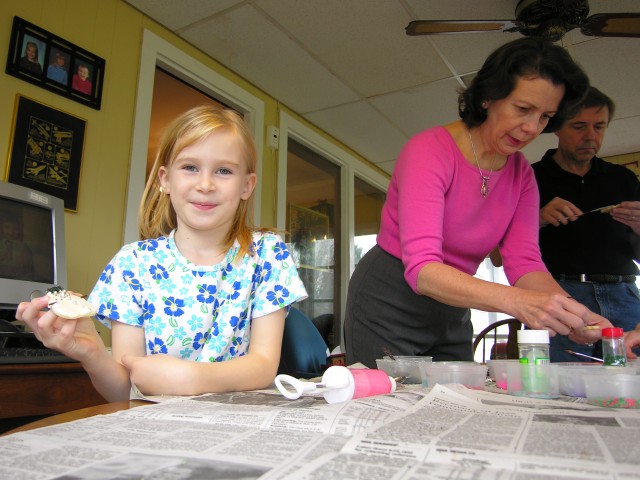 Svea was very proud of her creations.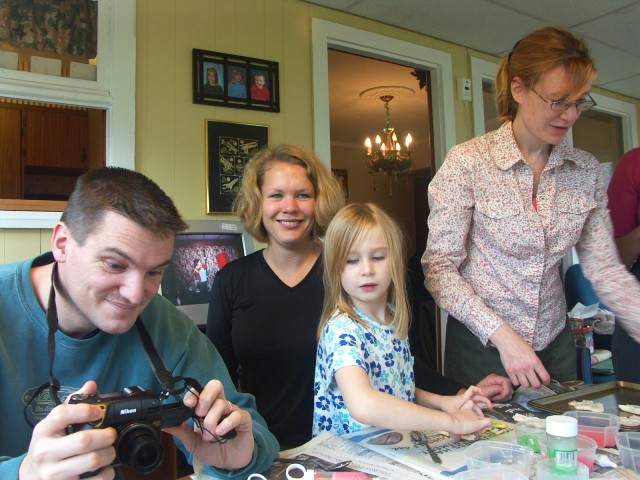 I usually just take pictures, but John took this one.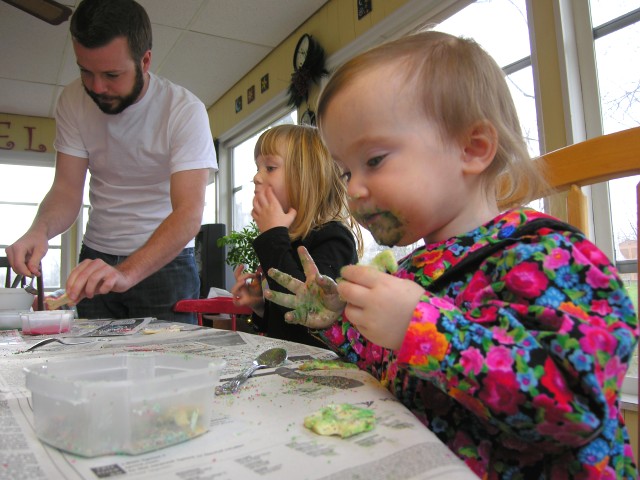 Saliva + colored sugar = sticky mess
After rubbing much of this in her hair Annika earned a shower.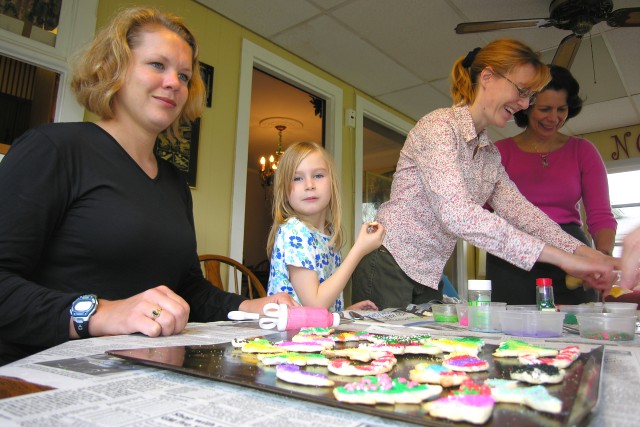 Kira shuttled the finished cookies from the porch table to the dining room table.
Kira, Luke, Svea, Brigitta and I went skating at the Kent State ice arena. John went with us to visit his old alma-matter and to take pictures.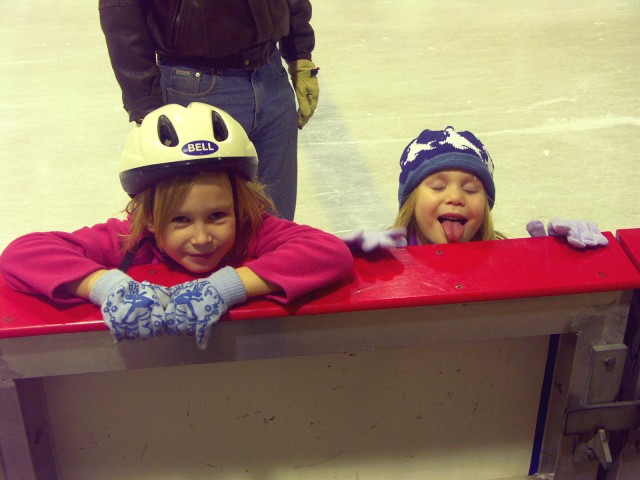 After only three lessons the girls didn't need to hold onto the wall much but were willing to pose for a picture. Fearless Brigitta is an especially good skater and can skate on her own at a relatively quick pace.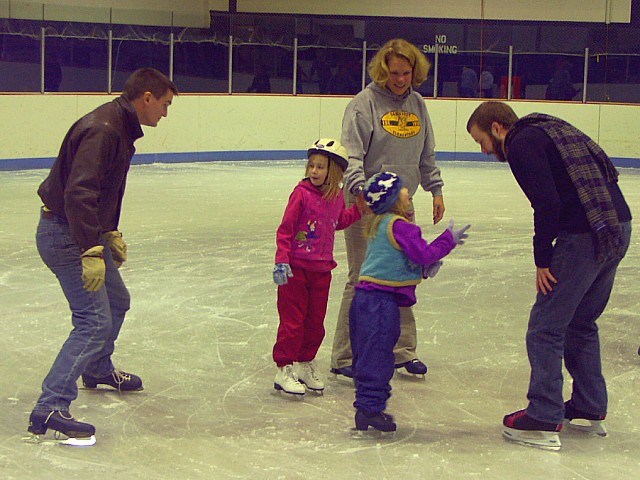 Brigitta gets a pointer from Luke while Svea hitches a ride from Kira.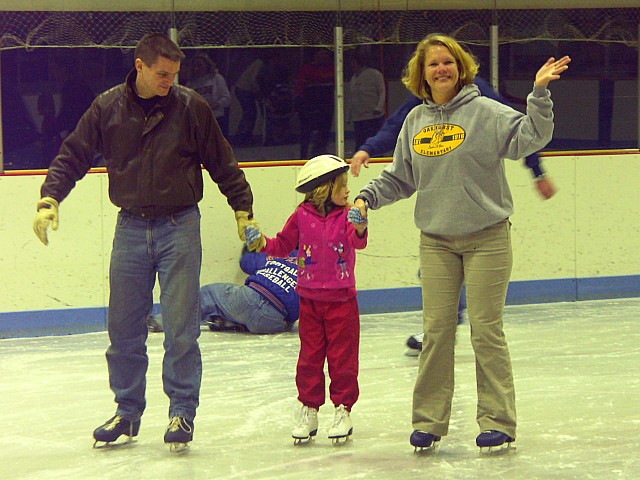 David and Kira towing Svea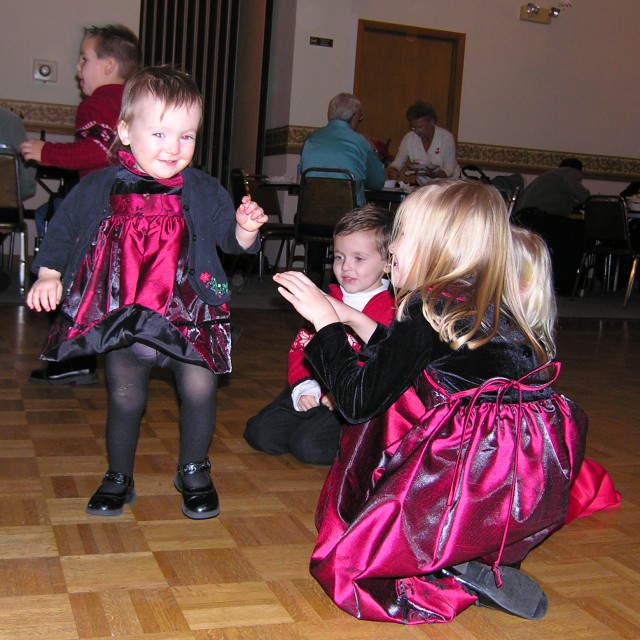 Last night we went to the German Family Society's Kindergruppe Christmas program and dinner. The girls danced between dinner and the program. Annika has a knack for attracting an audience.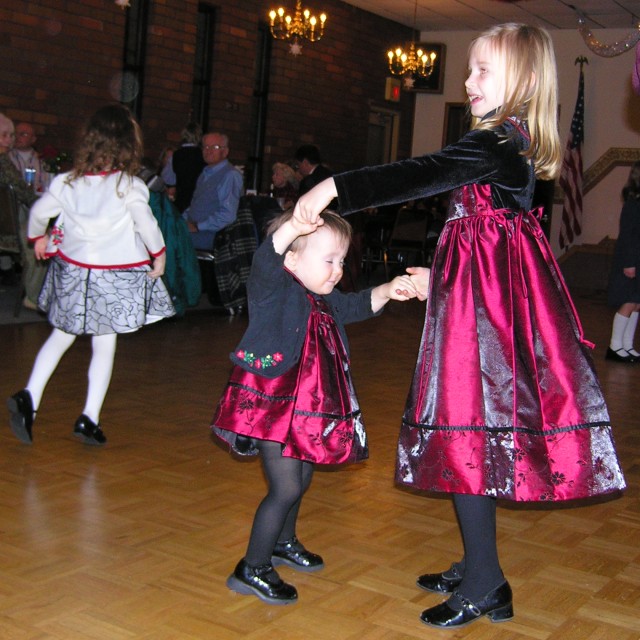 Svea and Annika made great dancing partners.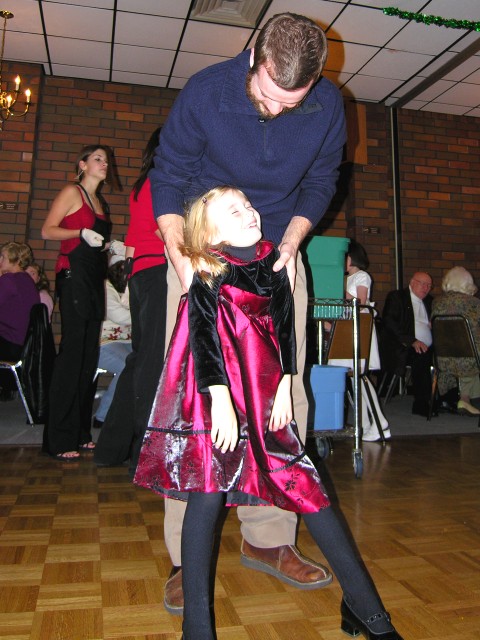 Svea and Luke danced as well.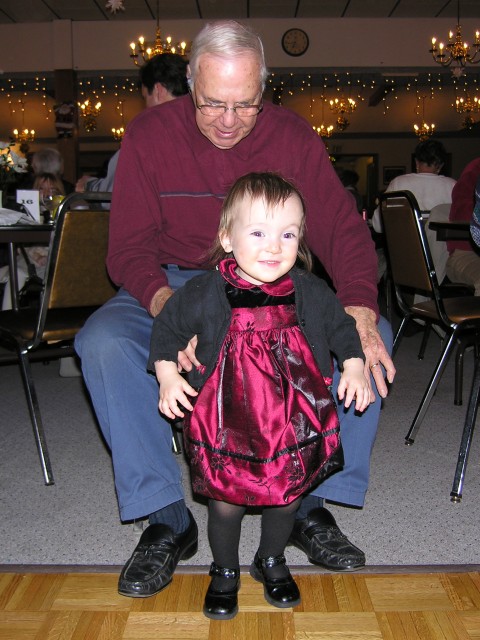 Papa and Annika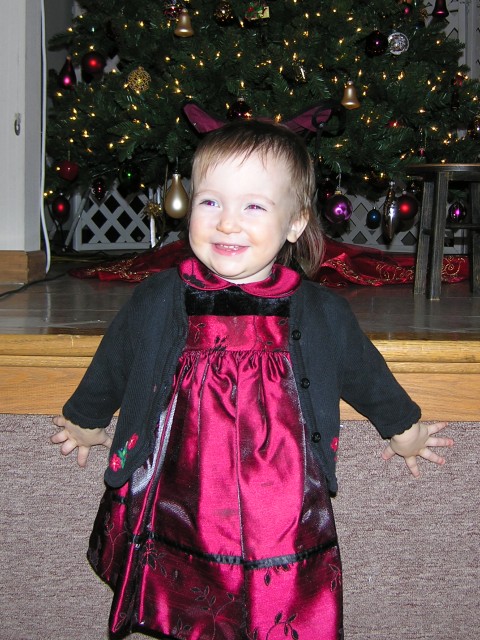 Anni just knows when to pose.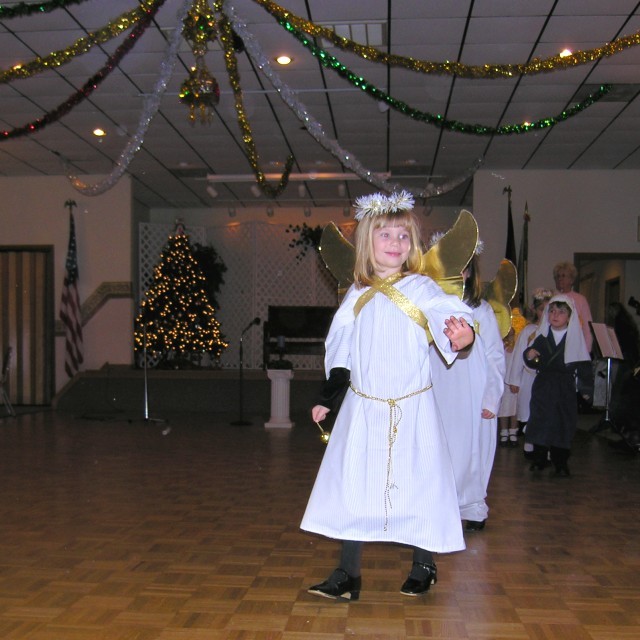 Brigitta and Svea dressed as angels and sang with the Kindergruppe.
They each nailed their solo lines, in German.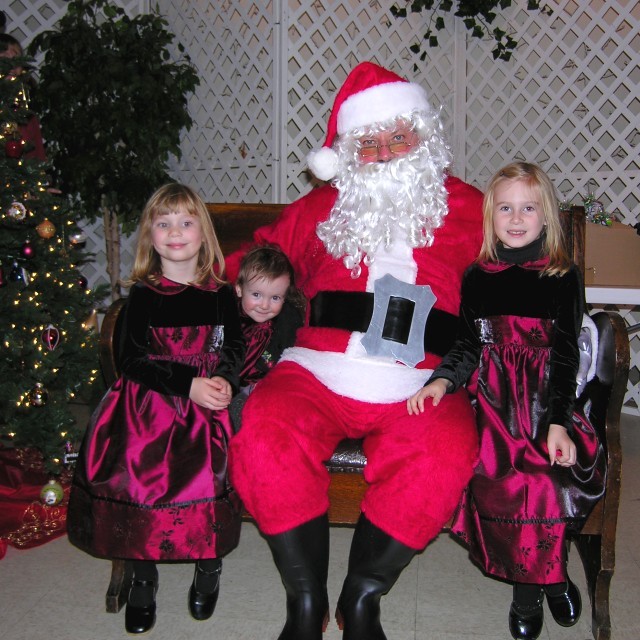 Afterwards Santa came! I'd like to point out that this picture is not a collage; all three girls managed to look at once (well, Britta was almost looking).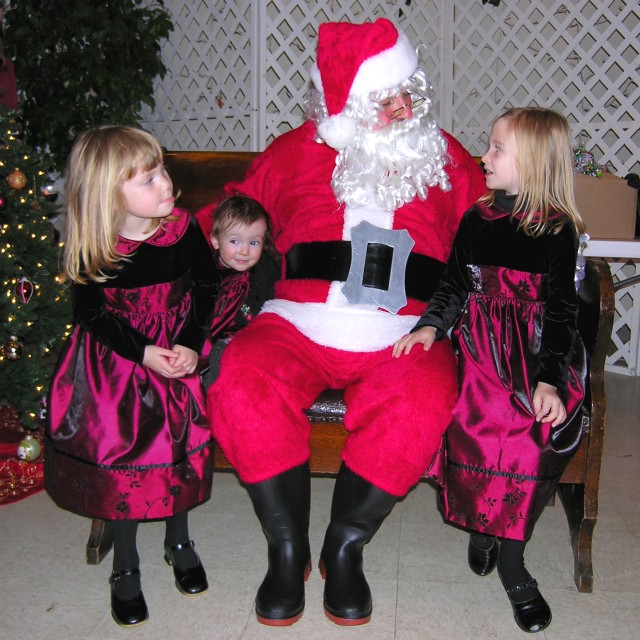 Svea tells Santa that she doesn't know she wants for Christmas while Brigitta waits her turn. Annika was playing peek-a-boo with Kira.