20/20 - 20/15
Joan had her Lasik surgery yesterday; it went very well. This morning she went in for her 24 hour check up and her eyes checked out at 20/20 and 20/15; usually there is a bit of improvement after the first 24 hours. Perhaps she'll be stuck with just slightly better than normal vision or perhaps she'll be able to spot and catch distant rodents before the local hawks do. Joan seems to be suffering slightly from sensory overload; we have reasoned that her brain is now dealing with much more accurate information than it is used to. I think my eyesight is about 20/25 in both eyes. We did a test today and Joan was able to read a sign at 100' that I could barely read at 60'. Complications are still possible, but unlikely. Thank you Dr. Lohman.
Happy Birthday Svea
Svea's birthday was supposed to be celebrated at our campsite on Kelly's Island. The cake I bought and packed was supposed to be "good enough" for a camping birthday. When we ended up coming home and celebrating her birthday here, the tiny carrot cake seemed... well.... less than spectacular. Svea was a good sport though.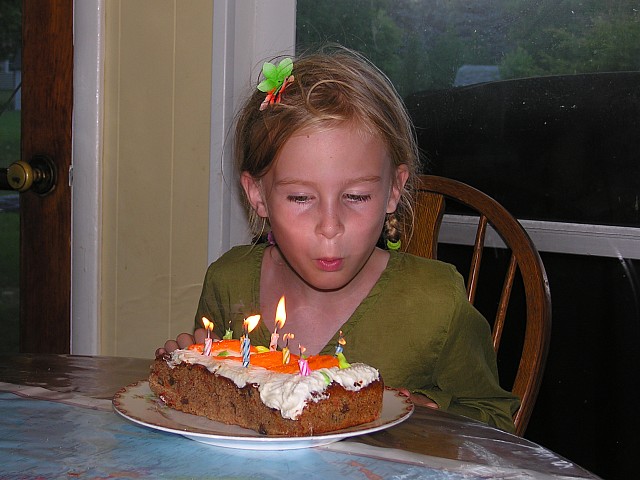 The cake drooped a bit from the car travel it received.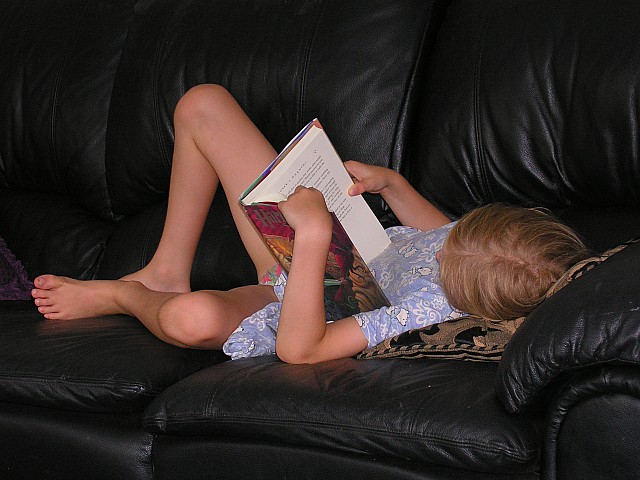 Svea received many wonderful birthday gifts, but probably the most anticipated was the second Harry Potter book. We told her she had to be eight in order to read it.
13 Things That Can Ruin a Camping Trip:
1. Thunderstorms and buckets of rain.
2. A tent that is not waterproof.
3. A tent that won't even stand up straight when sopping wet.
4. Cooking breakfast in the pouring rain.
5. Predictions of rain and thunderstorms throughout the day and night.
6. Wet sleeping mats.
7. Puddles in the tent.
8. Damp sleeping bags.
9. An inch of water on the paved camp ground streets.
10. Three bored kids who are confined to the inside of a van.
11. Packing wet things.
12. Having the muffler fall off your van on the drive home. (twice)
13. Drying out and repacking wet things.
On Monday we drove to Marblehead (on Lake Erie), had a picnic, viewed the lighthouse and caught the ferry to Kelly's Island. We had a reserved camping spot on the island, and had a very enjoyable evening. The girls played on a sandy beach and I went for a nice paddle. We got a decent nights sleep before the thunderstorm got us up around 6:00 AM. We were planning on spending two nights but figured that we really wouldn't have that much fun in the pouring rain. It was Svea's birthday and was bound to be memorable, but not great. We voted, packed up and drove home. The van dropped it's muffler in such a way that it was pushing it down the highway instead of dragging it. I managed to tie it to the frame and we made it home. We celebrated the remainder of Svea's birthday by going out to Bob Evans; she loved that place.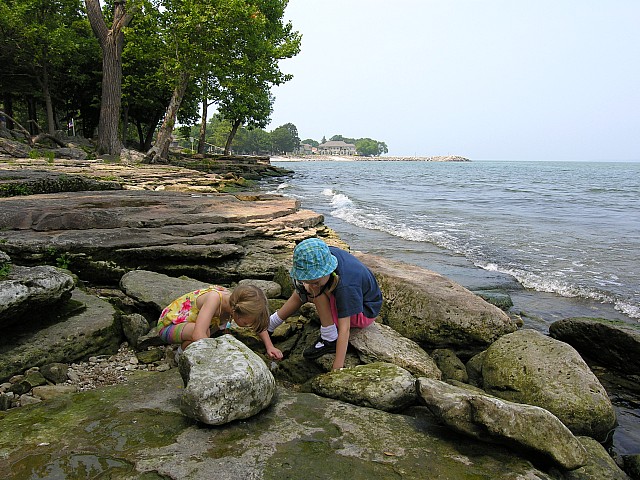 The shore at Marblehead is filled with wonderful boulders and small clam shells. After our lunch they spent time climbing, jumping and throwing rocks into the lake.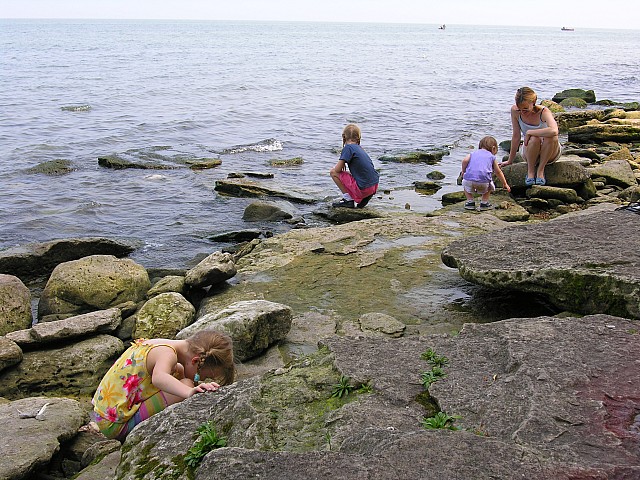 Some of the rocks had algae on them and were quite slippery. Annika's bottom shows where she slipped and fell in the muddy green slime.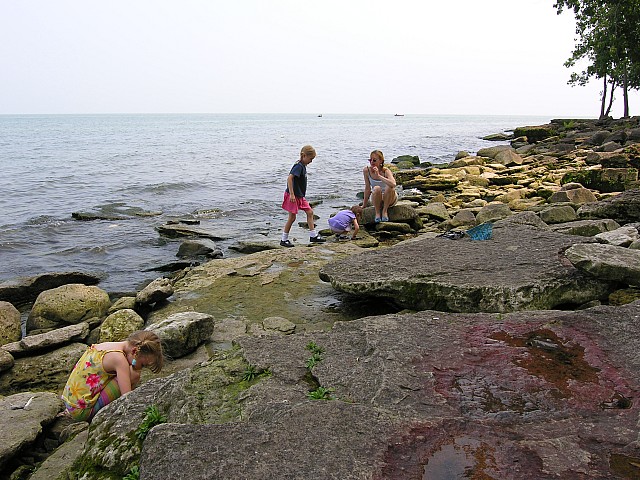 The weather was perfect. It was hot, but a nice breeze blew in from the lake.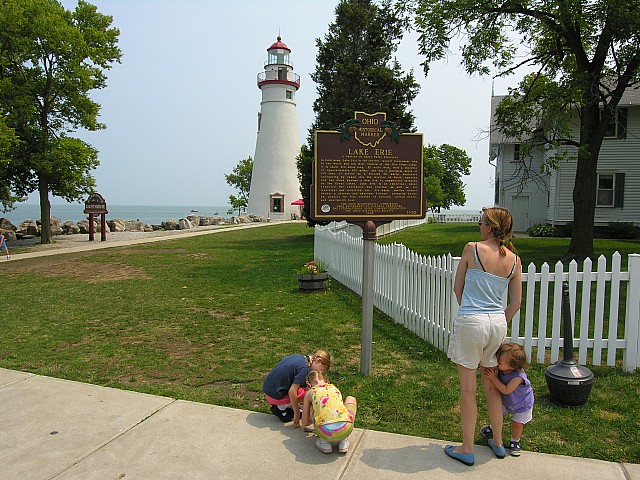 The Marblehead Lighthouse is the oldest lighthouse still in operation on the Great Lakes. It was built in 1822.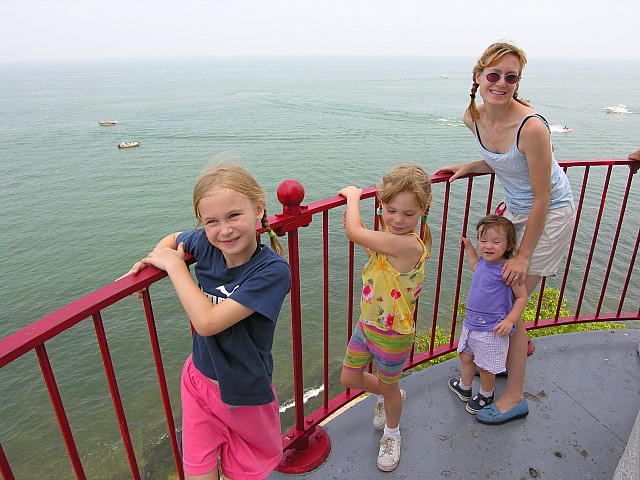 A view from the top of the lighthouse. We all had to climb 77 open iron steps to the top. Not for the faint of heart (or apparently for the Hall girls who were quite squeamish)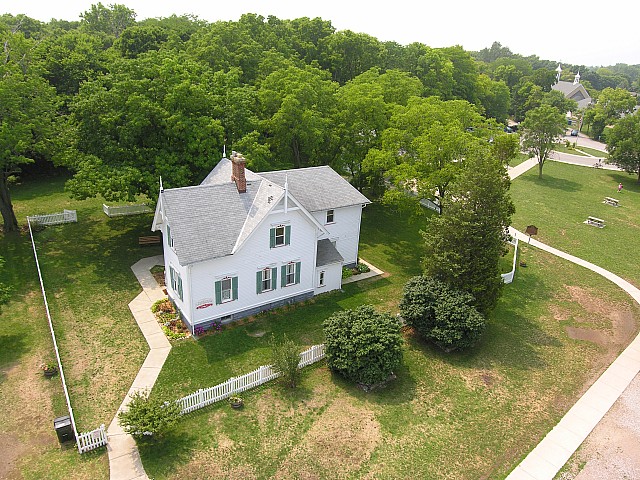 A small museum is housed on the grounds of the lighthouse. We went inside and learned about the nautical history of the area.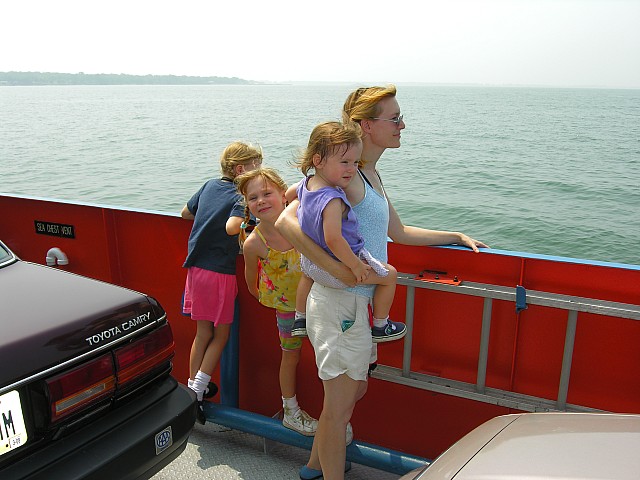 The ferry ride was one of the highlights of Monday. Many people stayed in their cars for the four mile trip, but the girls wanted out. We all enjoyed the calm waters, cool breezes and the views of the lake.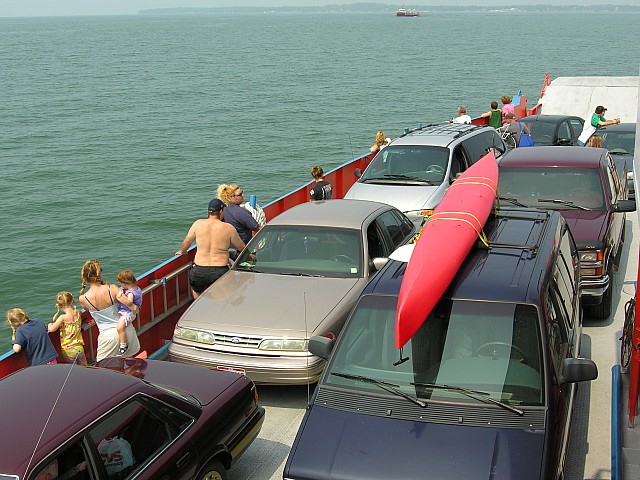 Our van and kayak. Several other cars on this trip ended up being our neighbors at the campground.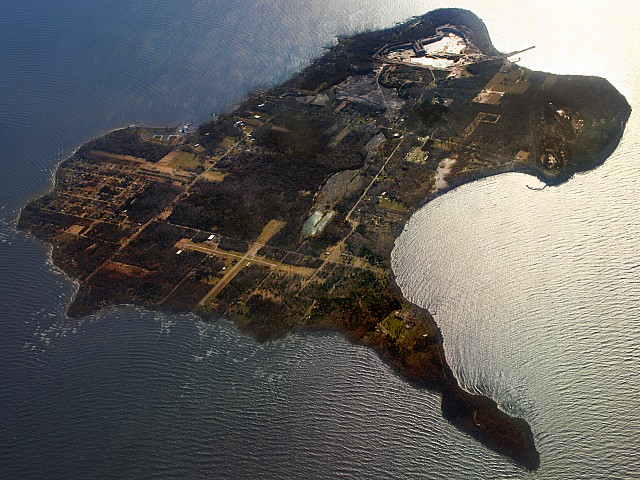 An aerial view of Kelly's Island. Our campground and beach were close to the small curving rock wall that can be seen near the top of the hooked shaped bay on the right of the picture. David kayaked around the shore from the campground all the way to the tip of the peninsula and straight back to the rock wall.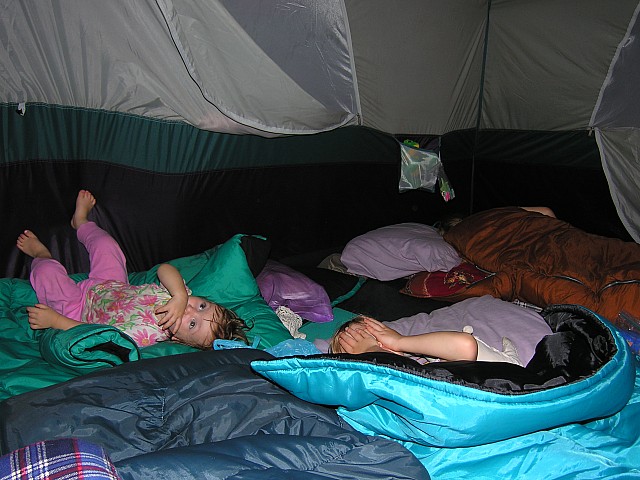 A still shot of the chaos and commotion that accompanied our sleep announcement. Annika kicked, rolled and walked on every other member of the camping party before being coerced into relaxation.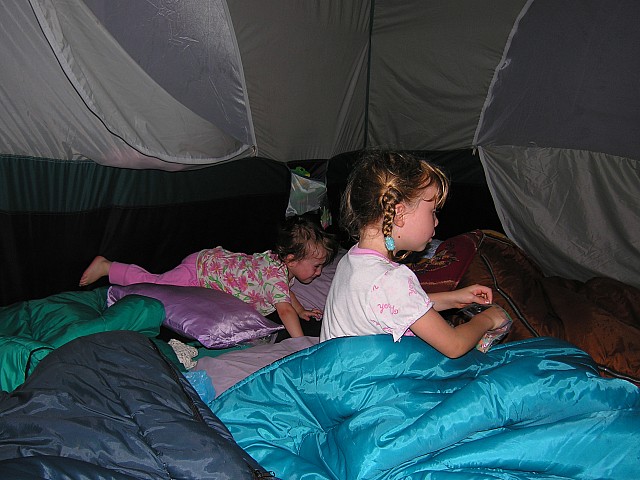 More of the "sleeping" children.
Annika Bits
At the dinner table Annika usually complains about all of the kinds of food that she does not yet have on her plate; she does this as soon as she sits down, before anyone is served. The other day she impatiently went on and on about what she didn't have. I gave her a lecture about waiting patiently and pointed out that no one had been served yet. The family began grace, "Bless us o Lord..." followed by, "God is great, God is good. Let us thank Him for this food." Annika immediately mumbled, "I don't have any food."
Thursday night there was a big storm with much thunder, lightning, wind and three tornadoes touched down in the next county. We watched the weather closely and explained to the children that we would head to the basement if a tornado looked eminent. We were also concerned about Papa and Nana, who were at a doctor's office and then planned to stop by a funeral home. The TV said that there was an active tornado about where we expected them to be. They ended up skipping the funeral home and came home early. When they walked in Annika exclaimed, "Papa! Nana! we thought you were in a TOMATO!"