Snow Days
Schools have been closed for the past three days. Tuesday morning it started snowing fairly hard and I right before Svea and I left for school I received a call that school was cancelled. It snowed all day and night; in the evening we received another call that school was cancelled for Wednesday. By Wednesday we had accumulated about 12 inches of snow; it's hard to say because winds blew it around much. Last night the storm was basically done but we received a call once again. I guess it must have been too cold; we received a bit more snow, but not much.
I bought a snow blower at a garage sale this summer. It's 2-stage 8 HP and has electric start; I got it for $65. I finally got to give it a workout this week. The motor starts and runs marvelously. It didn't throw snow as well as I expected, however. I figured out how to adjust the belts and straightened out the gear shift linkage. It seems to run and work as good as new.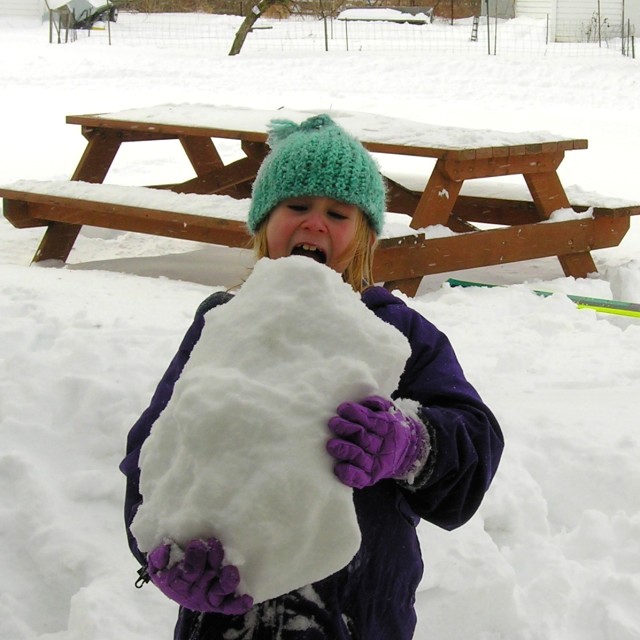 As it snowed on Tuesday I did laps around the track in the van every few hours. The snow would compact, but wouldn't stick to the old snow underneath. My track was very rutted and the lightest kick could clear snow down to the old base. My ski track looked doomed. On Wednesday we all went outside to play, I noticed that my rutted track hardened up pretty well. Wednesday night I did a few more laps to loosen things up again so that I could somehow smooth it out and let it set. The snow was deep enough and thick enough that the all wheel drive van basically swam through it with all four wheels spinning constantly. It left deep ruts, maybe up to eight inches from trough to crest. I knew it was hopeless but I tried raking a section to get it smooth, it was doable but I just didn't have the manpower. Ten people could have done the job in an hour; I just didn't have the energy or time.
I bounced some sled smoother-outer construction ideas off of Papa, but non of them sounded very feasible without much time or materials. I had basically given up when Papa suggested dragging the picnic table inverted. It sounded like a good idea, but I wasn't sure the van would be able to pull it. It must weigh over 200 pounds and is eight feet long. The more I thought about it, however, the more I realized that this was the only heavy solid thing that could cover a path wider than the van itself. I broke it loose from the frozen ground with a hammer and then flipped it over and over to the track. It did an amazing job. I had to re-adjust the ropes' tie-on positions once when the van got stuck on the slight uphill. It worked a bit better with the ropes lifting the front edge of the table top. The table would also load up with compressed snow, at least 100 pounds worth. All this weight did a great job of compressing the snow and the eight feet of table top width meant that I could cover the entire track in a couple of passes. The finished product was pretty good, but not quite skiable. I let it set overnight and then groomed the major flaws with a shovel. I now have four inches of hard packed snow that I can walk on without sinking in. The footprints you see in the picture below are in the quarter inch of snow that fell last night. It should be ready to ski on tomorrow, but I've been pretty sick the past few days. I could actually use a snow day tomorrow; I expect a regular work day will wipe me out.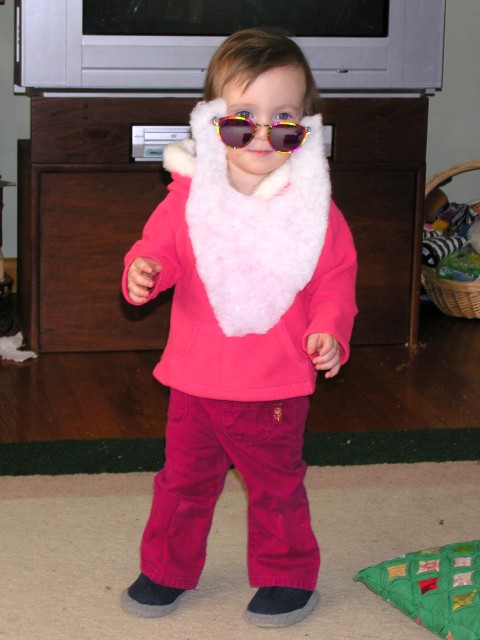 Svea and Brigitta dressed up Annika the other day.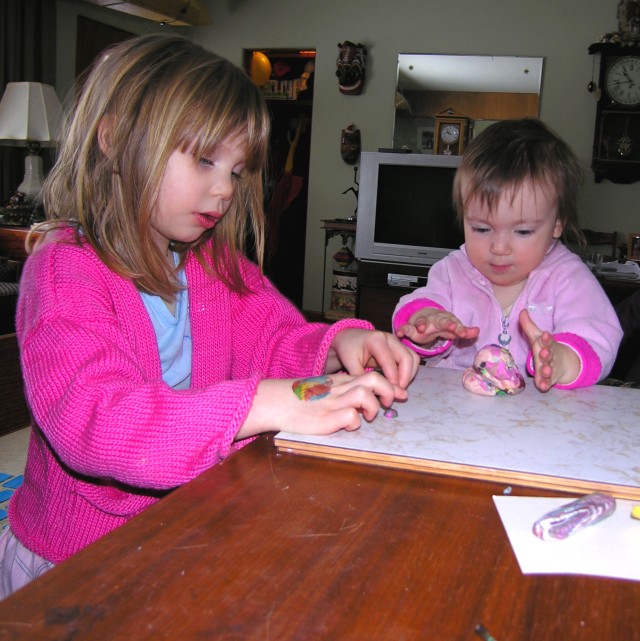 All three girls love to make things out of polymer clay.
Brigitta's preschool had their Valentine's Day party today.
She got to take home the class bear, Sunny.
We celebrated Valentine's Day with a Thai take out dinner. Annika made the day memorable by pooping in her potty all by herself for the first time. We were pretty surprised because we learned of the event by discovering the evidence in her potty. None of us had helped her; she confirmed that she did it herself. We certainly have a way to go until we can declare her "potty trained", but she is well on her way. It will be especially nice to have the youngest trained the earliest so that we can be done with diapers for good when we have so many kids to take care of.
On Valentine's Day evening Joan and I watched Rent. It wasn't quite what I though it would be; I had the plot confused with another, much happier movie. Rent has fantastic singing, but the subject matter is dark and a bit depressing. Earlier in the week we watched Seven Brides for Seven Brothers with the girls; I think that that genre of musical is much more our speed.