It was not a good day. Two out of our three rockets were destroyed on the launch pad by defective motors. The motor casings literally blew up destroying the rocket bodies. We have only two weeks left to qualify for the TARC national rocket competition and we are basically back to the drawing board.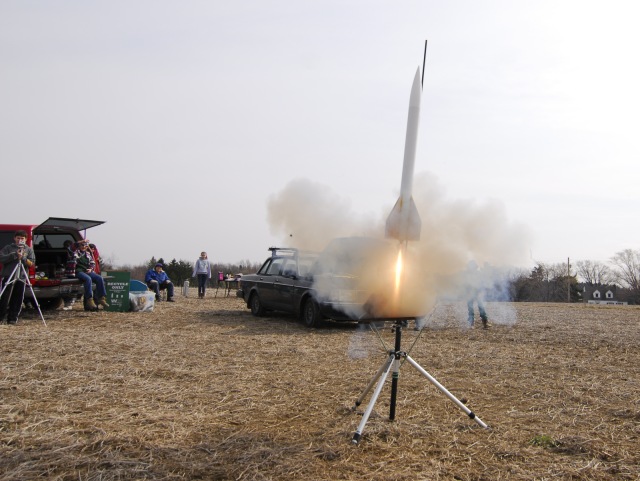 Our first launch was the best because nothing was destroyed. The rocket was too heavy, however, and did not approach out target altitude of 825 feet. I made our launch pad from an old camera tripod and a cookie sheet; the kids call it our "ghetto-pad".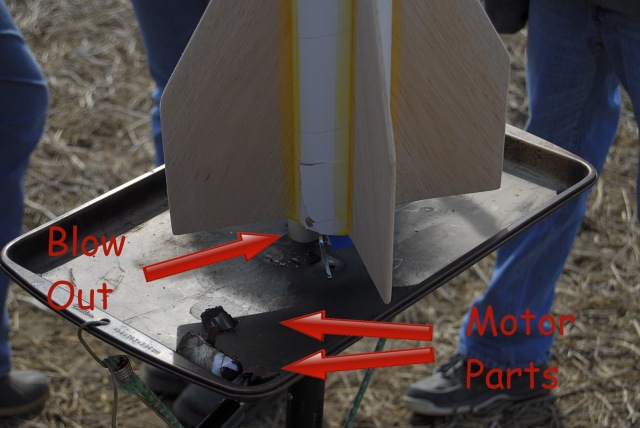 We used a bigger motor for launch two, but it blew out the base of the rocket.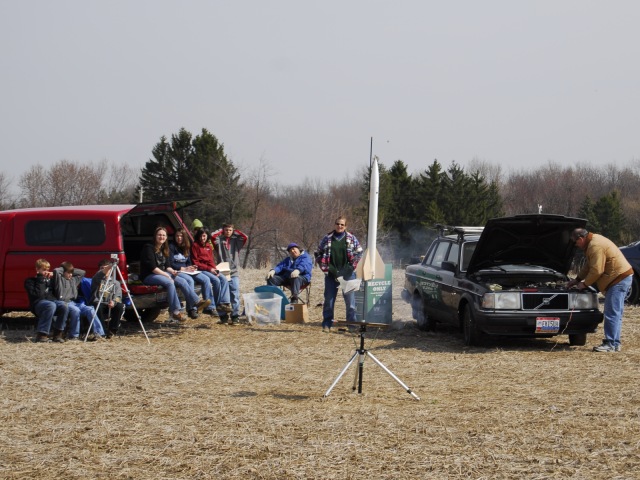 Launch three also blew out the base of the rocket; note the fin twisting off. This shot shows the rocket hopping up a foot from the blast; it did not fly at all.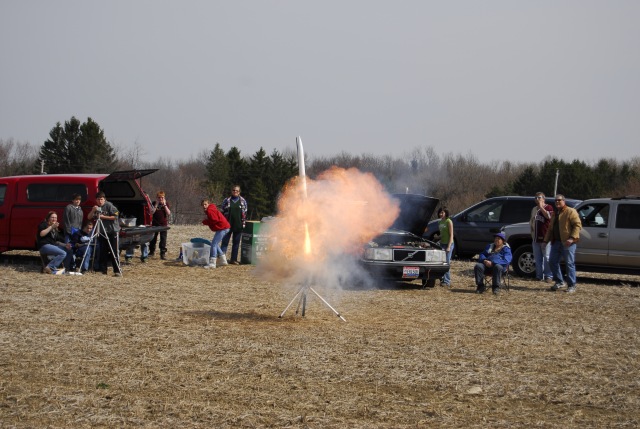 We went back to the smaller motor for launch four and it was spectacular. I dumped a cup or two of bread flour onto the launch pad blast shield, under the motor. The blast from the motor aerated and then ignited the flour, much like a grain elevator explosion. Even though I thought it might ignite, I was surprised as to how dramatic the effect was. After watching our other two rockets blow apart, most of the team thought this rocket also was exploding. Click to enlarge this one.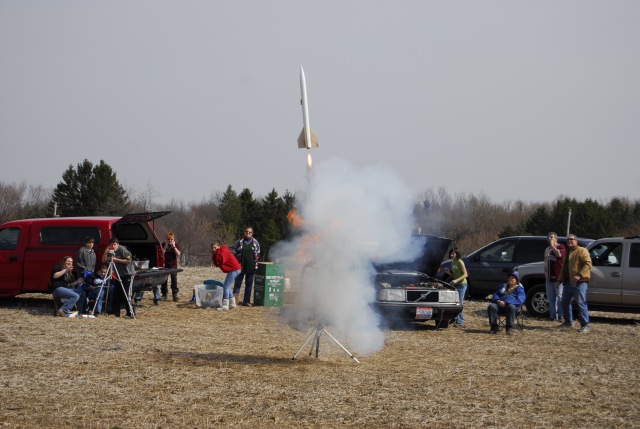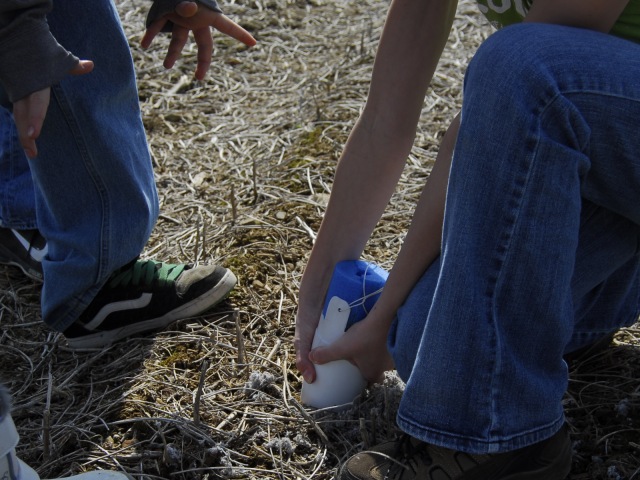 The last rocket's motor ejection charge failed, so the recovery system never deployed. The nose cone buried itself about 10 inches into the ground. Even after "lawn-darting" the rocket and cone were not damaged. The altimeter, however, shot through it's foam protection, through the egg payload and cracked against the tip of the cone. It took several students to pry it out of the Earth.
All of our thoughts and prayers are with my sister Sheryl who underwent double mastectomies and reconstructive surgery yesterday. My brother, Mark and my parents have been able to spend much time with her in the hospital in Anchorage. I just spoke with my father a couple hours ago; Sheryl is doing well and will spend the next two weeks recovering at Mark's and Mom's and Dad's.
Joan and I attended IHM's "Night at the Races" fundraiser last night. We dressed up, had a nice dinner, enjoyed good company and even ended up two dollars ahead after betting on a few horses.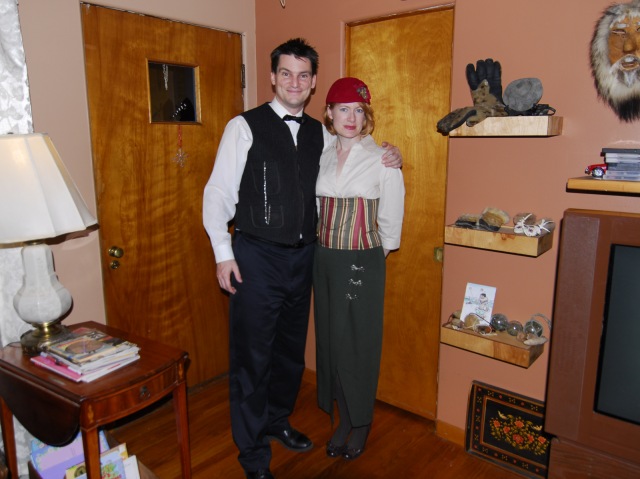 Iím very excited about a new roundabout that will be replacing the three road intersection of Howe Road, Northeast Avenue (261) and Munroe Road. We drive through that intersection to get to our work, schools and many other regular destinations. Iím very aware of how much time, I, my family and everyone who uses that intersection regularly wastes waiting for lights to change. At two of the six directions I pulled over and timed the red, green and yellow lights with a stopwatch. I determined that heading west on Howe the typical wait would be about one minute and the average wait heading north on 261 would be about 35 seconds. On the average we waste about 95 seconds waiting at that intersection for every round trip we make. I probably drive through that intersection eight times a week which totals 12 minutes 40 seconds a week. In a year thatís almost 11 hours waiting at that one intersection. Online sources indicate that cars typically burn a gallon of gasoline an hour at idle. Thatís about $30 worth of gas and over 200 pounds of carbon dioxide, from one driver at that one intersection. Joan drives through that intersection about twice as often as I do, so double those numbers for her. Most of the times that I approach that intersection the only cars that are waiting would have passed through long before I arrive. I think I rarely will need to stop at all once the roundabout is in place. If you care to see my math or data, it is listed below. One thing that did surprise me was that the light and total cycle durations were not consistent.

West on Howe:
Green + Yellow for an average of 23 seconds
Red for an average of 137 seconds
Total average cycle 160 seconds
23/160 = 14.375% chance of hitting green (+yellow)
85.625% chance of hitting red
68.5 second average wait if you hit red
85.625% likelihood X 68.5 =
58.65 second average wait heading west on Howe (round to 1 minute)

Northeast on Northeast Ave./261:
Green + Yellow for an average of 38 seconds
Red for an average of 98 seconds
Total average cycle 136 seconds
38/136 = 27.95% chance of hitting green (+yellow)
72.05% chance of hitting red
48 second average wait if you hit red
72.05% likelihood X 48 =
34.58 average wait heading north on 261 (round to 35 seconds)
Round trip total typical traffic light wait through Howe, Munroe and 261: 1 minute 35 seconds.