(Unlimited Speed Division Tuesday Practice)
Yesterday Svea and I went to watch practice runs of the Unlimited Division of the All American Soap Box Derby at Derby Downs in Akron. Akron has a few claims to fame and this is one of its biggest. The championship races will be this Saturday. Over 500 area champions from around the US and the world will be competing in three division: Stock, Super Stock and Masters. These cars are made from kits and are all nearly identical within each class Perfect alignment, nearing the maximum allowable weight, smooth paint produce slightly faster cars. Driving efficiency comes down to keeping ones head down and steering straight and smooth. Races are usually won by less than 1% or hundredths of a second. Photo finishes are standard. Many of the paint jobs are fantastic.
The Unlimited Speed Division, seems to be somewhat of a sideshow. These cars are usually completely homemade and incorporate many innovative ideas. In my mind, the Unlimited Speed Division is infinitely more interesting than the three main divisions combined.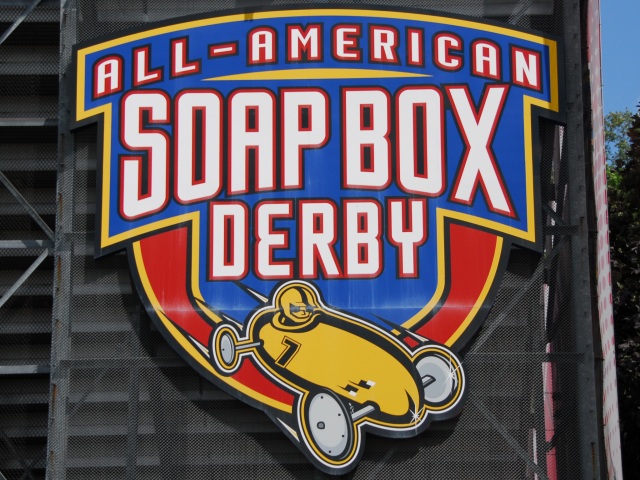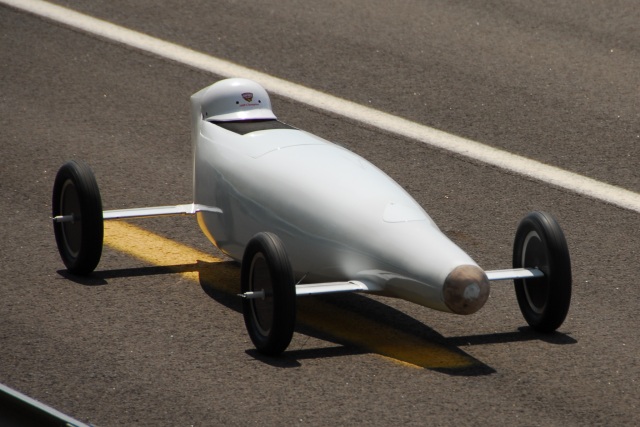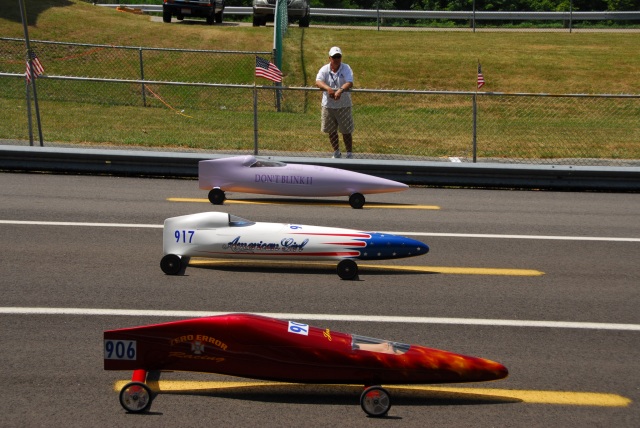 The red one in the foreground (Zero-Error Racing Team) set a track record last year.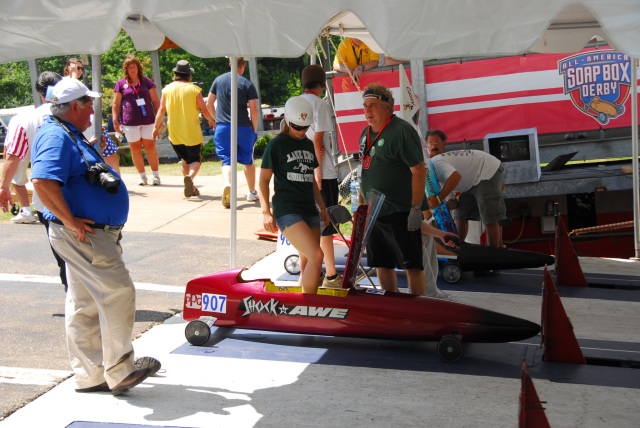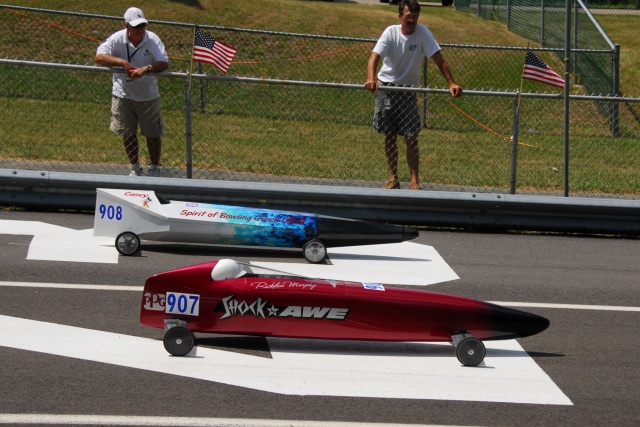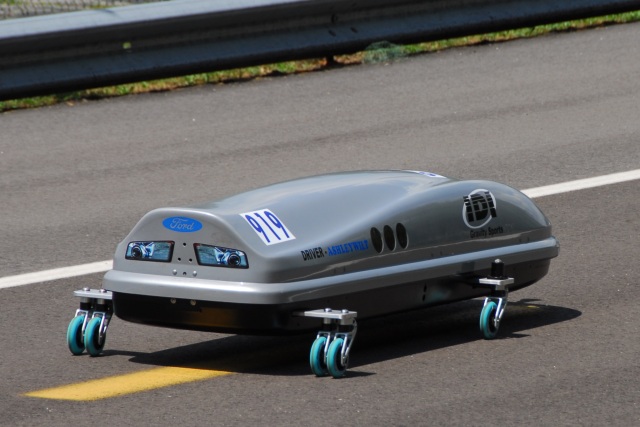 I'm pretty sure this silver one is a car top carrier with roller blade wheels.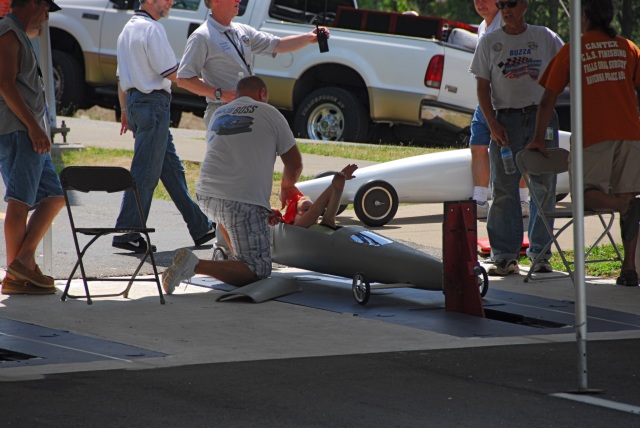 Notice how the driver has to contort herself to squeeze in.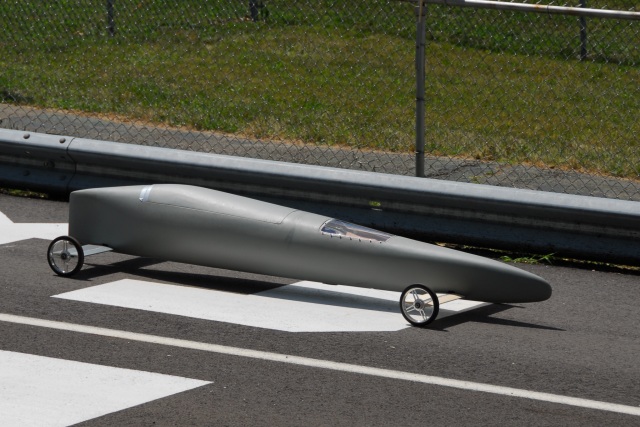 Not much of a window, but that's all a driver needs.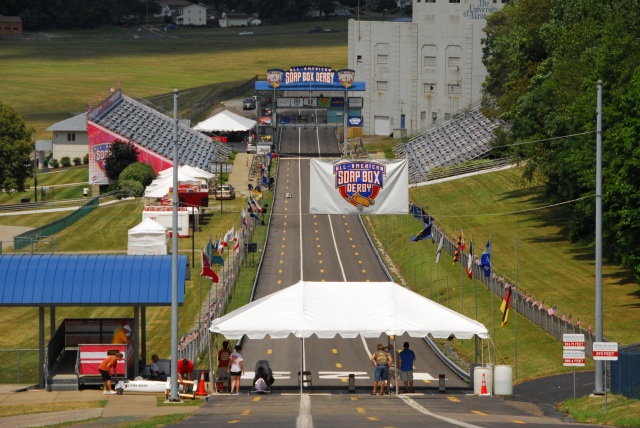 The starting line is under this tent; the finish line is just past the grandstand.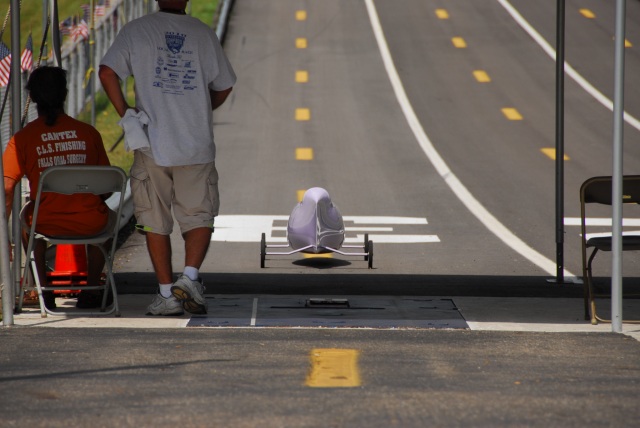 Go!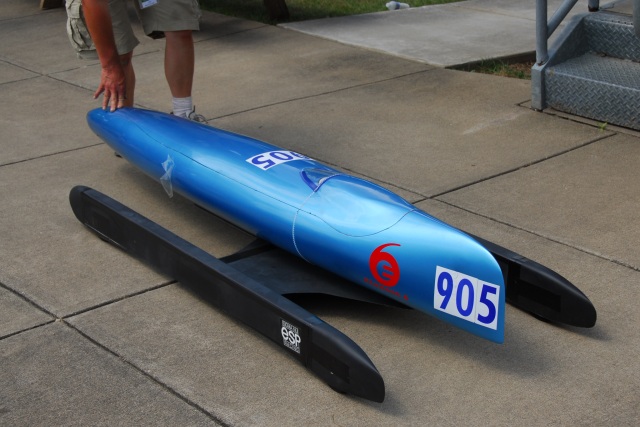 This one was very interesting; all wheels are in fairing pods. Note how low the window is; how can you possibly see out of a window that is only an inch from the top of the head bulge?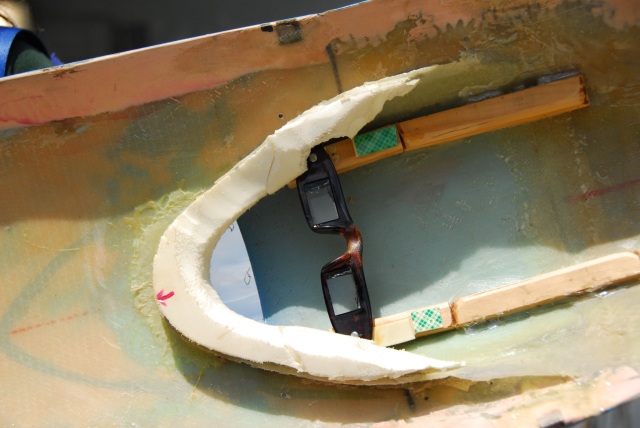 Mirrors! The driver's head is laying flat and she looks straight up; the mirrors are at 45 degrees to give her a forward view. Brilliant! It must be a bit tricky to steer when everything is reversed through mirrors, however.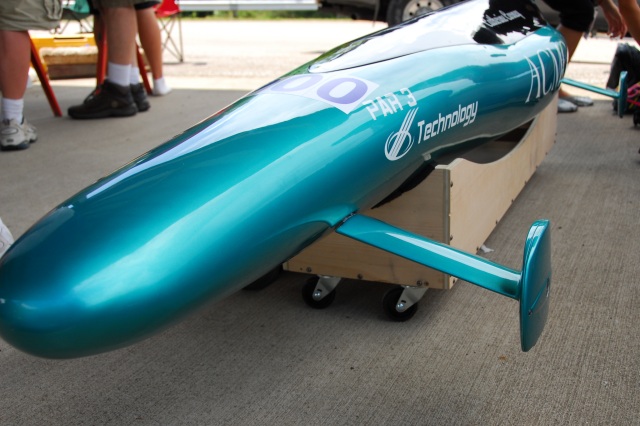 A very clean machine from Tennessee. Some of its parts were built by a machine using CAD 3D drawings and lasers to melt powdered plastic together into a solid form. I love the fairinged wheels.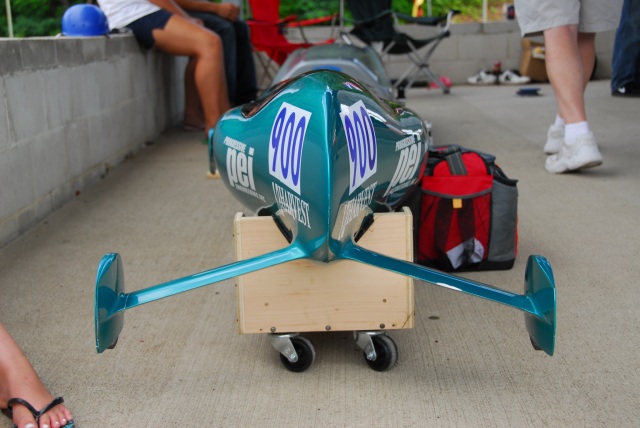 I wonder if the downward swept axle reduces drag by keeping the vehicle out of the ground effect zone.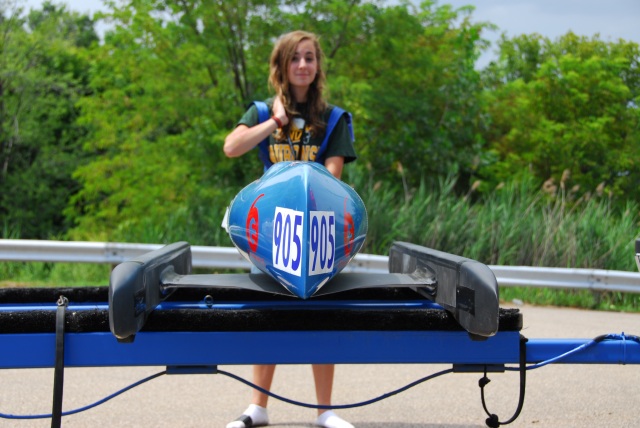 Car and driver.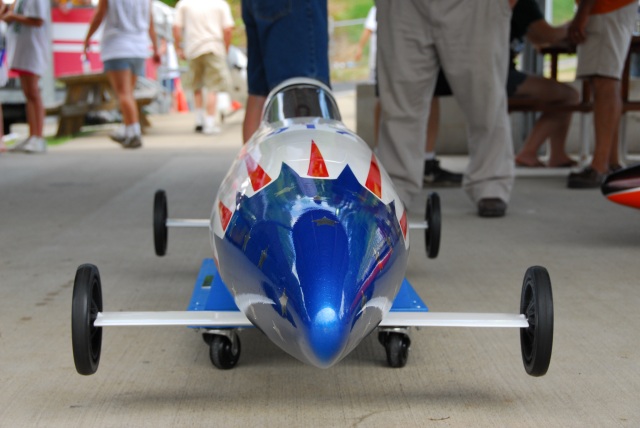 Basic, but nice and clean.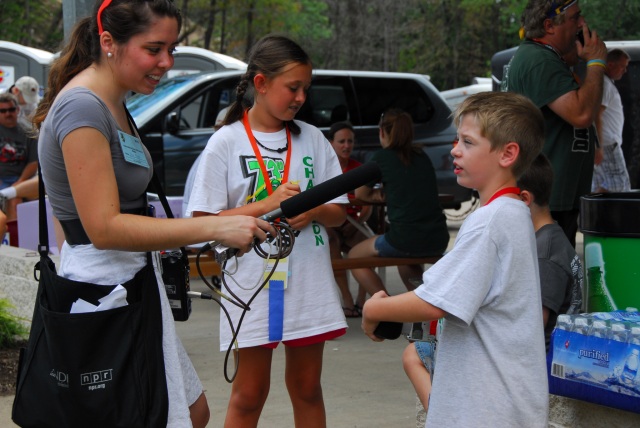 I didn't notice that this reporter was from NPR. Joan noticed the logo in the photo.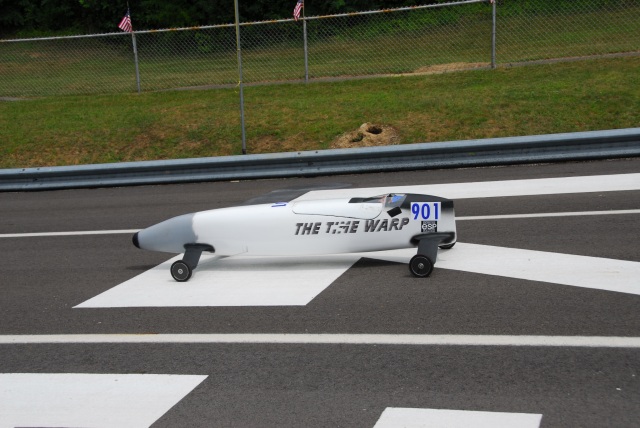 Small wheels and a very small frontal area; I bet this one will do well.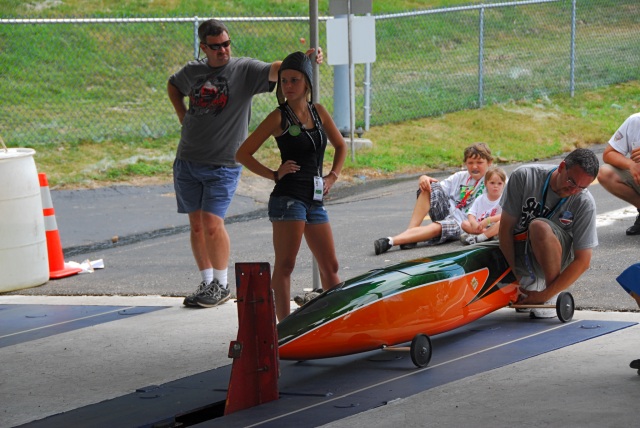 I love the WWI style leather helmet.
Also extremely clean and should do well.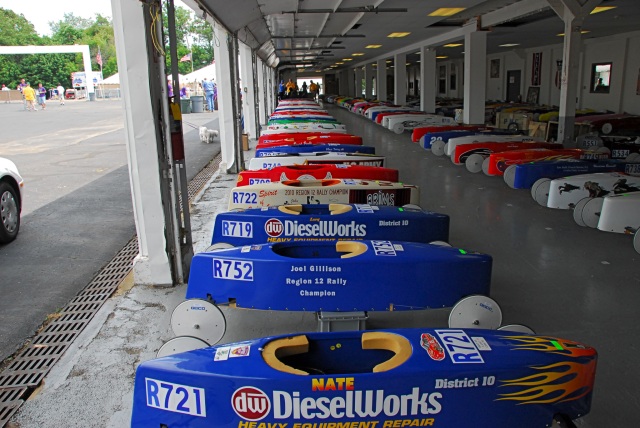 Stock cars topside.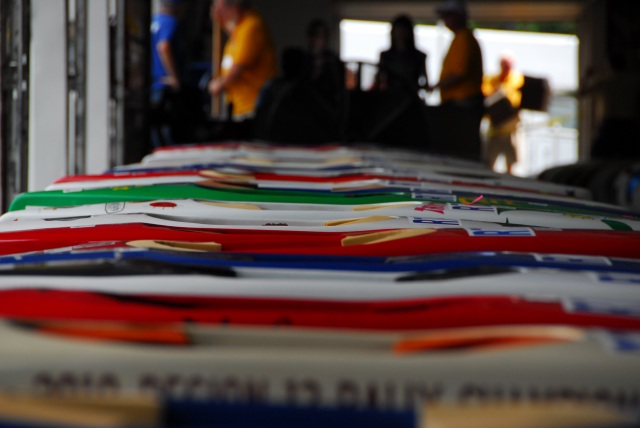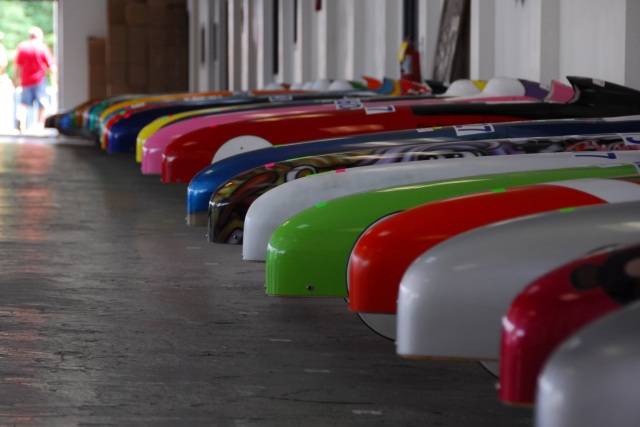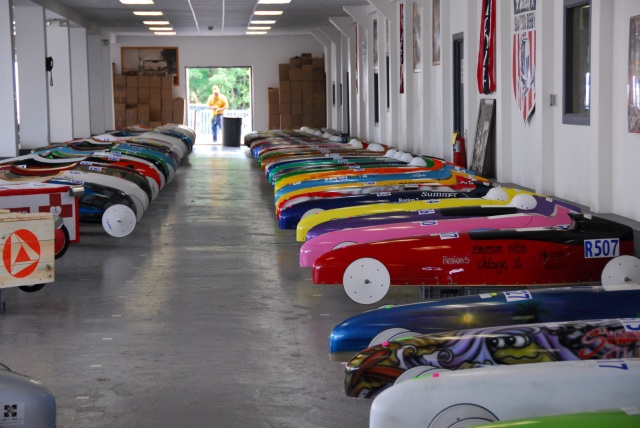 I think these are Super Stock on the left and Masters on the right.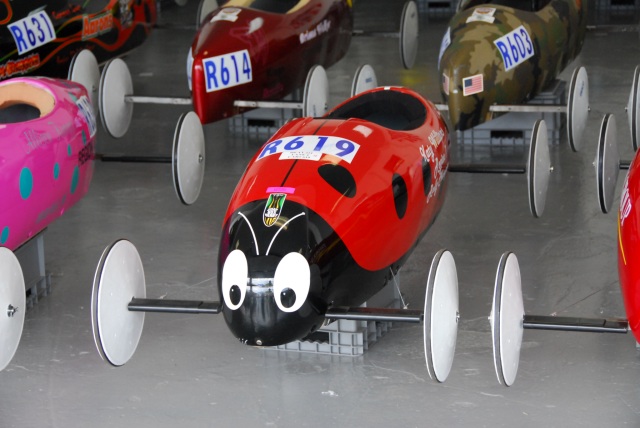 The lady bug was my favorite.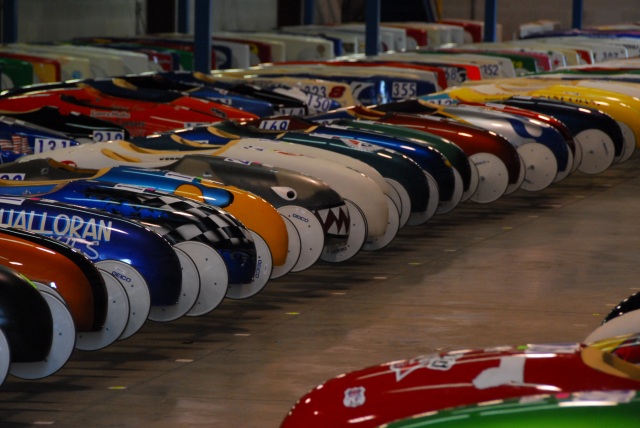 Many of the paint jobs look as if they were done in custom car shops.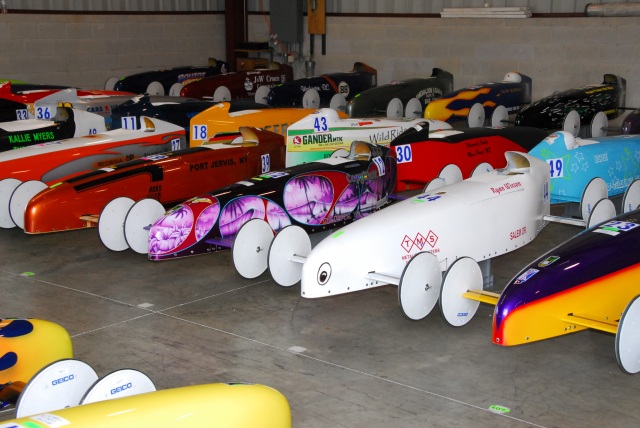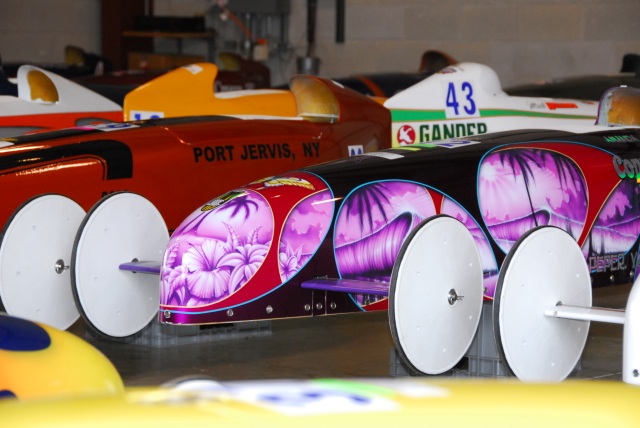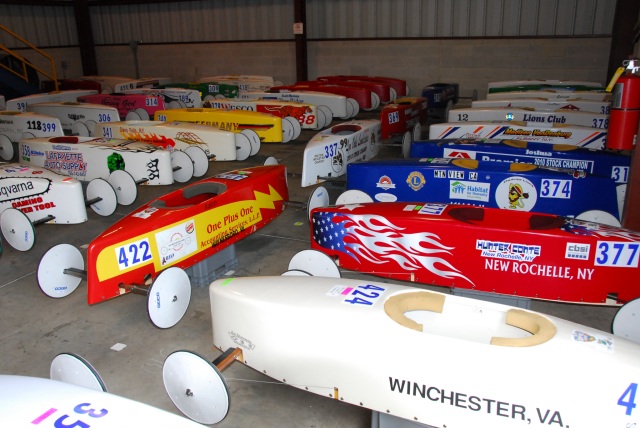 Stock cars assemble in four to six hours and are driven by kids as young as eight.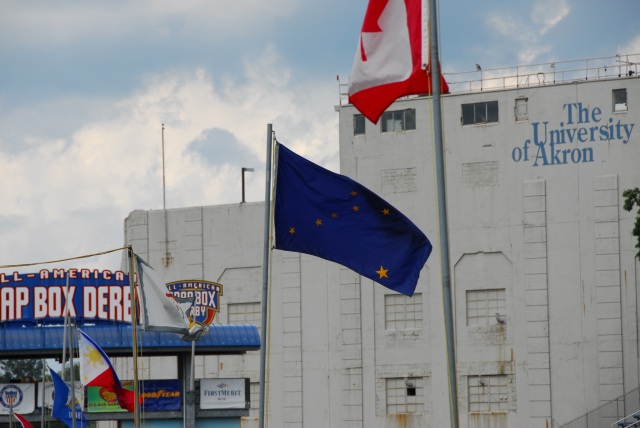 One of the first things I noticed was that the Alaska State Flag was flying upside down. The last thing that we did before we left was to notify the officials who seemed genuinely surprised and assured me it would be corrected immediately.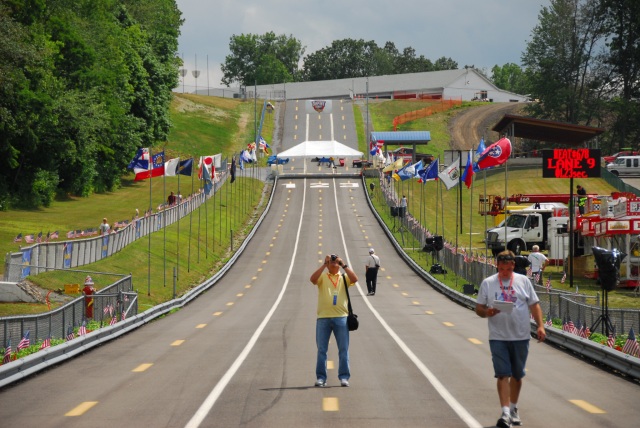 From the finish line.
The new/used mower has a great bagging system. It fits in the garden shed with two inches to spare lengthwise but was exactly the width of the old doors. It had to squeeze through the doors and sometimes would take a door off. I decided to widen one side and make bigger doors. I also decided that the windows didn't need to be rectangular and went for a cartoon-like Dr. Suessian look. Joan decided that it needed some fun color and offset the now unsymmetrical front with a big red star.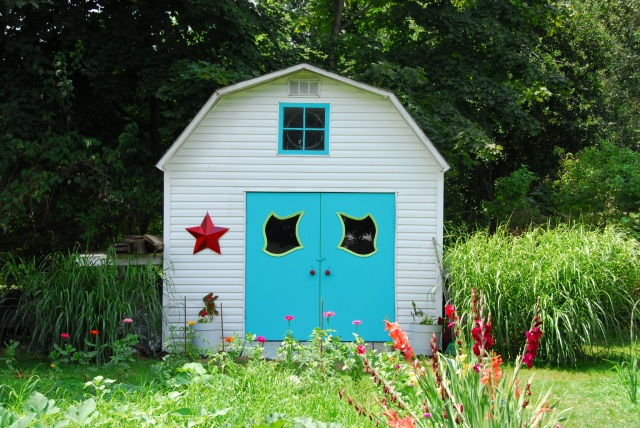 The junk shed couldn't stand to be completely outdone so I replaced the old rotting ramp and Joan gave it some color. The handle is an old bugle/horn instrument painted blue.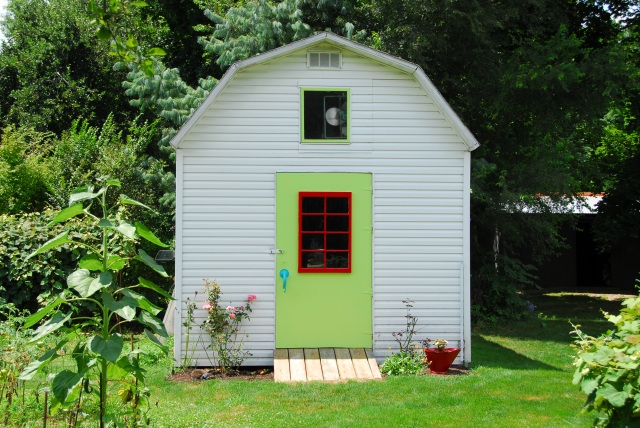 While growing up, my family would visit my mother's sister, Jeannie, her husband Paul and their son, Keith regularly. Aside from my immediate family, Keith Krasnowski was my closest relative. Somehow, in our busy adult lives in different states we've been out of touch. The last time we saw each other Svea was a baby. Keith is now a rocket scientist; actually more of a rocket parts engineer. He is now working on a Mach 7 scramjet engine shroud and has worked on low thrust spacecraft ion thrusters. Keith married last year and he restores very old cars including a 1930 Ford Coupe hot rod and a semi stock 1927 Ford Model T Speedster Pickup. If you are into air racing, aviation cartoons, hot rods or birds be sure to check out his website: http://www.krazmania.com/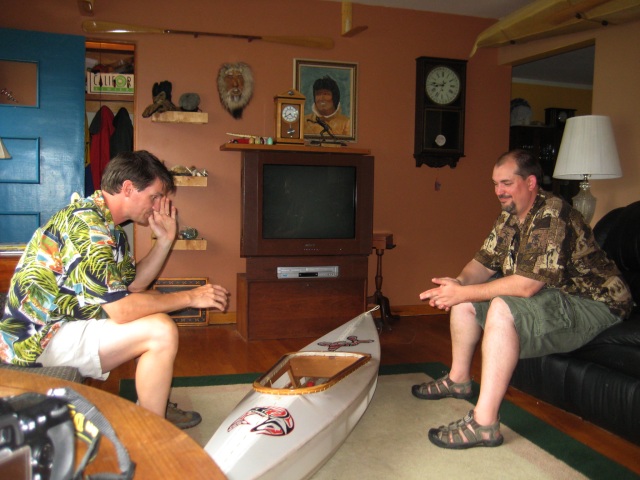 Discussing kayaks.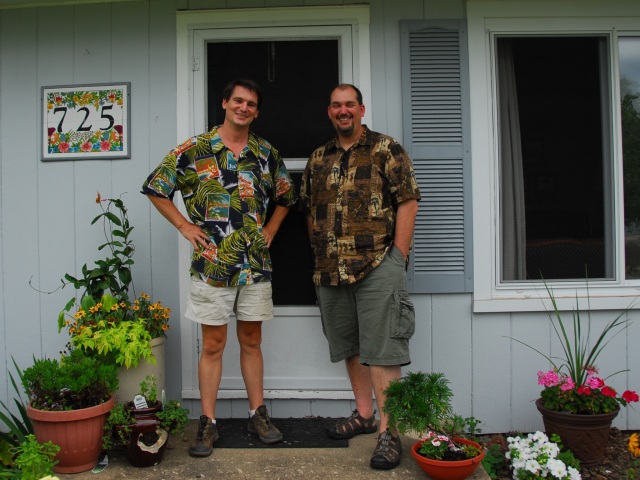 Well what do you know, we have the same taste in shirts; he's a bit more subtle though.
We held our annual backyard barbeque last weekend. Honestly it was too darn hot to do much more than eat and talk. The kids played and kept cool in a pool, slide pool and bubble pool.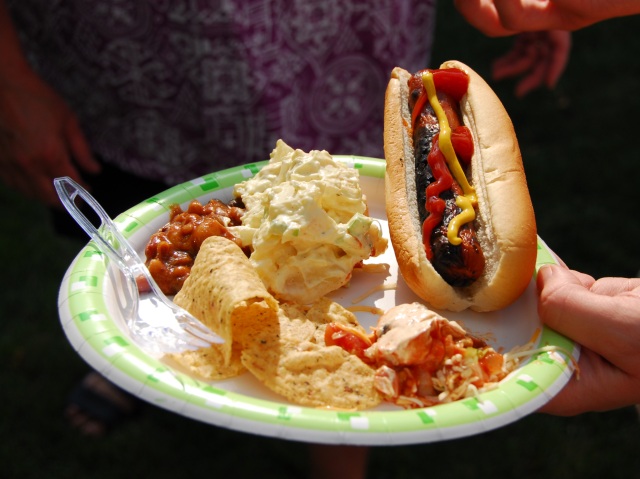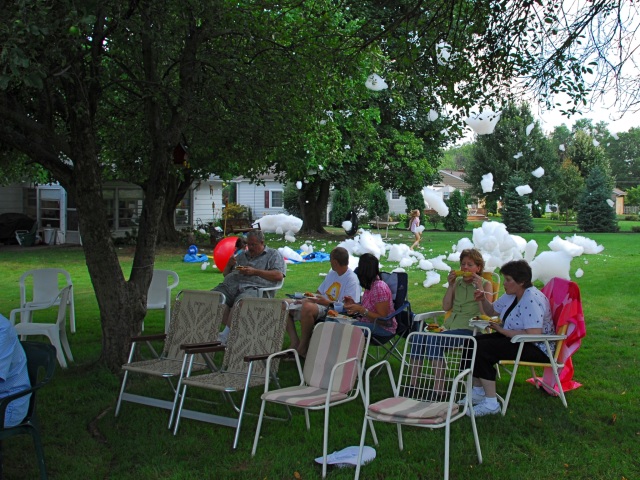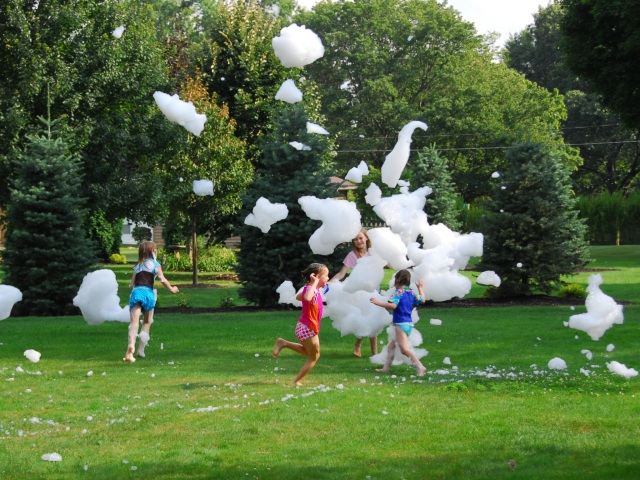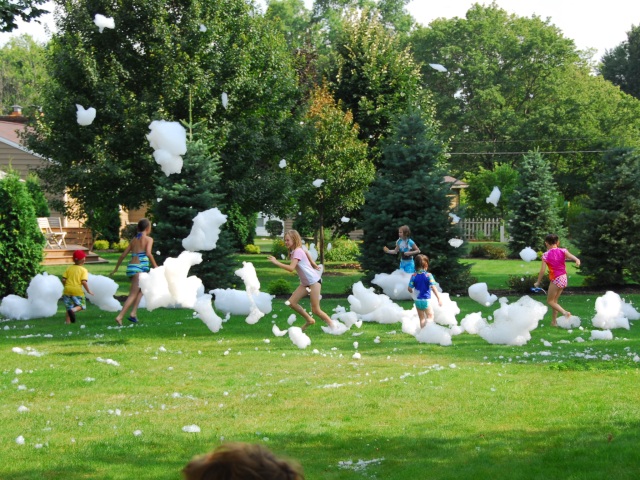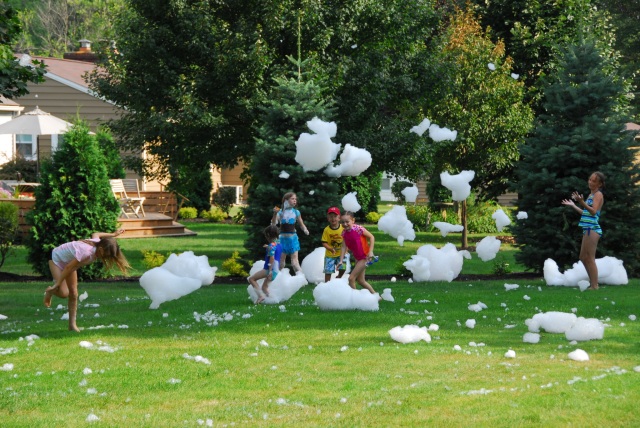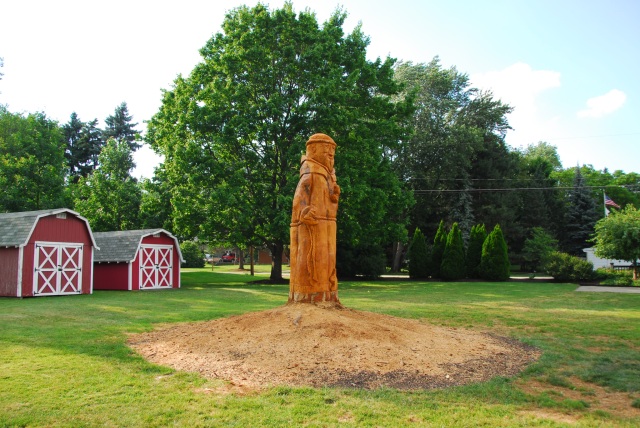 One of our neighbors a few houses down recently commissioned a sculpture of Saint Francis of Assisi. She had a 65 foot tree removed except for the bottom 12 feet which was chainsaw carved into this sculpture.