Geodesic Airolite Classic 14 Rowboat
7-25-2011 ~ Blog #397
(David & Joan)
I love human powered watercraft; I'd rather paddle a nice kayak or row a fine boat than zip around in a fast speedboat. I've been studying kayak and rowboat designs for years and have owned a small flotilla of human powered watercraft over the years. When I built the Kiddiyak for the girls in March of 2008 I based much of my skin-on-frame design and covering materials and techniques on Platt Monfort's Geodesic Airolite series of super lightweight boats. He's been selling his plans and kits for decades. Although thousands of Geodesic Airolite boats have been built, they are still relatively rare. I'd never seen one in real life. Two weeks ago I refreshed my local Craigslist/boats page and saw a newly listed Airolite Classic 14 at a very low price. At 14 feet long and 54 pounds this is one of the biggest and heaviest of his boats. I snatched it up as quickly as possible. I'd been dreaming of building one for years, but with a build time of 170 hours I never took the plunge and bought a kit. The one that I bought had no seats and the oarlock mounting plates were cosmetic, glued only to the boat fabric. Last week I demoed part of the gunwales, beefed them up and properly epoxied the oarlock mounting plates to the reinforced gunwales. Not having the original plans, I designed my own seat and mounts. As simple as it looks, I believe the seat and mounts have 67 parts. I did all of my work while the boat was hanging inverted in the garage; the first time it was upright in two weeks was when I put it in the lake yesterday. My rowing experience has been limited to my 11 foot Sea Nymph square stern and bow flat bottom aluminum skiff. It's not an efficient design and makes a lot of wake, even when rowing. I had high expectations of the Airolite and it didn't let me down. It feels very efficient, fast, stable, light and tracks well. With all of my housework this summer, my first paddle of the season was just a few days ago. In my out-of-shape state, I comfortably paddled my very fast and efficient Ocean Kayak Sprinter ~2.8 miles in ~35 minutes. In the new rowboat I covered the same course in 45 minutes, minus a couple minutes for photos. The action of a rower is significantly more efficient than that of a paddler. With the exception of sculling boats, rowboats are typically much wider than touring kayaks, which easily eats up the efficiency advantage of the rowing action. Considering that the Sprinter has less than 40% of the width of the Airolite and 121% the length (that's a HUGE efficiency advantage), I am delighted with the Airolite being around 80% as fast as the Sprinter.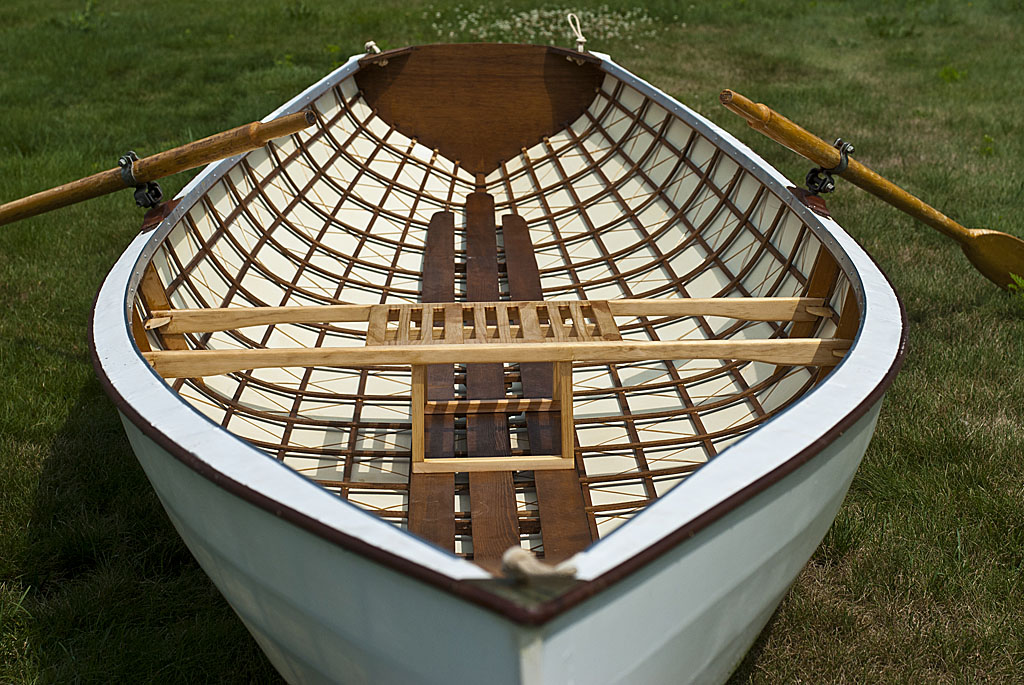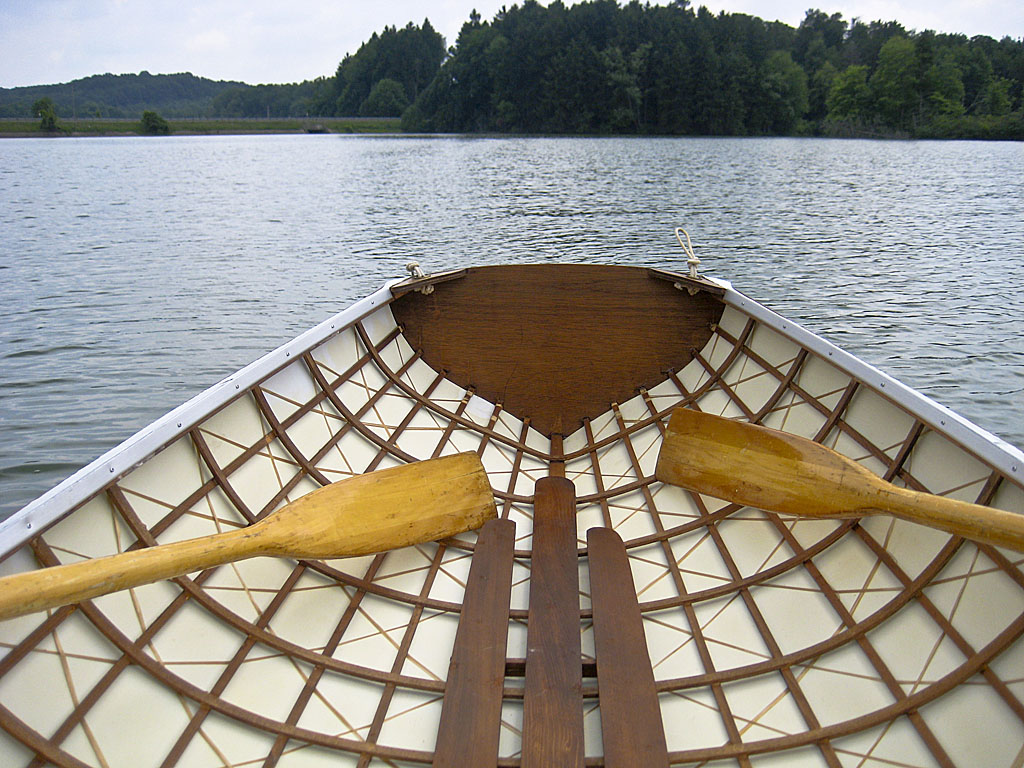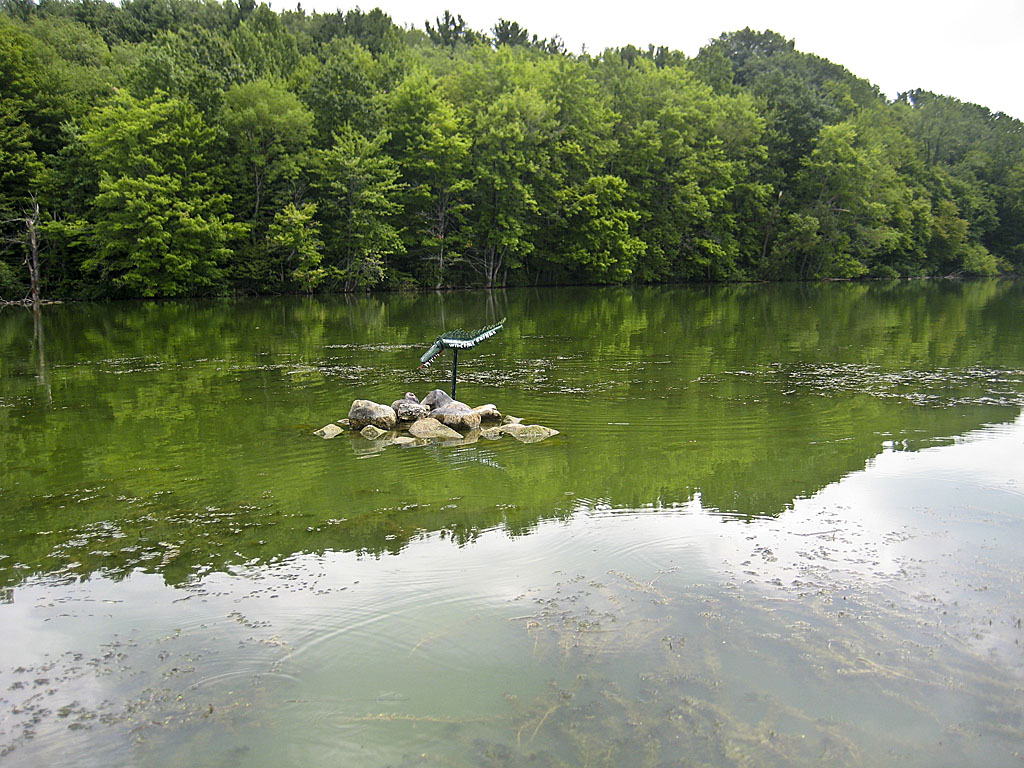 June 26th Island survived the winter and now sports a "Welcome Kayaks" dragon.
We finally fired up the bubble pool this week.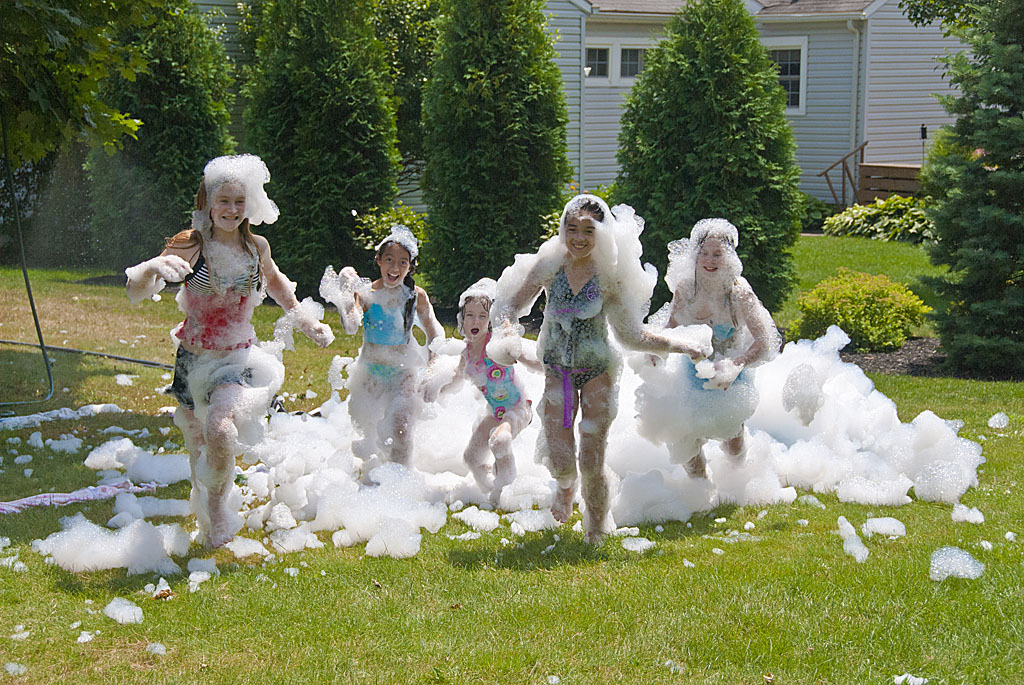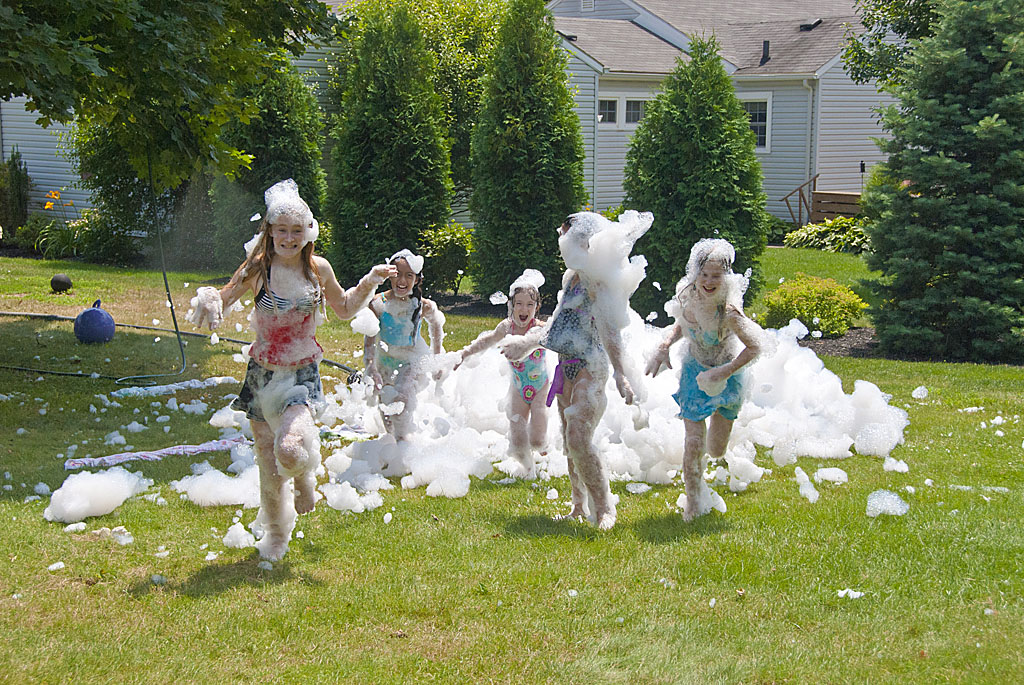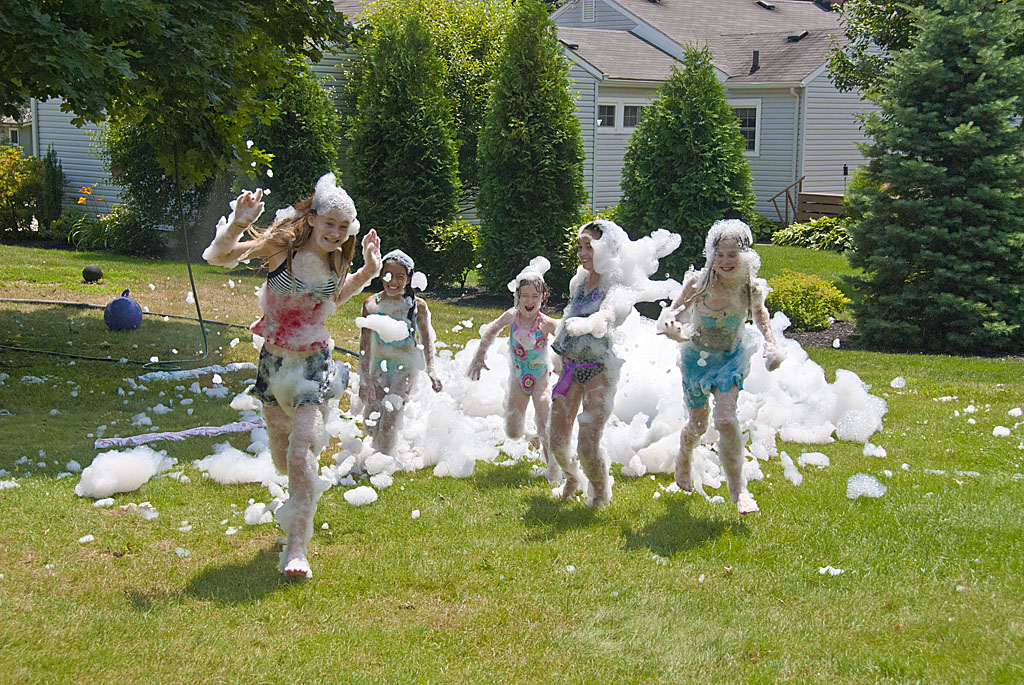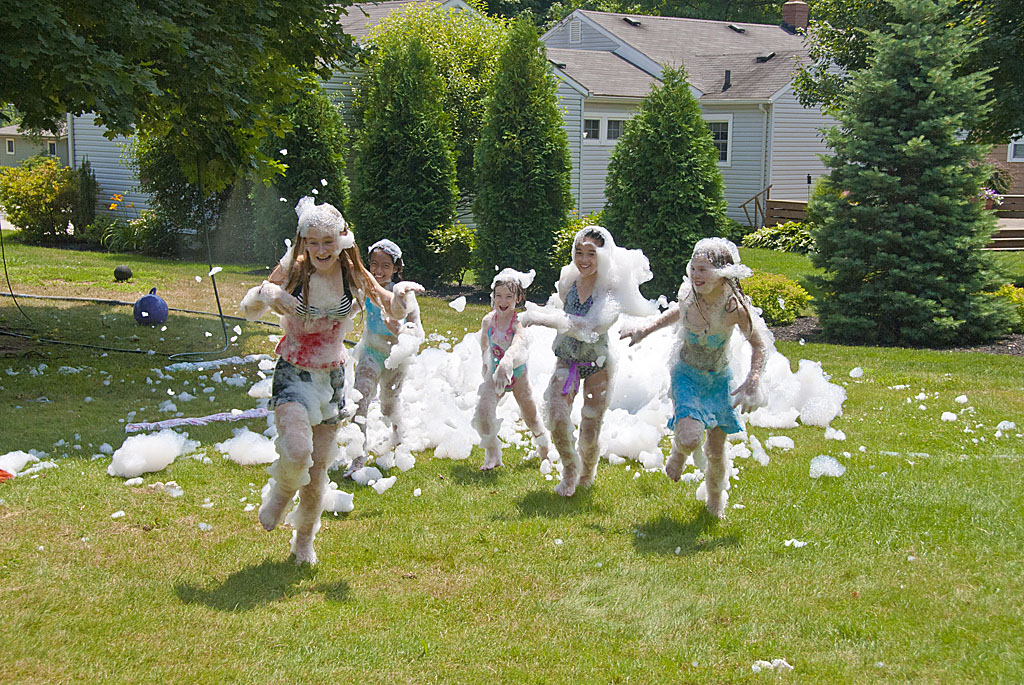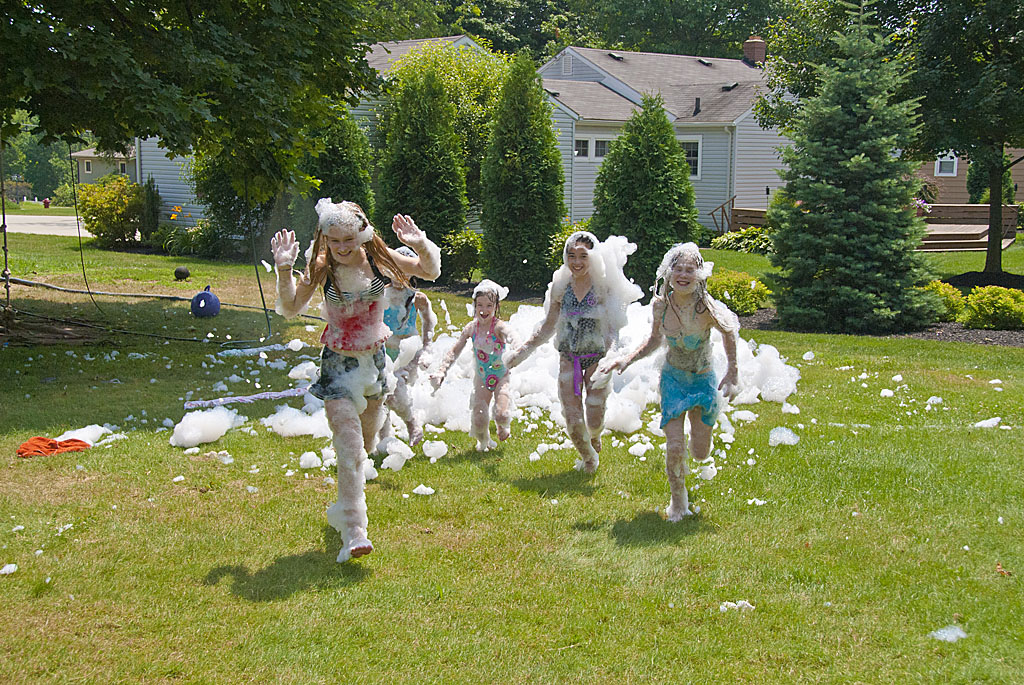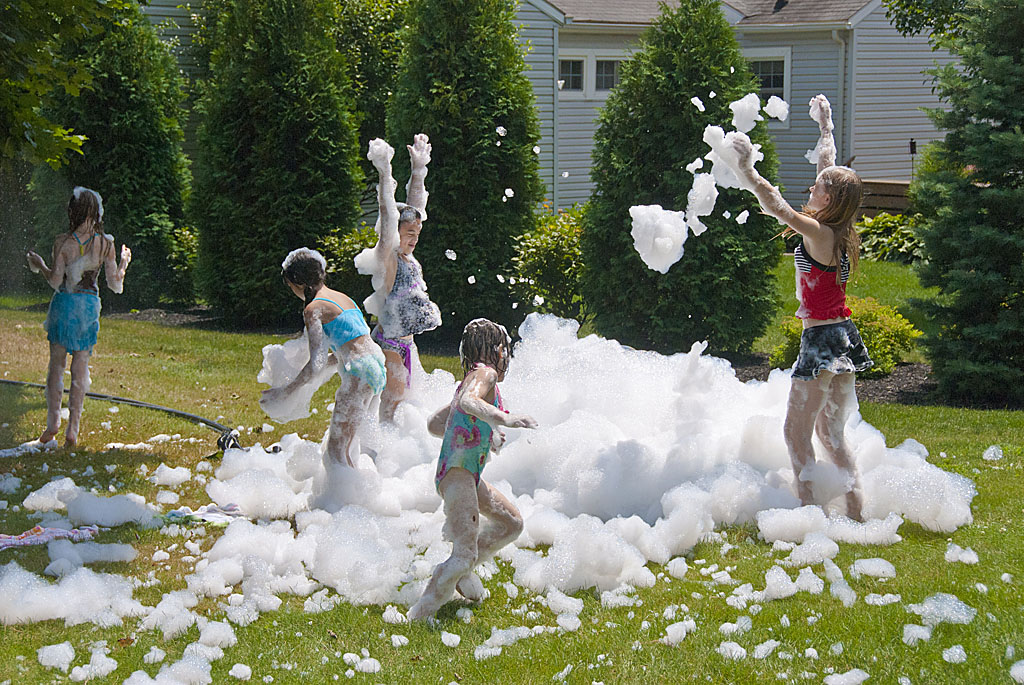 As a way to preserve family history, the girls have begun recording conversations and stories with Papa and Nana.
Episode One can be found on our Movie Page.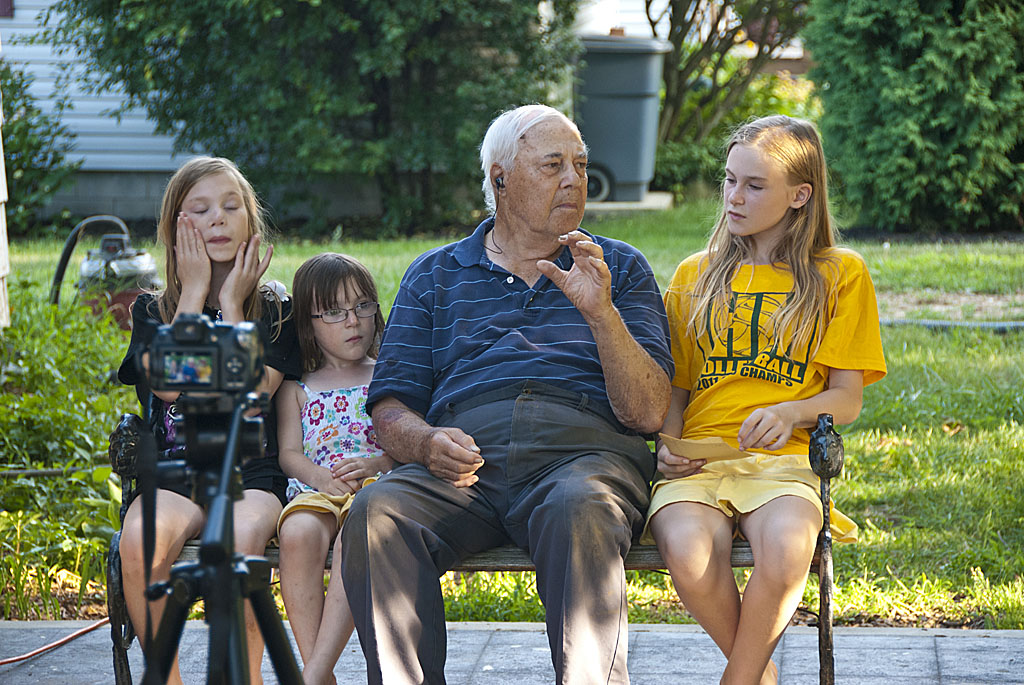 Amigarumi Crocheted Turtle & Hamster
by Joan
I have a tendency to try things just to see if I can do them. I have never crocheted before and really only knitted briefly on a loom knitter. Knowing one of my biggest faults is losing interest in really big projects, I decided that sweaters, socks and shawls were definitely out for me. I found these little crochet patters for animals and gave them a try. They are all pretty easy to do and don't take up much time and if the girls ever want to try crocheting, I, at least, will have a handle on the stitches. (my own touch was adding the hats because what animal doesn't look better properly "chapeaux-ed".)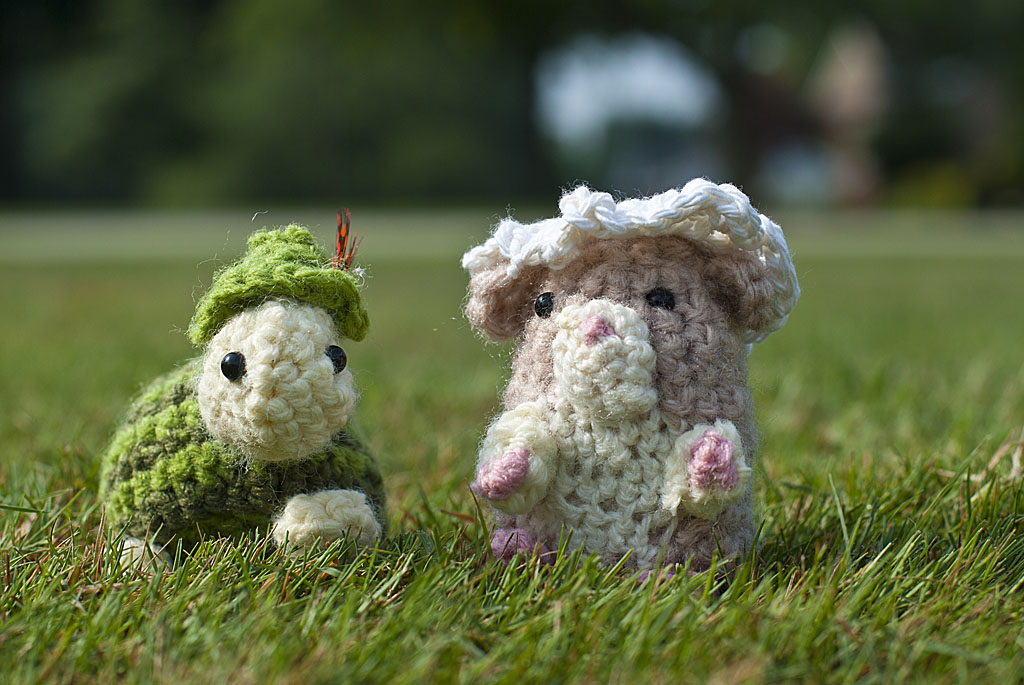 Witches, Communists and Registered Sex Offenders
You are panicking a little bit aren't you? You just read the phrase, "Registered Sex Offender", after all. That phrase strikes fear and shuts down reason in typical American brains. In the 1600's the word was "witch". If someone was accused of being a witch they often did not receive a fair trial and were burned at the stake because people's fears shut down their ability to use reason. Society murdered innocent people because of government enforced public fear. In the 1950's the word was "communist". McCarthyism had us worried that our neighbors were communists. Out of principle, some pleaded the First Amendment (free speech and assembly) others pleaded the Fifth Amendment (the right against self-incrimination). The constitution was ignored, panic prevailed and people were investigated, tried and convicted based on their opinions, not their actions. Clearly some people really were communist (unlike witches. But what threat were they really posing? McCarthyism is now best known for accusations in spite of a lack of evidence.
Today our nation panics over Registered Sex Offenders (RSO). While true pedophiles and rapist clearly should be behind bars our: conservative fanatics, lawmakers and judicial system have resulted in thousands of normal/harmless American youths and citizens being imprisoned and labeled as Registered Sex Offenders. Teenagers have been consenting to sexual acts for thousands of years. Now teenagers (ages depending on state) who consent to various sexual acts or take, share or receive images of themselves are treated just like the adult pedophile who lures small children into his "free candy van" and sexually assaults them. What are the most common age of Register Sex Offenders in the United States? Would you believe 14 and 15 year olds? Certainly some of these kids are a real danger because they target very young children. But a great many of them, thousands of them, are just typical consenting teenagers responding normally to their hormones. It certainly isn't smart for teens to send nude photos of themselves to their girlfriends or boyfriends, but do we really need policies that treat them like the producers of real kiddy porn? As Registered Sex Offenders, these children may not be able to attend any school, live at home, have children of their own, get a decent job... ever. Often the lifetime consequences and punishment for murder is less than that for consensual sex among teens. Why are our laws so incredibly black and white? Depending on the source, 10% to over 50% teens will have been involved in some activity that could have resulted in them becoming a Registered Sex Offender before they reach age 18. We are locking kids up for "assaulting themselves". Many politicians/lawmakers, prosecutors and judges have done more damage to today's youth than even the worst true pedophiles. The real monsters sometimes wear suits and ties and work for the US Government. Be careful about electing politicians who are "tough on crime". Often they are playing on your fears and criminalizing normality. For more I highly encourage you to read the blog post: There is a fury and and sadness inside that I cannot express.
Many adults are in jail, are RSO's, have been murdered by vigilantes or have had their own children taken away for: hugging, dad taking photos of mom nursing, streaking, public urination, having porn from downloading malware unbeknownst to them on their computers, etc. We should be outraged by such nonsense, but instead we breath a sigh of relief and pat prosecutors and judges on the back for locking up so many criminals. So many who work in our judicial system blindly and eagerly pursue and lock up good people who have technically broken insane and unjust laws. If there was a law against breathing they would lock everyone up, save the last cell for themselves and then flush the jailhouse keys. For more on how stupid are RSO laws are, please read: A partial listing of our material on teens, sex offending, and the infamous registries.
It's not reasonable to expect people to always treat each other justly, but when it comes to our own government we MUST demand it.