Annika Wins First Place in the Daisy Bake-Off
5-7-2011 ~ Blog #391
(David)
Annika won first place in the IHM Girl Scouts Daisies Bake-Off last night.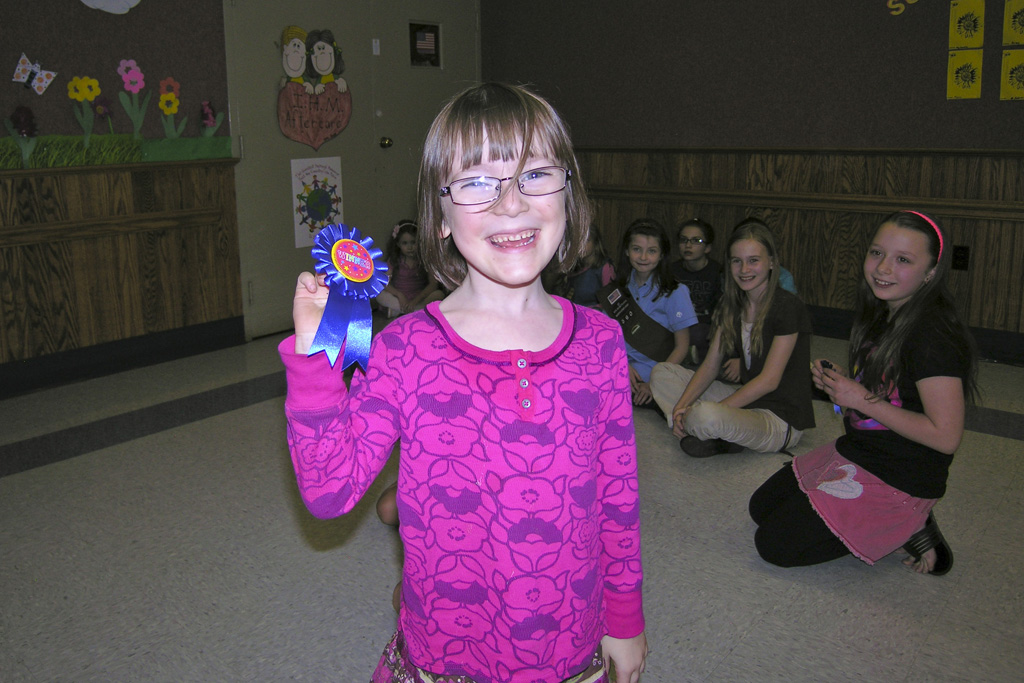 Brigitta's Team 2nd in Division Gold Tournament
On Thursday Brigitta's team played Saint Barnabas in the gold level of the championship tournament. They won the first game 21-14, lost the second 22-24 and lost the third game 15-5. They ended the regular season ranked number one in their division and second in the championship tournament out of 14 teams. This match began with player introductions; Brigitta hammed it up, of course. Trophies were awarded at the end of the match. Afterward the team celebrated and let loose at On Tap with food and dancing.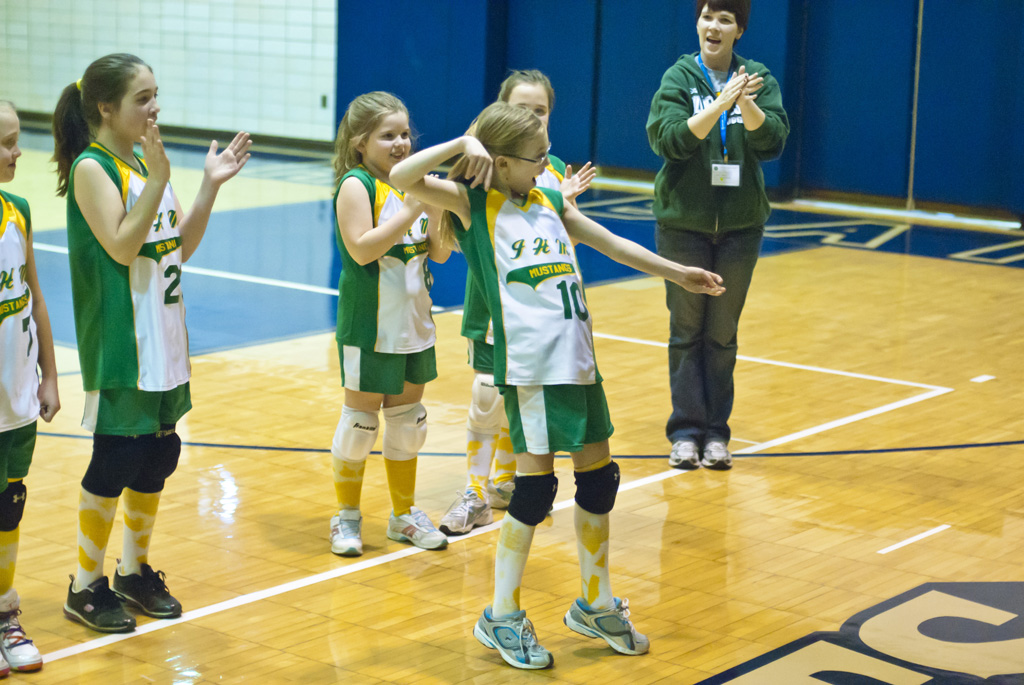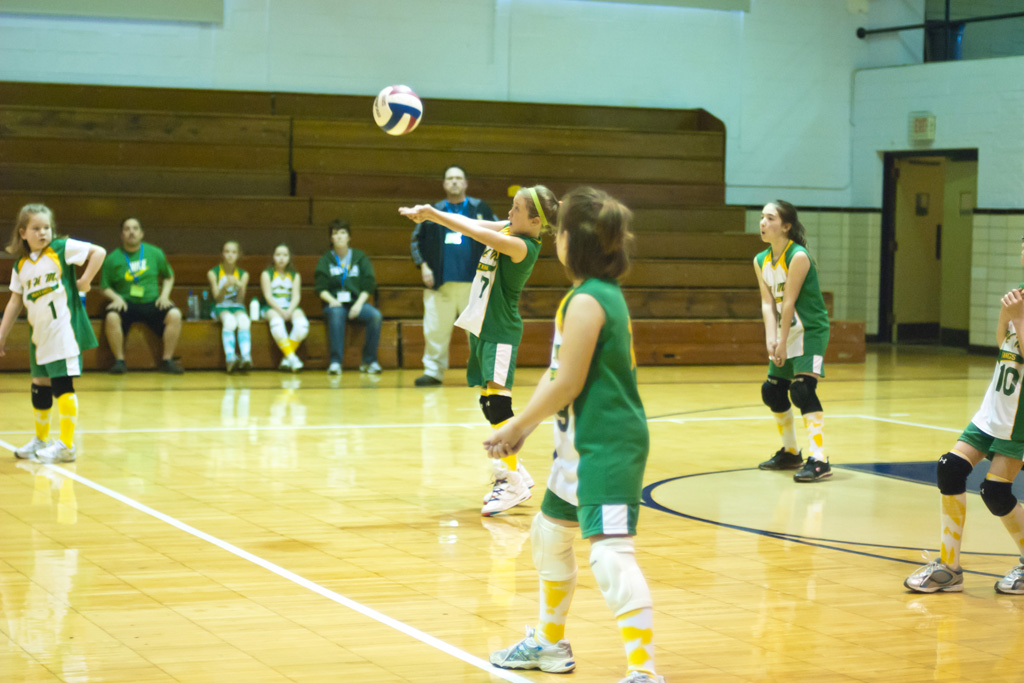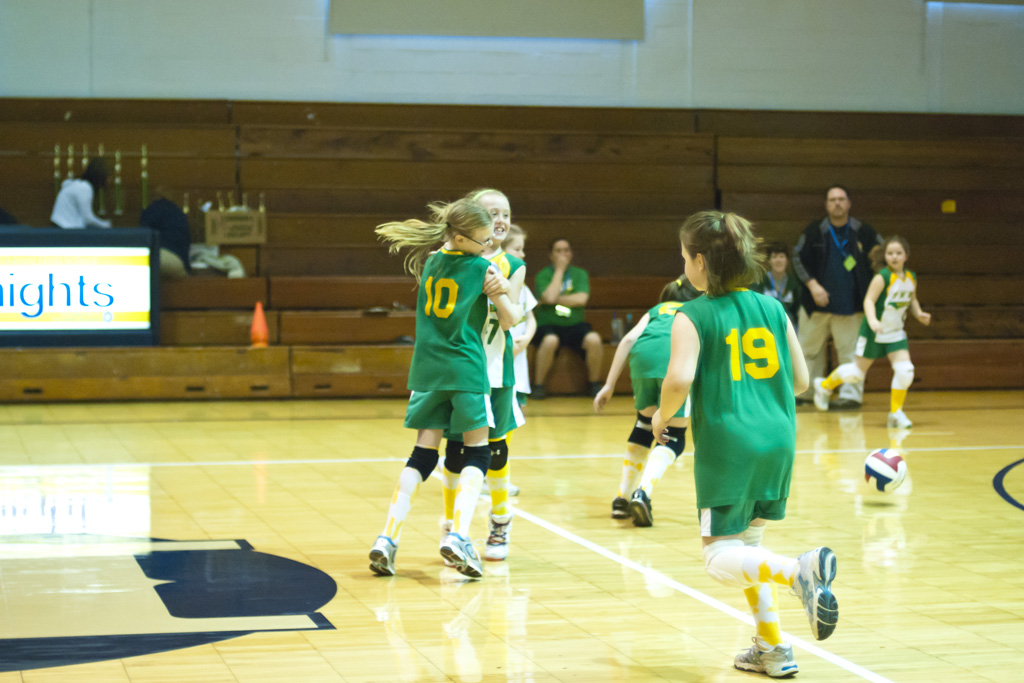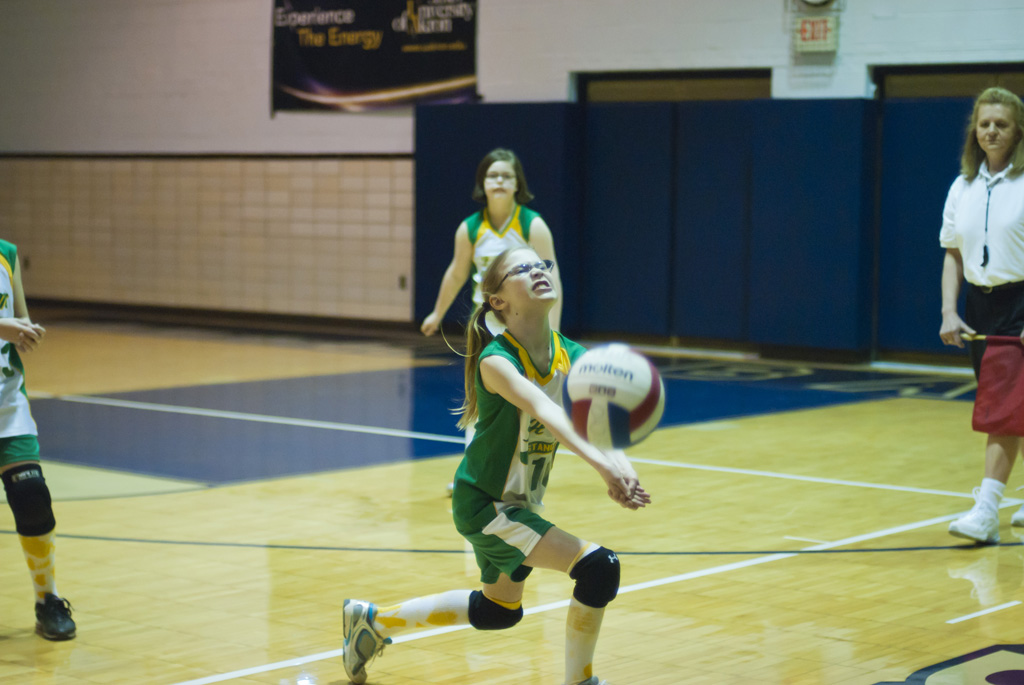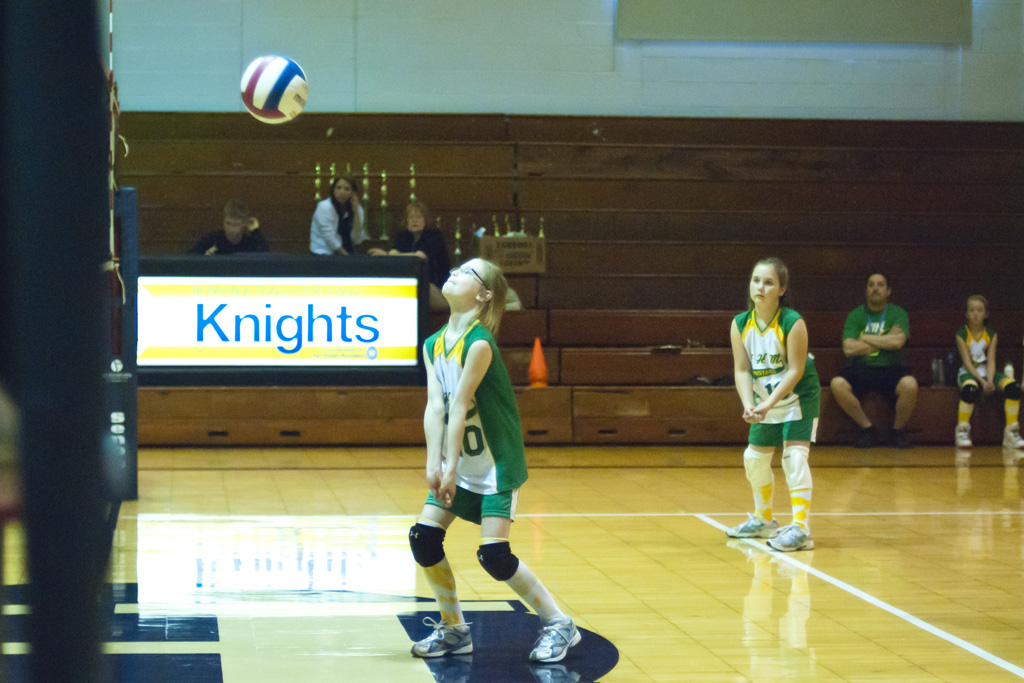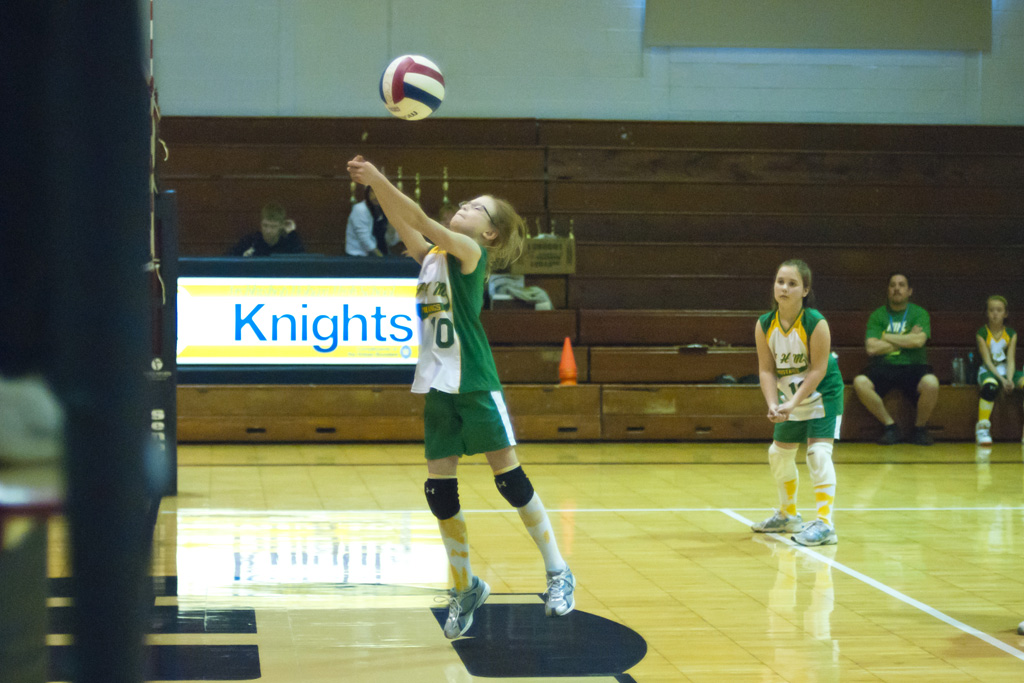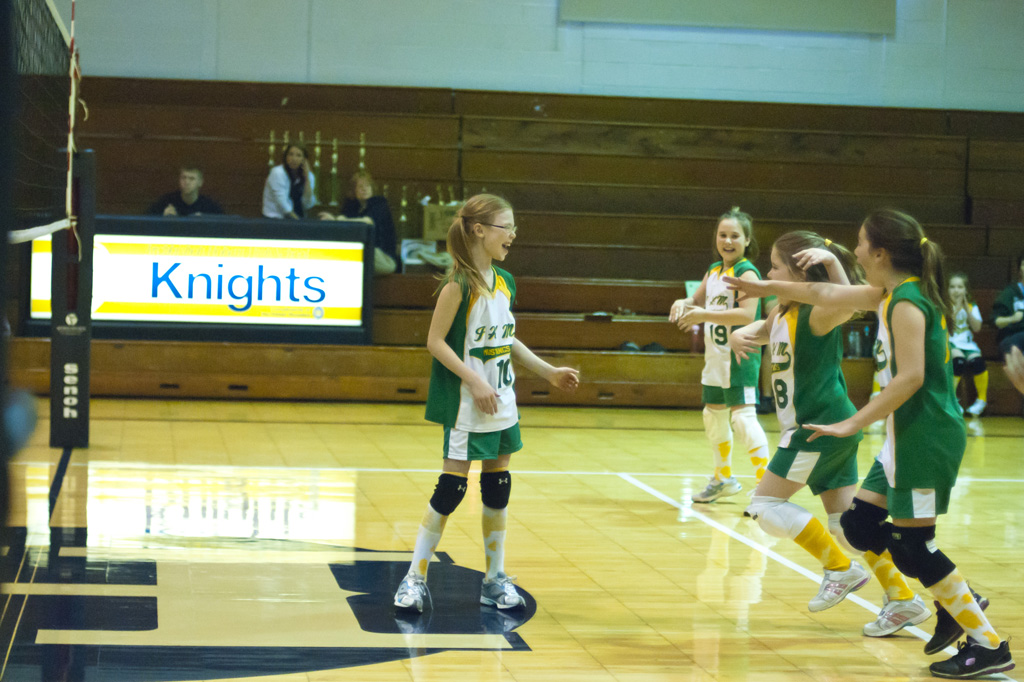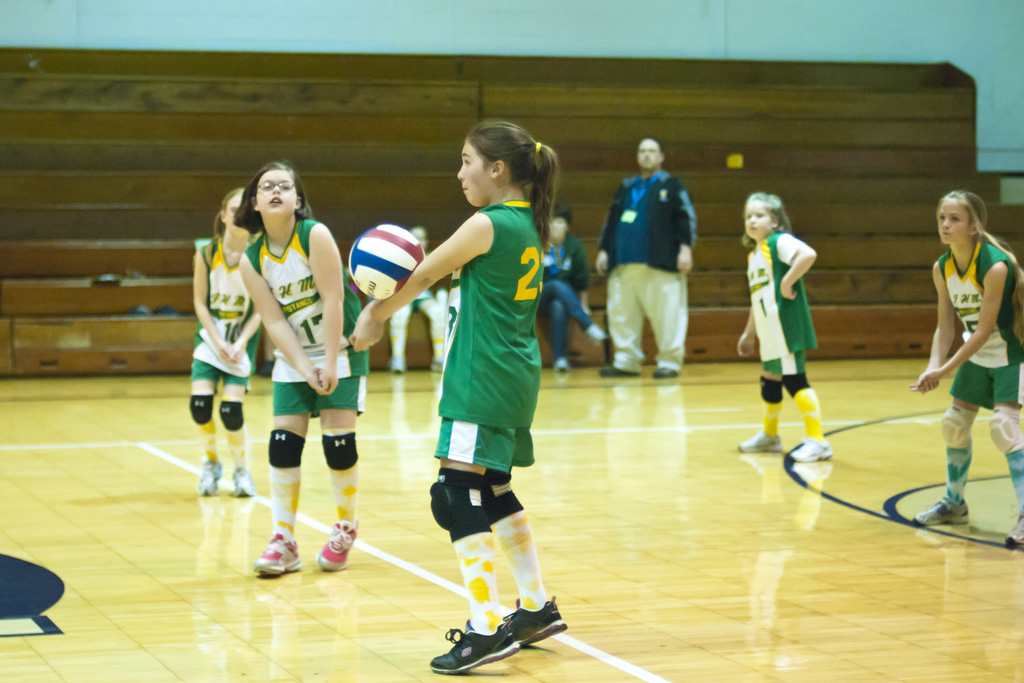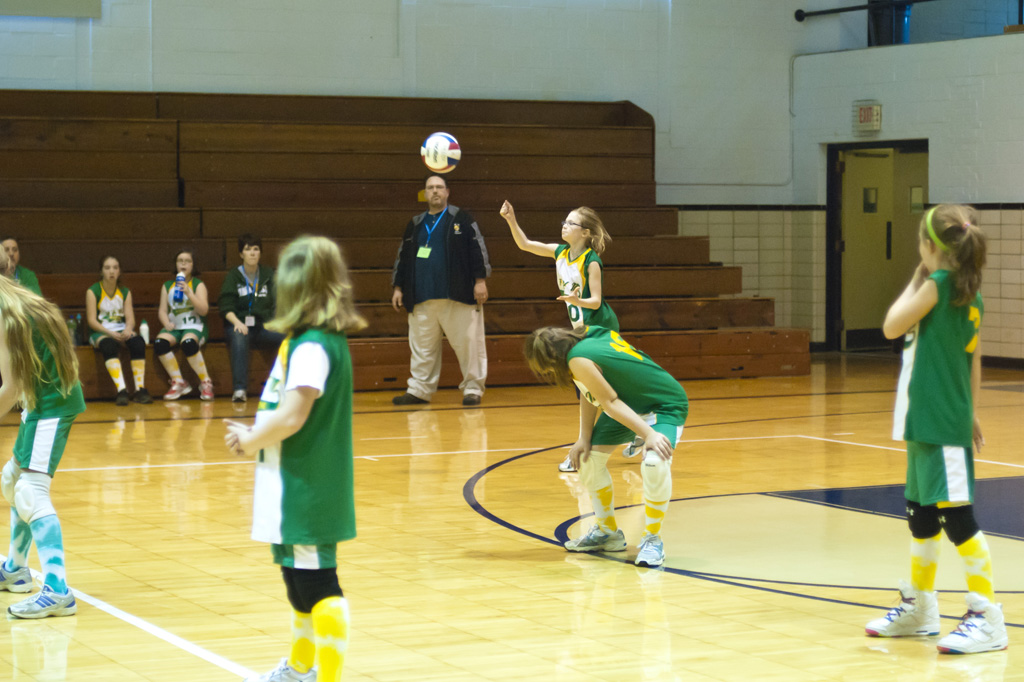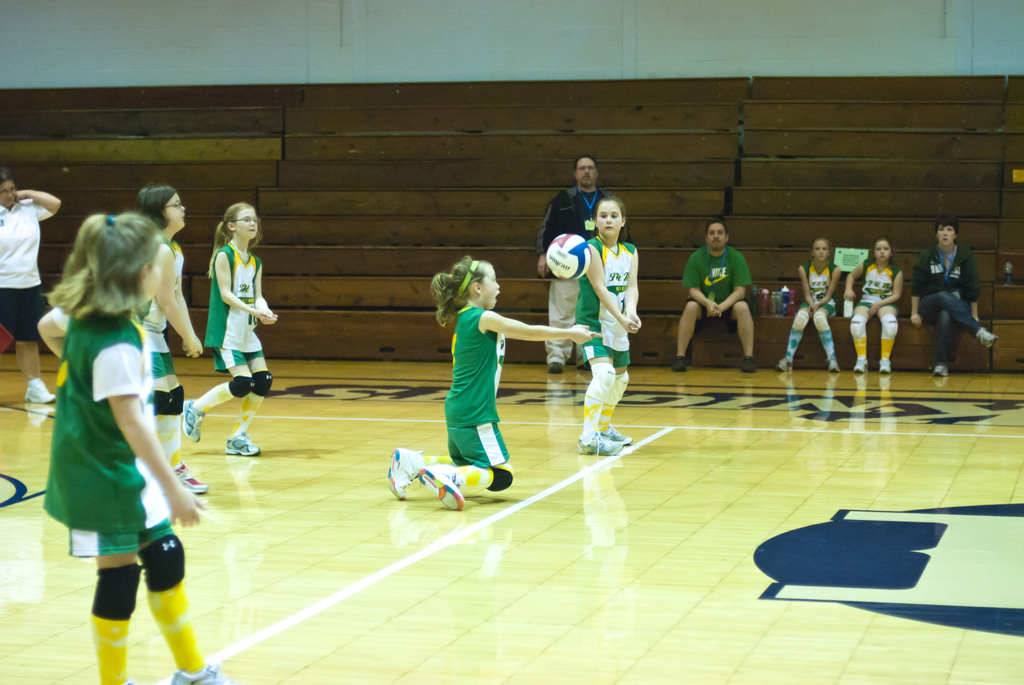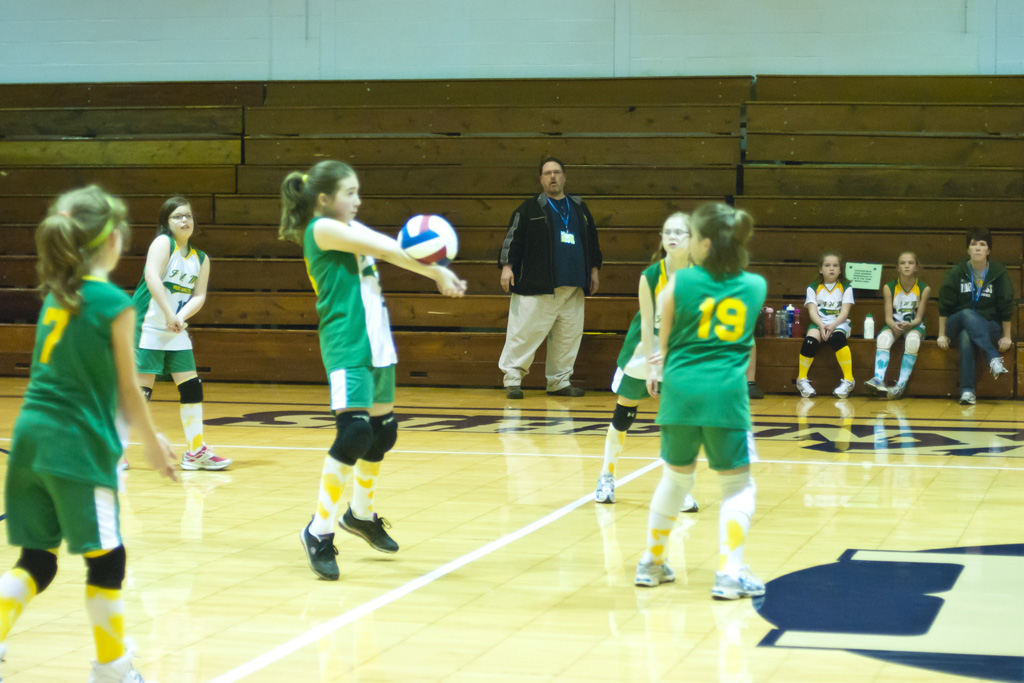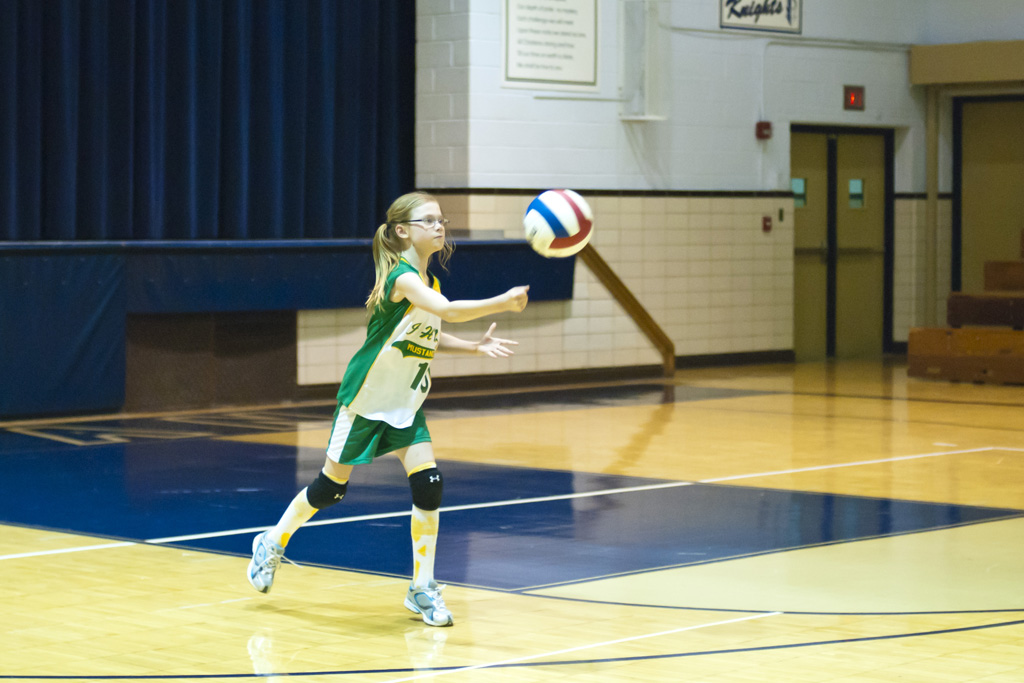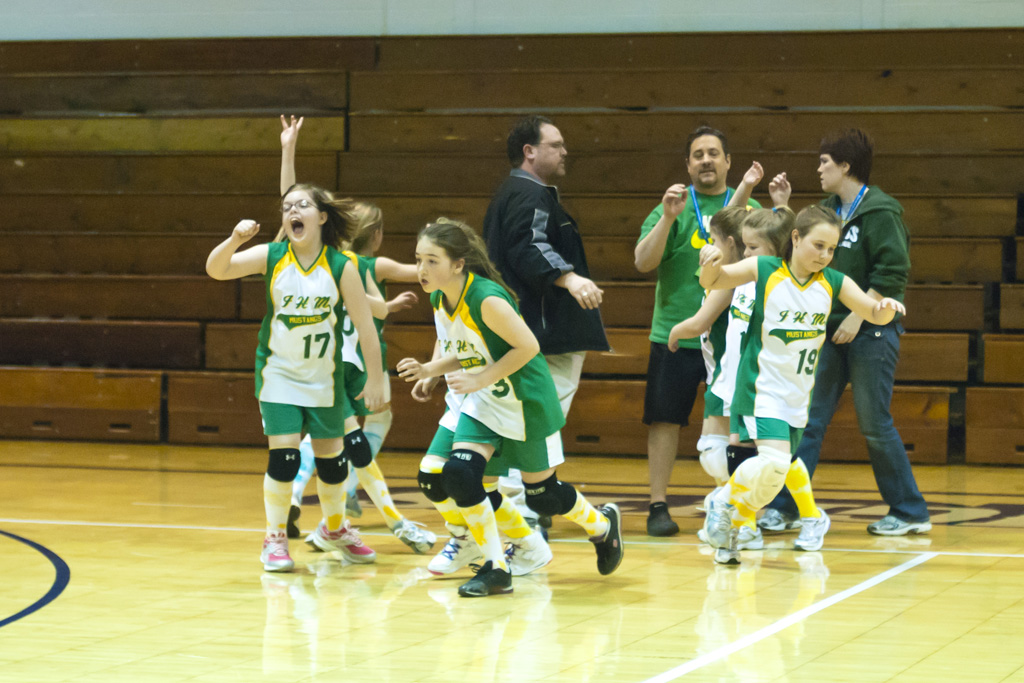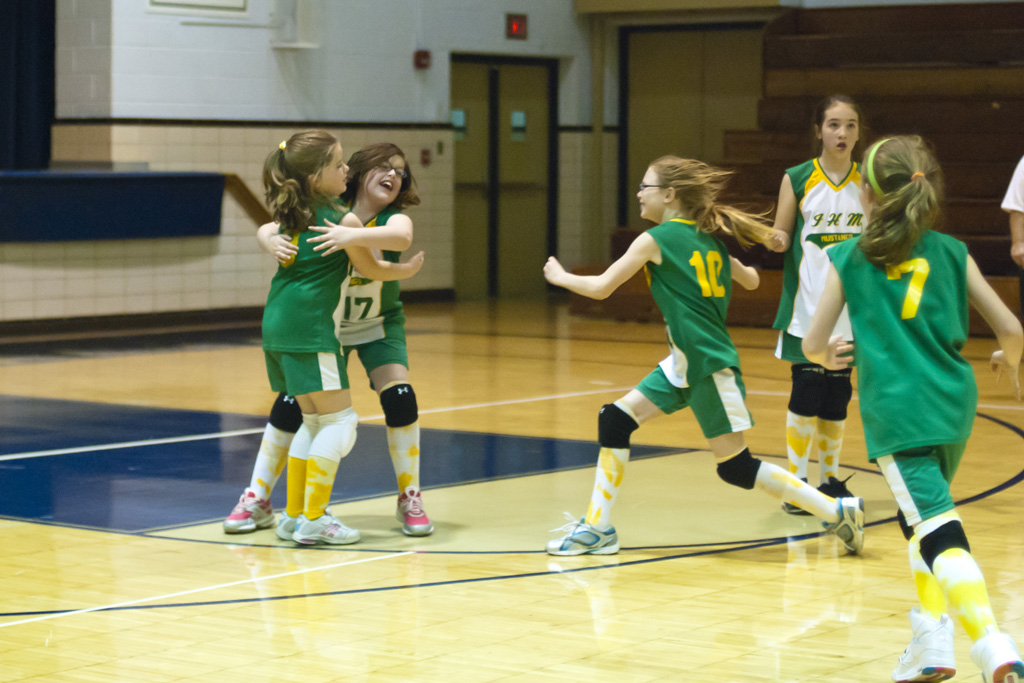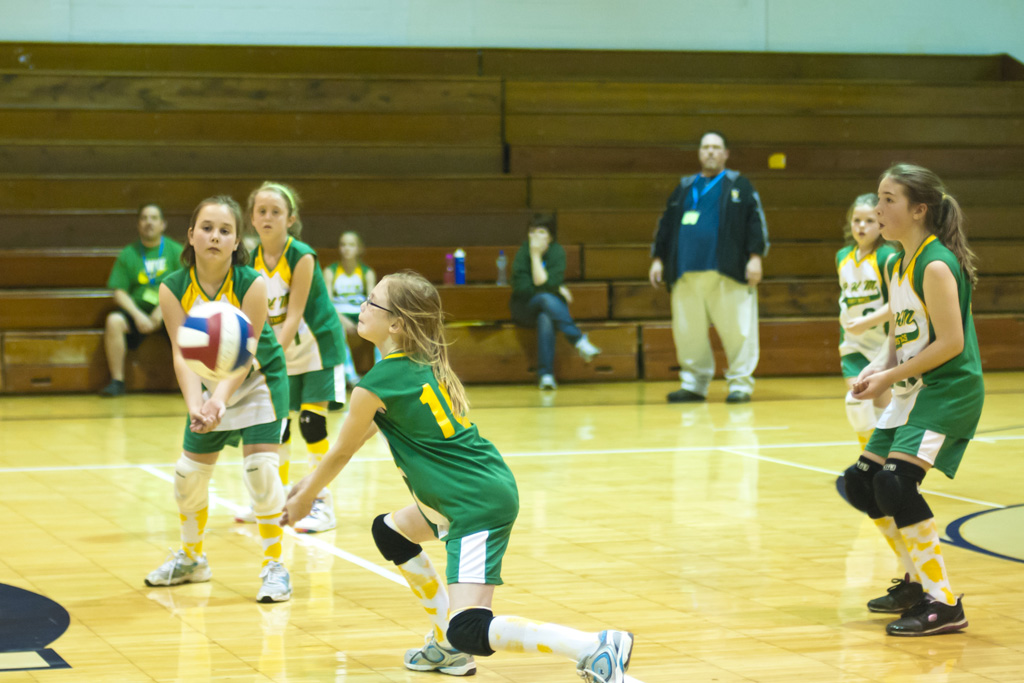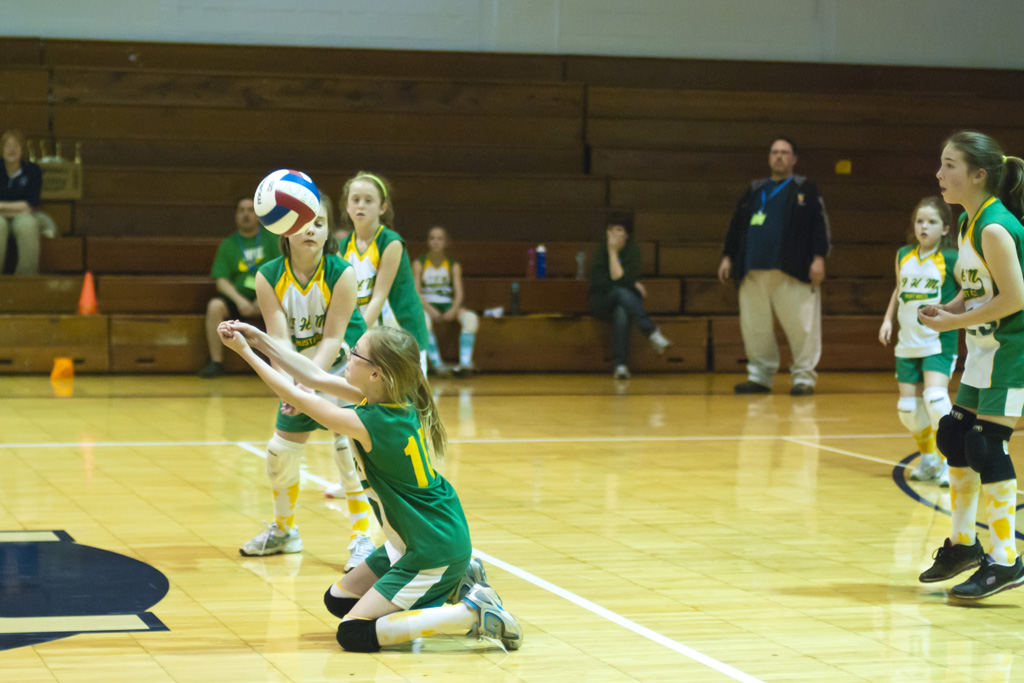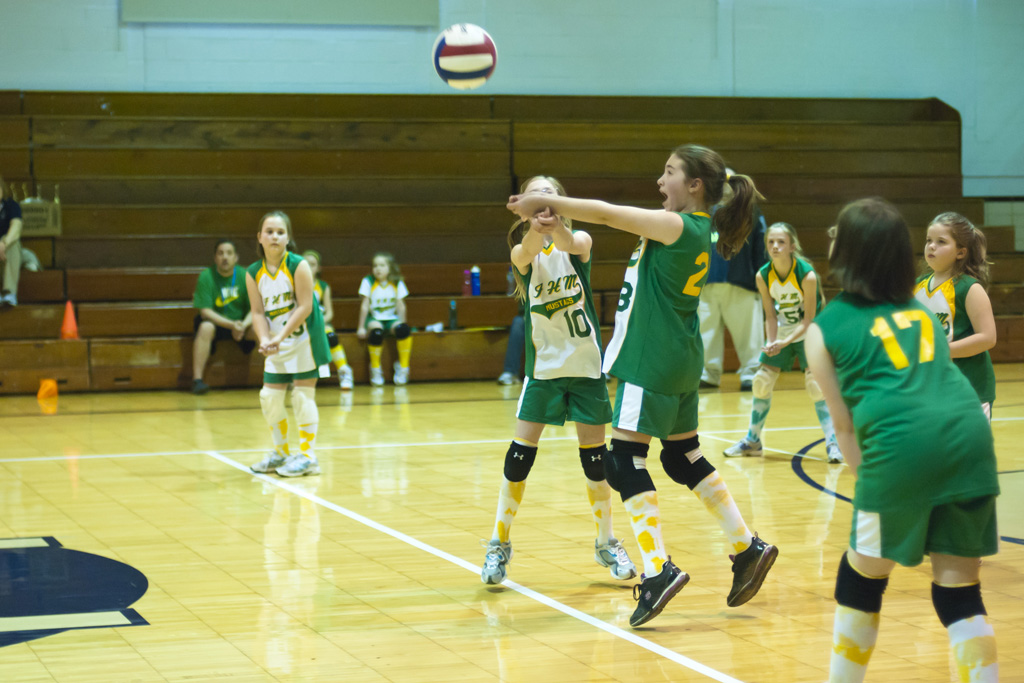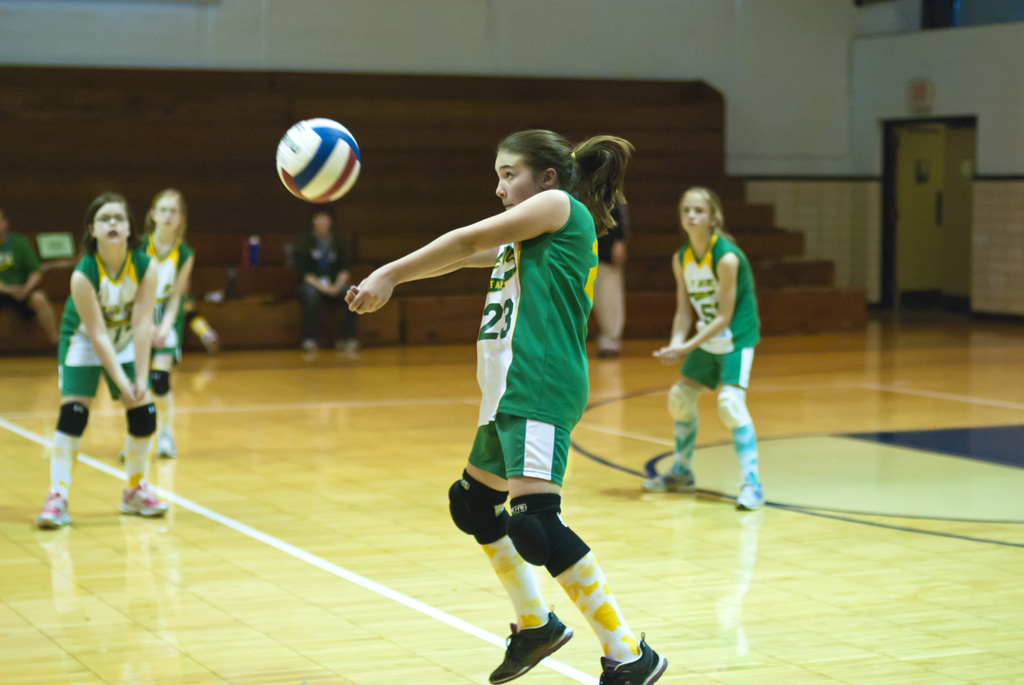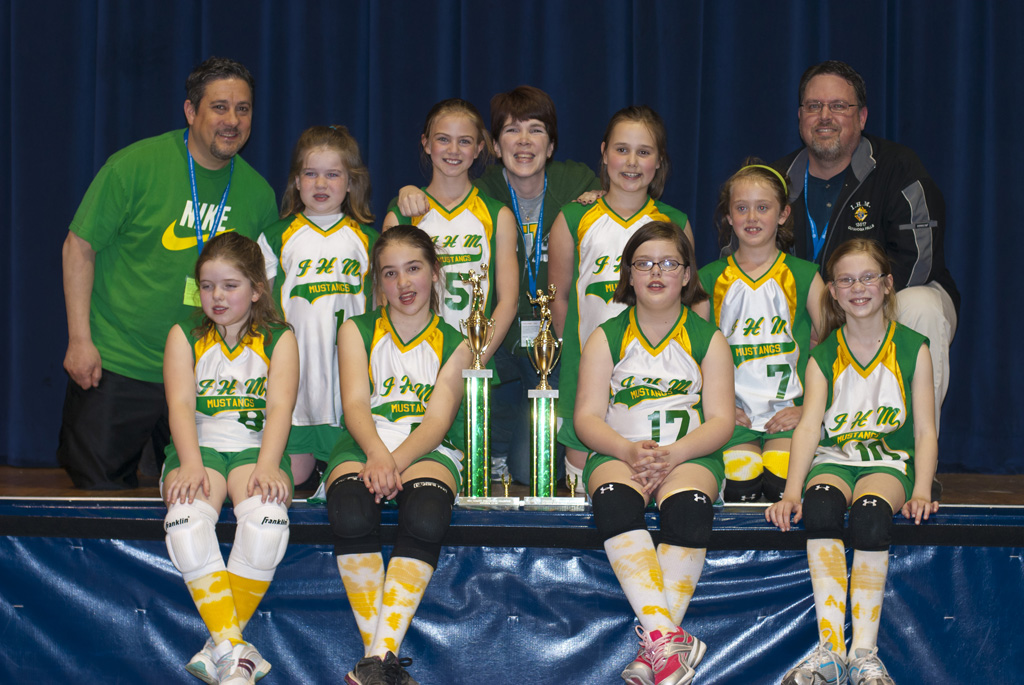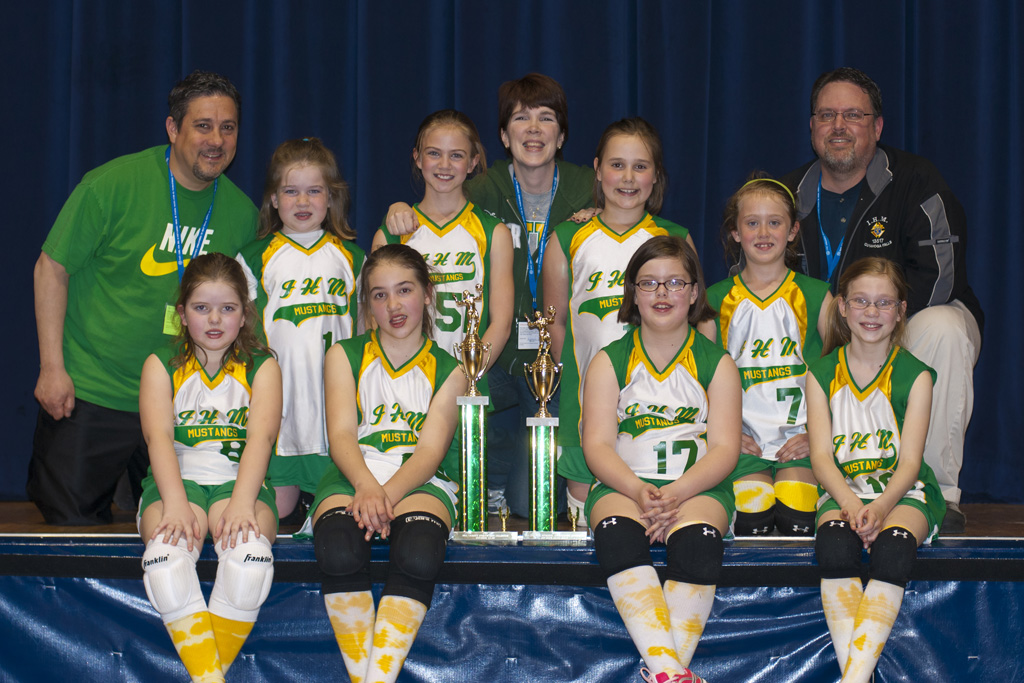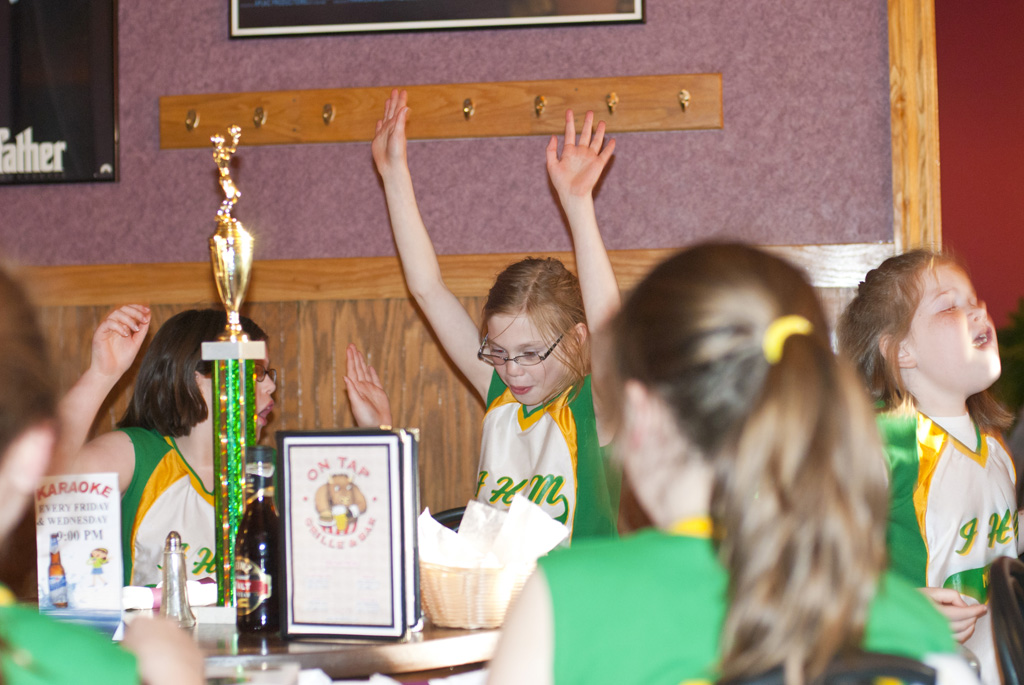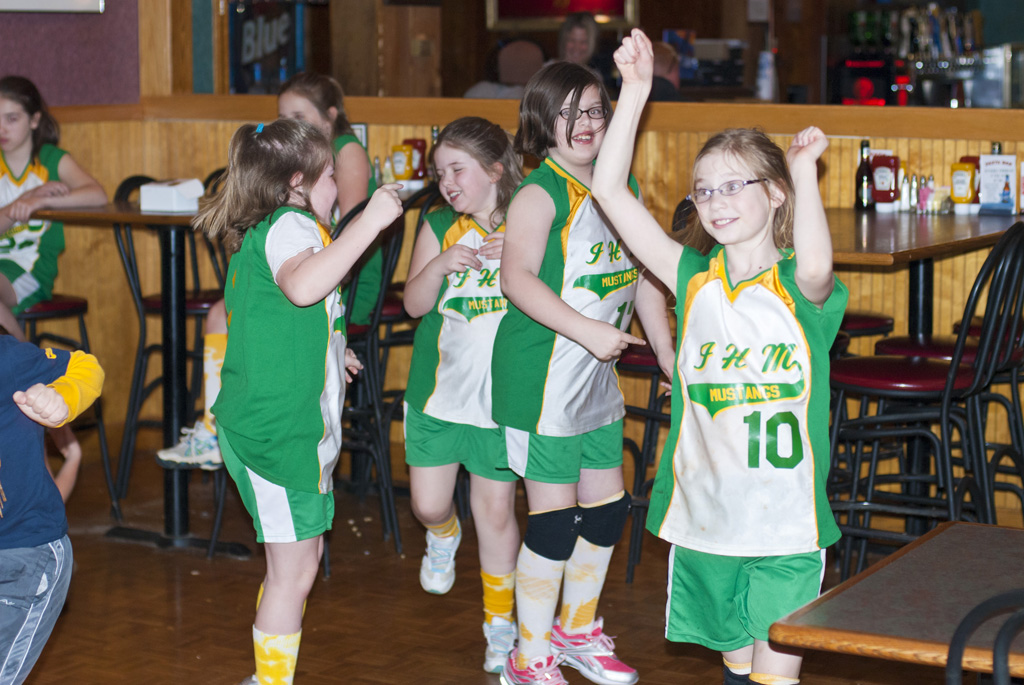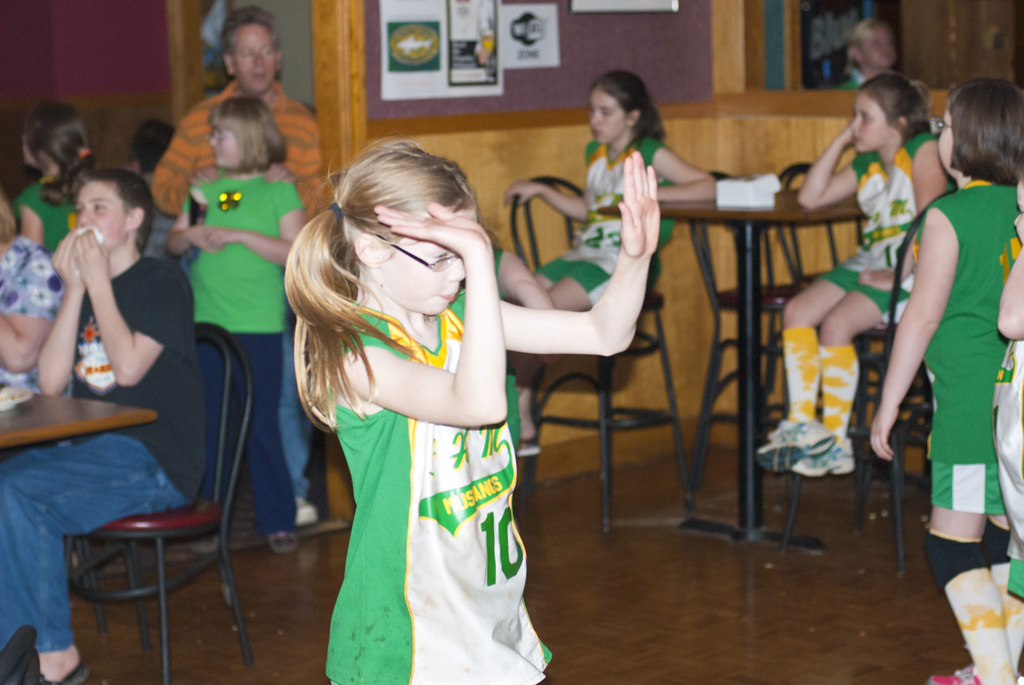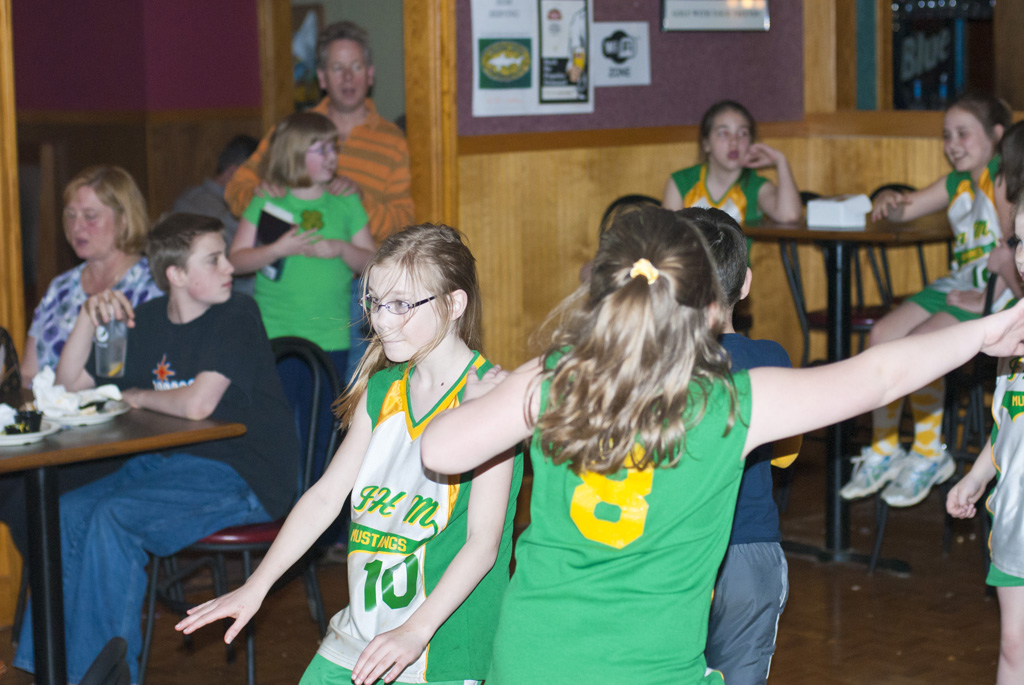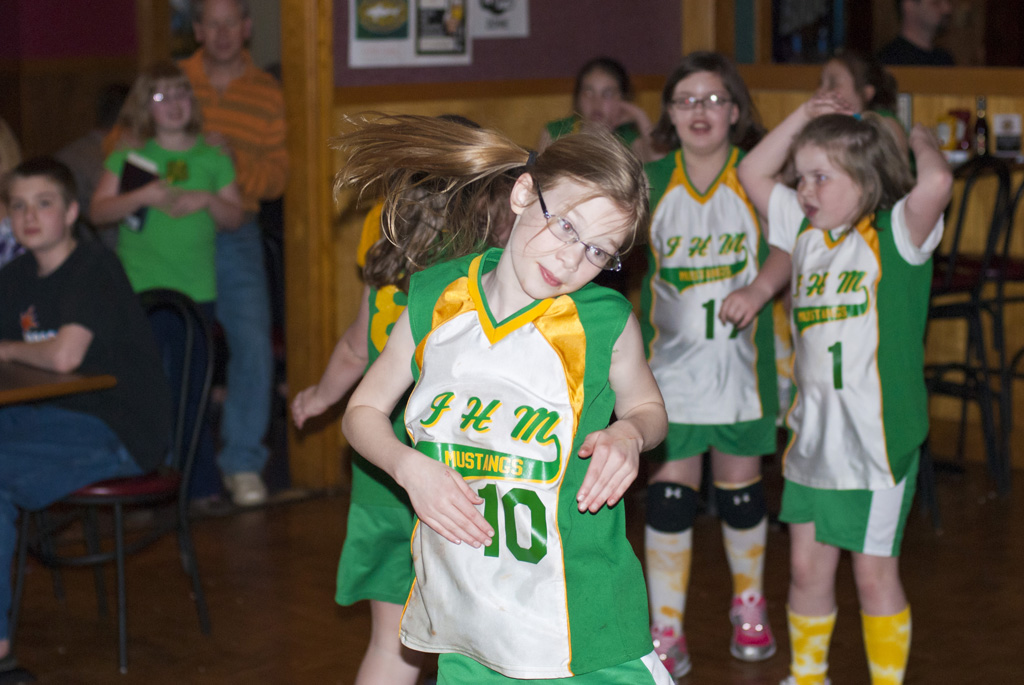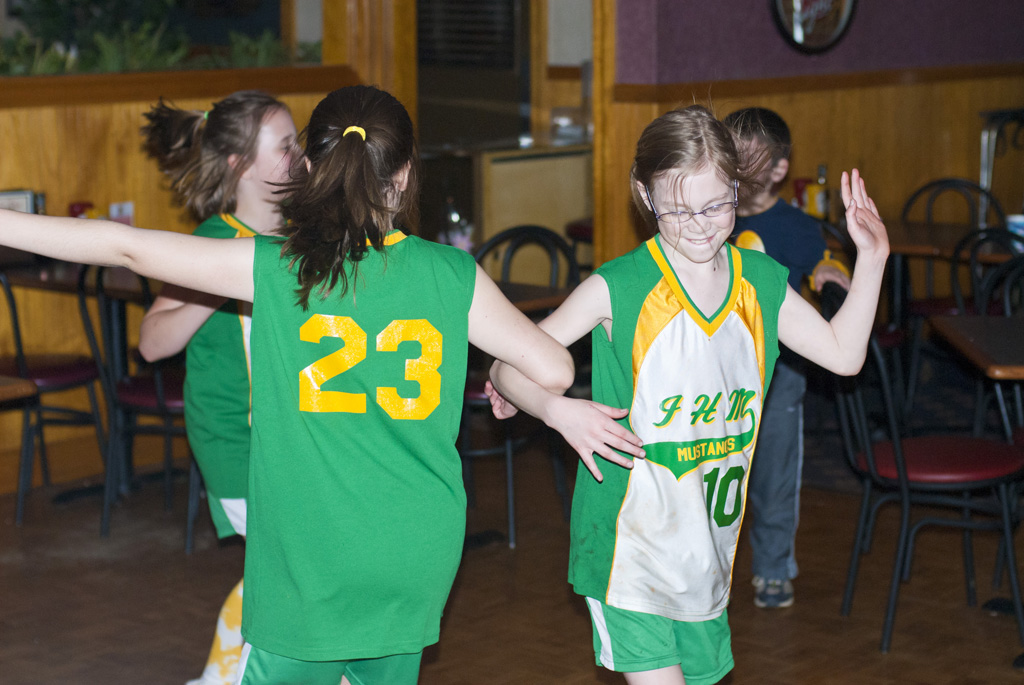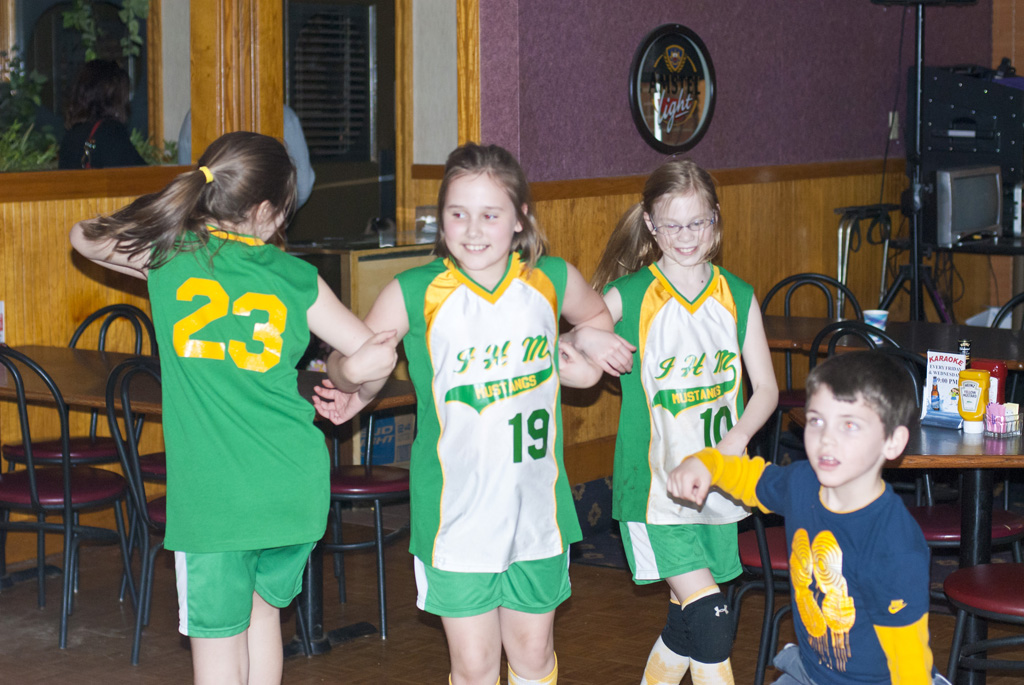 Svea's Team 1st in Division Silver Tournament
While Papa and I watched Brigitta's game on Thursday, Joan, Harriette and Annika watched Svea's team play Saint Patrick's in the silver level of the championship tournament. They won both games by a comfortable margin. Svea served the first serve of the night and the final three serves of the last game. They ended the regular season ranked fairly low in their division but finished first in the silver round championship tournament. I believe their overall tournament rank was 16th out of 26 teams. Afterward the team celebrated at Yoconos.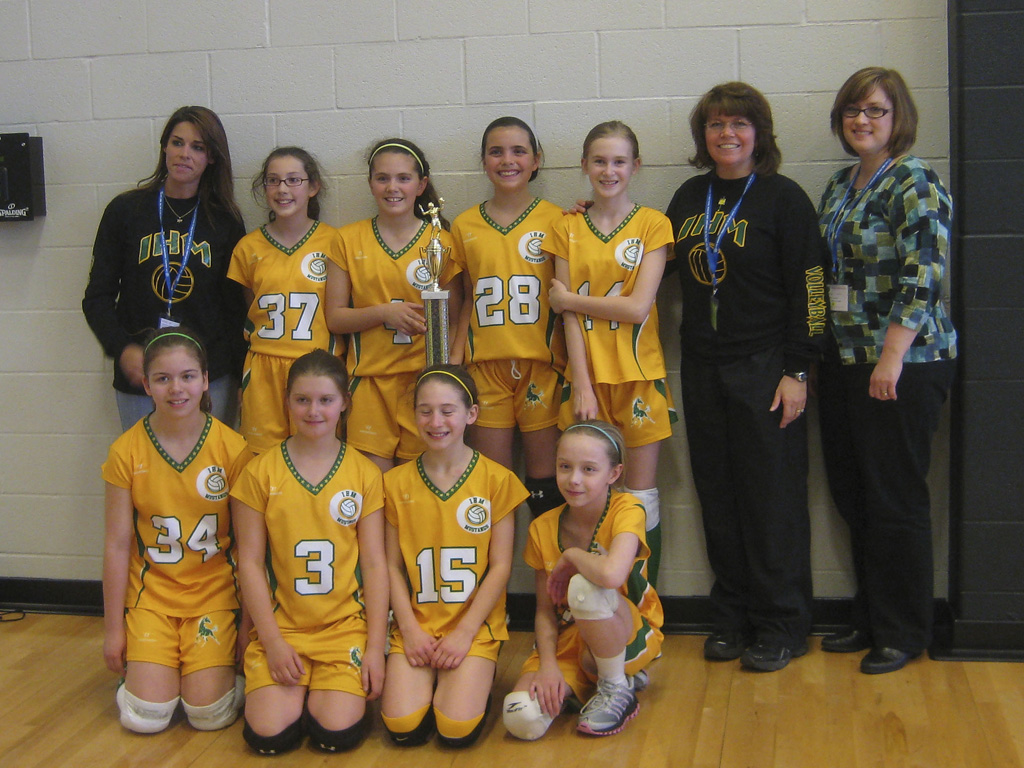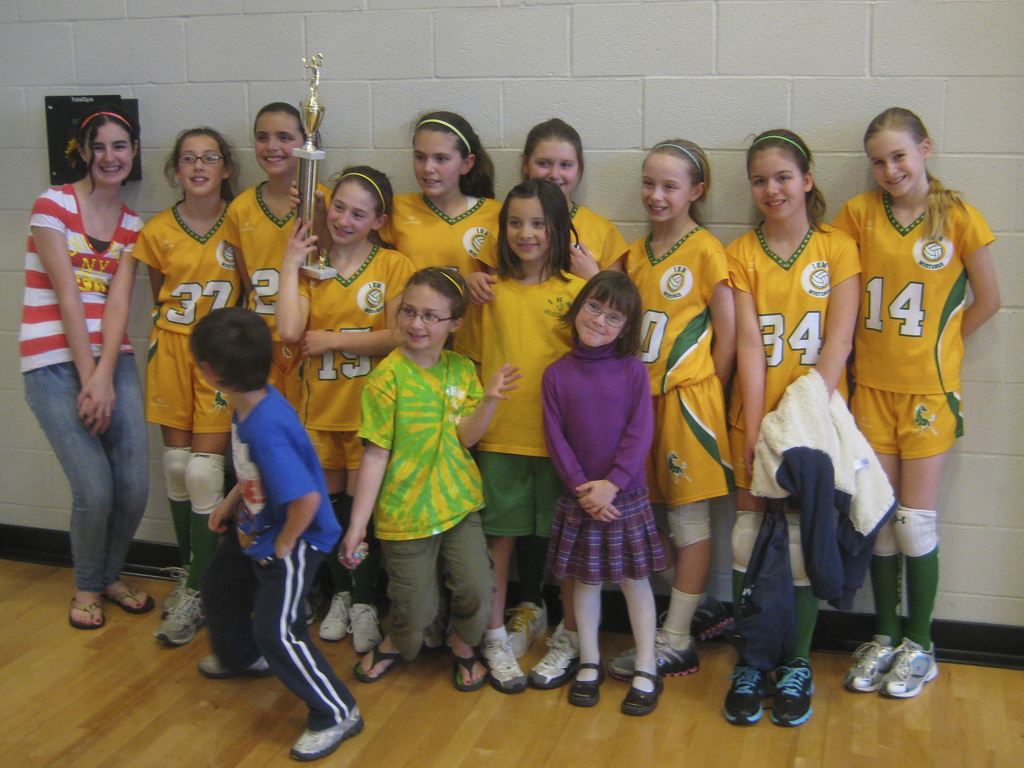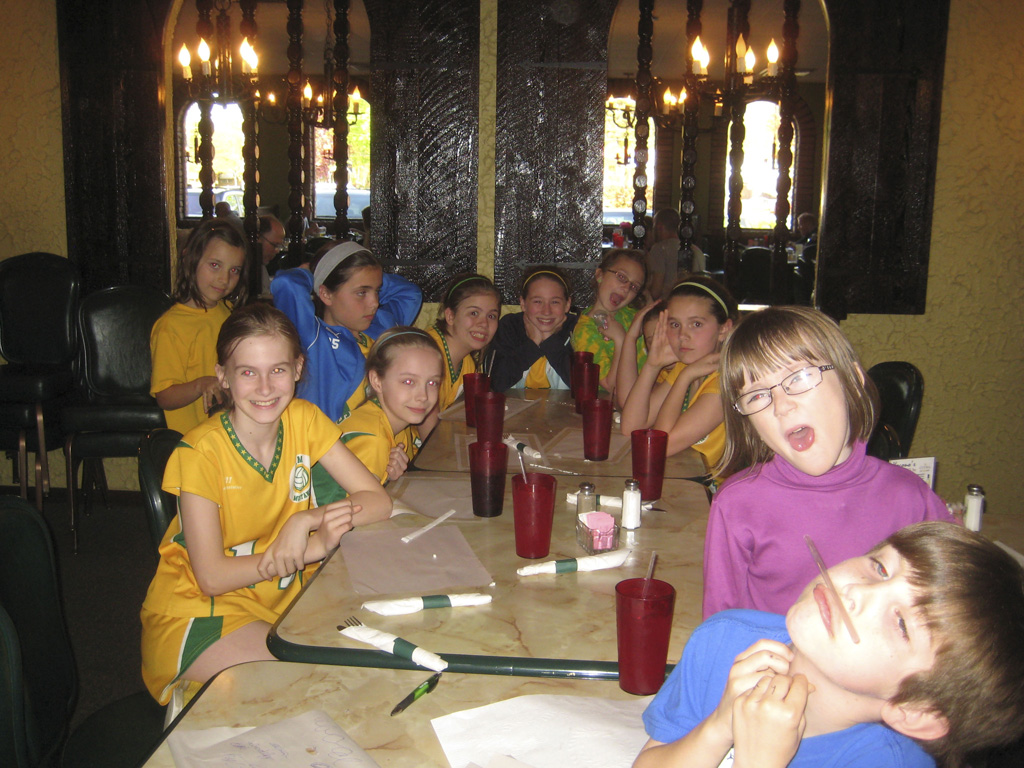 Svea's Team Wins Semifinal Game
Svea's team played St. Anthony in the first round of the silver level of the championship tournament last Tuesday. They won both games by huge margins. The game was at the Elms, which has by far the most light of any gym the girls have played at. I've been using my new 50mm f1.4 almost all season, but the light in this gym made it possible to use my 18-200 VR zoom. As nice as a huge zoom rand with vibration reduction, shooting sports indoors at f5 and up just doesn't work that well.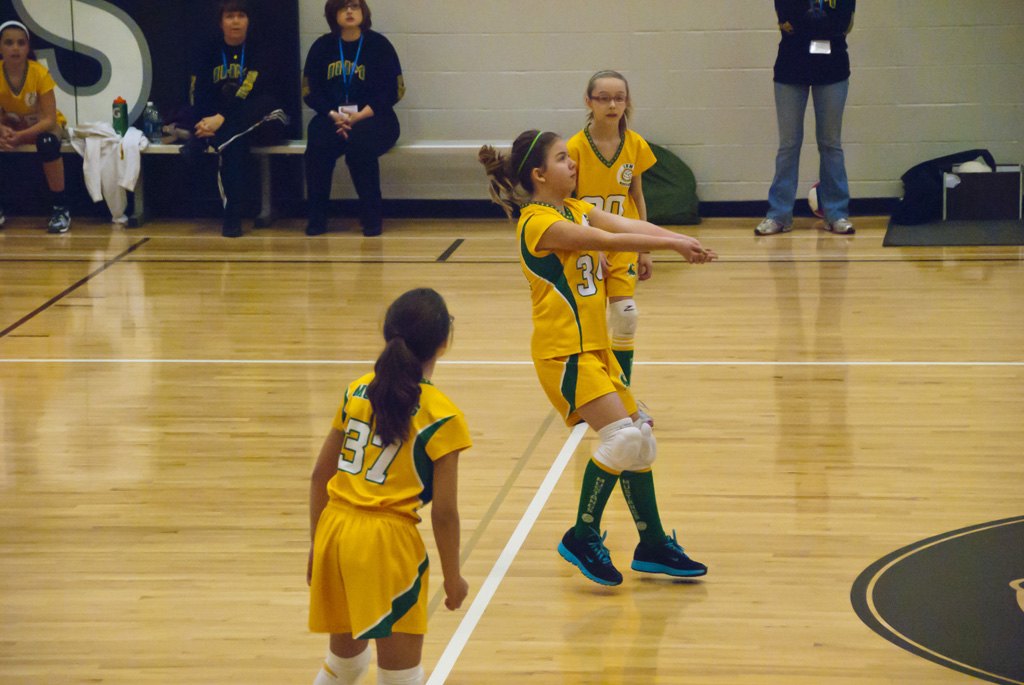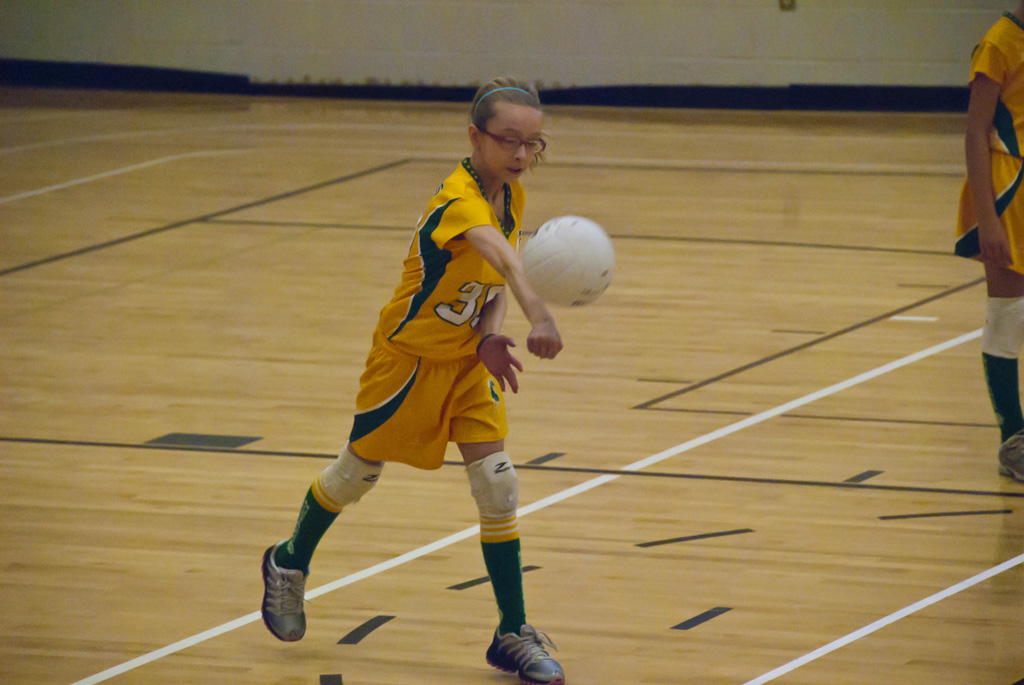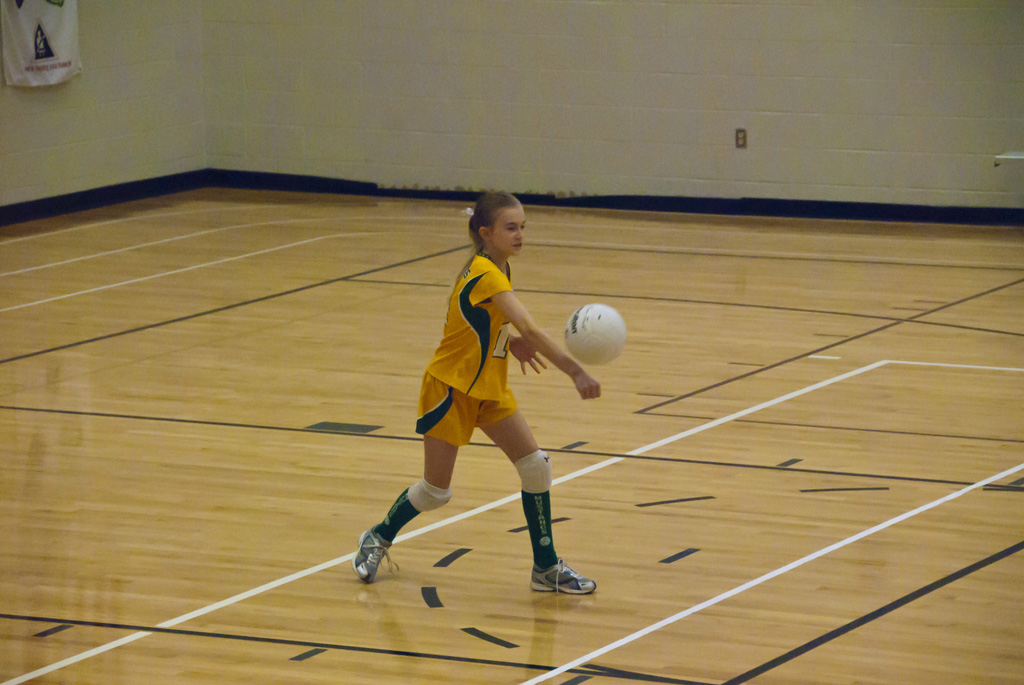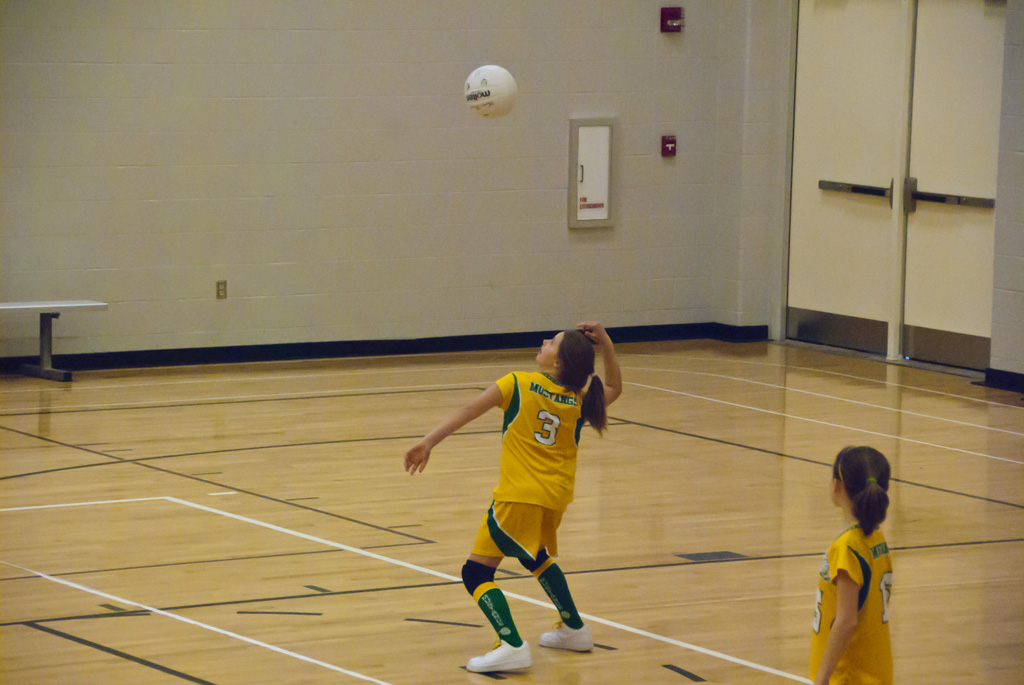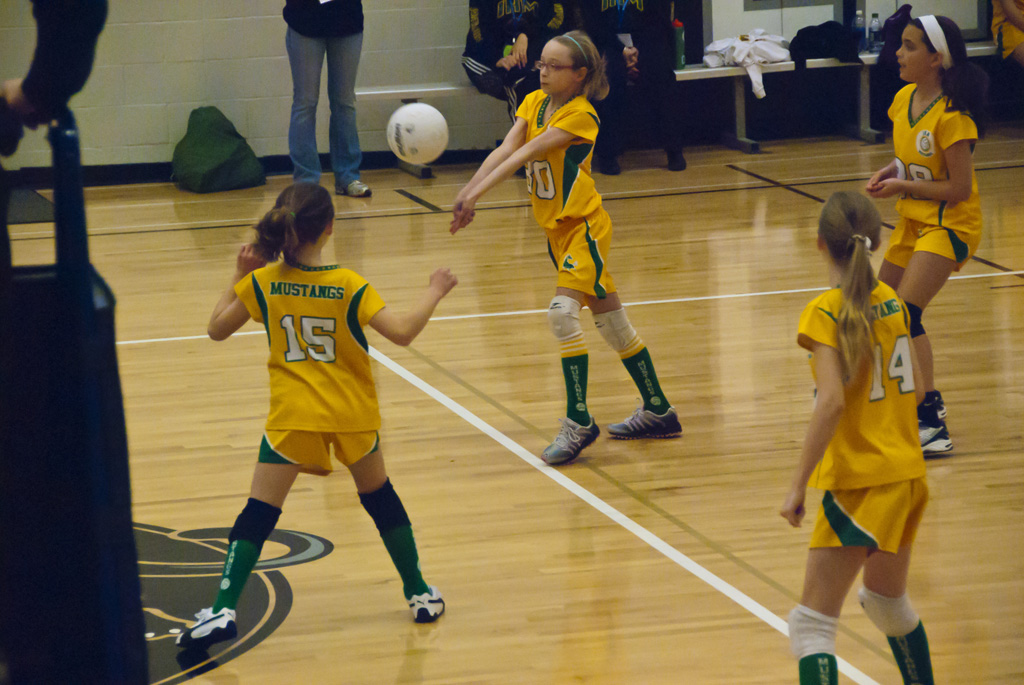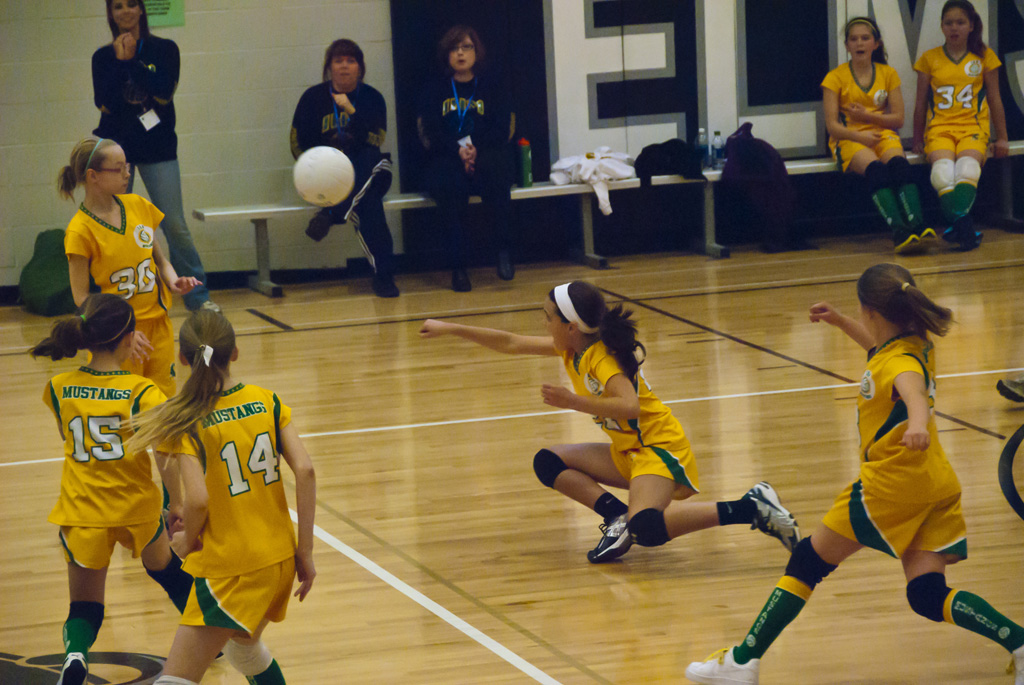 She actually made this one.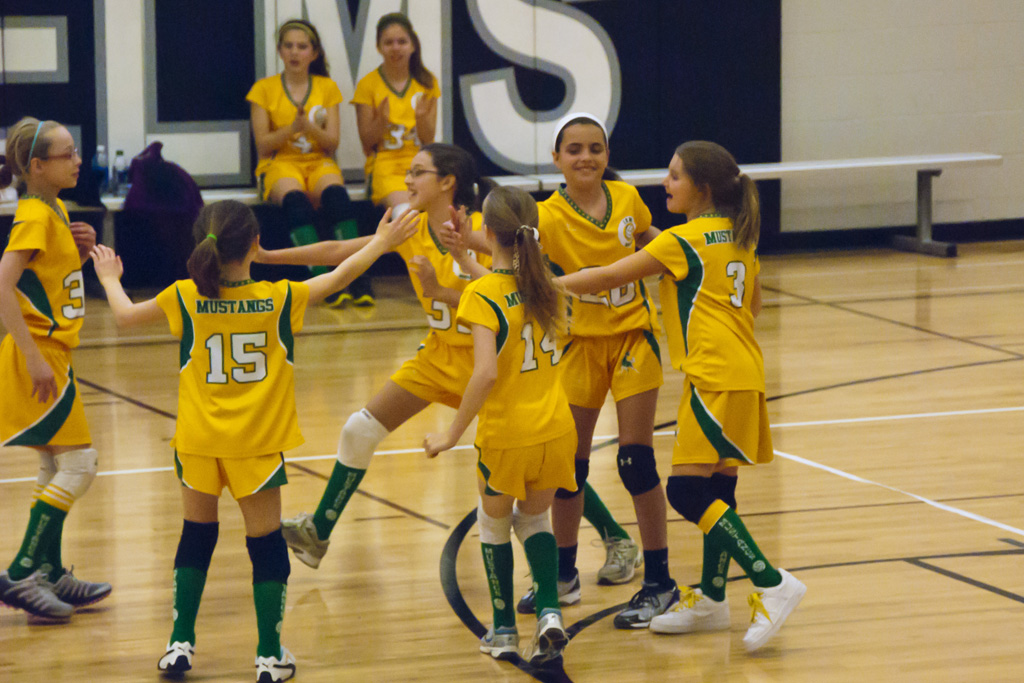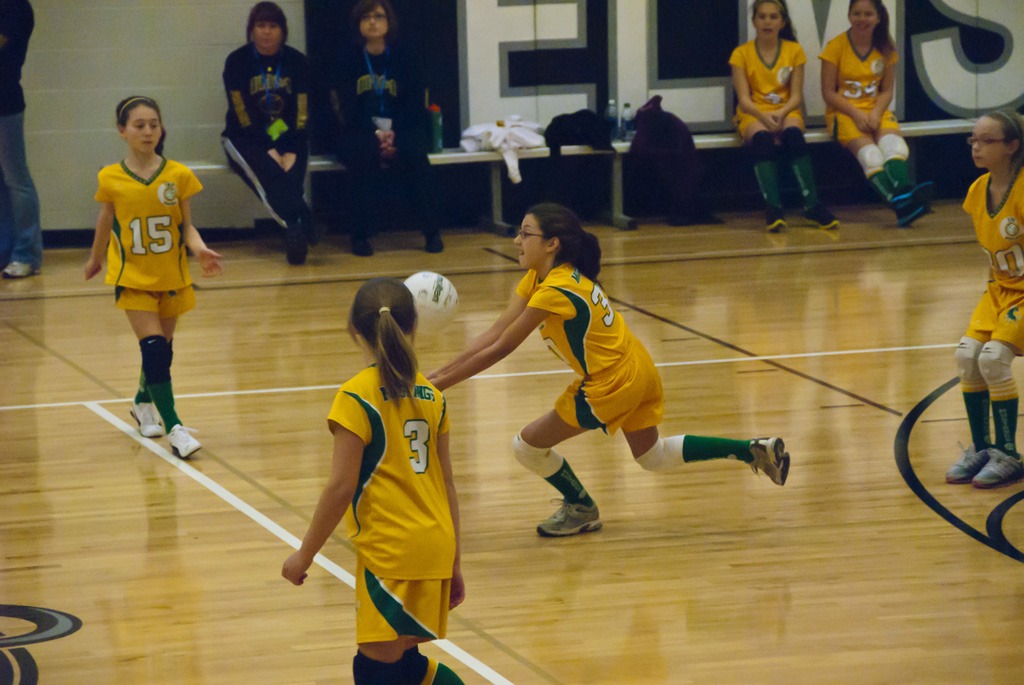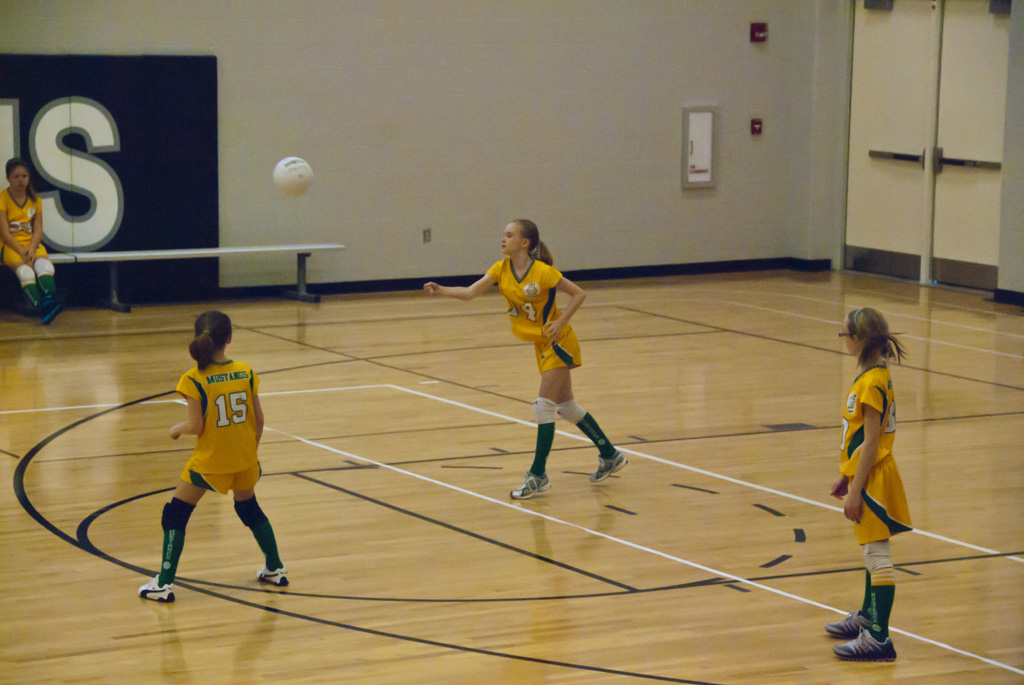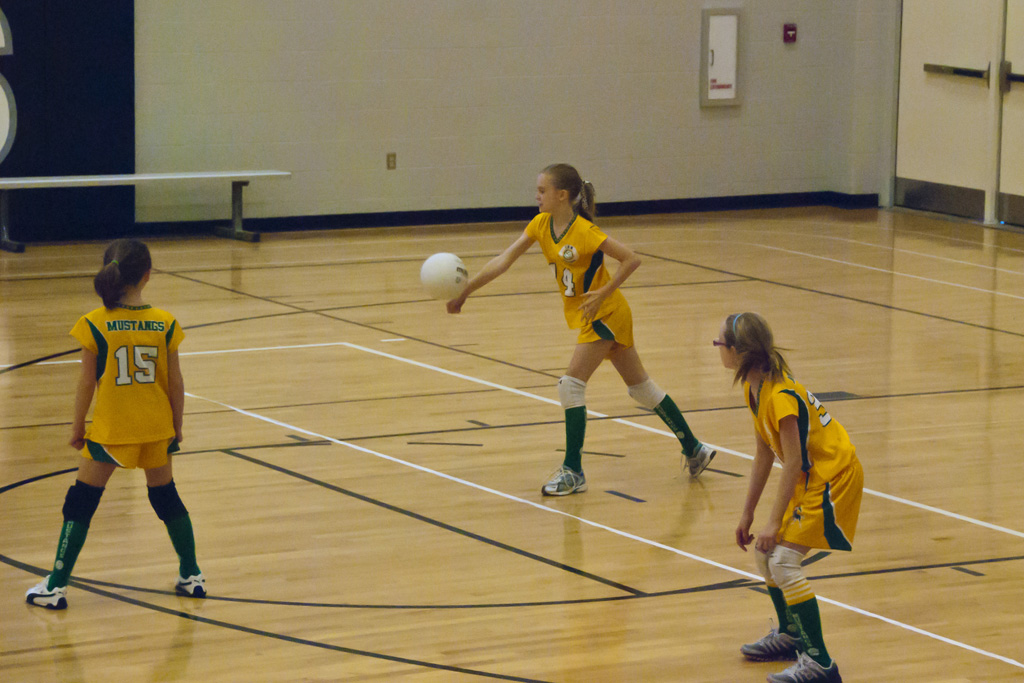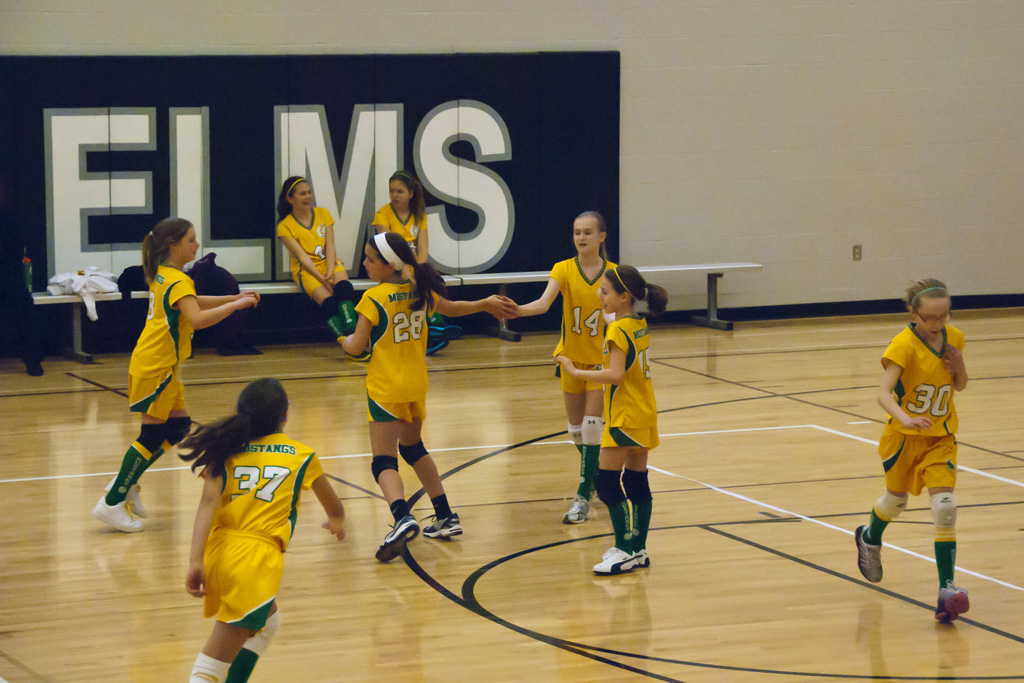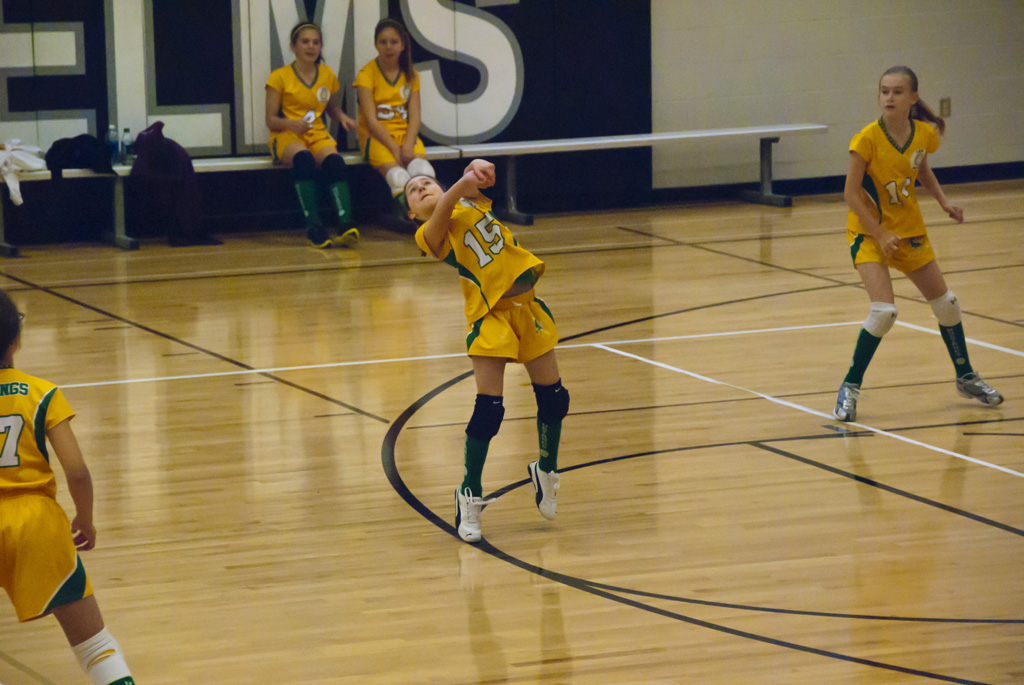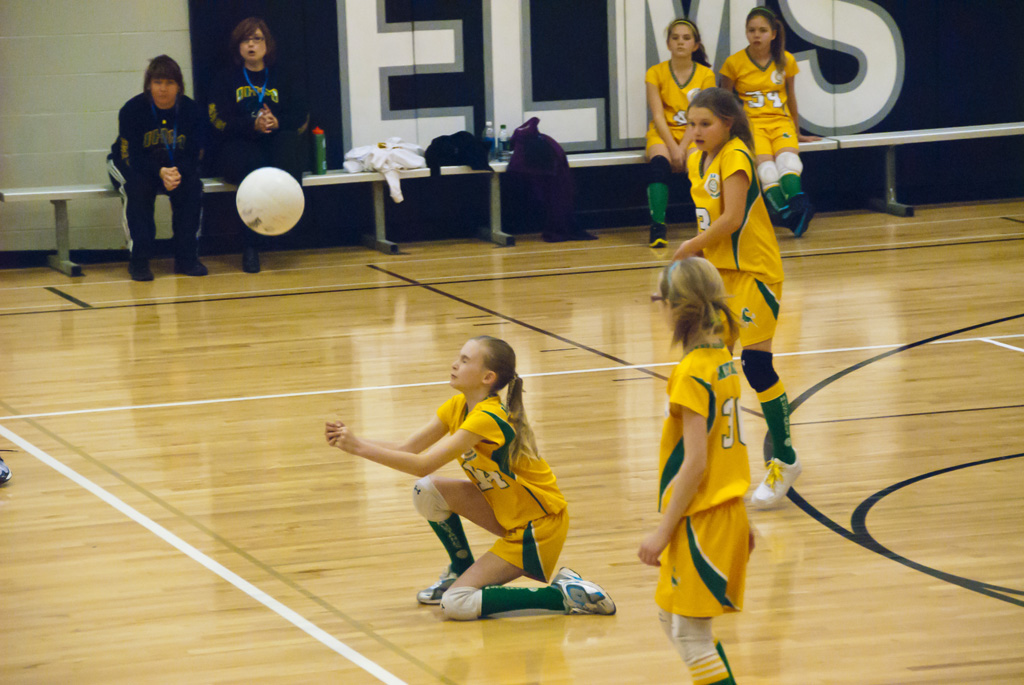 Svea closes her eyes and uses the force at times.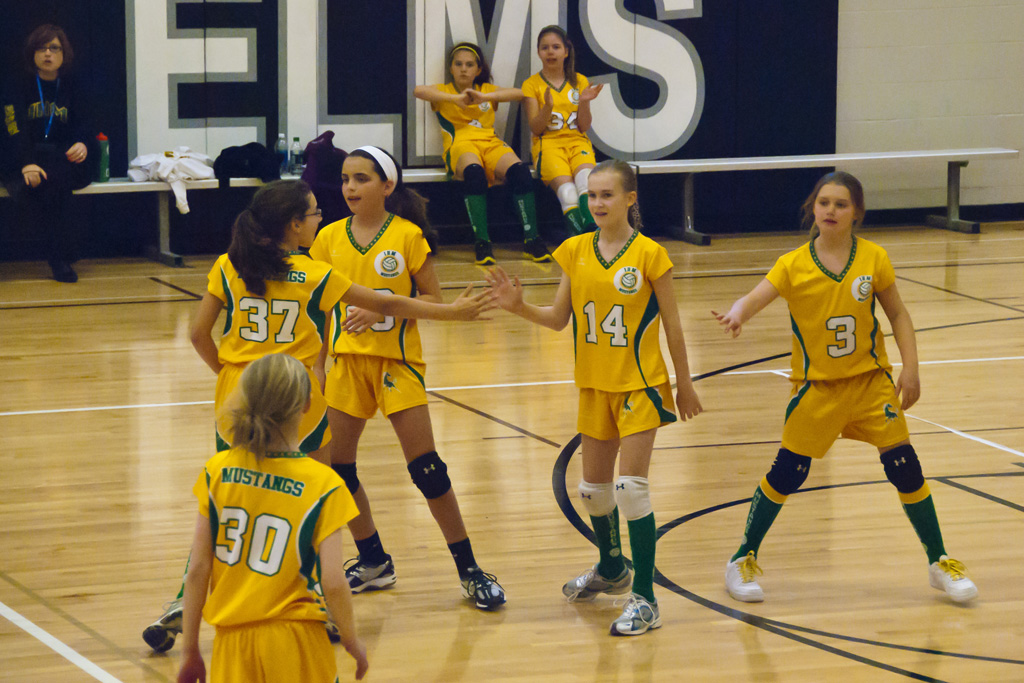 The force is strong in this one (sometimes).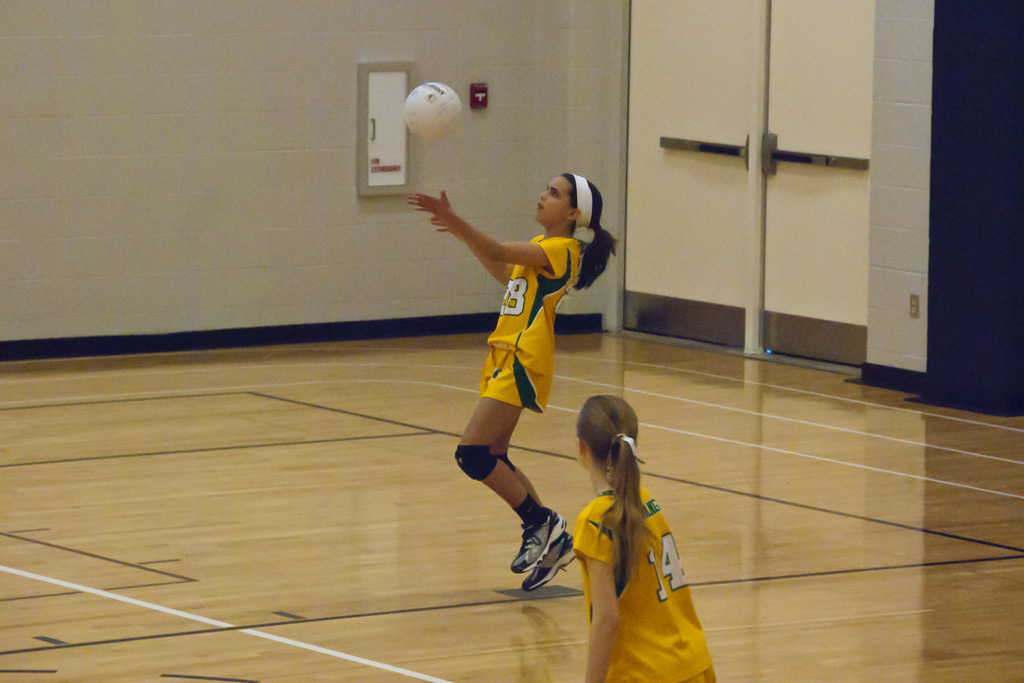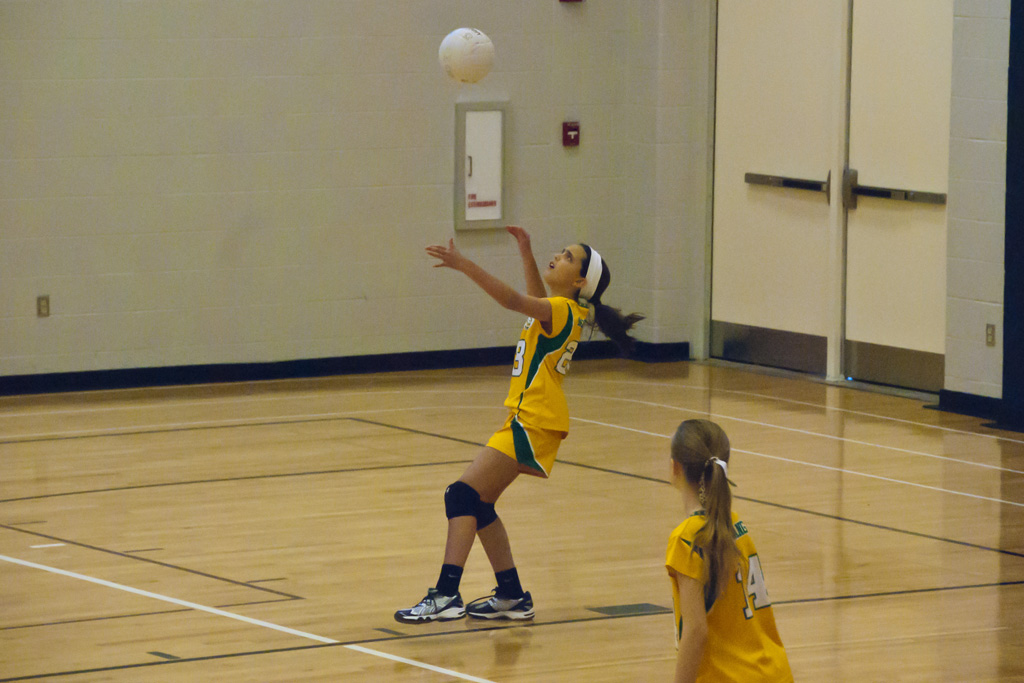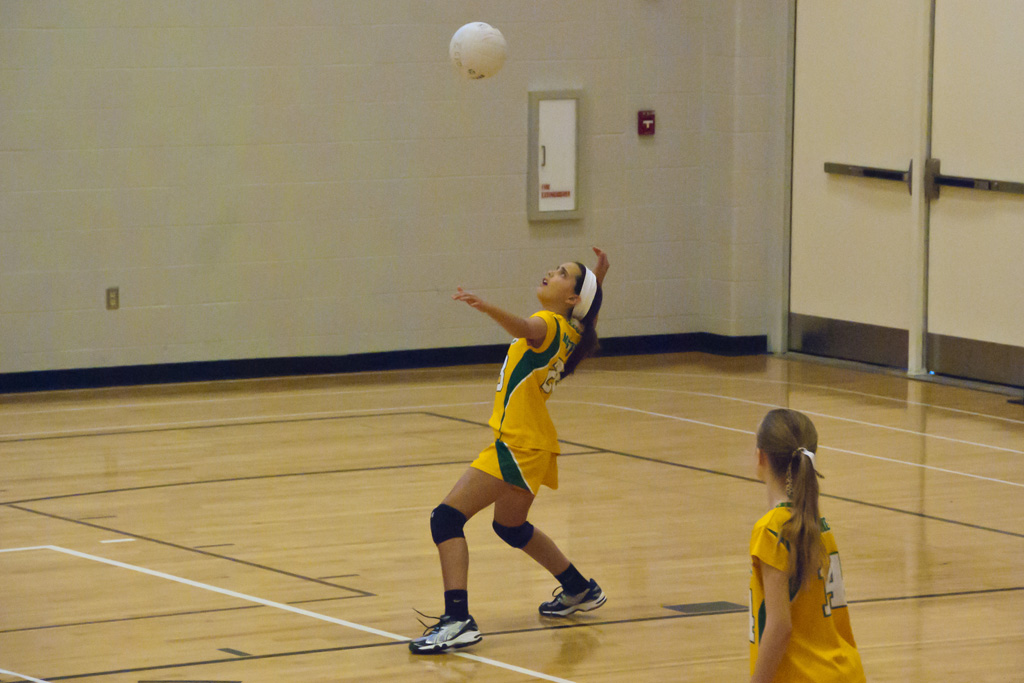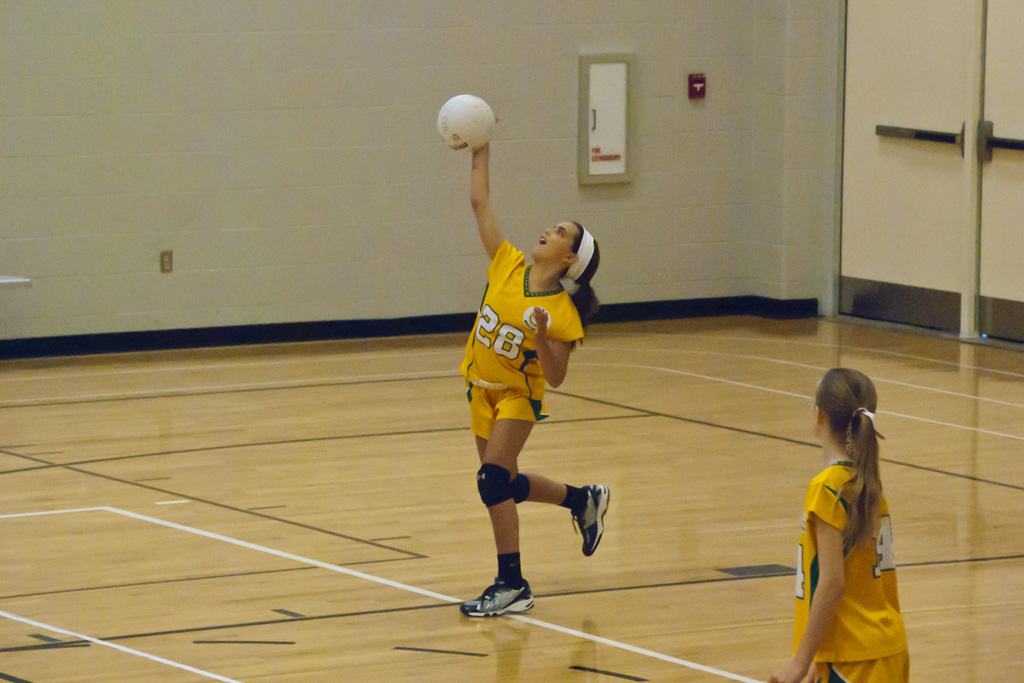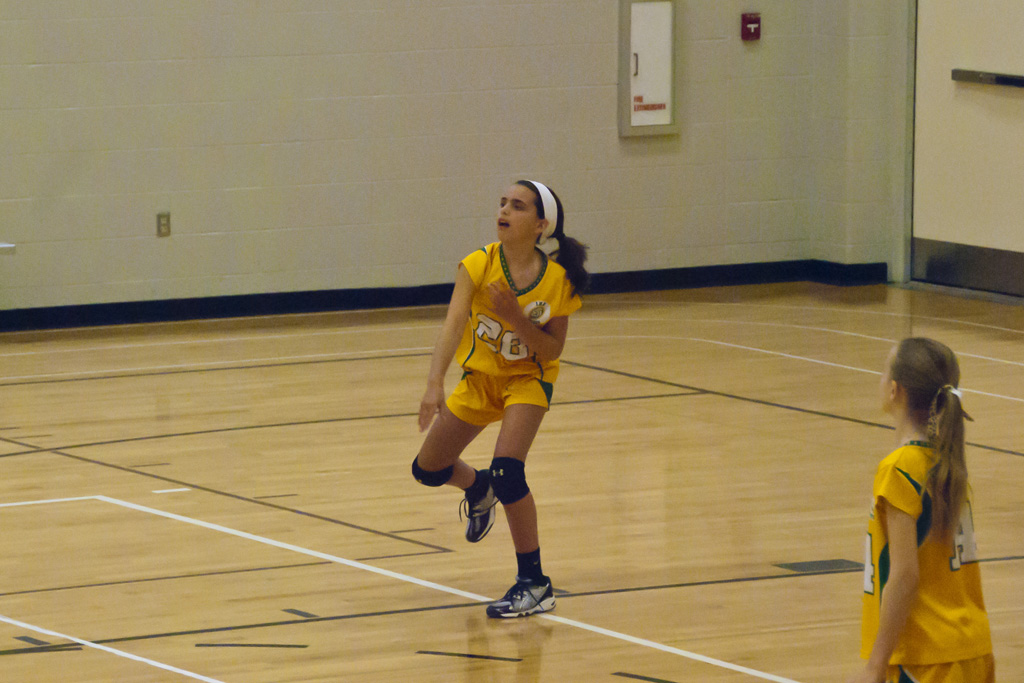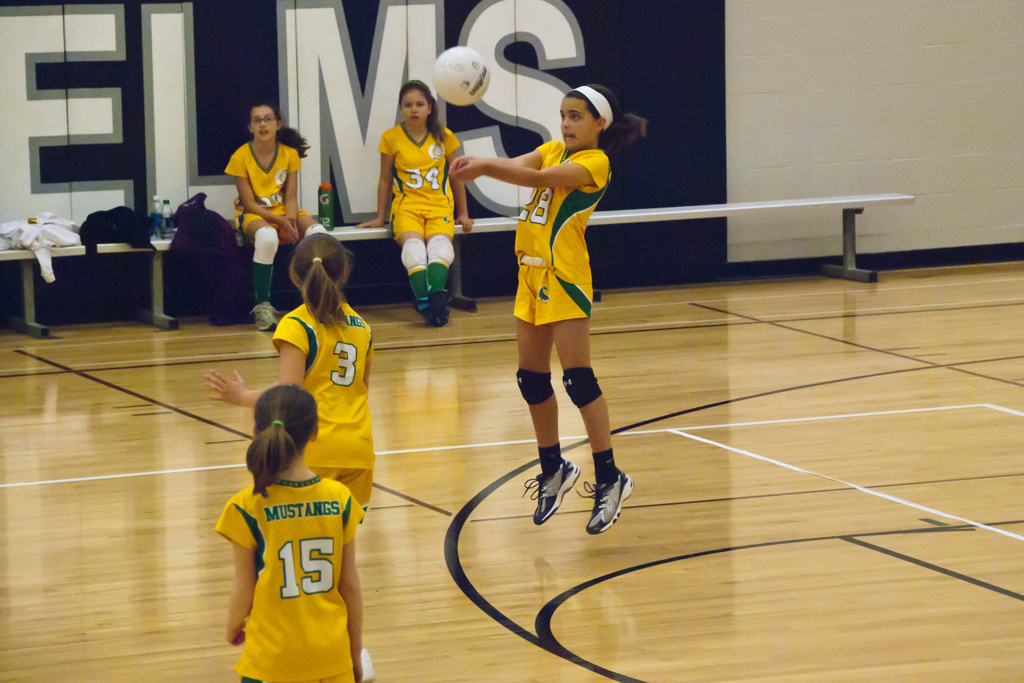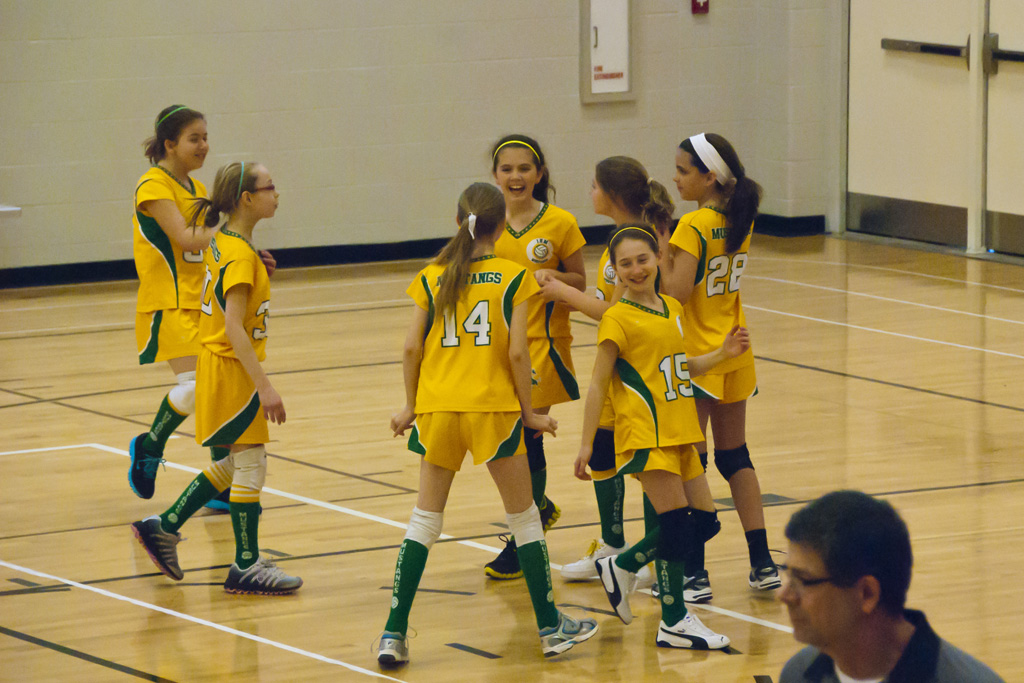 After Svea's game Papa treated us to dinner at Hibachi Japan. It was awesome and everyone had a great time.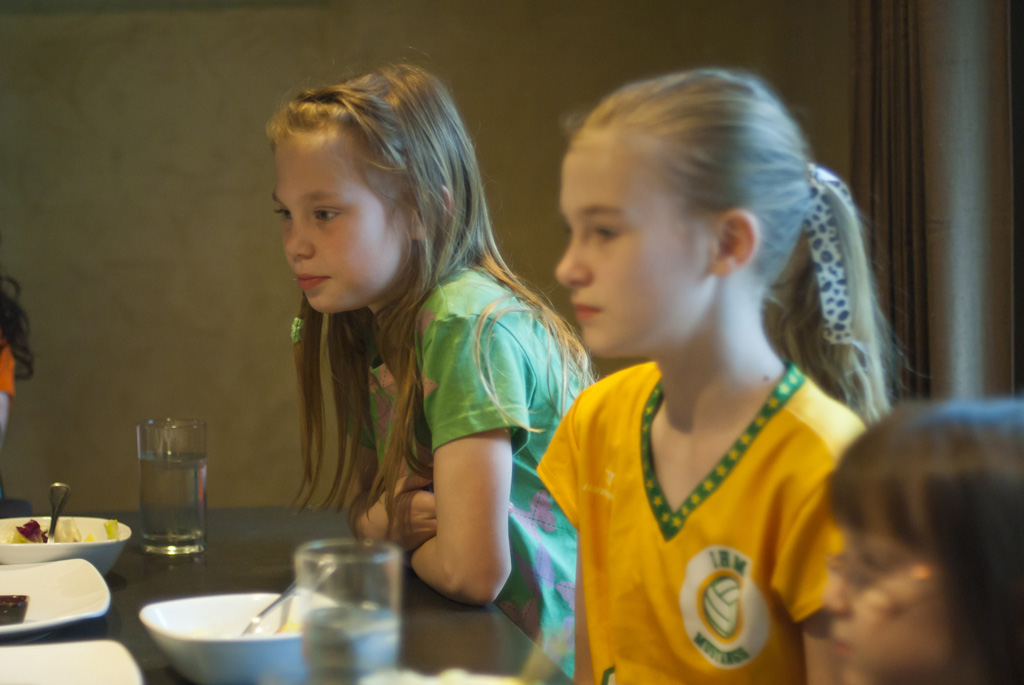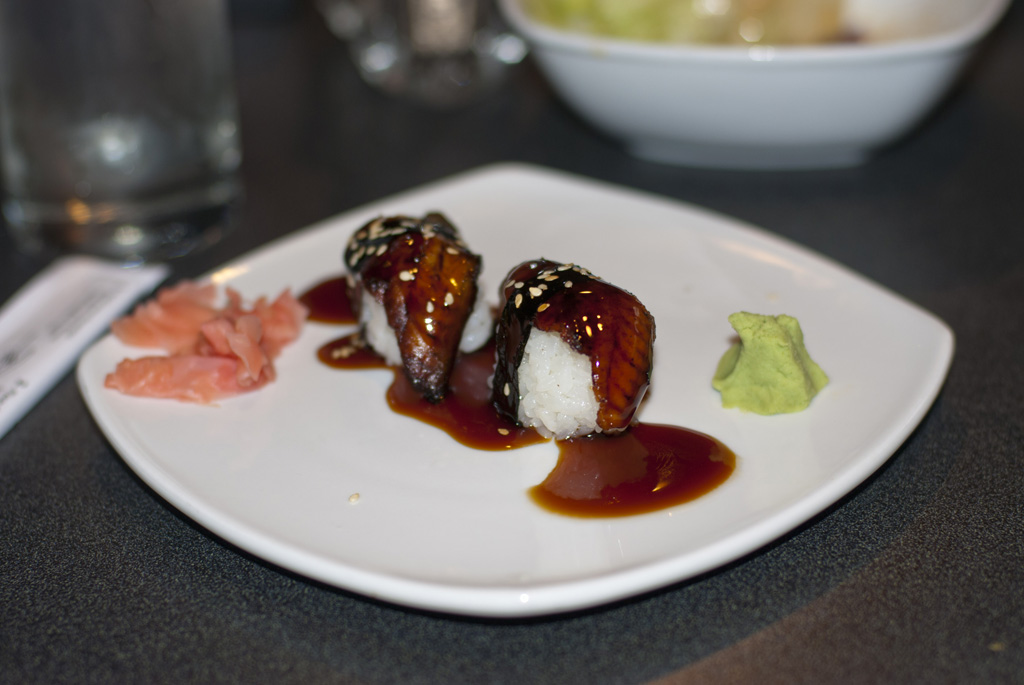 Eel sushi is my absolute favorite.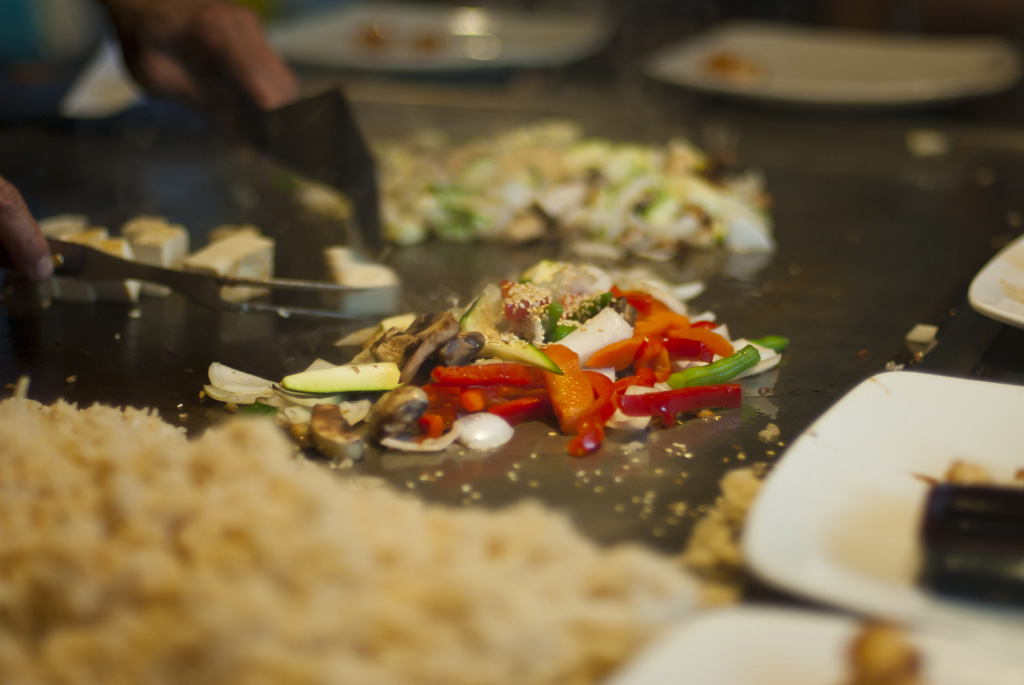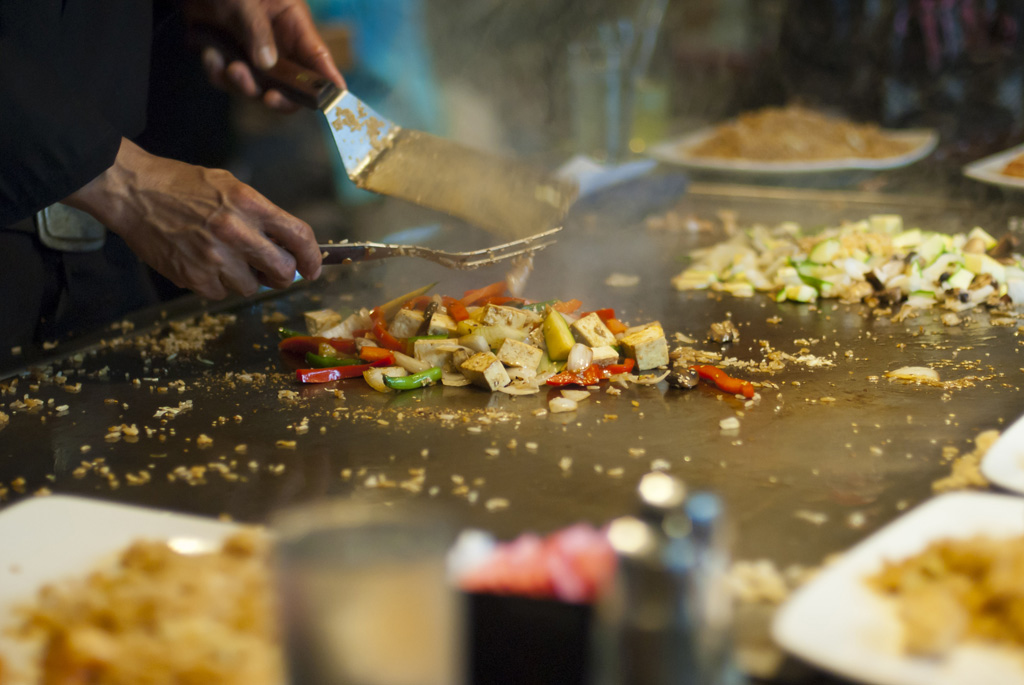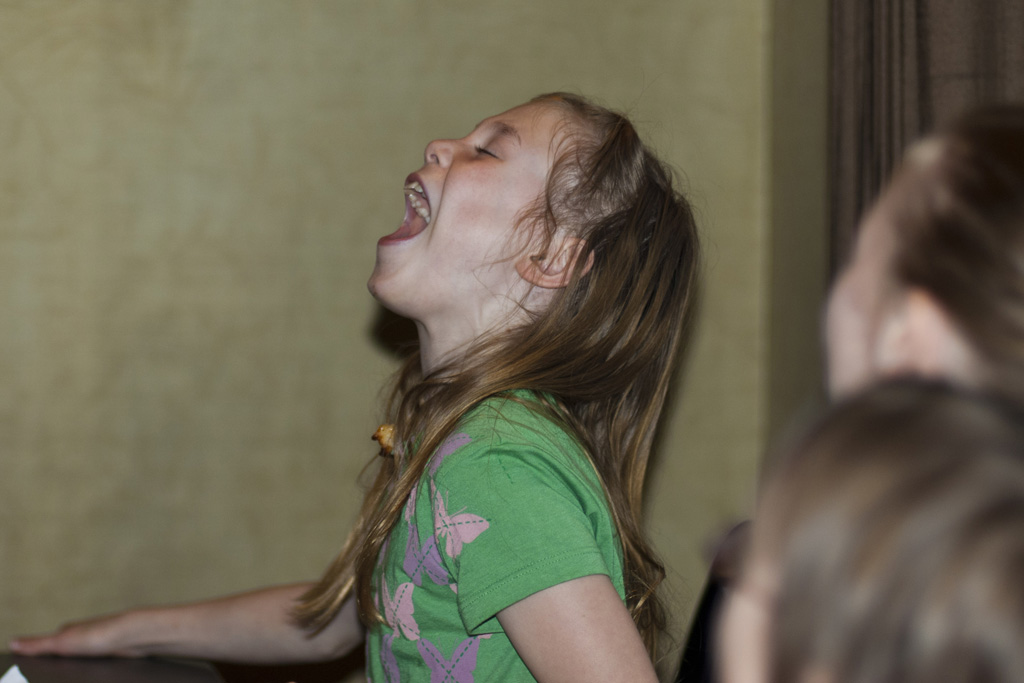 The chef flips pieces of chicken into customers' mouths. It's a tradition at this place. Brigitta's piece is a few inches under her chin.
Svea missed her piece as well. I caught one from a chef at another grill 10 feet away.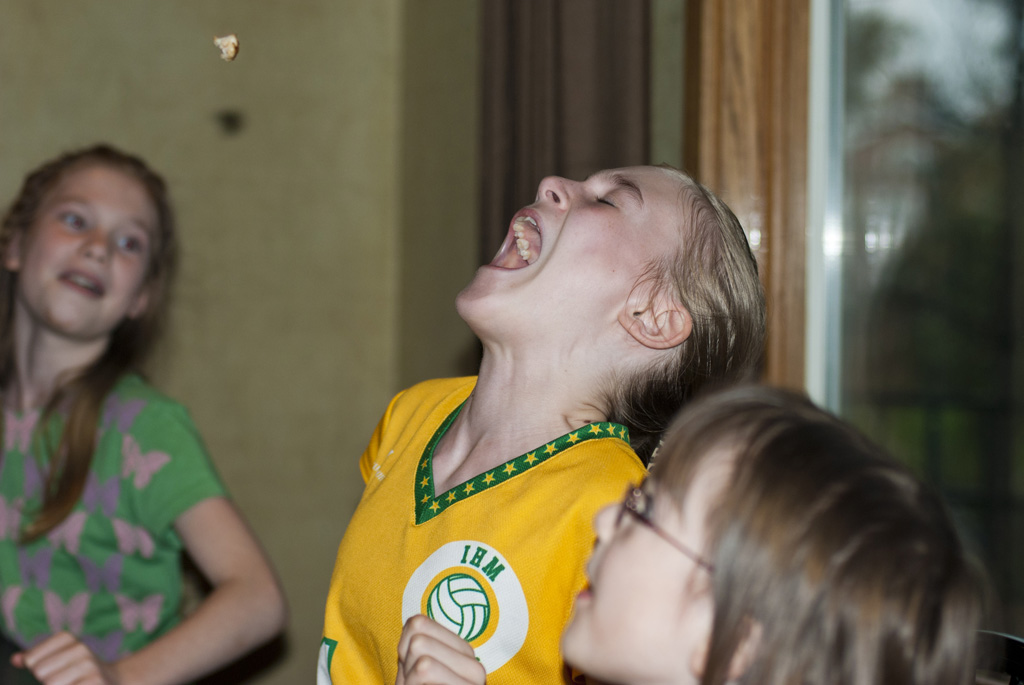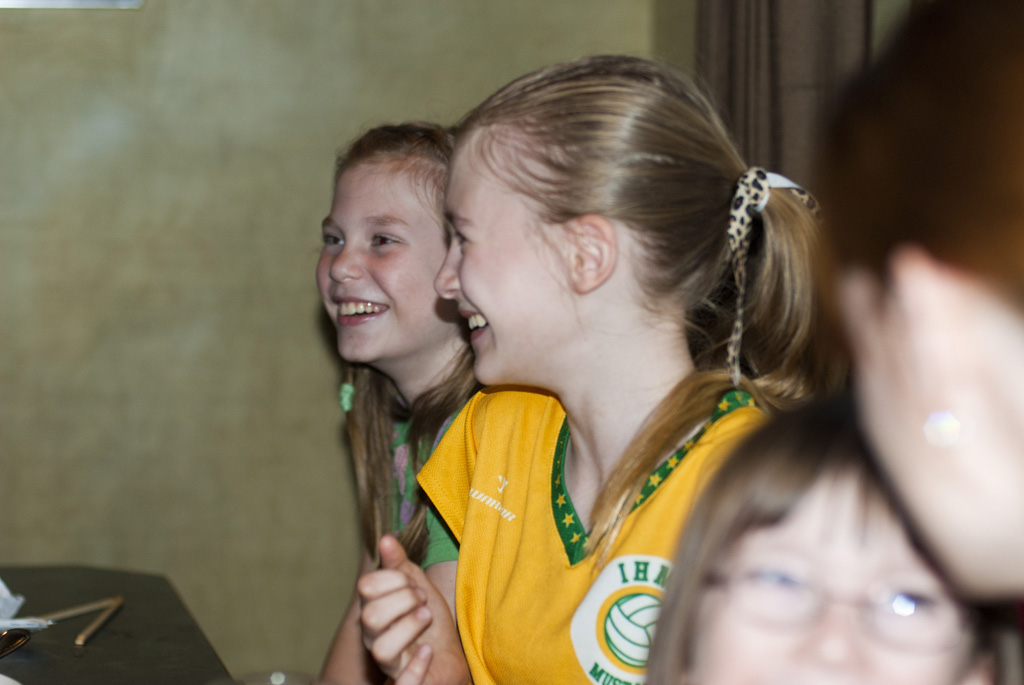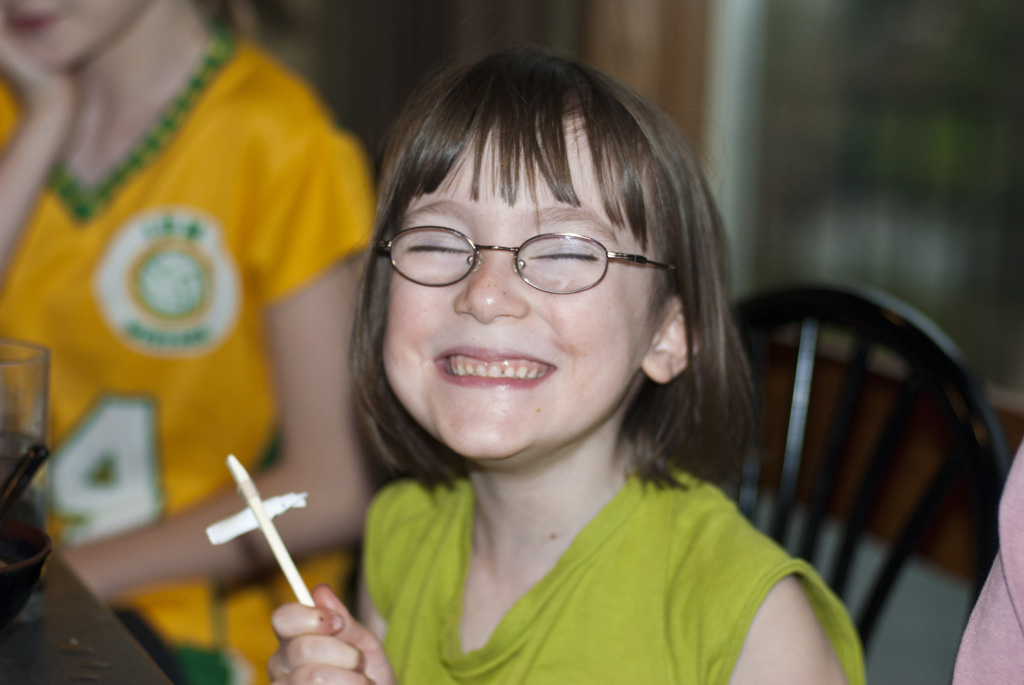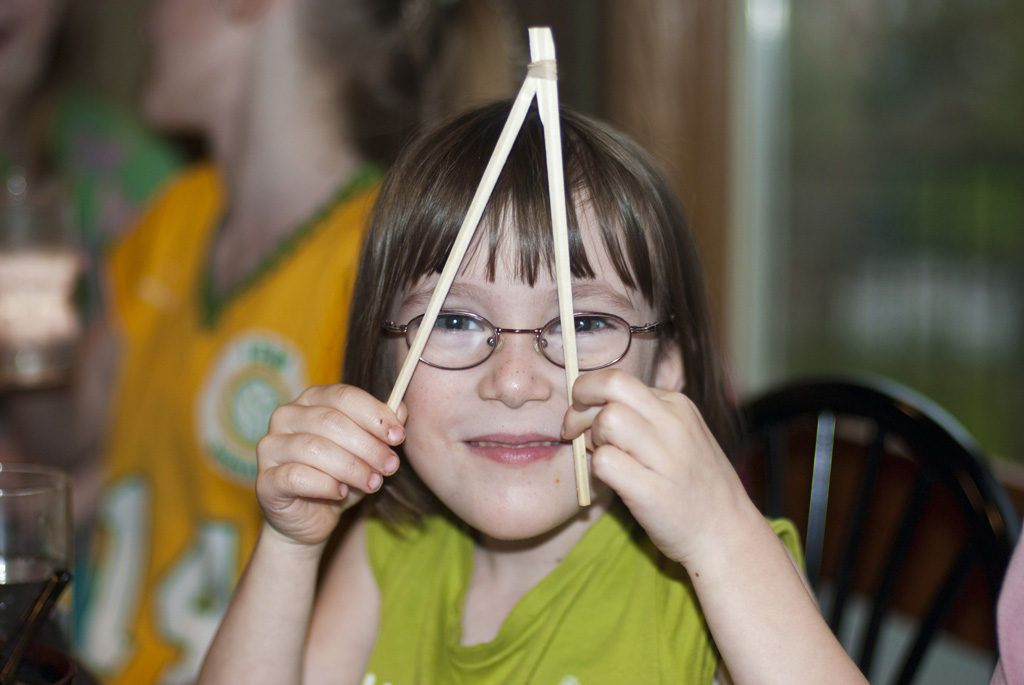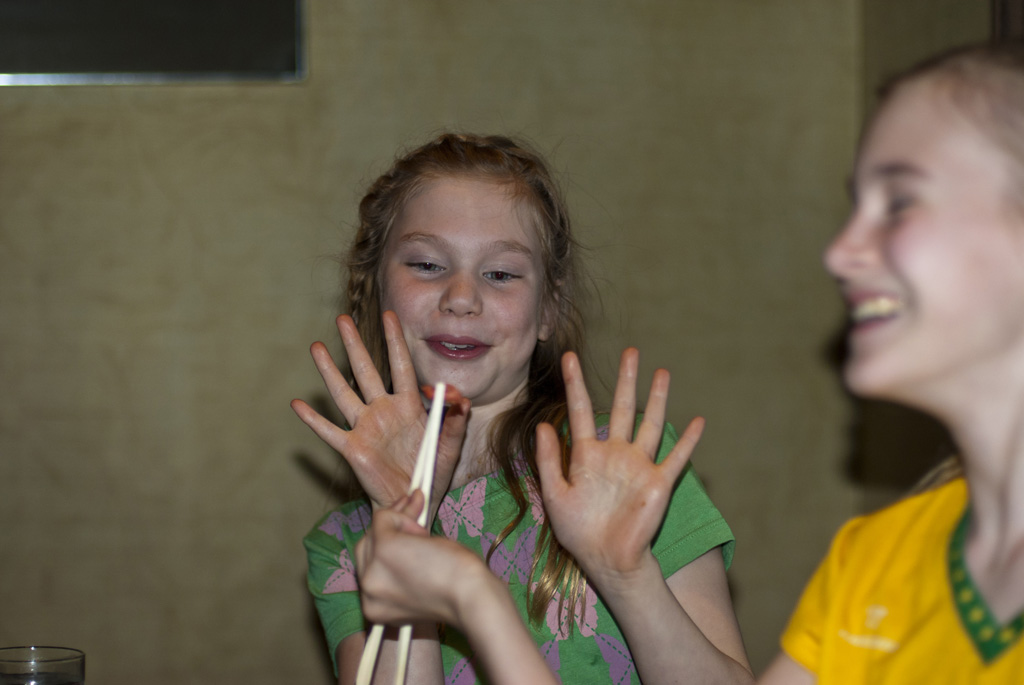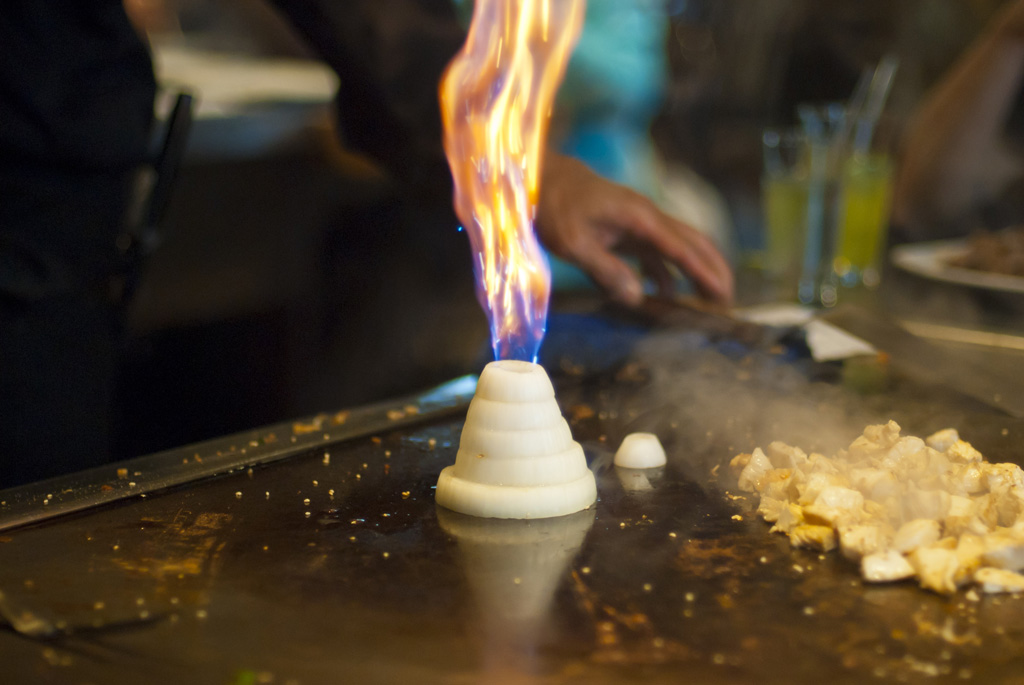 The onion volcano is also a popular tradition at Hibachi Japan.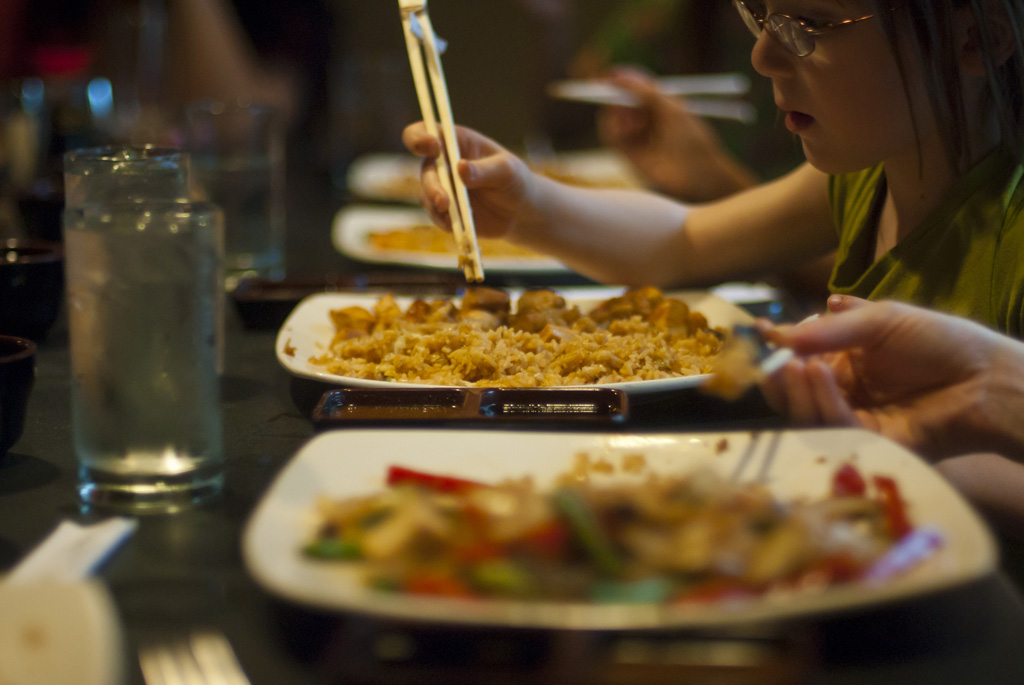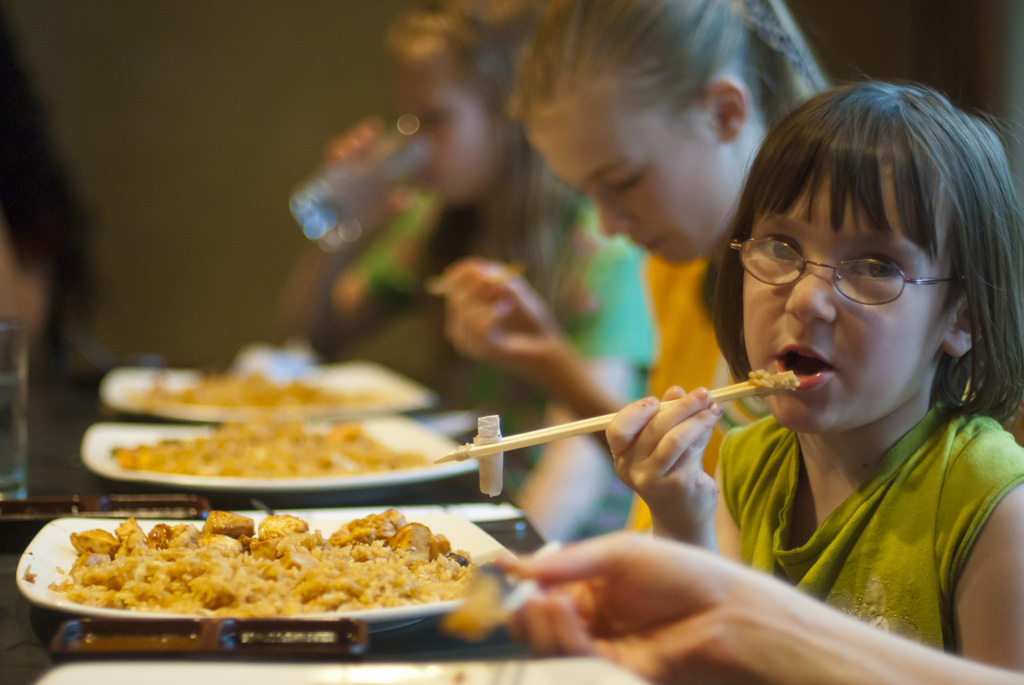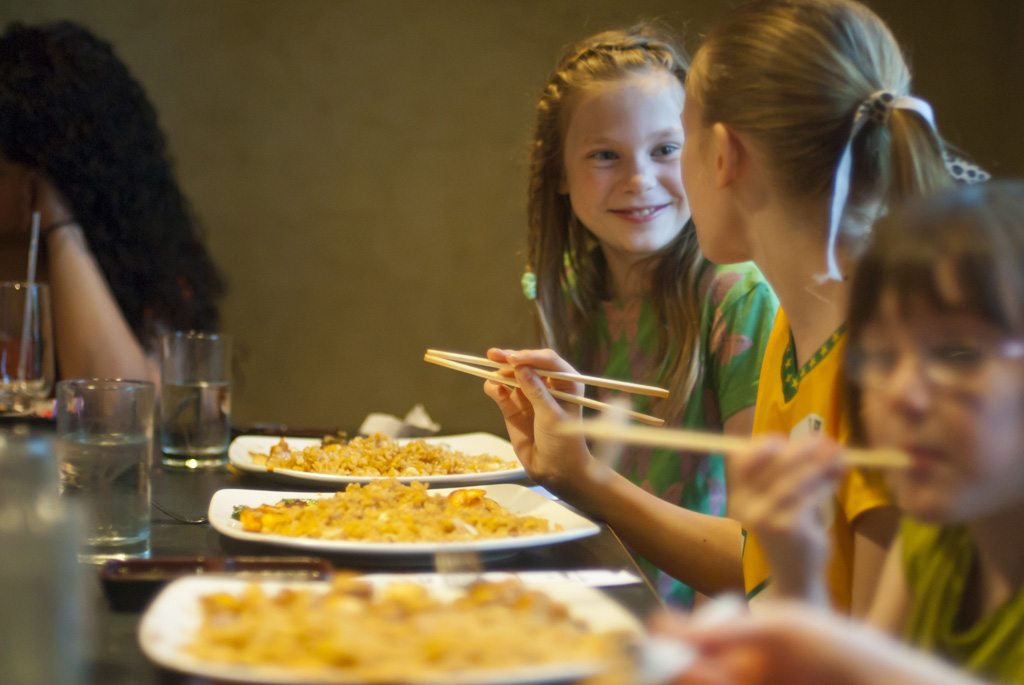 Brigitta's Team Wins Semifinal Game
Brigitta's team beat Saint Mathew's team by a huge margin in the semifinal championship tournament round last Monday. Brigitta served the final serves of both games of the match.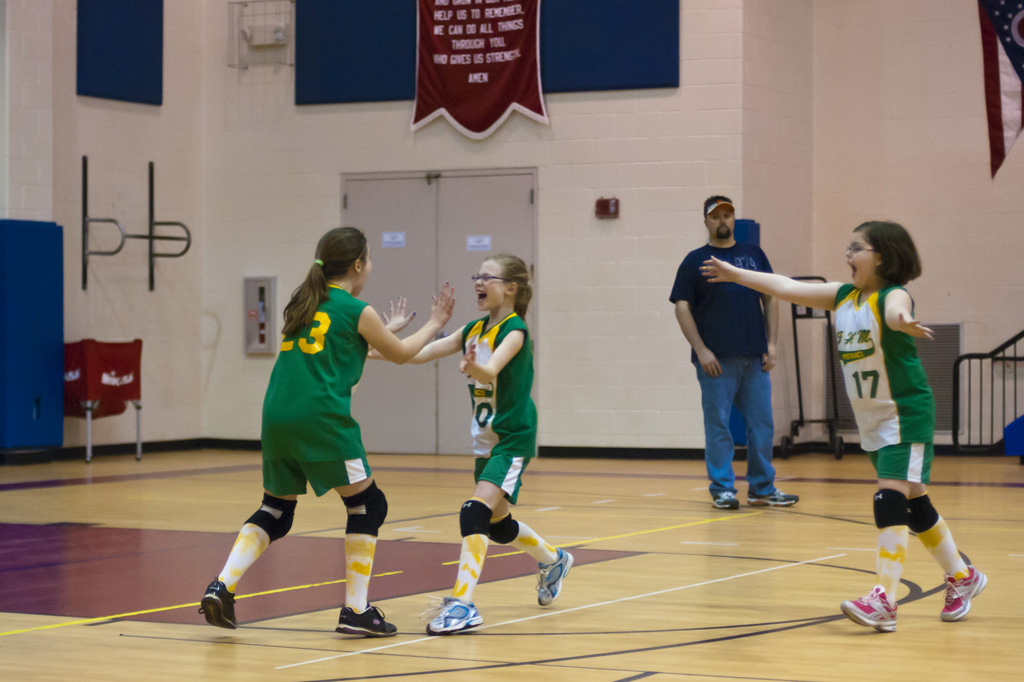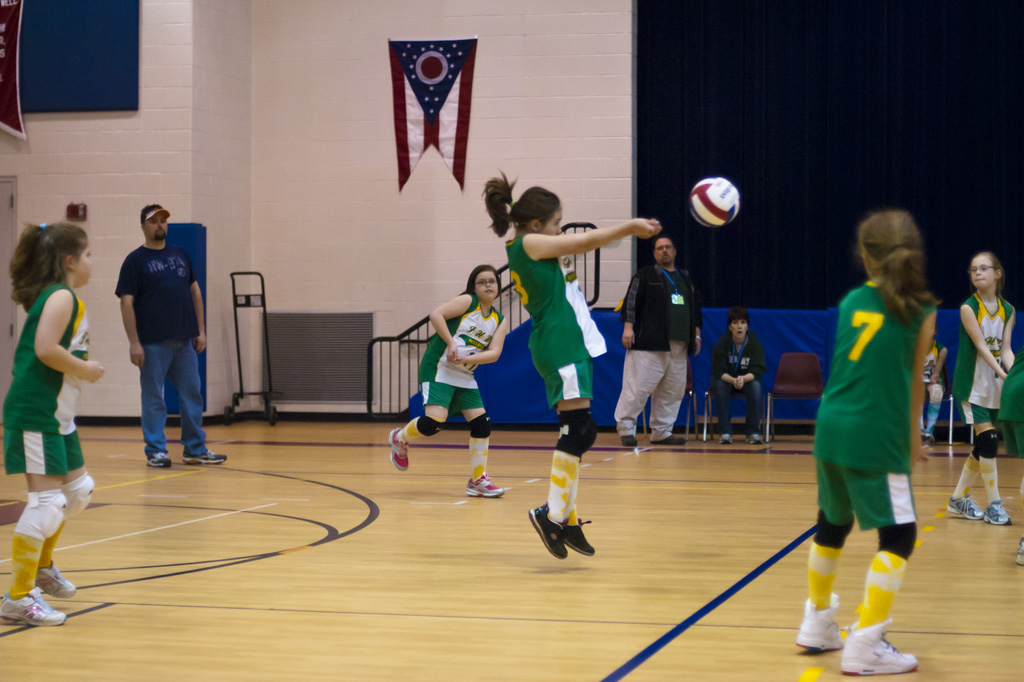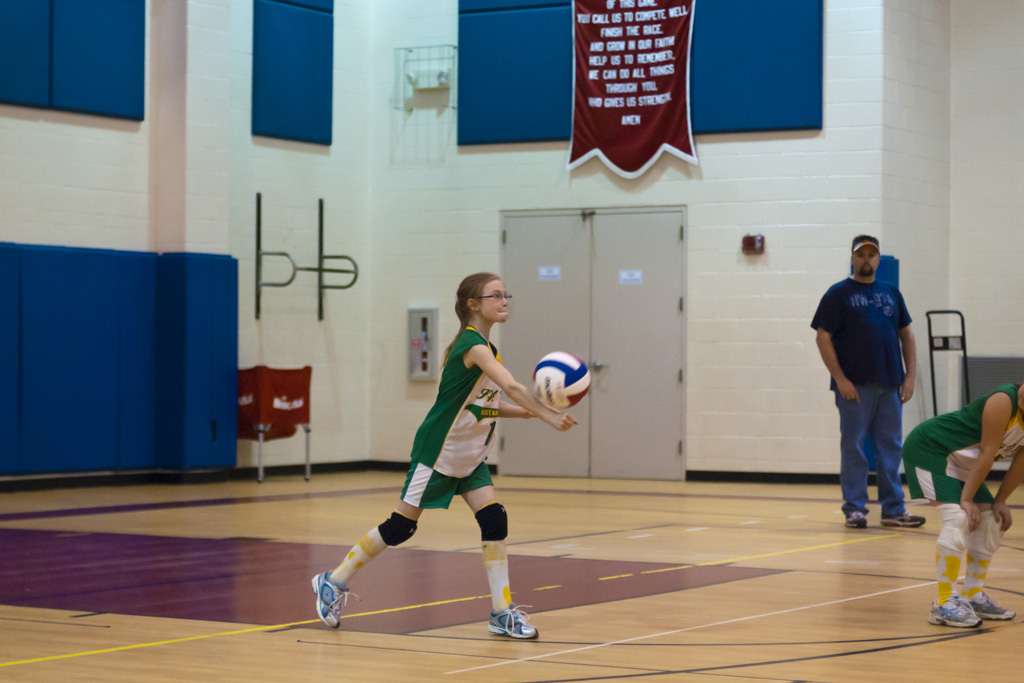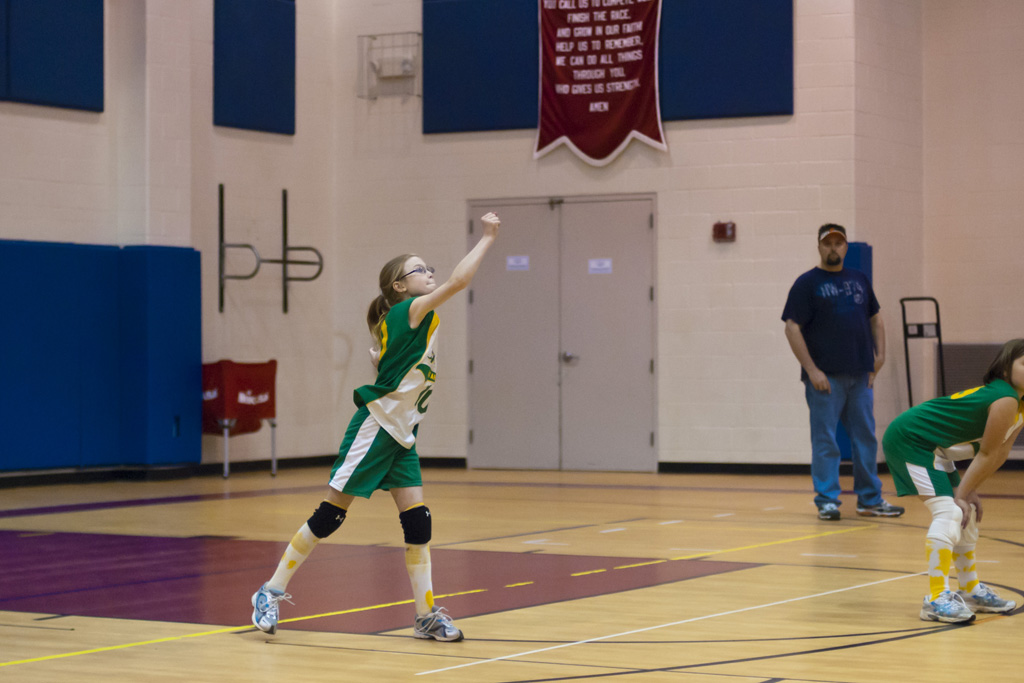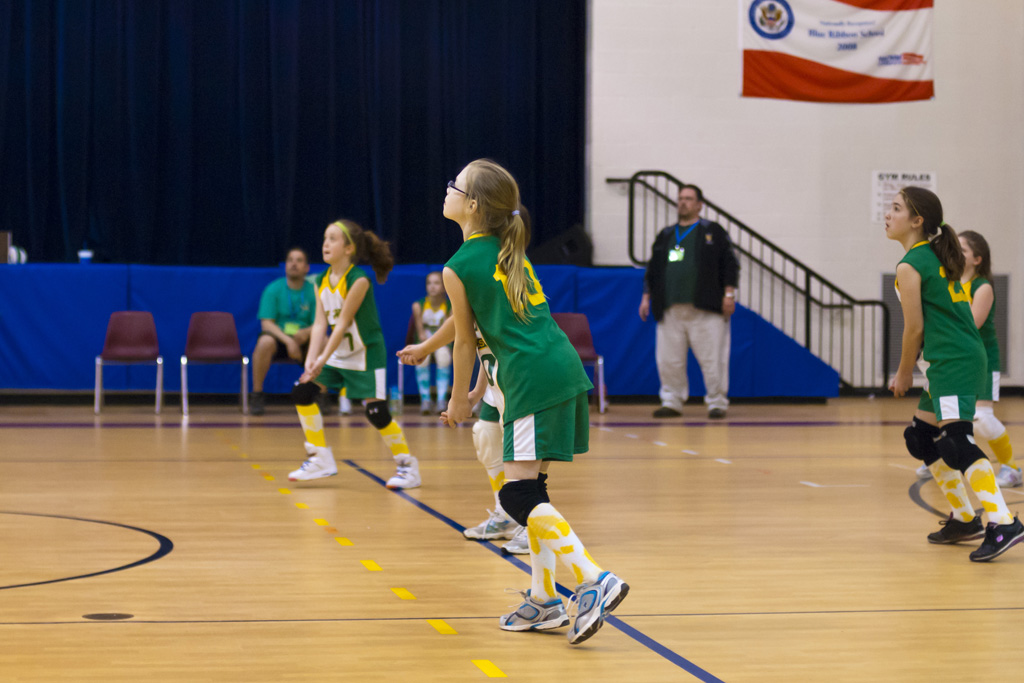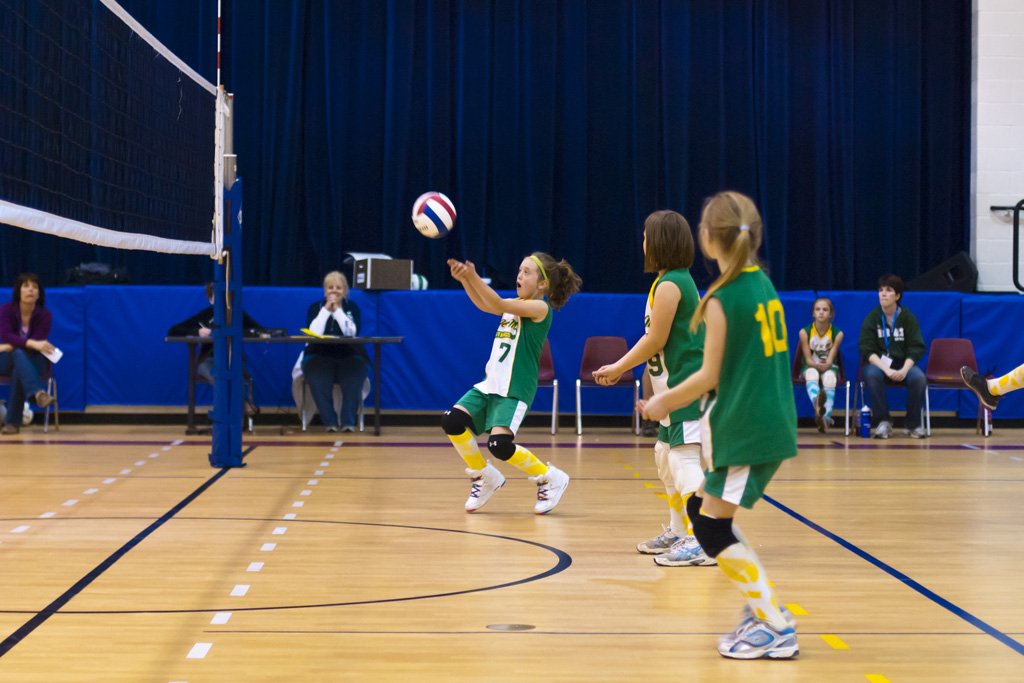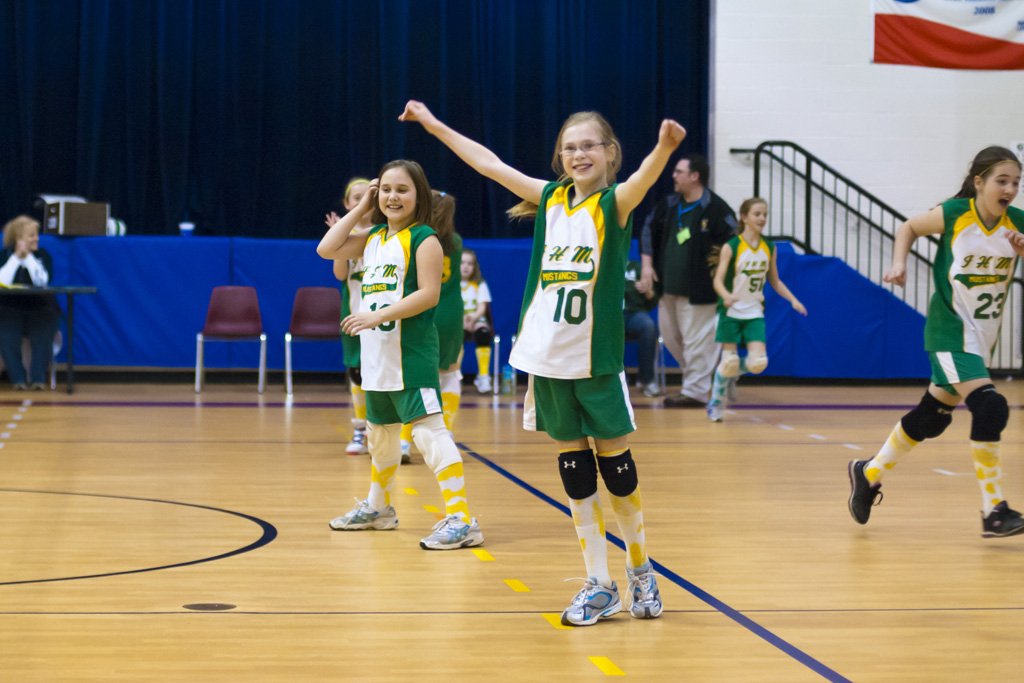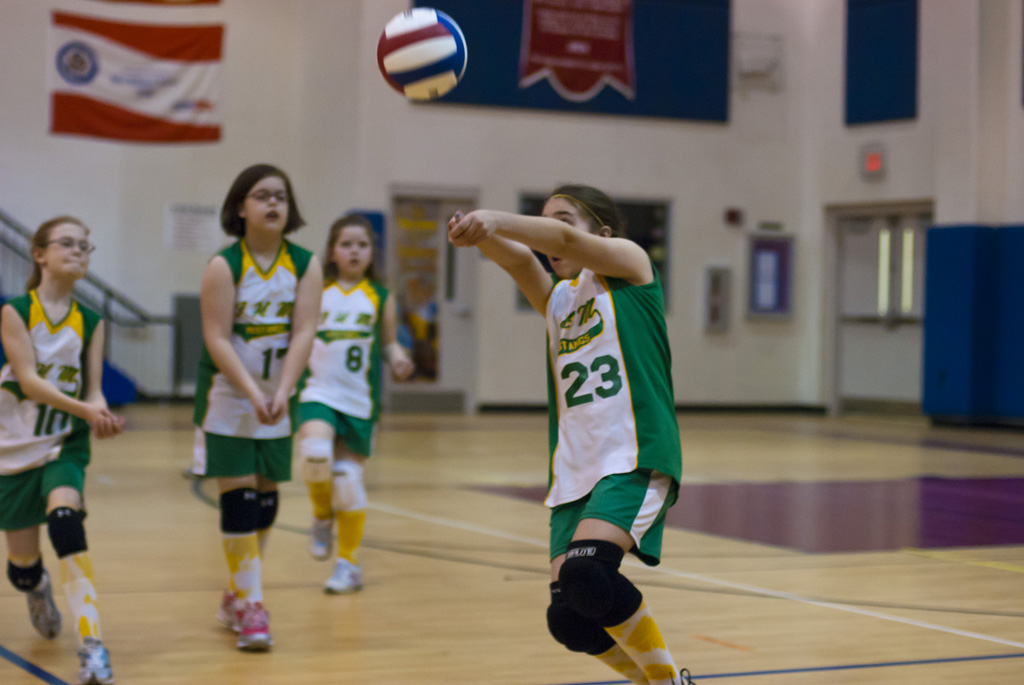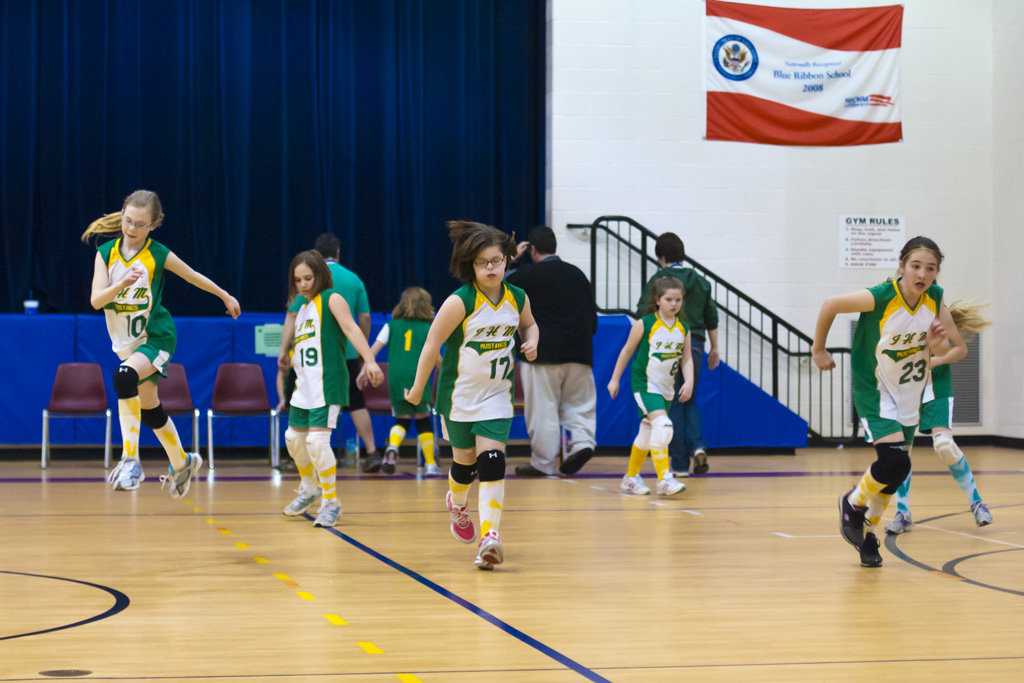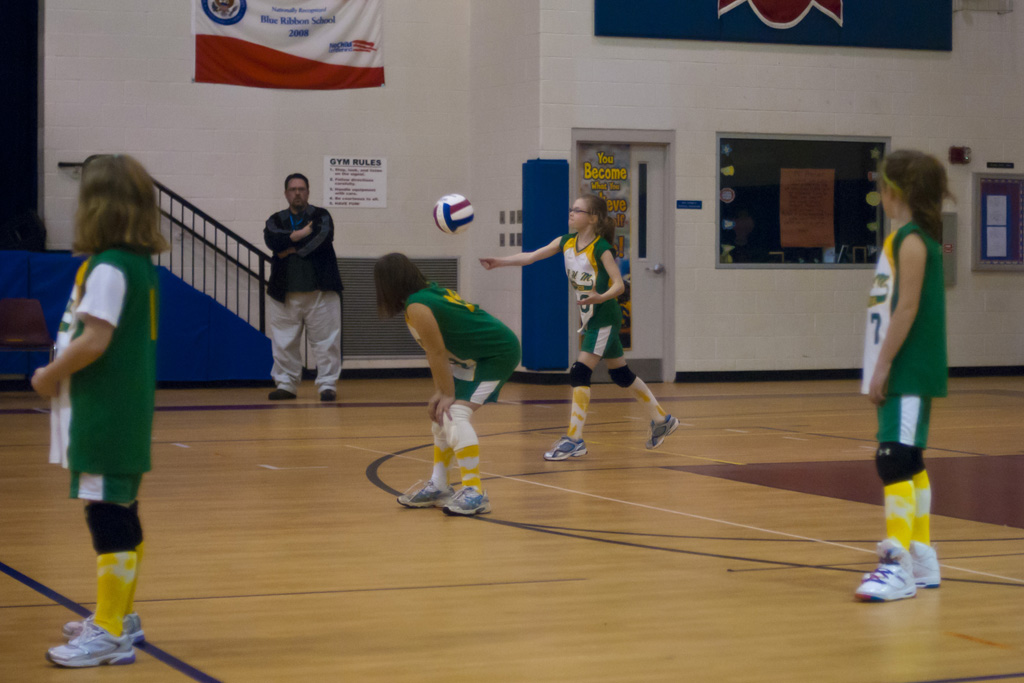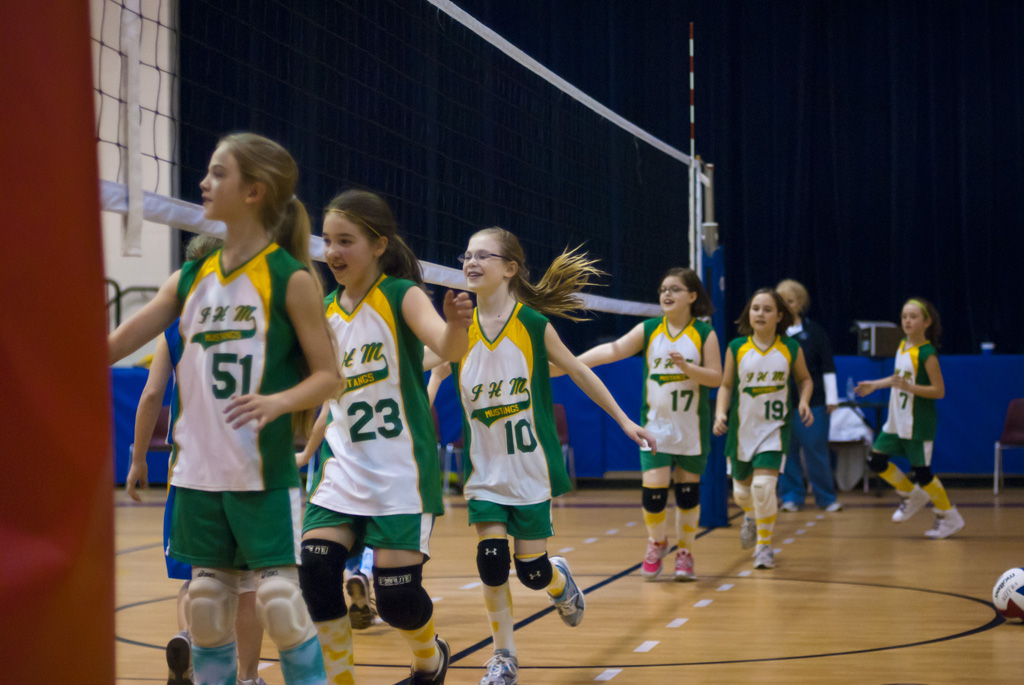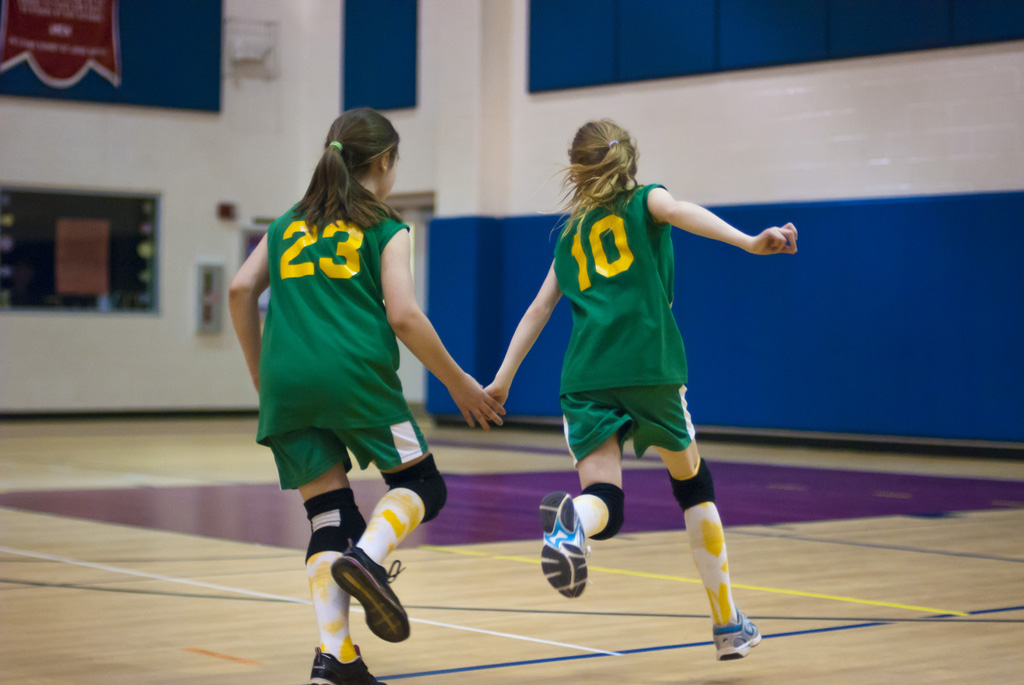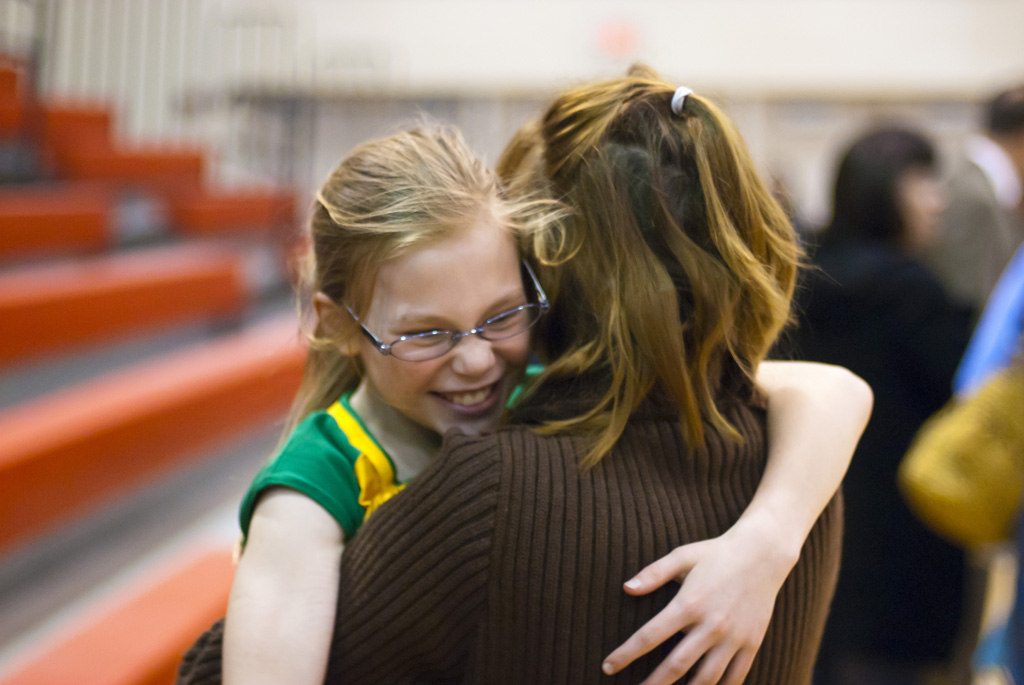 German Family Society Mother's Day
GFS celebrates Mother's Day with a show a week early.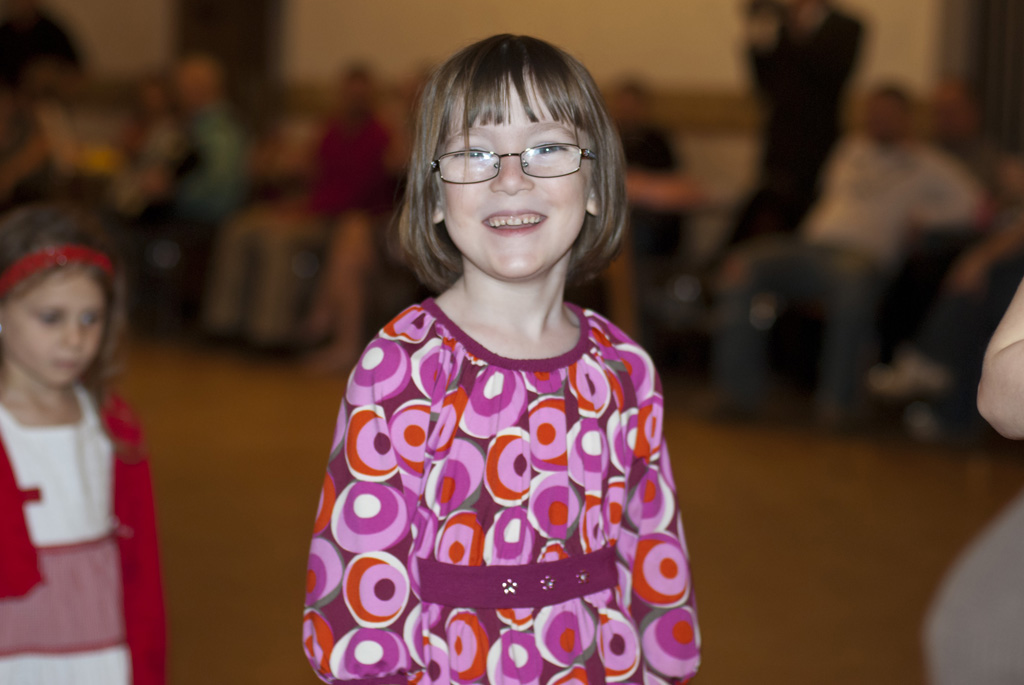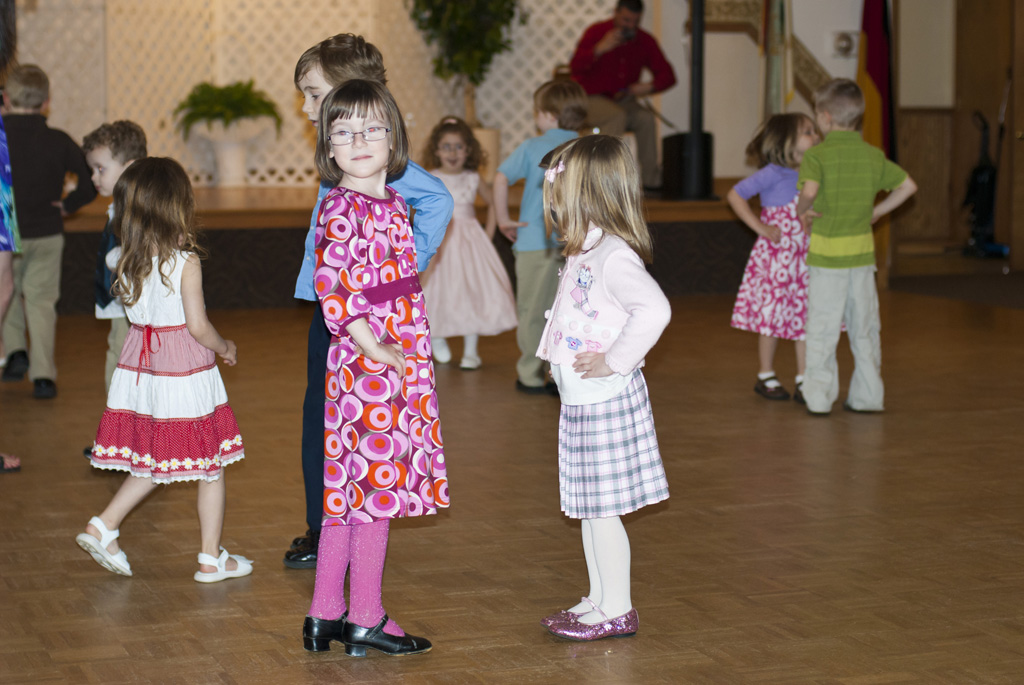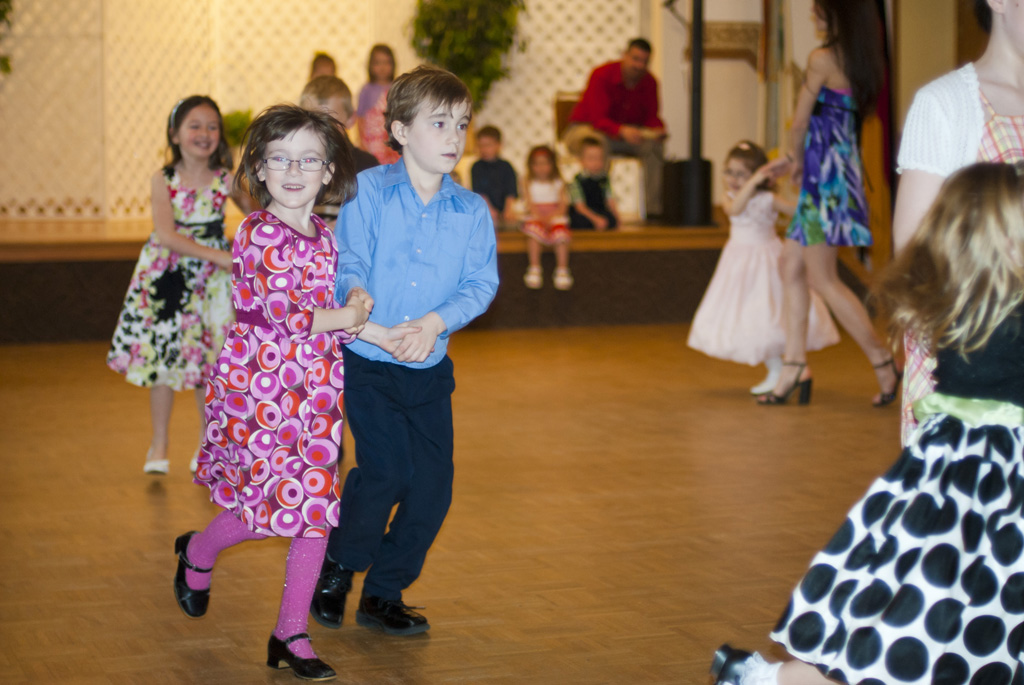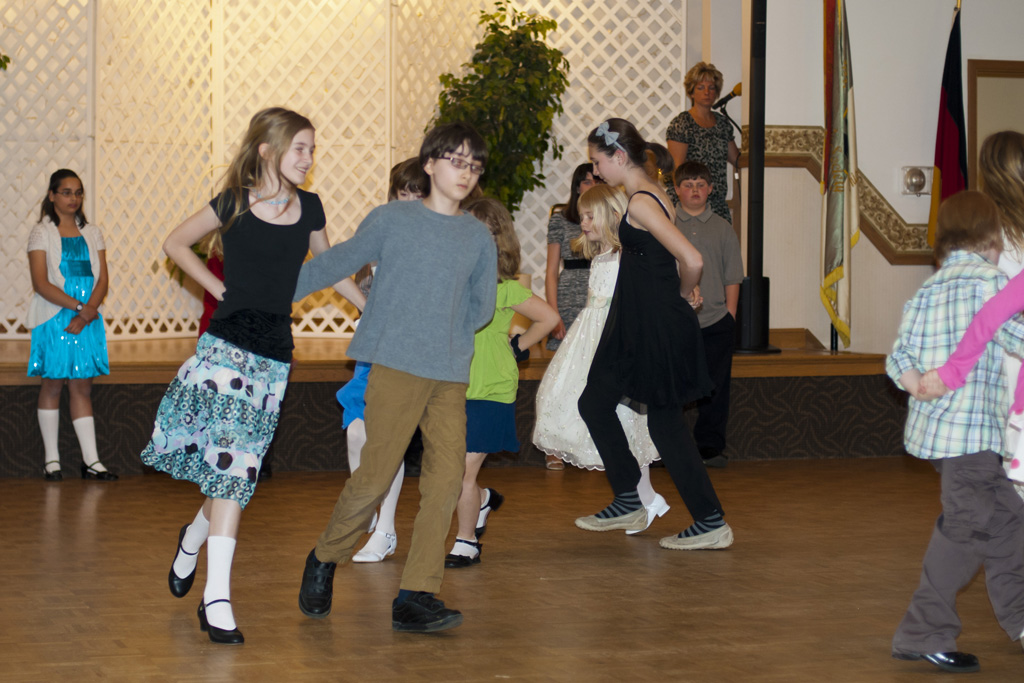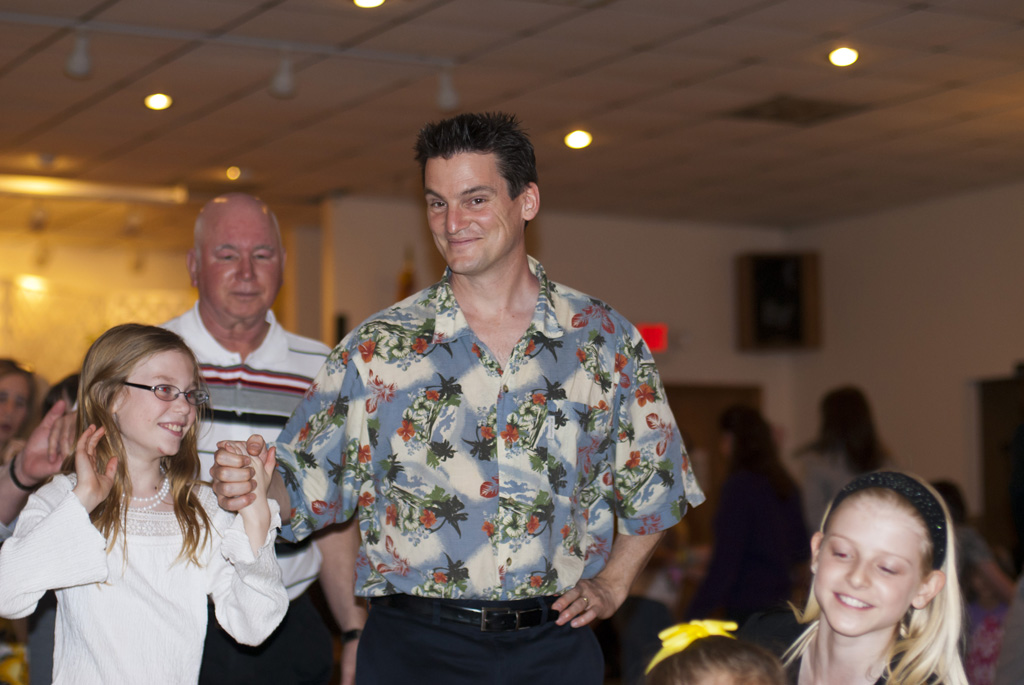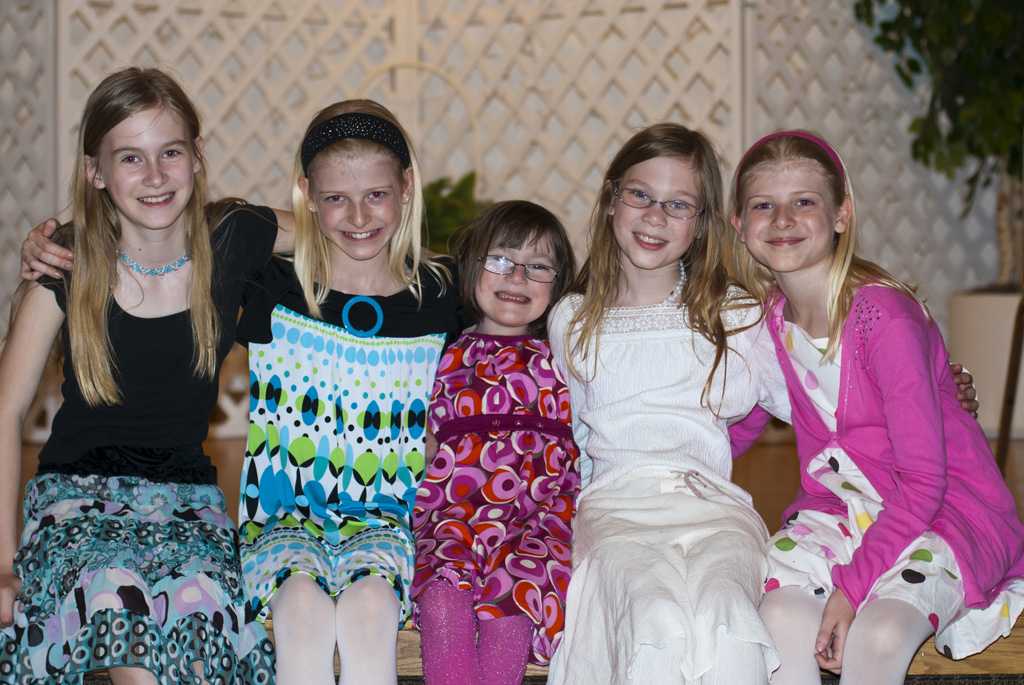 We have drainage issues. Our backyard is a swamp every spring and after heavy rainfalls. The water just doesn't have anywhere to go and the grass stays wet or muddy forever. So, we bought over 400 feet of four inch perforated pipe, five tons of gravel and we rented a trencher. Overall, we now have 450 feet of trenches throughout or property; everything is still pretty torn up. We still have to top fill some pipe with gravel. There has been so much rain a volleyball this past week the job has been on hold. Joan and the girls worked hard last Saturday digging out loose dirt and hauling buckets of fill/filter gravel. I battled big rocks and roots with the trencher. I finished trenching on Sunday and was pretty sore from the machine kicking back into me whenever it found an especially big root or stone. Annika was our designated photographer; these first several shots below are hers: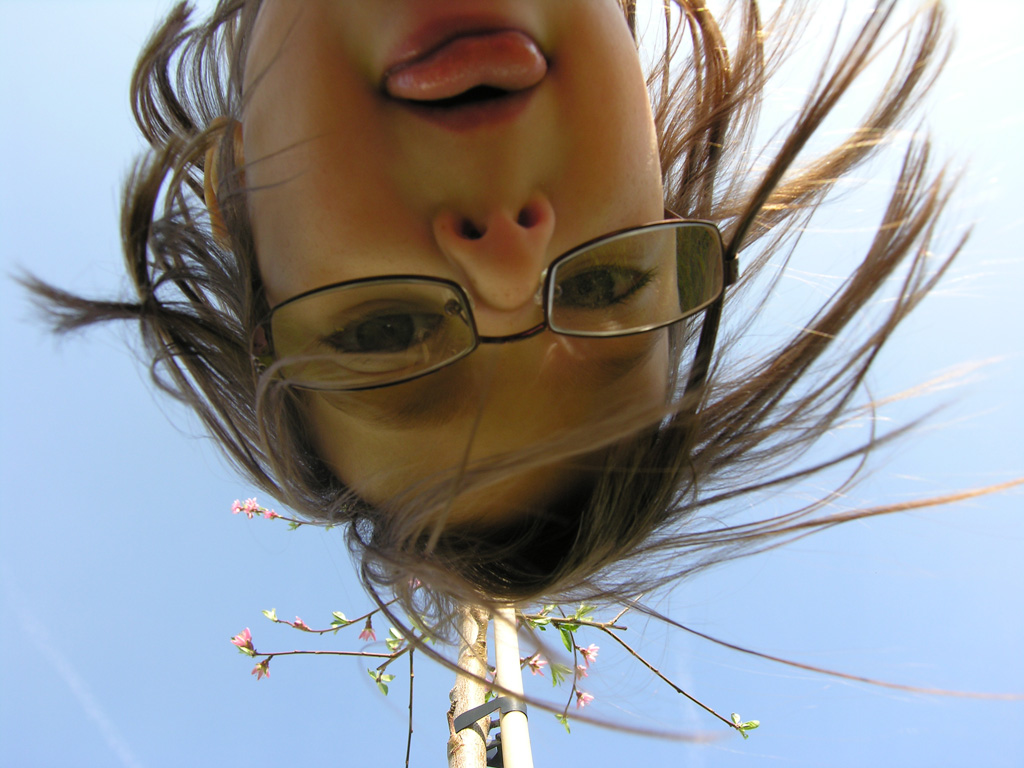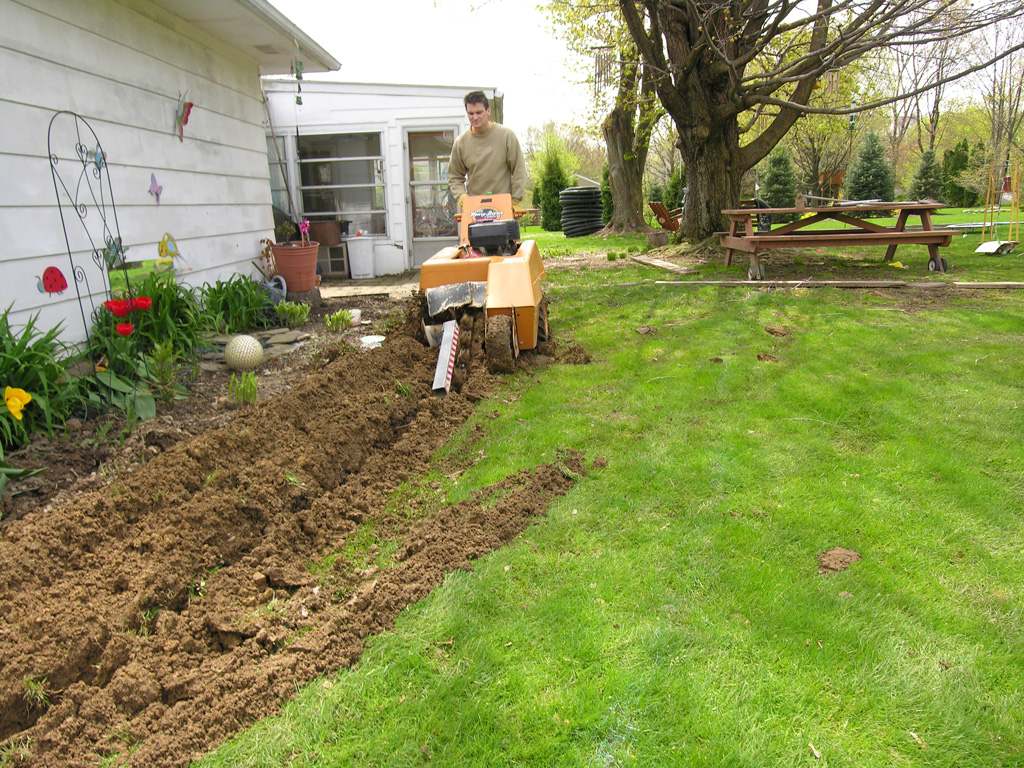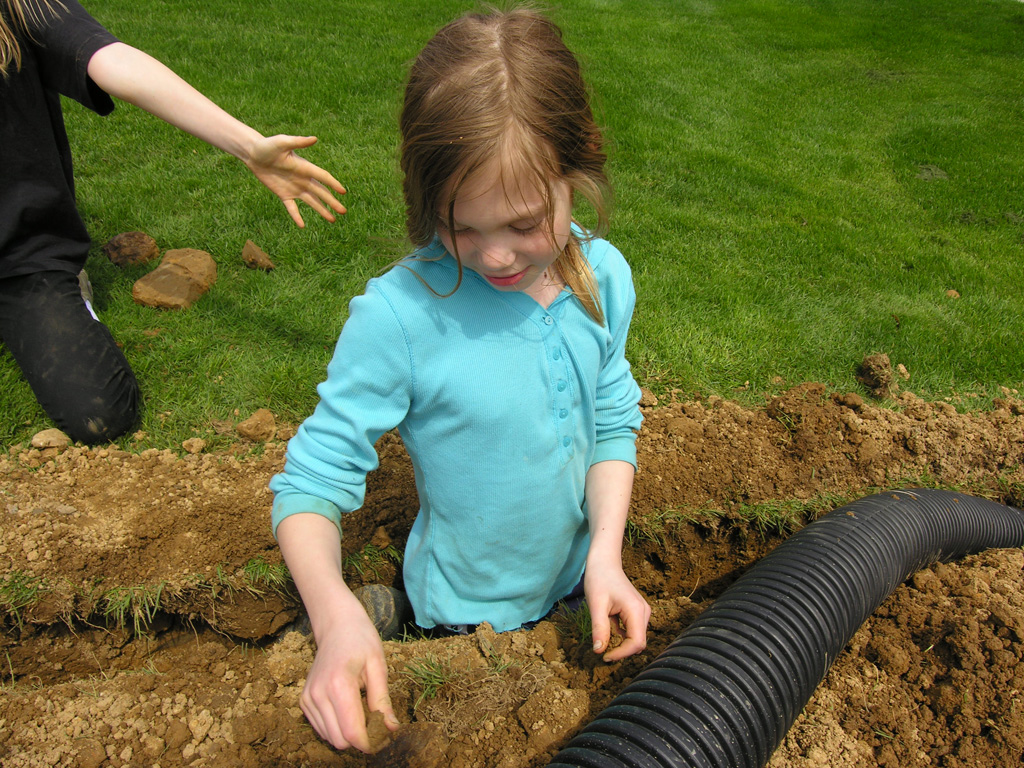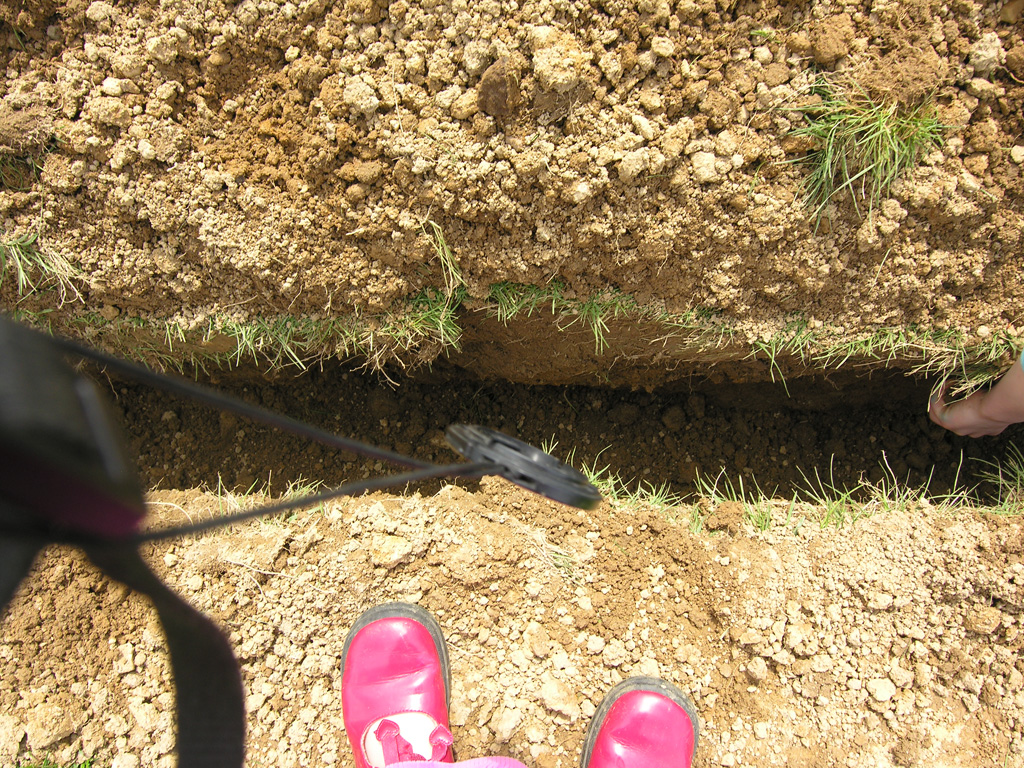 Annika's shoes and the Nikon's lens cap.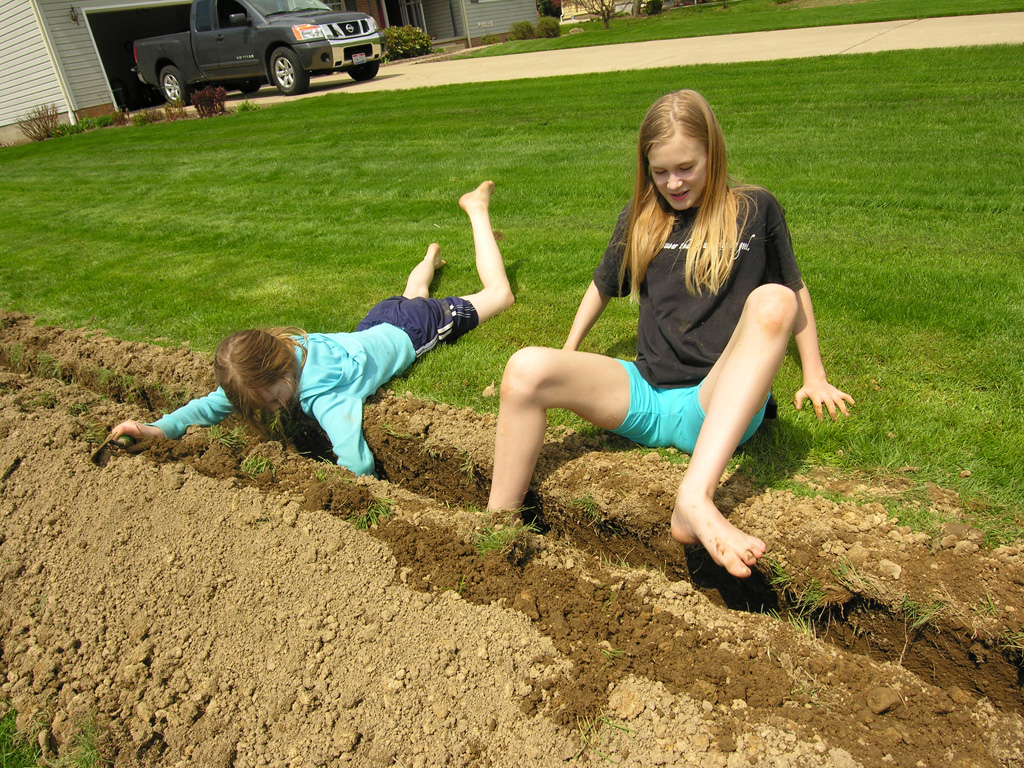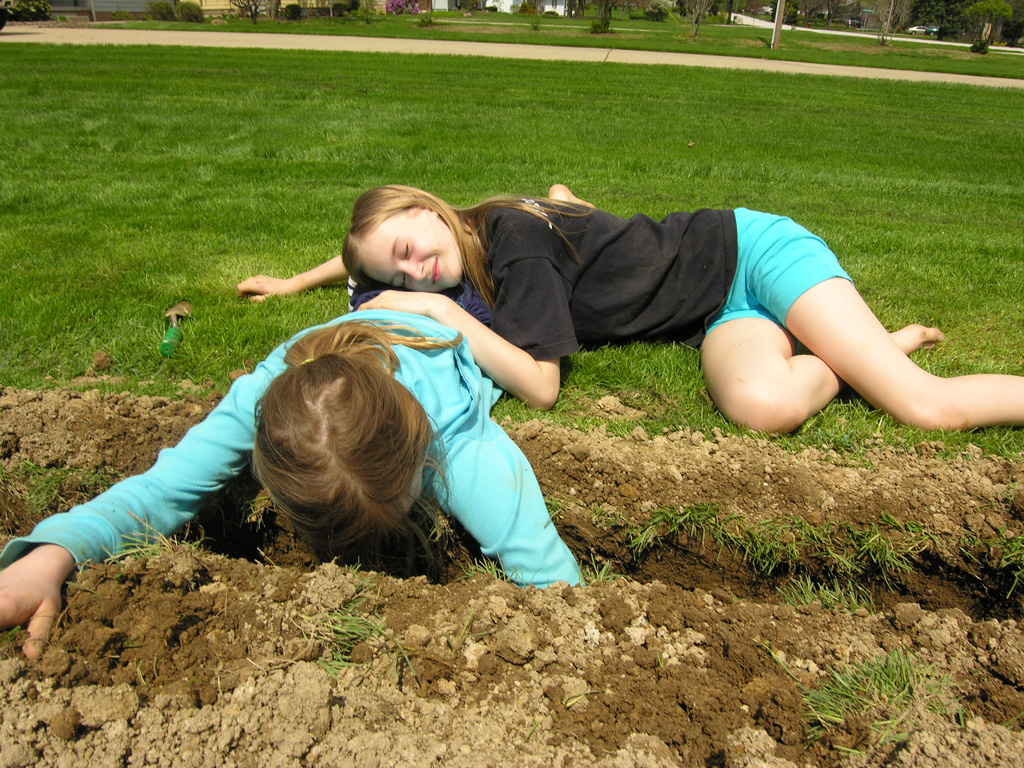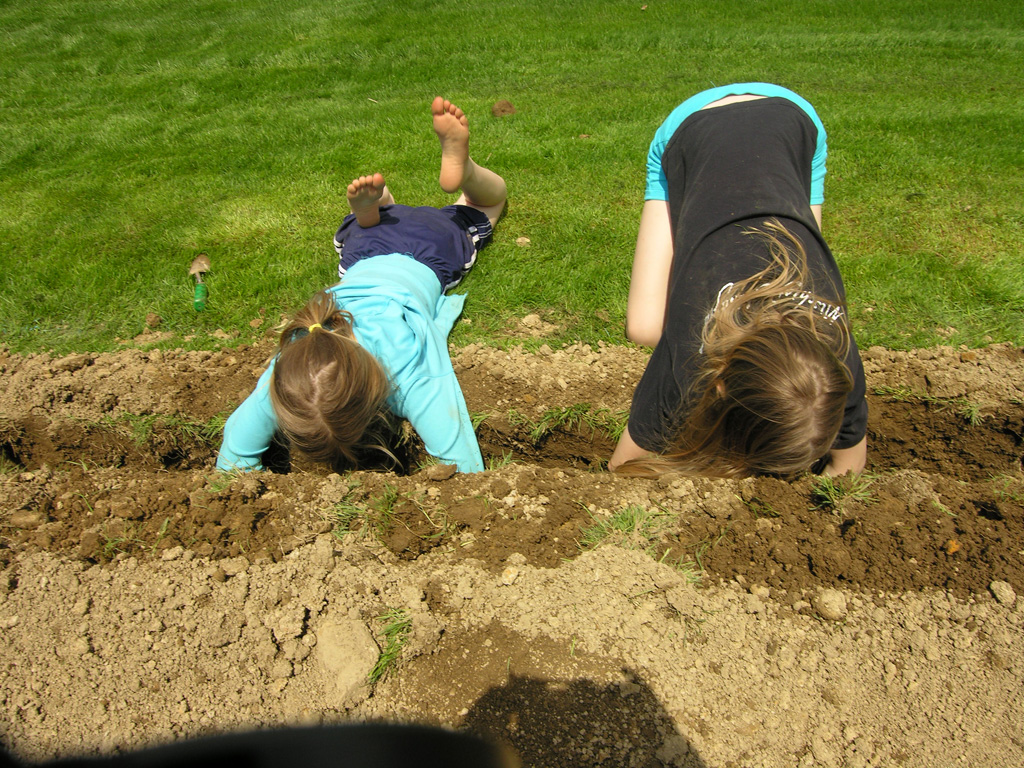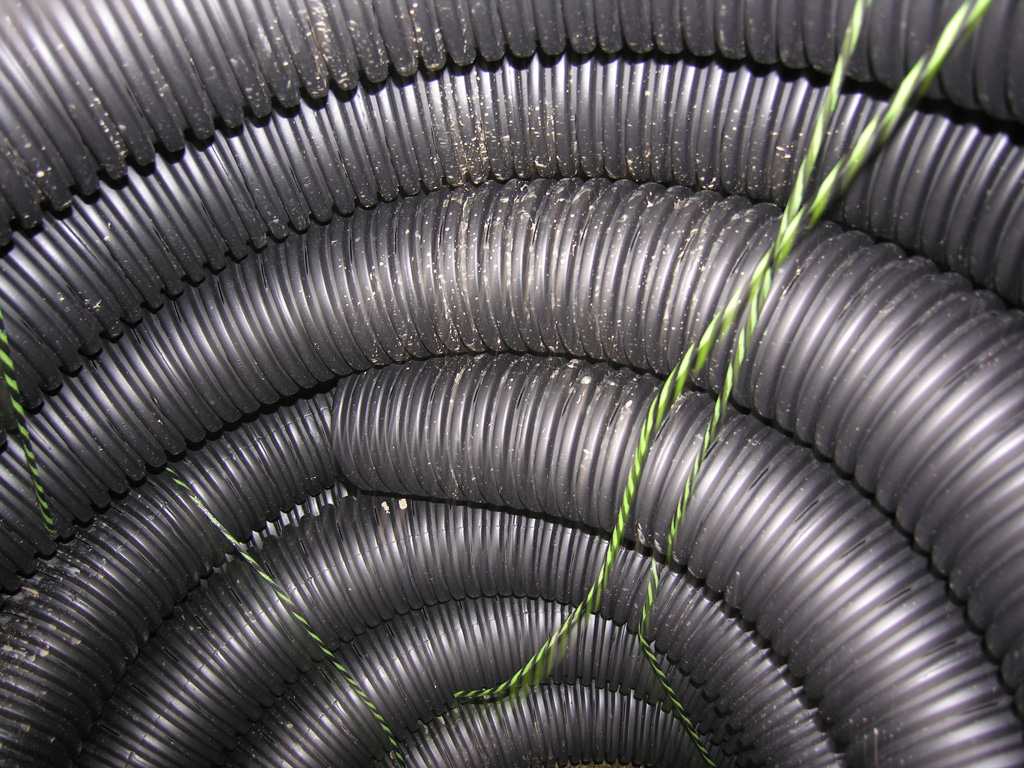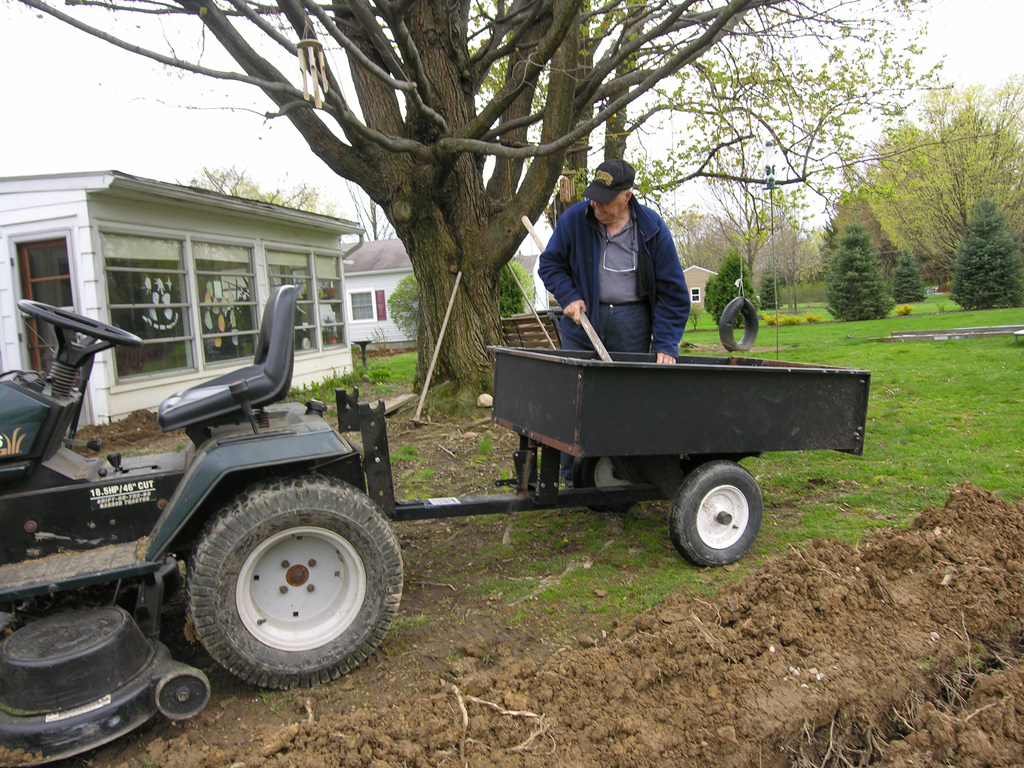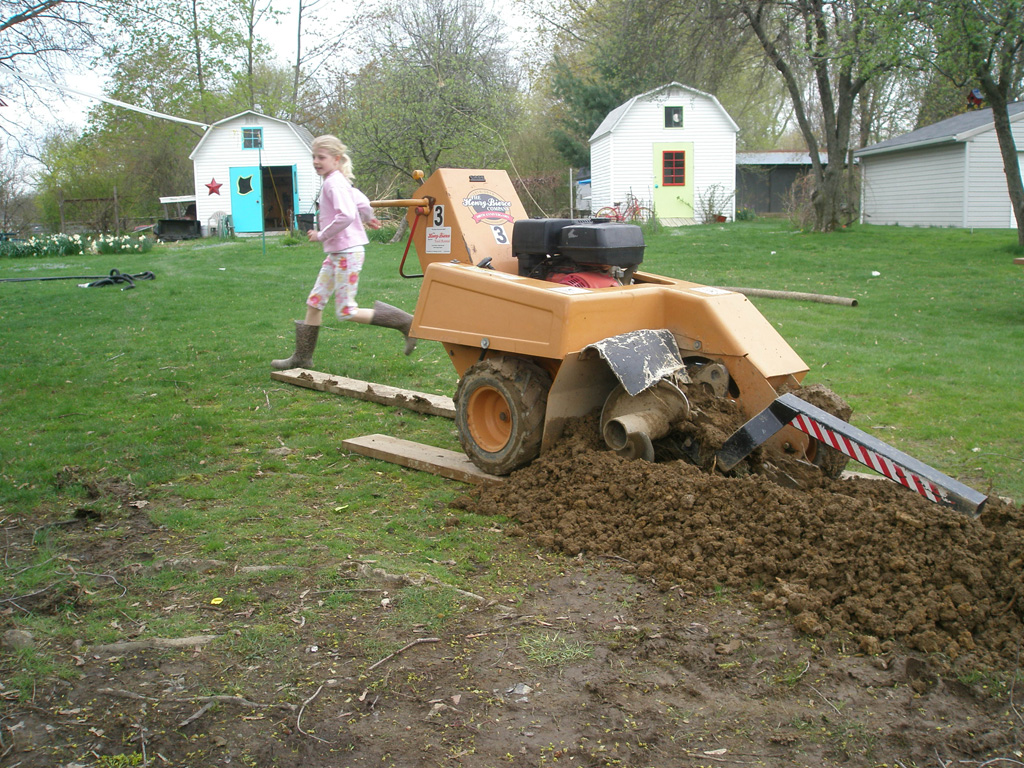 My Shots
A few days before we began I did some exploratory digging by hand to locate the buried rain gutter drains and well. This first shot below is the 50 year old well that Papa used before the neighborhood went to city water. The slab of concrete below is about 16" by 6" by 48" and is reinforced with steel pipe and cable. It was a challenge to lift; thank goodness for levers.