The Finless Rocket Flies Again
3-5-2014 ~ Blog # 597
(David)
I redesigned the Finless Rocket. The launch lugs have been replaced with rail buttons for a more streamlined look. This version uses a 100+ gram plastic ogive nose cone that has 200 grams of lead in the very tip. Loaded with a motor and parachute, the entire rocket weighs about 825 grams. The concentrated weight in the nose shifts the center of gravity of this rocket well in front of its center or pressure, even without fins. The first version of this rocket included a long section of body tube behind the motor nozzle. When it flew the first time it appeared very underpowered. On a rocketry forum I've recently learned about the "Krushnic Effect" which basically boils down to rocket motors lose significant power if the nozzle is blasting through a tube. I cut the tail tube down from about 9 inches to about 2 inches. The 70 Newton, 1 second burn motor lifted the rocket very well. It flew very straight for a few hundred feet where it wobbled before apogee. It was windy and gusty today. Based on parachute decent time and ground distance covered I calculated that one rocket was pushed along by over 20 mph winds. I think the wobble may have been a gust induced wind cocking. Even if the finless rocket naturally wobbles while coasting up, I'm very happy with its performance. It proves the point that rocket stability really does come down to the primary rule of placing the center of pressure behind the center of gravity. The finless rocket proves that some of the most trusted rocket simulation programs can be wrong. It also proves that the old-school string test has a lot of validity. Check out the flight video and "wind tunnel" test.
(47 seconds, 37MB, 1080p)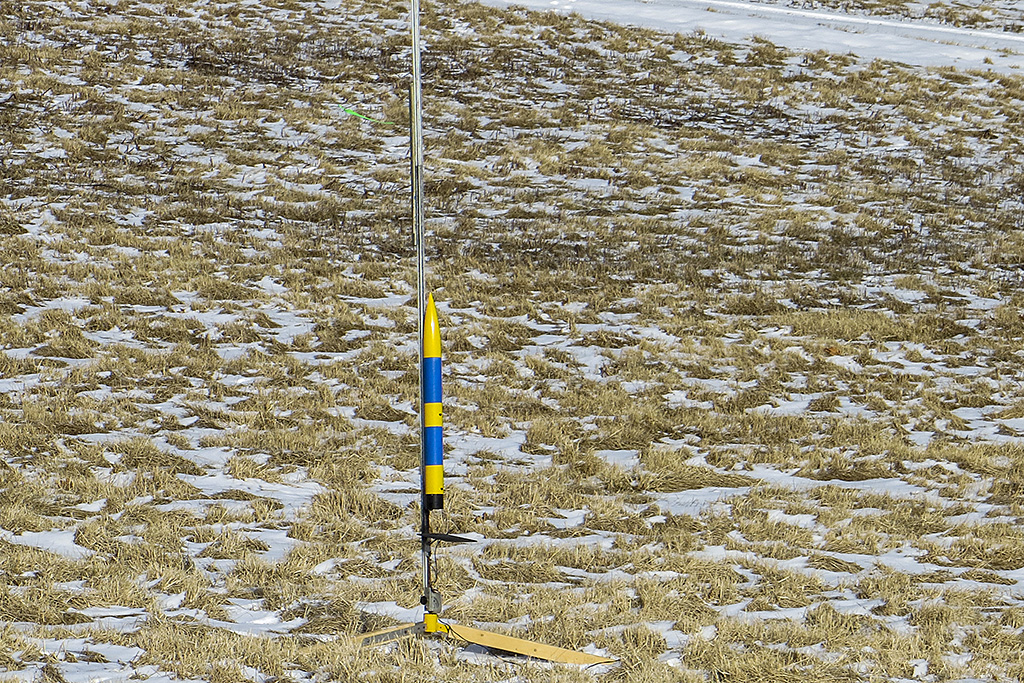 My thumb shows the CG with a spent motor. The CG with a live motor is about 2 inches back.